Candied lemon slices are an easy to make garnish to dress up your favorite desserts. Use candied lemons for decorating cakes, pies, cupcakes, and more.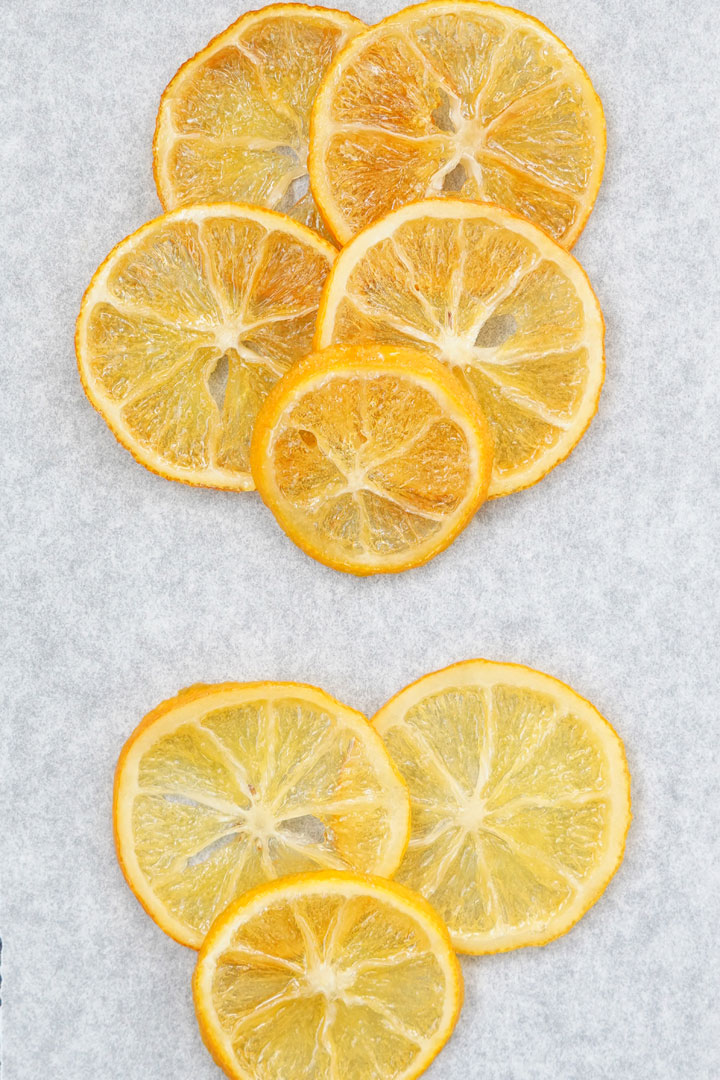 I've always envisioned this blog to be a place where people can come to for help in making homemade  desserts that look professional.  Some fancy desserts seem like too much trouble or too hard but you should know that's not always the case.
There are plenty of easy ways to make your food creations pretty. Today, I want to talk about a super simple way to dress up your dessert.  Candied lemon slices!
Candied lemon slices are lemon slices that have been cooked in sugar and dried out. You can eat them as a delicious snack or use them to garnish a plate. It's simple to make once you know a few basic things.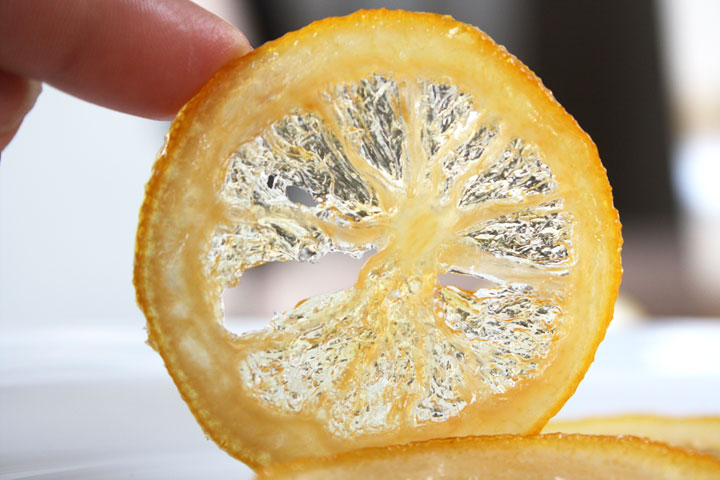 How To Make Candied Lemon Slices:
First, you will want to cut your lemon slices as thin as possible. Use a mandoline or a sharp knife. I'm lazy about taking out my mandoline so I just use a knife. I prefer a serrated knife because it gives me the most control when cutting.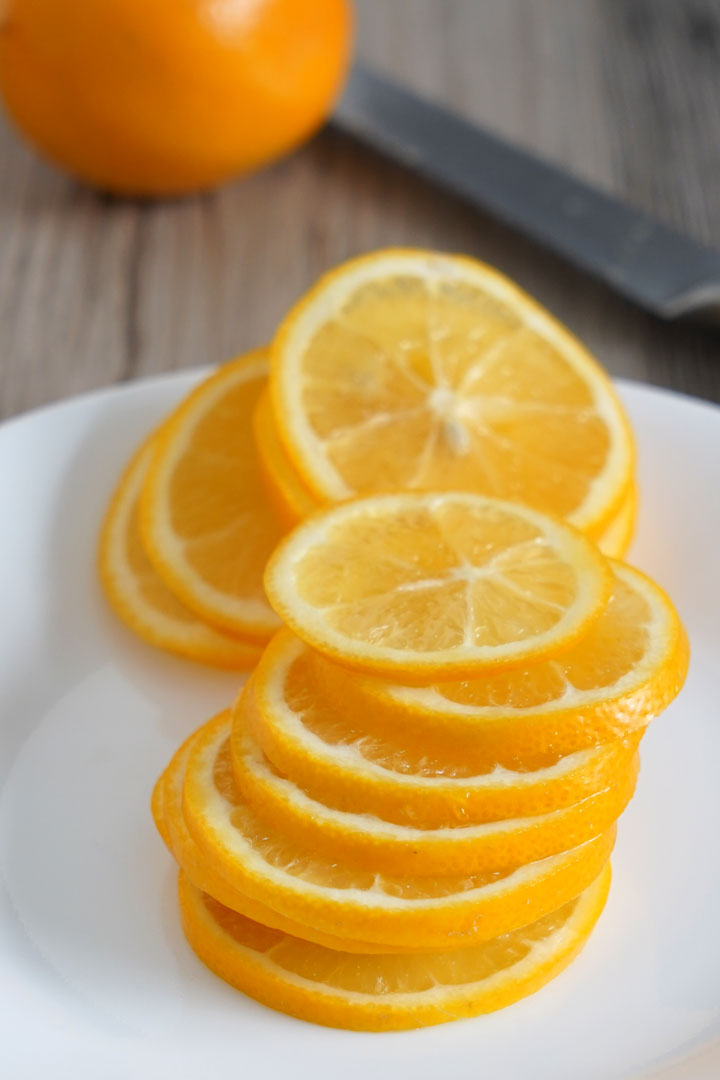 Second, some recipes say that you have to blanch the citrus before cooking them in sugar water. Blanching softens the rinds and removes the bitterness. This important for making candied orange peels but not always essential for lemons.
To be honest, I usually skip this step, especially for thin rind Meyer lemons, and don't really notice. However, in case you do want to blanch them, I've included it in the recipe instructions below.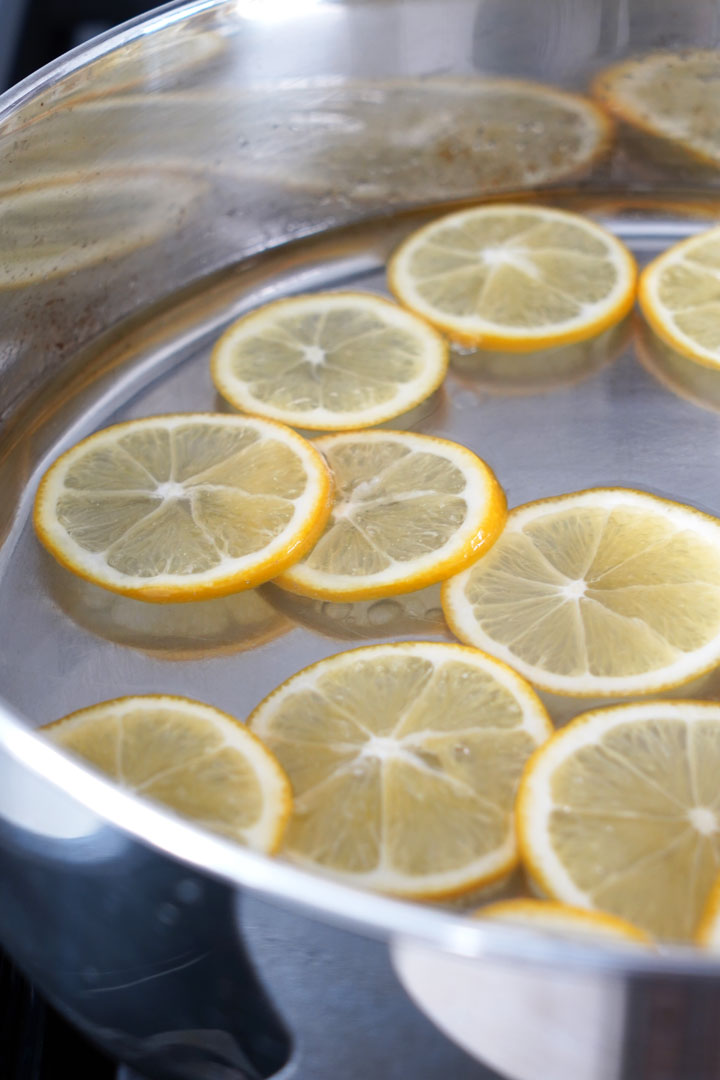 Next, it's important to simmer the lemon slices in the sugar water using a WIDE bottom pot so the lemon slices do not over lap. This way each slice is more exposed to the syrup. Let the slices simmer away until they turn translucent.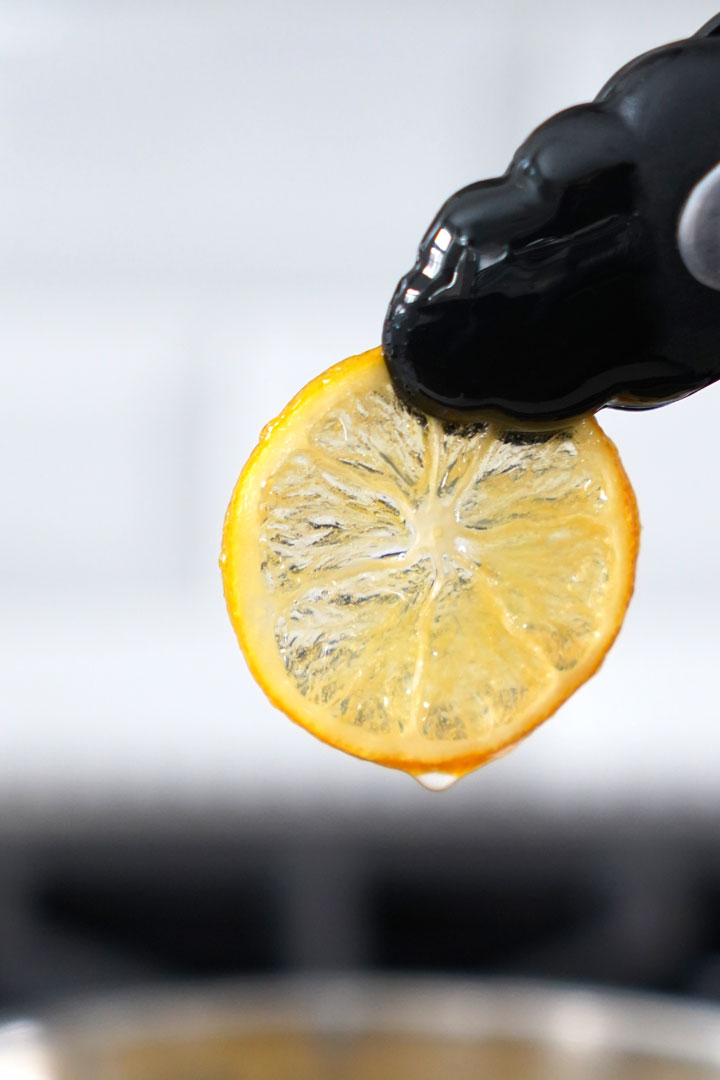 Finally, you have to let them dry out using one of these options. The first is to dry them overnight by letting them sit out on parchment paper. The second option is to put them in the oven at a low temperature for about and hour.
I prefer using the oven because it's quicker and results in a less sticky lemon slice. You do need to be careful not to over heat them in the oven so keep an eye on them.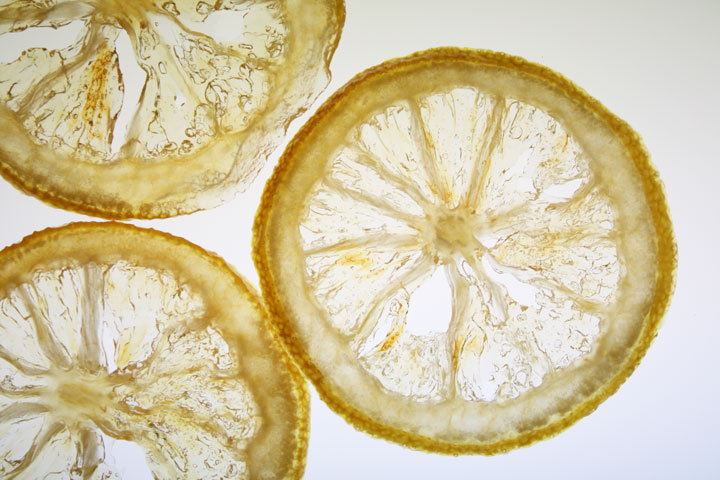 Tips For Making Candied Lemons:
You can use regular lemons or those fancy Meyer lemons. (In fact, you can use this same recipe to candy other citrus such as limes and oranges.) Meyer lemons will look and taste better than regular lemons because they have a thinner rind.
If you're in a hurry and just want a quick garnish, you don't have to simmer for the full hour. Just use your judgement and think about how you are going to use them. I have used this recipe to make candied orange garnishes for this flourless chocolate orange cake and was pleased with the results after 10 minutes.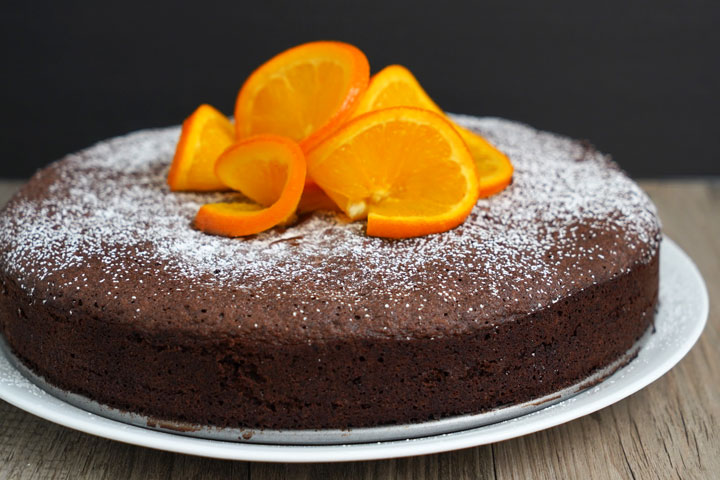 I also didn't need them to be stiff, just sweet and soft. So, I did not have to spend the extra time to dry them in this case.
Finally, instead of disposing your cooking syrup, you may want to save it to make cocktails!
Uses For Candied Lemon Slices
Do I really need to give you the number one use for something coated in sugar? Eat them like candy of course!
Drop one in a cup of tea for a little extra lemon flavor and a light sweetener.
Decorate cakes, cupcakes and other plated desserts. Here's an example where I garnished a Meyer lemon poundcake slice with a candied Meyer lemon.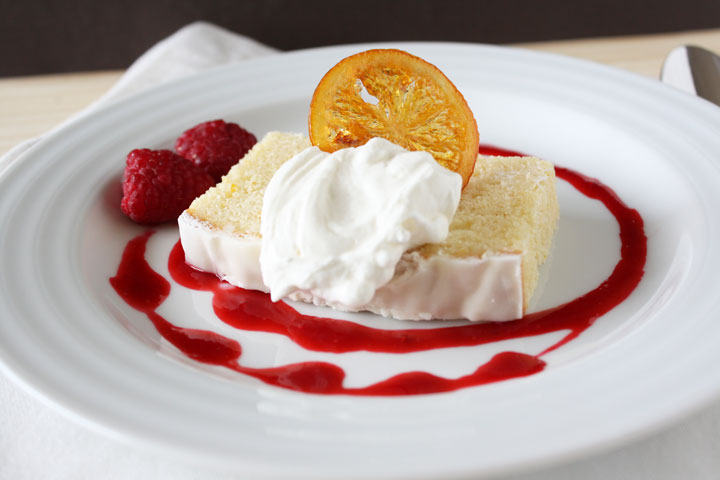 I hope you try out these candied lemon slices soon! Tag me on instagram @dessarts and show me how you used them in your dessert.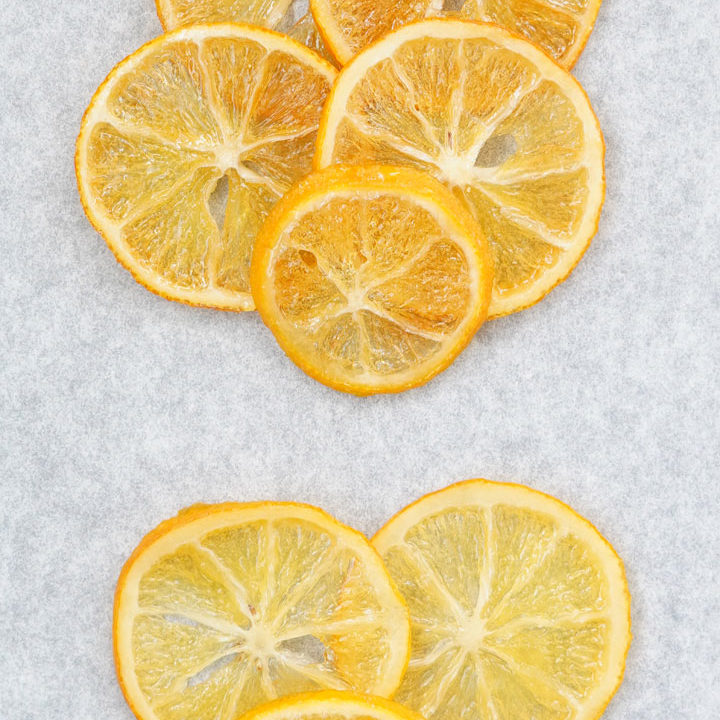 Candied Lemon Slices
Total Time:
1 hour
50 minutes
Candied Lemon slices can be a treat alone or used as a garnish on cakes, cupcakes, pies and other desserts
Ingredients
1-2  lemons
1  cups  sugar
1  cups  water
Instructions
Slice your lemons as thin as possible and set them aside.
Do this step if you want to blanch the slices: Set up a bowl of ice water. Heat water in a medium pan until boiling and then remove it from the heat. Add the lemon slices and stir for 1 minute and drain. Immediately, place the slices in the ice bath for 30 seconds and drain.
In a wide bottomed pot, add the sugar and water and heat until the sugar is dissolves.Add the lemon slices and poach until translucent. Be patient, this can take 25-45 minutes depending on how thin you sliced it.
Lay them out on a silcone or parchment lined baking sheet. Let them dry overnight or alternatively, bake the chips at 200°F turning them over occasionally. Bake them for about an hour or until they start to stiffen up. Let them cool.
Notes
I use a convection oven, which circulates the hot air and prevents oven hot spots. If you have hot spots, your lemon slices may brown faster. Adjust your timing and/or lower your temperature. 
Nutrition Information:
Yield:

20
Serving Size:

1 piece
Amount Per Serving:
Calories:

41
Total Fat:

0g
Saturated Fat:

0g
Trans Fat:

0g
Unsaturated Fat:

0g
Cholesterol:

0mg
Sodium:

1mg
Carbohydrates:

11g
Fiber:

0g
Sugar:

10g
Protein:

0g
This nutrition information is only an approximate provided for convenience and as a courtesy only. Information comes from Nutritionix, an automated nutrition calculator.