Hazelnut skins can be difficult to remove. This is one of the easiest methods to remove hazelnut peels.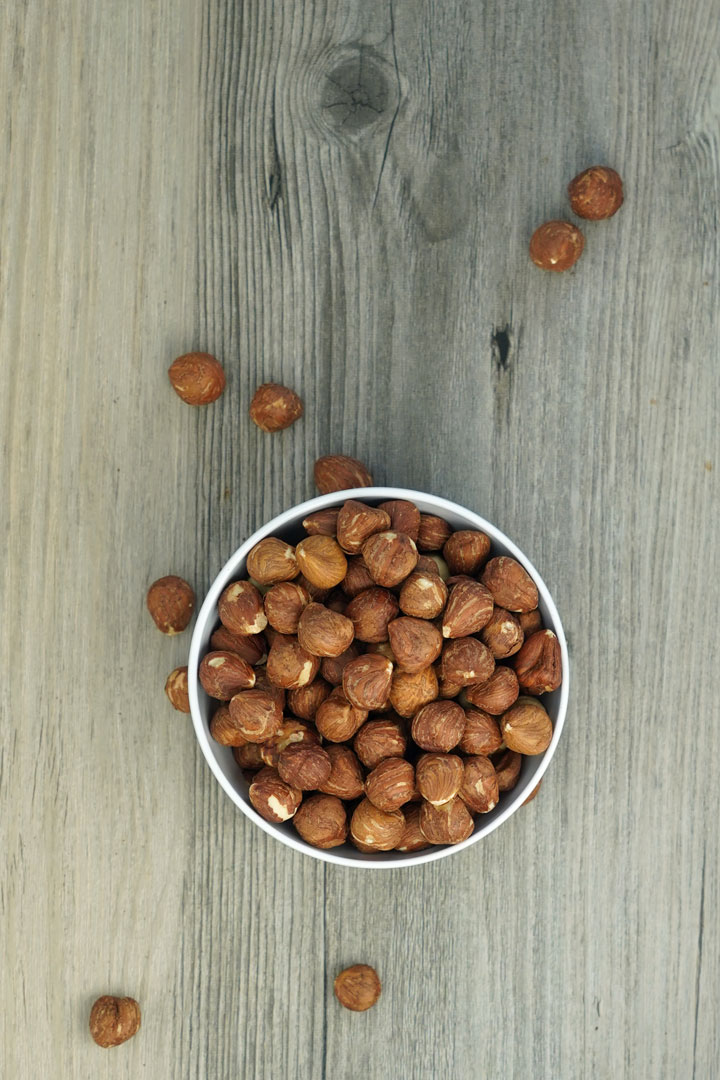 Do You Need to Peel Hazelnuts?
You don't need to peel hazelnuts to eat them. You can eat the hazelnut peel. However, it has a bitter taste so many people prefer to remove them.
If you're doing something fancy with them like making candied nuts, chopping them for decoration or tossing them into a salad, you will want to peel them.
Many recipes also call for blanched hazelnuts. This recipe for peeling hazelnuts also explains how to blanch hazelnuts.
How to Remove Skin from Hazelnuts
There are actually two main methods, one of which I find very messy and doesn't always work.
This is the towel method or toasting method. You roast the hazelnuts for 10  minutes in a 375°F oven and then wrap them in a clean towel while they are warm and let them sit for 10 minutes. Then you rub the nuts in the towel and this is supposed to peel the skins off.
The only problem is that you end up with a very dirty dish towel and not all of the skins come off completely! No matter how long you work at it, your hazelnuts end up looking more like this: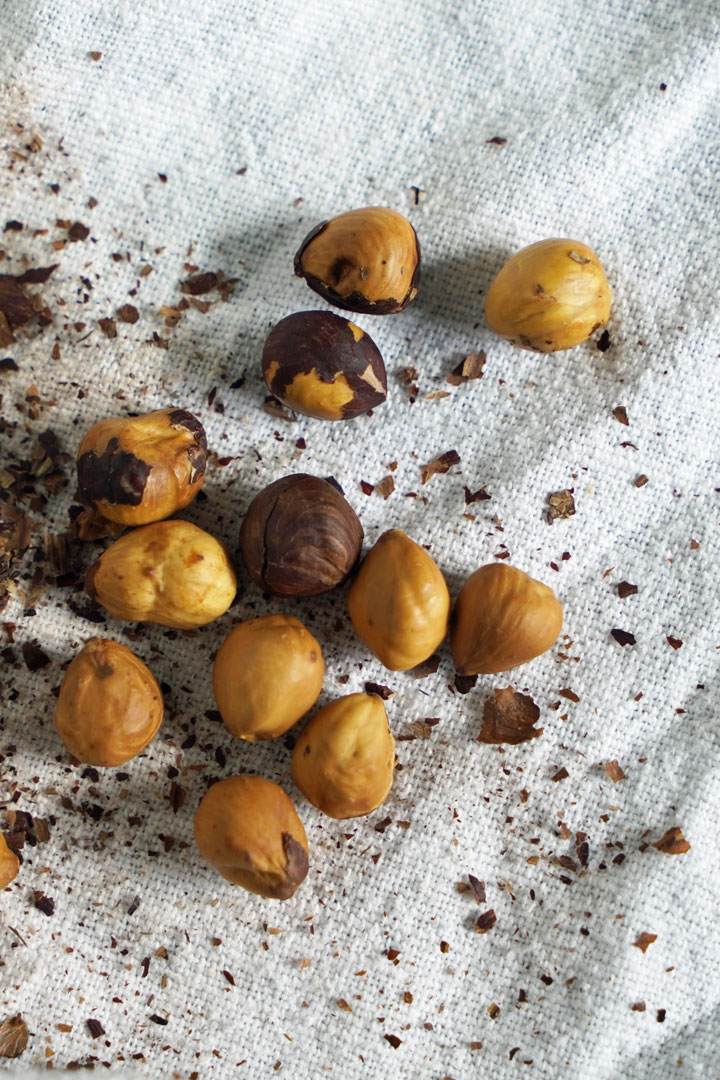 You see, there always some stubborn nuts in the batch! So, a better way to remove the skins from hazelnuts is by blanching hazelnuts. I found this method in Rose Levy Beranbaum's The Baking Bible.
Simply boil the nuts with baking soda and the skins will peel right off. Completely off! Then blot them dry and put them in the oven to get them crunchy again.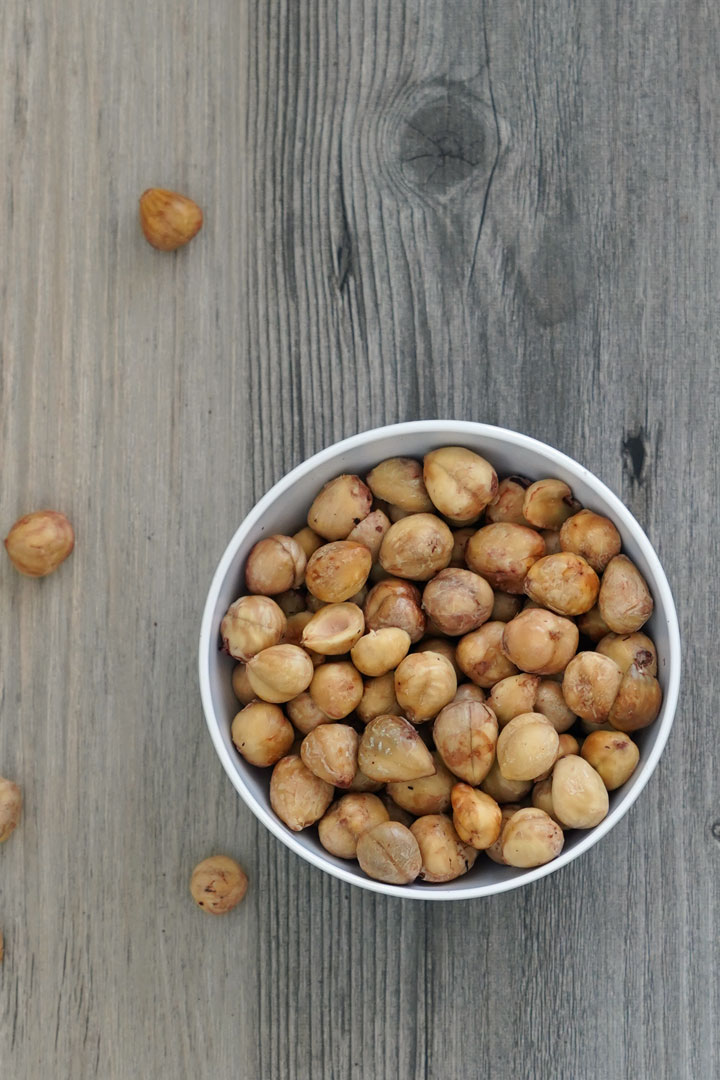 Yes, blanching hazelnuts requires an extra step because you have to roast them again but it gets the job done the right way.
The extra time is worth it. Plus, oven time doesn't require you to do anything so you can use that time to get some other work done!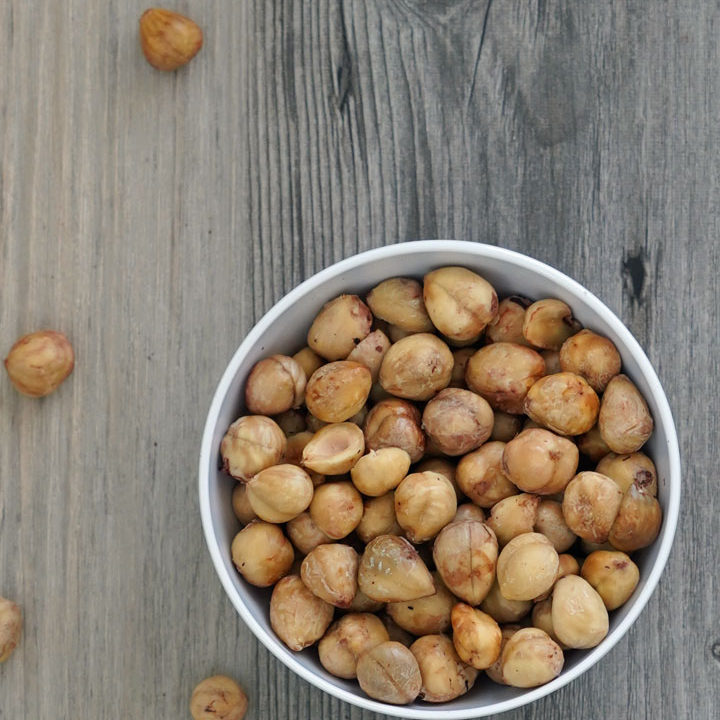 How to Peel and Roast Hazelnuts
Hazelnut skins can be difficult to remove. This is one of the easiest methods to remove hazelnut peels.
Ingredients
1 cup hazelnuts
3 cups water
2 tablespoons baking soda
Instructions
Bring the water to boil in a large pot (at least 2 quart size).
Add the hazelnuts and the baking soda. Let it boil for 3 minutes.
Watch the pot to make sure it does not overflow. The water will turn black. This is normal.
Transfer the hazelnuts to a colander and rinse with cold water.
The skin from each nut will slip right off with your fingers.
Blot the nuts dry with a paper towel.
Preheat the oven to 350F and transfer the nuts to a baking sheet. Roast them in the oven for 15 minutes until they turn a light golden brown.
Notes
The bigger the pot, the better. The water will get foamy and may overflow. Be sure to add the hazelnuts and baking soda slowly.
Nutrition Information:
Yield:

8
Serving Size:

2 TBS
Amount Per Serving:
Calories:

75
Sodium:

660mg
Carbohydrates:

2g
Fiber:

1g
Protein:

1g