Have you ever tried to melt chocolate for making decorations or covering strawberries only to find that it just won't get hard? Or maybe you ended up with a really dull finish instead of that glossy sheen you had imagined.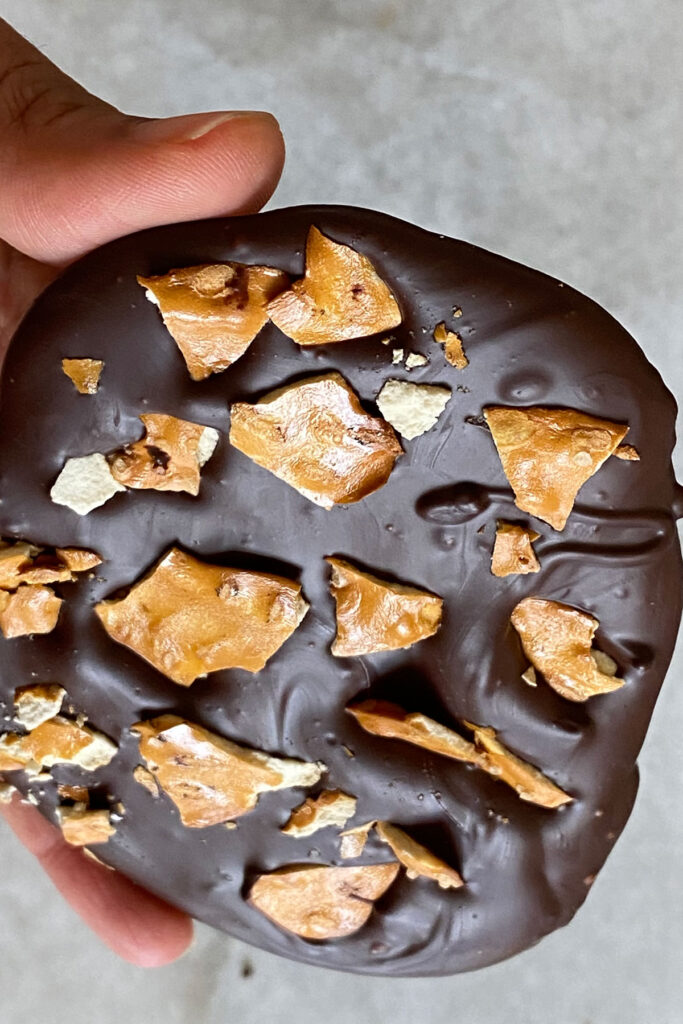 The reason why it didn't work is because you did not temper your chocolate. If you temper your chocolate, it will contract as it sets, have a smooth glossy finish and give a nice snap when broken.
What is tempered chocolate?
Tempering chocolate involves melting the chocolate and then cooling it again. Basically you are breaking fat bonds and restructuring them in a specific way to create that shiny hard chocolate. However, it works best when you melt and cool it to a specific temperature while also agitating it.
Failing to do this creates differently shaped solid particles that lead to an undesirable finish. This is why it's best to have a digital thermometer when first learning to temper chocolate.
What You Will Need to Temper Chocolate
Chocolate: Dark, milk and white chocolate can all be tempered the same way but they each temper at different temperatures. Dark chocolate is the easiest to work with so if you are just starting to learn to temper then work with dark chocolate. Prepare the chocolate by chopping it into small pieces before melting.
Always use a chocolate bar and not chocolate chips. Chocolate chips usually have other ingredients in them that interfere with the process.
Double boiler: If you don't have a double boiler, just set up a pot half full with water and find a bowl that will sit on top of it without the bottom of the bowl touching the water.
Spatula: Vigorous stirring is required to cool the chocolate and reform the solid crystals.
Ice Bath: This is optional but will speed up the cooling process. To make an ice bath, mix together half ice and water in a bowl that is larger than the bowl you are using for melting your chocolate.
How to Temper Chocolate
Melt about ¾ of your chopped chocolate using a double boiler. Stirring the chocolate as it melts is important for keeping the temperature even throughout the mixture. The temperature should reach about 122℉. A digital instant read thermometer is best if you have one but you can also use a regular one as shown in the video.
Remove the chocolate from the heat and begin to cool it down by gradually adding the remaining chocolate (you may not have to use all of it) and continually stirring. Bring the temperature down to 81-84°F then warm it again slightly on the double boiler to around 86-90°F.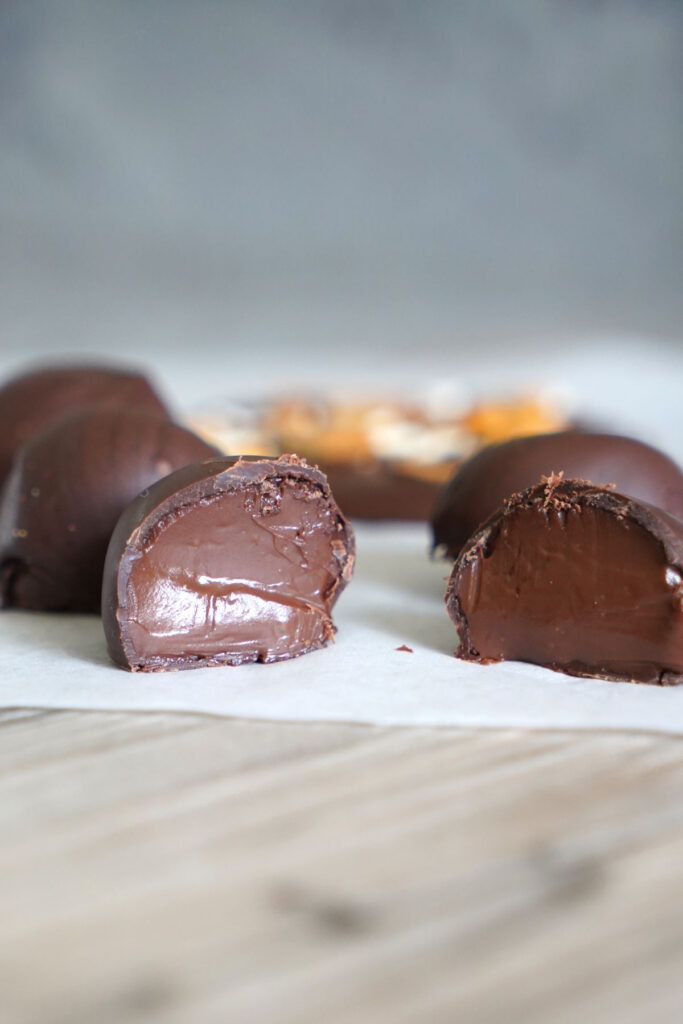 It is now ready to work with. Use it to make chocolate decorations, dip fruit or coat chocolate truffles. You can also pour it onto parchment paper and make chocolate bark with your favorite toppings.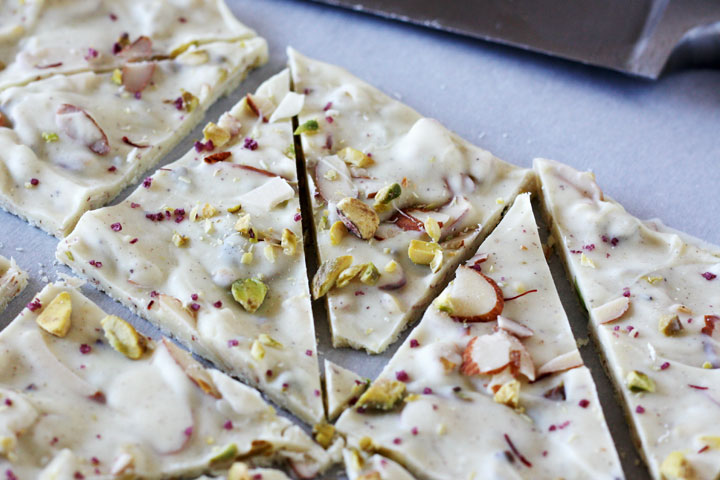 If you find that the chocolate is becoming too thick as you are working with it, just return it to the heat to warm it up slightly. Be sure not to exceed 90°F or the chocolate will come out of temper.
Unused chocolate can be saved and reused for baking or making hot chocolate! Pour it out onto parchment paper and let it harden. Then break it up into pieces and store in an airtight container.
Tempering Milk or White Chocolate:
For milk or white chocolate bring the temperature up to 113°F when melting and 79-80°F when cooling. Rewarm the chocolate to 83°F to work with it.  
Once you get the hang of it, it becomes easy. You will be making full chocolate sculptures in no time!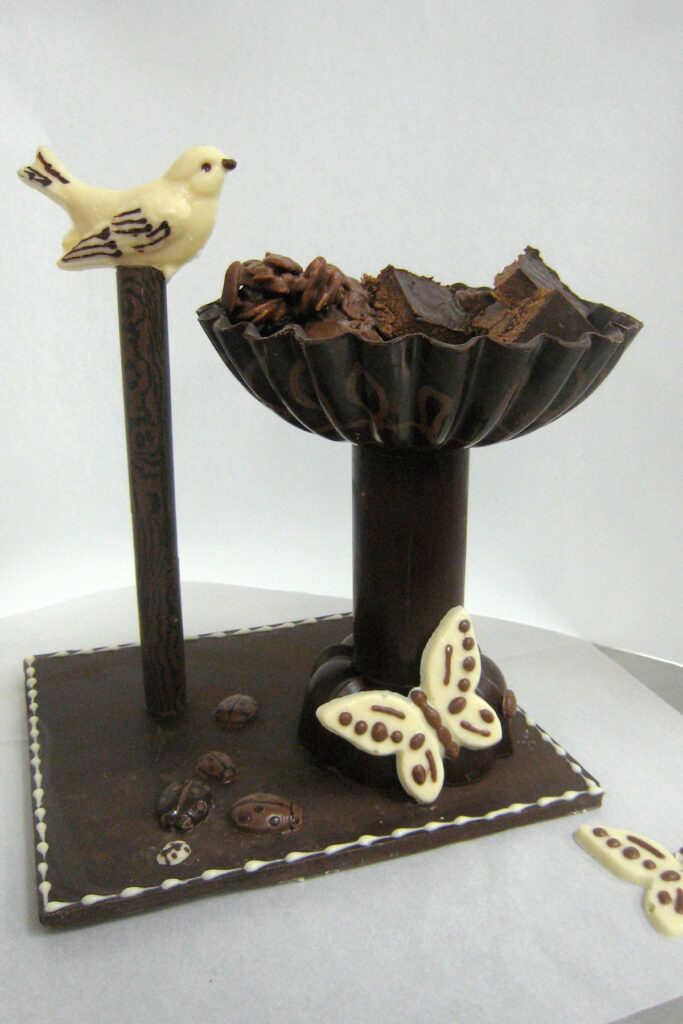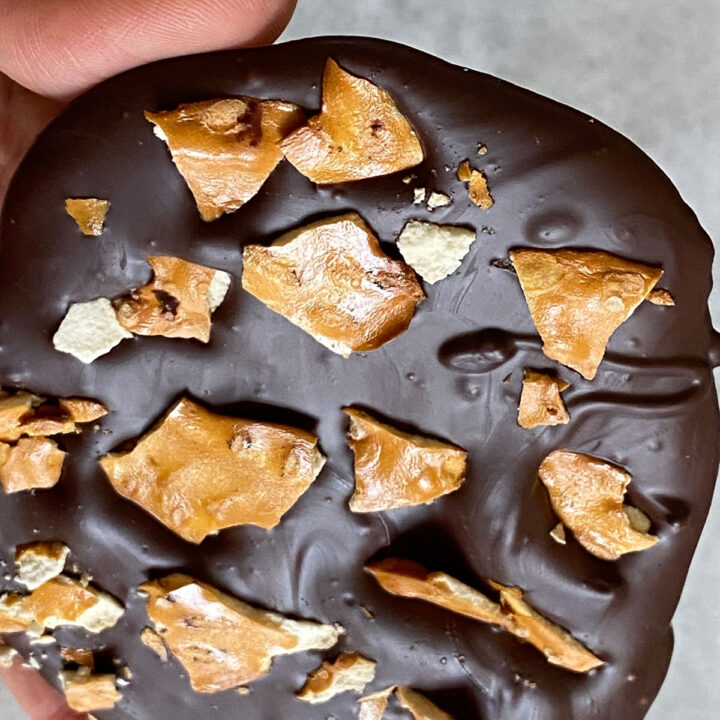 How to Temper Chocolate
Learn how to temper chocolate and use it to make chocolate decorations, dip fruit or coat chocolate truffles. You can also pour it onto parchment paper and make chocolate bark with your favorite toppings!
Materials
Chocolate- dark, milk or white
Tools
Double boiler or bowl over pot
Spatula
Thermometer
Ice Bath
Instructions
Chop chocolate into small pieces.
Set up a double boiler and melt about ¾ of the chopped chocolate in it. Be sure to stir continuously for even temperature throughout.
Bring the melted chocolate temperature to 122℉ (113°F for white or milk chocolate)
Remove the chocolate from the heat and cool it down to 81-84°F (79-80°F for white or milk chocolate) by gradually added the remaining chocolate and stirring. Briefly place the bowl over an ice bath and stir if all the pieces are melted and the chocolate is not cooling quickly.
Re-warm the chocolate to 86-90°F (83°F for white or milk chocolate).