Making your own edible cupcake toppers is easier than you may think. Choose from a variety of techniques to get the look you want for birthday themes, baby showers, graduations, weddings and holidays.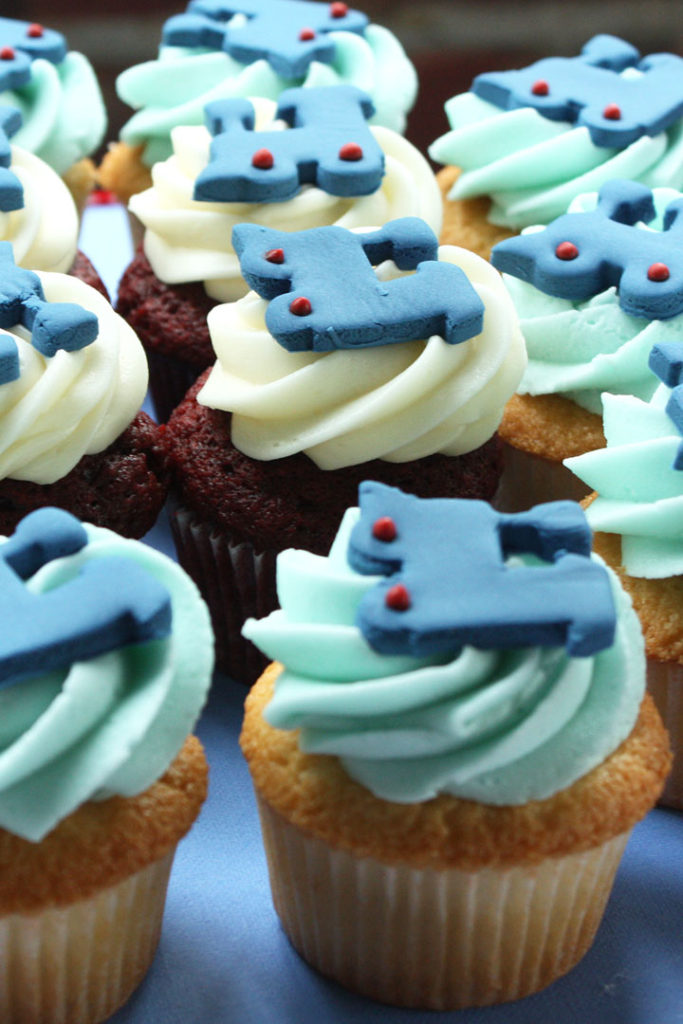 We've all seen the cupcake toppers that come with grocery store birthday cupcakes. Sometimes it's a plastic toy ring and sometimes it's a paper decoration inserted with a toothpick. They're cute but sometimes you just want something better, something edible. And something custom!
Edible cupcake toppers can be made from fondant, royal icing and even chocolate. I'm going to share a few techniques and examples with you that I've used in the past. I hope you will be inspired to create your own!
Using Fondant for Cupcake Toppers
One way to use fondant is to make cutouts using mini cookie cutters. I found a small train cookie cutter to make little trains for a train themed birthday party.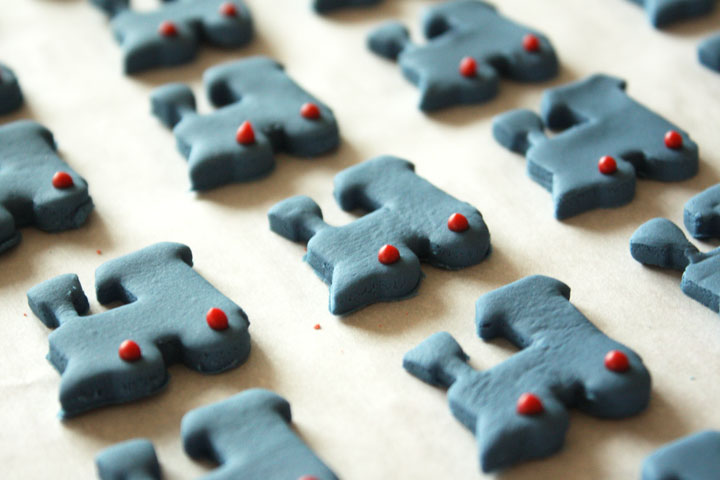 Roll out the fondant to ⅛ inch thickness. Then, make cutouts and lay them out on a sheet of parchment paper. Add any small details (like the red dots on the train wheels) while the fondant is still tacky and then let them dry overnight. They will not be completely hard but stiff enough to place on top of the cupcake.
No cookie cutter? No problem. If you can't find the right cookie cutter, cut out circles or squares and paint details on the fondant. These jungle themed fondant decorations were a little more abstract.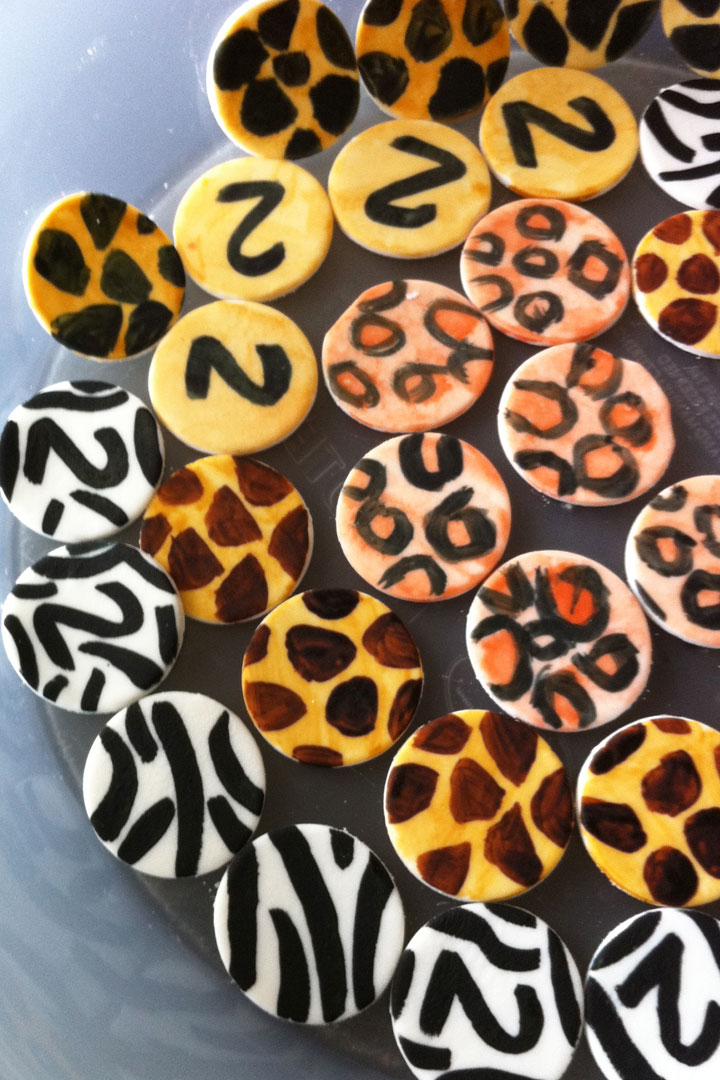 Here, I cut out circles and made jungle prints by using a combination of edible markers and painting with a mix of food dye gel with a little bit of vodka. Don't worry, the vodka evaporates. You just need a little in order to thin out the gel. Again, let them dry, frost your cupcakes and place the cutouts on top of the frosting.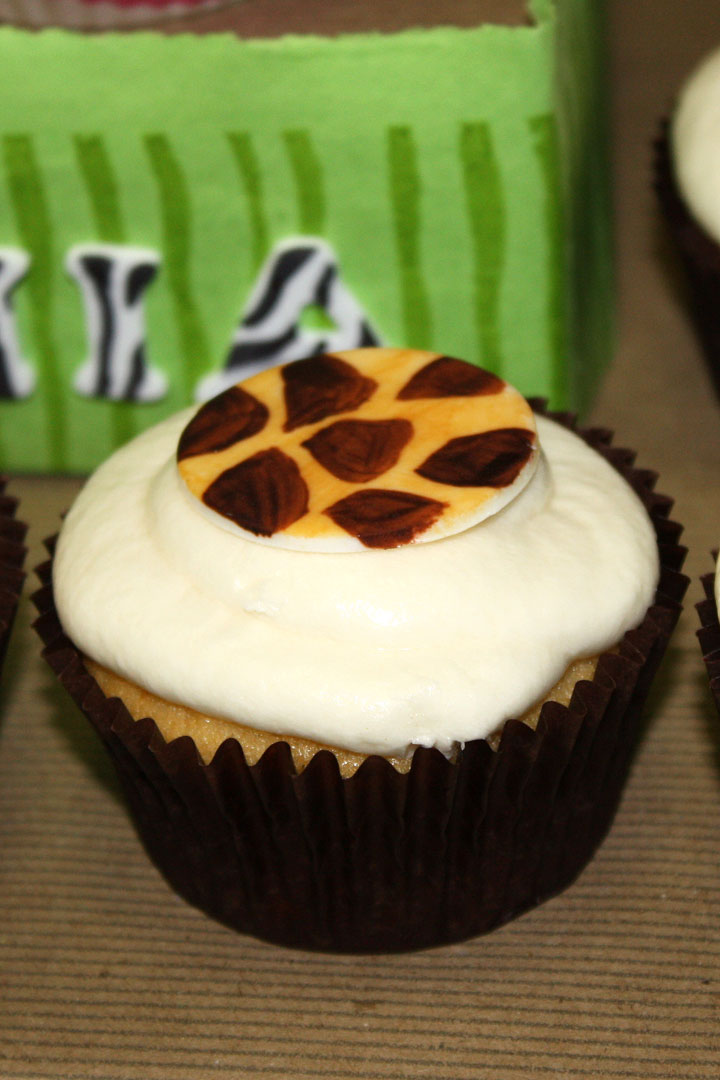 You can also use a fondant or gum paste mold to make cupcake decorations. I found this fun robot and monsters mold to make a variety of toppers for a robot themed birthday.
I used my circle cutter and only two fondant colors to add some consistency between my cupcakes and stick with the theme. A little dab of water will help adhere the molded fondant to the cutout circles.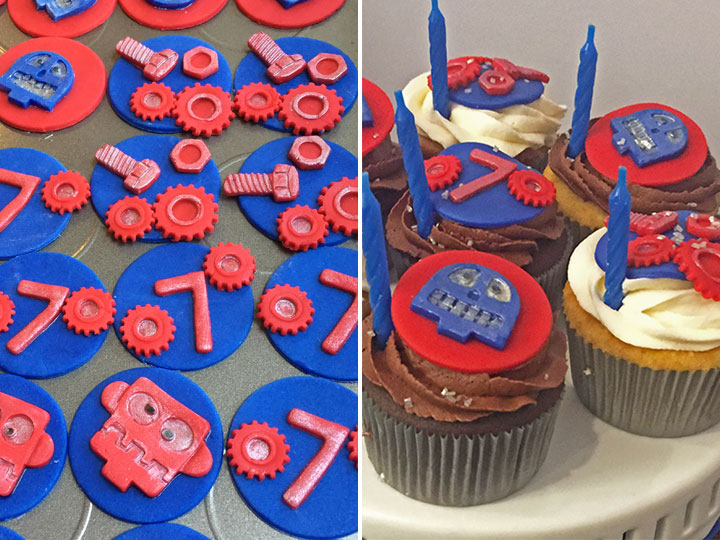 Using Royal Icing for Cupcake Toppers
While there are a lot of options with fondant, you can also use ROYAL ICING to make your own cupcake toppers. Sure, you can buy some ready made Wilton icing decorations too but they don't always have the design that you need. If you have a steady hand, you can pretty much pipe out anything with a batch of STIFF royal icing.
The easiest way is to print out the design on a sheet of paper in the exact size you want. Then, place a sheet of wax paper over it and trace the design as you pipe out the royal icing. Print a sheet with multiple copies of the design to make things go faster. Let the icing decorations dry and then lift and place them on your cupcakes.
Here's an example of royal icing rocket ships made for a space themed birthday party.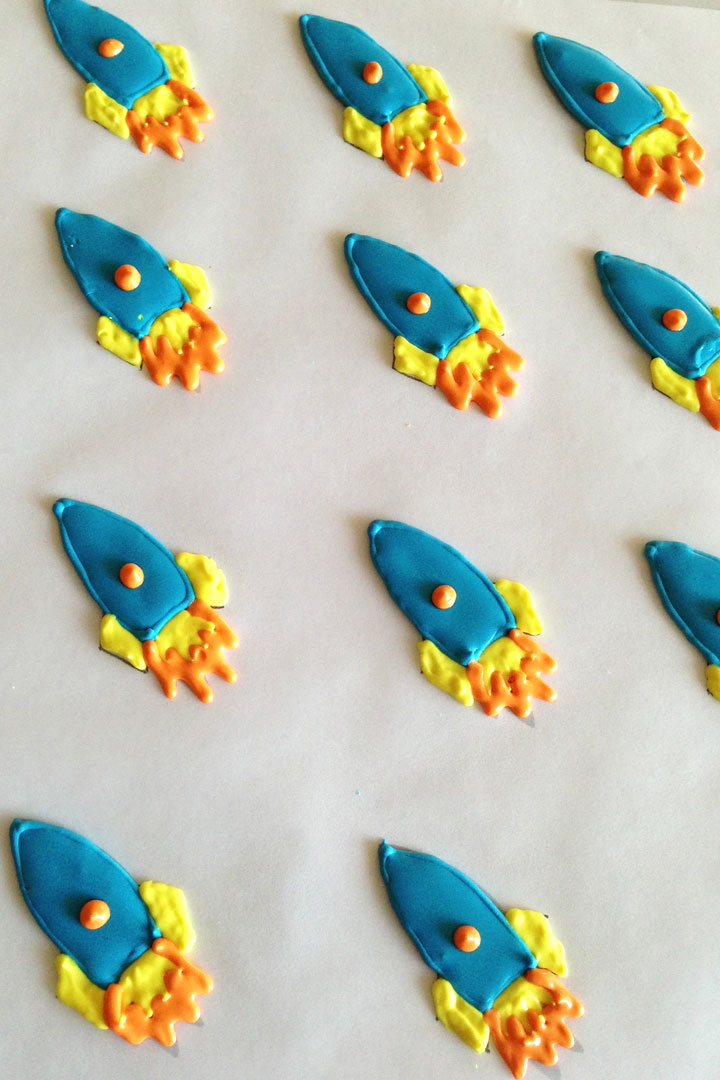 Using Chocolate for Cupcake Toppers
Chocolate is also a great option for making cupcake toppers. It can get a bit tricky if you don't know how to temper chocolate but you can always opt for candy melts too. Candy melts will harden more easily.
Here, I piped out the number 5 to add to my cupcakes for the same space themed party.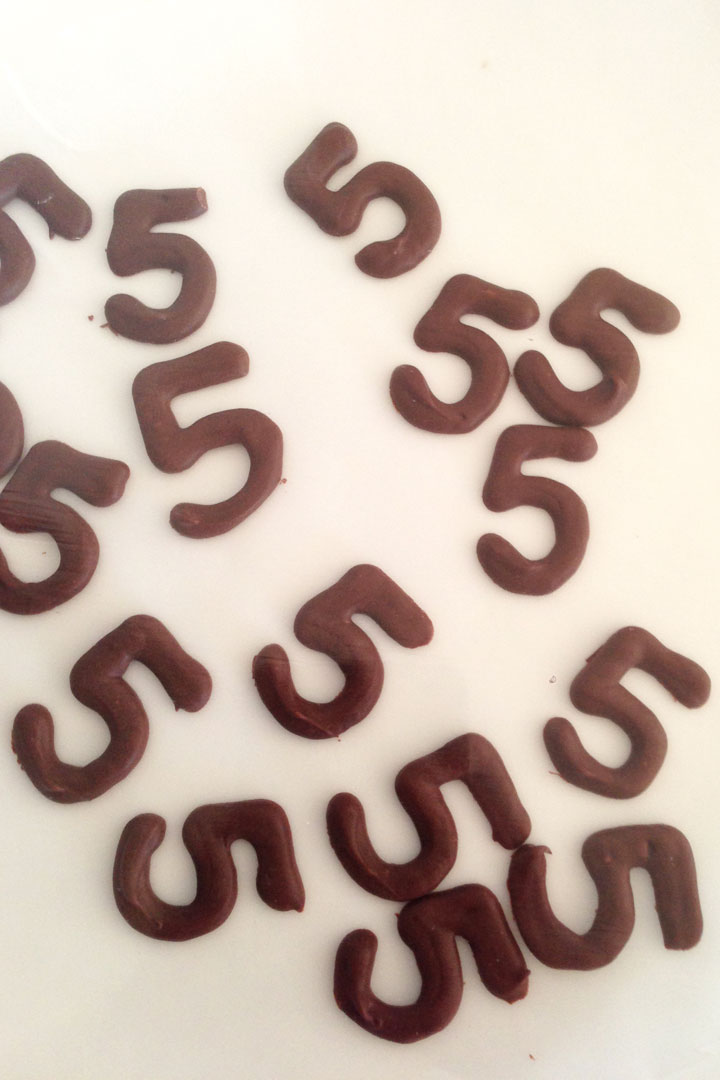 To add some variety, I also used store bought chocolates that reminded me galaxy swirls. I painted them with some gold luster dust to make it more like a galaxy!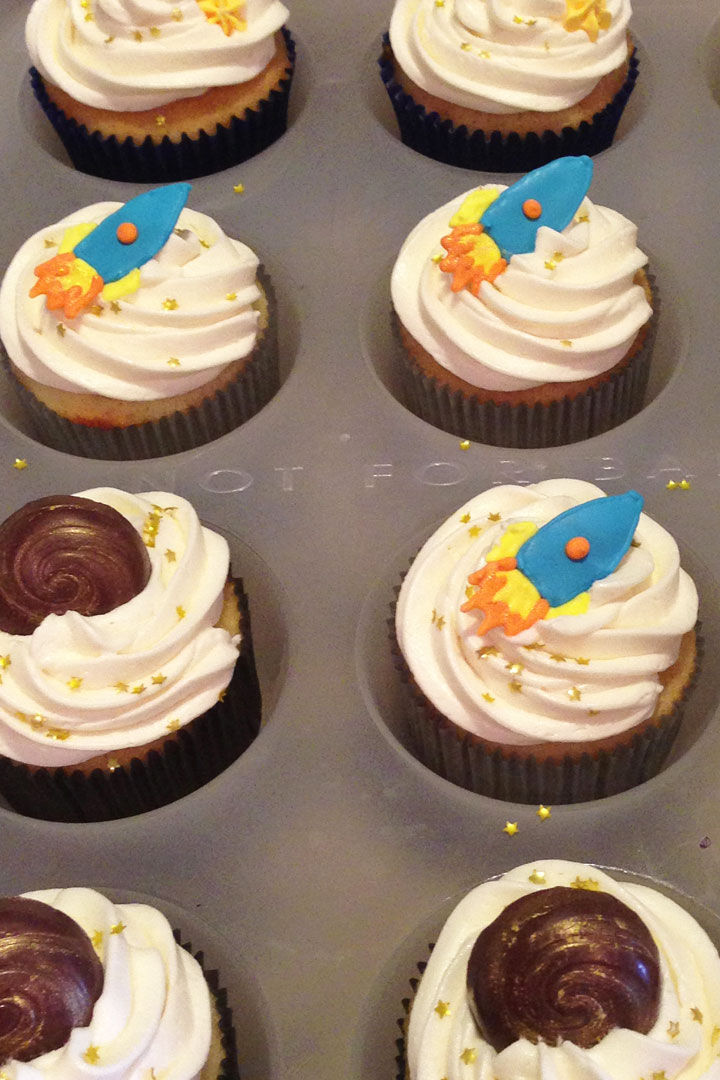 PRO TIP: When placing decorations on top of frosted cupcakes, be sure to place it as soon as the buttercream is applied. If you wait, the buttercream will crust over and the decoration will not look as nice when placed on top.
I hope you found something here to inspire you! If you have questions or would like to share what you've made, join our exclusive facebook group where we chat and share ideas about dessert! Or simply leave me a comment below.