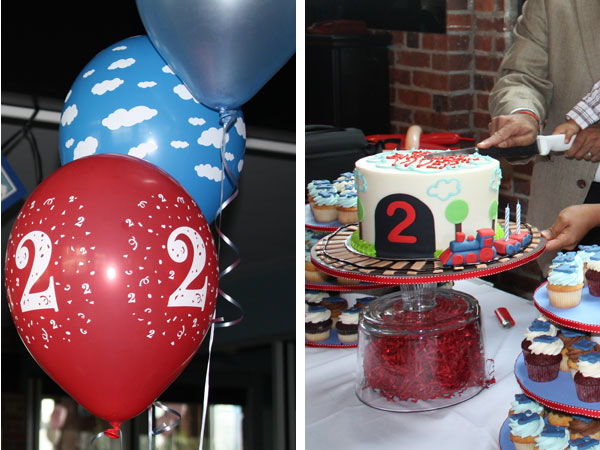 Planning my 2 year old's birthday party for 100 guests had literally taken up all my free time for the month of September. By free time, I mostly mean the two hours I can bear to stay awake after we finally put him to bed. In the end, his train themed birthday party all came together with minimal stress and I even managed to post to this blog a few times during all the planning.  Now a lot of that non-stress had to do with me deciding I was NOT going to make his fancy birthday cake myself. But what I was pleasantly surprised and pleased by more was the help I got from other food bloggers, Hoboken vendors, and the foodies that I follow or follow me on Twitter. So whether you know that you helped me out or not, this one's for the bloggers, Hoboken, and Twitter!
A little inspiration...from Hostess with the Mostess
Hostess with the Mostess...has become my go to place for party inspirations and ideas. V wanted a Thomas train party and I can't stand Thomas. But there it was on her blog...the modern train themed birthday party that was almost Thomas but not Thomas! This site inspired me to set up a color scheme, make my own banner, invitations, cupcake stands and goodie bag labels. The result, choo choo trains galore to delight my little guy and not a peep of that commercial Thomas for me.
The bloggers from Twitter that made it worry free...Bake at 350 and Cake is Life
Not sure how something is going to work out in the kitchen? Ask Twitter. I made these decorated train sugar cookies for the party and was a little worried about how they would hold up if I made them ahead of time. How long do they last? Can you ice them ahead of time? How do you get that royal icing the right shade of red?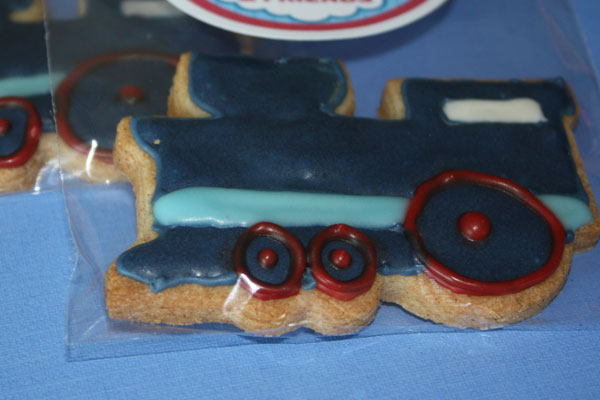 I had also decided that I was going to make these fondant cupcake toppers for the cupcakes from the bakery. Again, questions...Can you put royal icing decorations on fondant cutouts that are going to sit out? (Yes, of course you can!)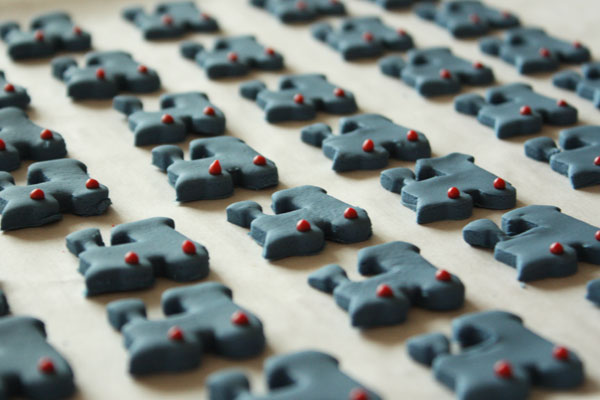 It seemed that every time I had a question, someone on Twitter was there to answer. Bake at 350 gave me some great tips on making my cookies in advance. (Did you know that you can freeze iced sugar cookies in advance and they will be perfectly fine the day you want to serve them?)  Cake is Life answered all my questions about royal icing! Honestly, you guys are the best. Thanks for making this mommy's life a little easier.
Wonderful hometown vendors... Sweet, Baskets of Distinction, Hoboken Candy Shoppe
If you've read my post on Sesame Street Cakes, you might understand my love hate relationship with making birthday cakes. Since we were throwing such a large party with so much more to do, I reluctantly decided I was not going to make this birthday cake. Of course, that did not mean I wasn't going to get it exactly how I wanted it! For this birthday cake, I went to a local bakery in Hoboken called Sweet. Sweet focuses more on cupcakes but they do make delicious cakes as well. I explained my train themed birthday party cake ideas. I wanted plain cupcakes and would be adding fondant toppers to and a smaller cake that went with the train theme. Angela, the owner, suggested that it would be best to bring the toppers to the shop and put the them on for me so the butter cream does not get smashed. How wonderful! Saved me a bunch of time the day of the party and it looks a lot neater if the fondant is placed on the buttercream before it dries.
She also made me a wonderful cake that was exactly the way I imagined and explained to her. Isn't it cute?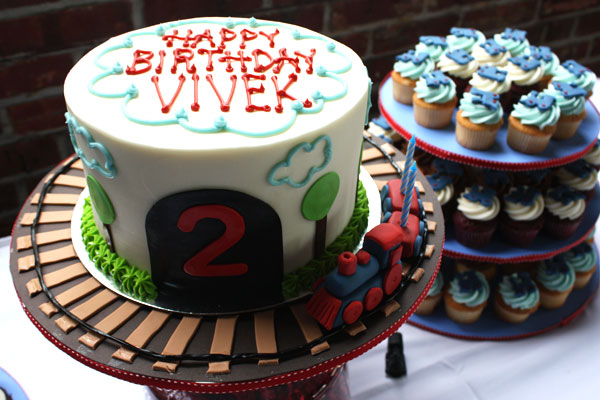 I had told Angela that I was going to make a board with train tracks and a little fondant train for the cake to sit on. Well, the day I was going to make the train I had some random luck. I found this great tutorial on how to make a fondant train from La Casa De Vainilla. Piece of cake! The whole train took about 10 minutes to make since I already had the fondant dyed from a previous project. Thank you, La Casa De Vainilla.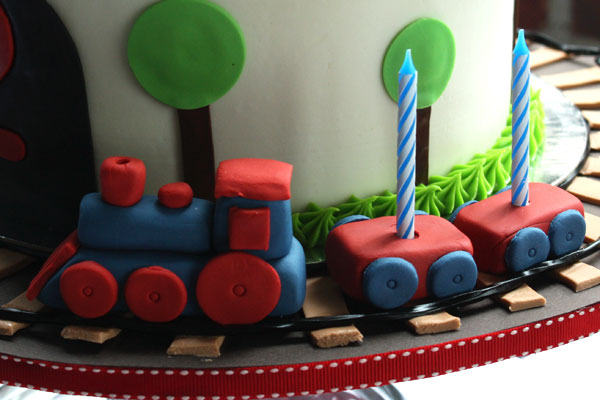 Aside from Angela of Sweet, I was fortunate to find two other Hoboken vendors that helped me add some special touches. Carmela of Baskets of Distinction blew up and home delivered my 40 helium balloons the night before the party. She's always looking to help you find just want you want. I love stopping in the shop even when I don't really need anything. Meg from The Candy Shoppe helped  me put together these cute M&M candy bags. All I had to do was give her the stickers and make a sample bag with her and wallah...60 bags done, and delivered to my door two nights before the party! She also unpacked a new box of black licorice out of her stock so I could have the  extra long pieces for my train track cake board. Gotta love Meg and The Candy Shoppe!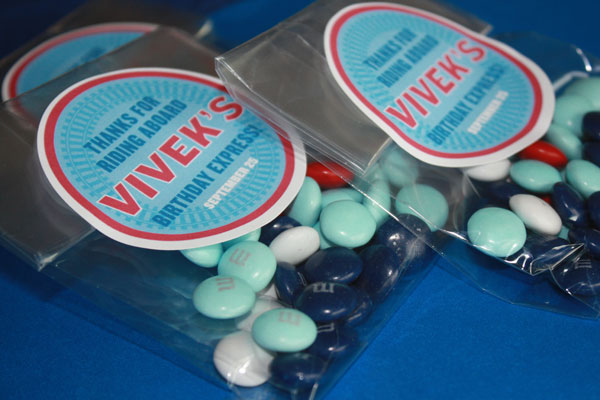 Finally, I could not have made everything so pretty and perfect without my graphic designer sister giving me her opinions along the way and so quickly whipping up anything decorative that needed to be printed.
So there you have it, our spectacular train themed birthday party! I don't usually make these non-dessert related posts on this blog but this was such a fun experience so I really wanted to share. I've learned so much from my readers and Twitter followers ever since I started this blog. Thanks again to all for making my little guy's day special!
If you enjoyed this post, you may also want to see my John Deere tractor cake. It's great for a farm or tractor themed birthday party.
SaveSave
SaveSave