Are you having a farm themed birthday party? This John Deere Tractor cake with matching cupcakes would be a great idea.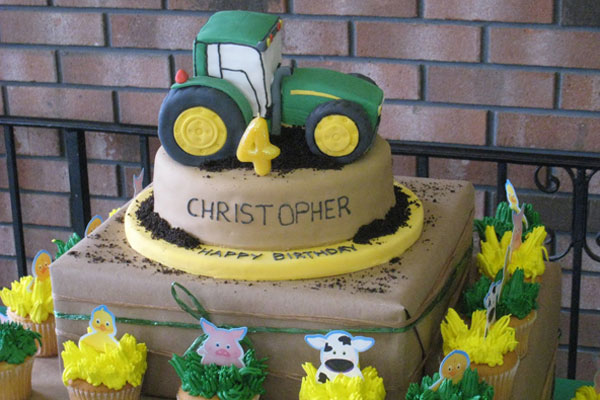 My nephew was turning four and had decided that he wanted a tractor themed party with a John Deere Cake. I thought it was a strange choice because it was so specific. I later learned that John Deere themed party goods actually exist!
I began to brainstorm some tractor cake ideas for his party. Wilton and Nordicware both make a tractor shaped pan. It's always hard to choose between a fondant or buttercream style cake.
In this case, I went for the fondant look. I thought a three dimensional John Deere tractor cake would be so much cooler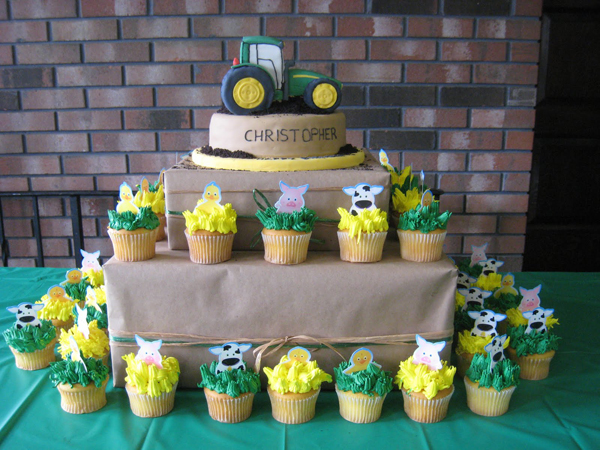 After much Google image searching, I began to lay out a plan. Here's how I would built my tractor cake:
Make an eight inch round cake covered with brown fondant
Pour Oreo cookie crumbs on it to resemble dirt
Sculpt a three dimensional tractor cake that would sit on top.

Make two rectangular cake stacks- one for the engine and the other for the cab.
Make the tractor wheels from rice krispie treats covered in fondant since cake would be to soft to lie on its side.
The cake itself was made a day ahead. It's vanilla cake with milk chocolate ganache filling and crumb coated with vanilla buttercream.
The base, cab and engine were all put together and sculpted separately. The fondant and royal icing details were all completed on the second day.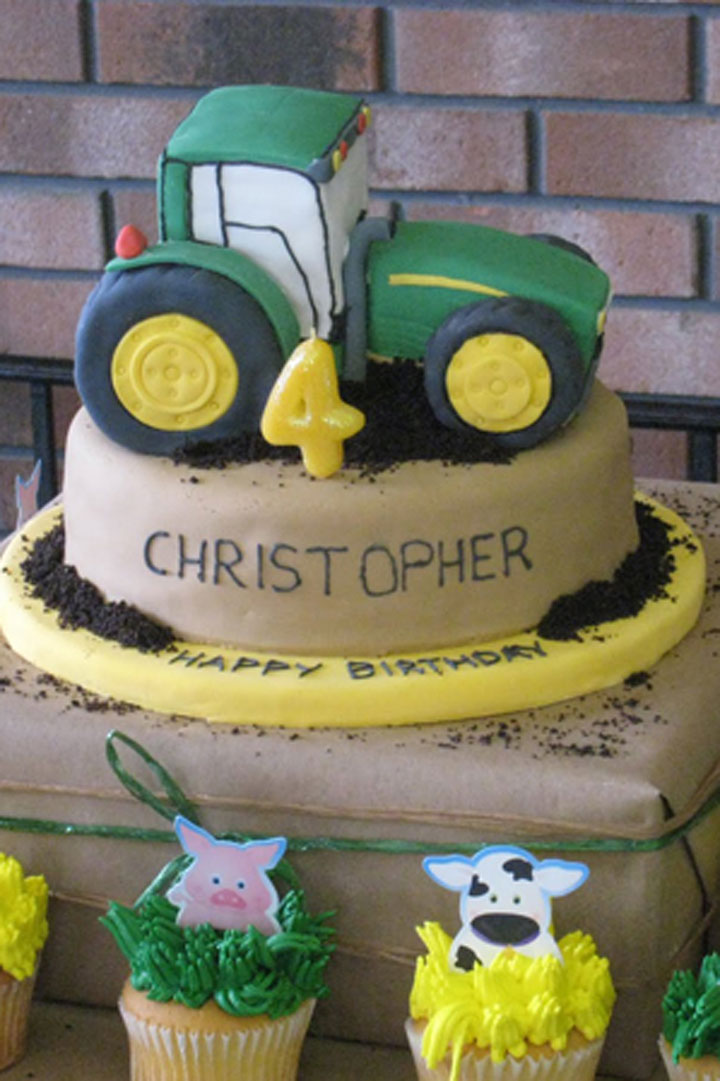 To save some time, we ordered the cupcakes from a local bakery with detailed instructions to match the cake. I wanted to the frosting to look like grass and we bought animal toothpick toppers to place on top.
I made a cupcake and cake stand from two sturdy boxes covered with brown craft paper and ribbon.
If you are interested in making a John Deere tractor cake, I suggest looking at the John Deere website. They give you 360 degree views of their tractor models!
If you enjoyed this birthday theme post, you may also want to see my post on a train themed birthday party.