Should you decorate your cake with fondant or buttercream? Here are some examples of both and the pros and cons using one over the other.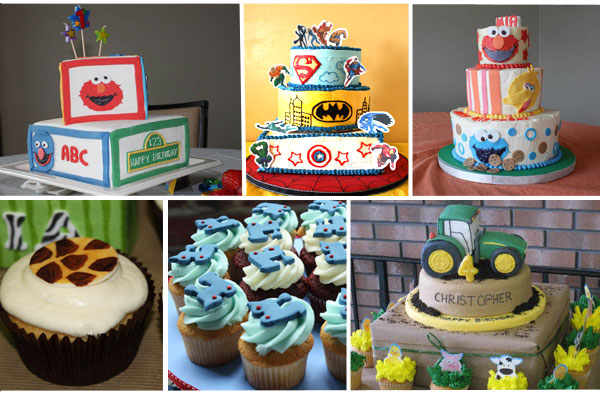 No doubt, if you regularly read baking blogs you have probably seen an article or two on whether to use rolled fondant or buttercream on your cake.
So, what's the difference between fondant and buttercream?
Fondant is a mixture of sugar, glucose and gelatin that is pliable and can be rolled out. Buttercream is a mixture of butter and sugar that you spread on.
If you are about to make an important occasion cake for the first time then you might want to read on. Every time I make an occasion cake, I run through this debate in my head. So here are some thoughts and what I've done with my cakes.
Fondant
Fondant looks awesome! It makes your cake design seem so smooth and flawless.
I find it much easier to make cut outs using fondant than trying to keep a steady hand and pipe with buttercream. If you mess up, you just roll it again.
Dye all your fondant colors in advance and don't worry about having to reconstitute it to the right consistency later as you would with buttercream.
Fondant cakes are easier to transport because it's more structurally sound. It won't melt during the summer months.
Fondant is a more versatile medium for making fancy three dimensional shapes or colored designs like marble. You can write on it with edible markers or paint on it.
Buttercream
Buttercream tastes better to most people. The more expensive fondant brands taste better but many still prefer the taste and texture of buttercream.
Buttercream is kid friendly. I make cakes for my kid and he and his friends definitely prefer it. Most kids love eating the buttercream more than the cake itself. I also like to avoid using a lot of dye and find that I end up using more of it with fondant.
Buttercream is less expensive. Expensive fondant is often left unconsumed on the plate.
Buttercream is one less extra step. Cakes need to be crumb coated with buttercream regardless of whether you top coat it with fondant or more buttercream. So why make two things?
So what did I decide to do for my latest cake?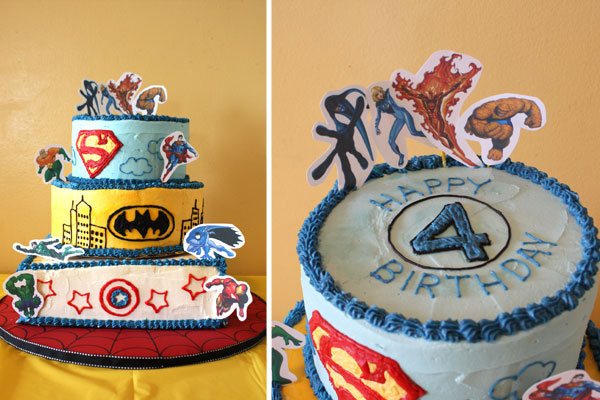 I went all buttercream. Yes, I only have four things listed under buttercream and five listed under fondant, but that doesn't make fondant better.
The right answer just depends on the situation and you have to weigh what is important to you. If looks are more important to you, go with fondant. There's no doubt about it.
For V's superhero birthday cake, I chose buttercream because I wanted the kids to enjoy the taste. Moreover, it required bright primary colors and I did not feel good about the amount of dye I would use to cover a whole cake bright red or blue.
How I decided on my other cakes...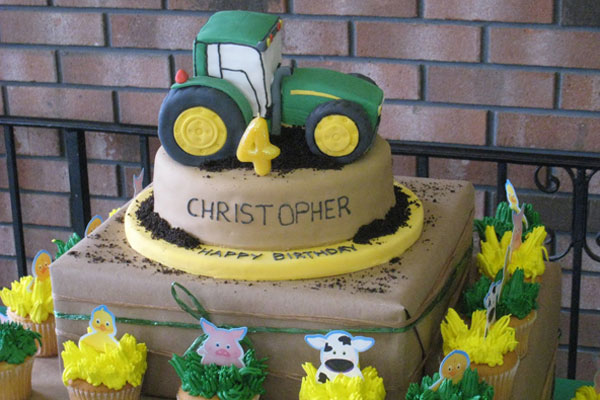 My nephew Christopher's tractor cake is all fondant. Let's face it, there's no way this shaped cake was going to look as neat if it were buttercream.
Since it was a kid's party, we also got matching cupcakes for them. The tractor was more a showpiece and the family ate it later. This was also my first try at making a shaped fondant cake and my cousin was kind enough to let me experiment for the party.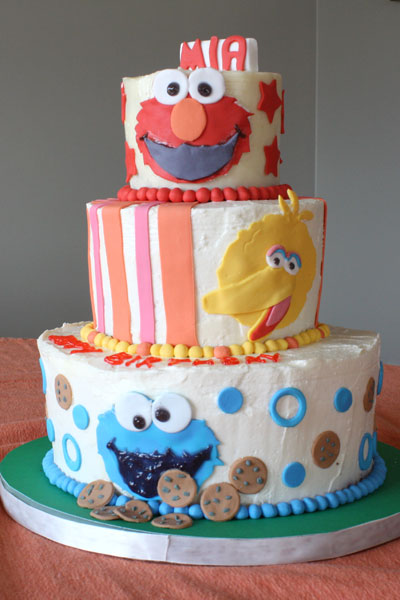 Mia's cake is a combination of buttercream and fondant. I wanted buttercream because it tastes better and the guests would enjoy it more.
Also, I just don't have the skills to pipe Sesame Street designs neatly. It was also a time saver because I made the fondant parts the day before and then applied them to the cake the day of the party.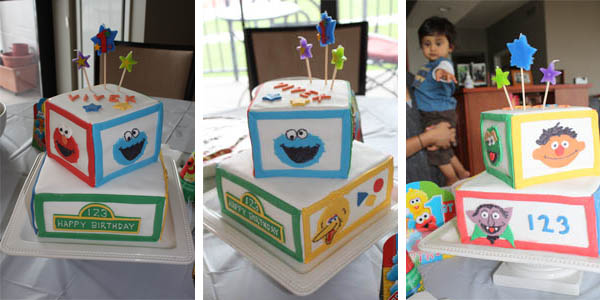 V's first birthday cake is all fondant. Ok, so I went a little mom crazy on this one but it was my baby's  first birthday and I wanted the cake to just look fabulous. The fondant was left uneaten. In retrospect, buttercream would have been a better option for that audience.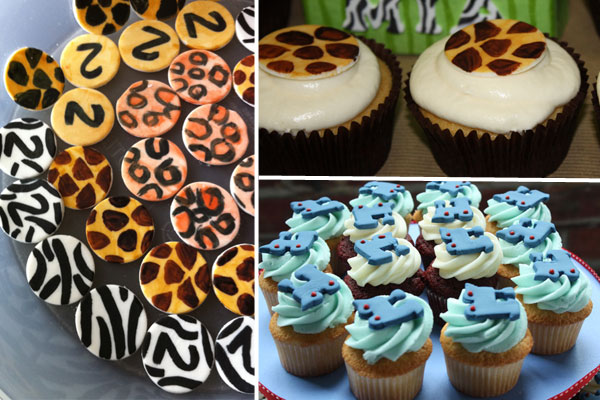 Cupcakes with Fondant Decorations
Cupcakes are a great alternative to occasion cakes. I've seen fondant covered cupcakes and some with fondant 3D characters sitting on top.
Personally, I think the icing is what makes a cupcake fun to eat. So to compromise and still fit the theme, I made these fondant toppers for V's train themed 2nd birthday and animal prints for a friend's daughter's second birthday. It's actually easier than you think to make your own cupcake toppers.
I hope this has given you something to think about the next time you are trying to make a great cake! There's no right answer.  Choose whichever icing type best suits your needs.
SaveSave