Chocolate custards or pots de creme are easier to make than you may think. Creamy spoonfuls of chocolate are the perfect indulgence anytime.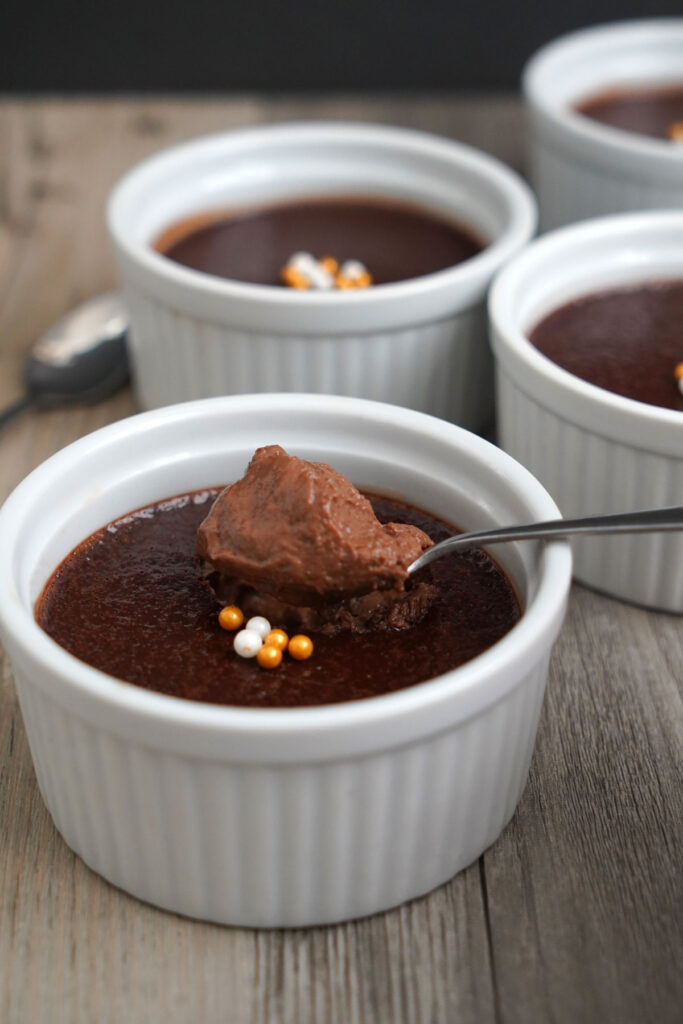 When you just want creamy spoonfuls of chocolate, this chocolate custard is it! Smooth and rich, your mouth will be so happy! It's made with simple ingredients and can be made ahead of time too!
This classic French dessert is also known as pots de creme au chocolat. They are traditionally served in small lidded pots, hence the name, but you can make them in other containers as well. I've given a few suggestions further below.
Ingredients to Make Chocolate Custards:
Heavy Cream and Milk: I've used a combination of heavy cream and milk. Different recipes use varying proportions of milk and cream and some use only cream but I find this mix to work well.
Chocolate: Only use bittersweet chocolate (60-70%) and use the highest quality that you can find. The better the chocolate quality the richer the taste.
Remember, this is going to be the dominant flavor so only use the good stuff. I've used Guittard bittersweet chocolate.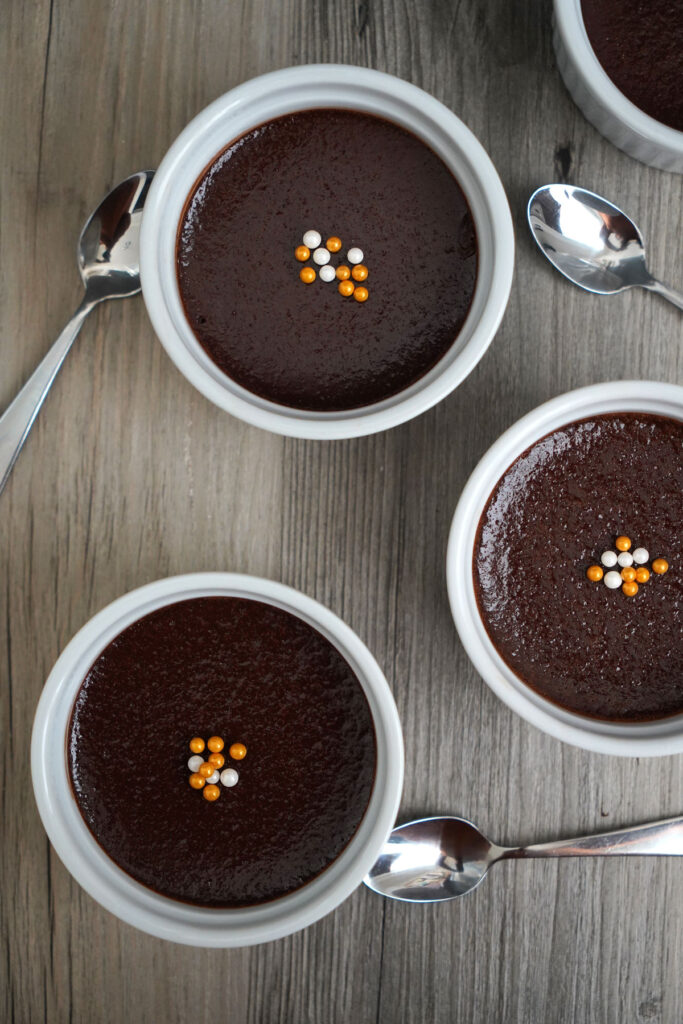 Eggs: This recipe uses one whole egg and two egg yolks so if you have some leftover yolks from another recipe, you are in luck! Eggs give custards structure and the extra yolks in this custard make it extra soft and rich.
Sugar: A little bit of sugar helps with the bitter chocolate!
How to Make Chocolate Custard Pots
Many chocolate custard recipes claim to be easy because they are "no bake" but they still have you stirring an egg mixture on the stovetop. I actually find it easier to bake them in the oven and am less likely to wind up with curdled eggs. You will need to set up a water bath but it's very simple so don't let is scare you.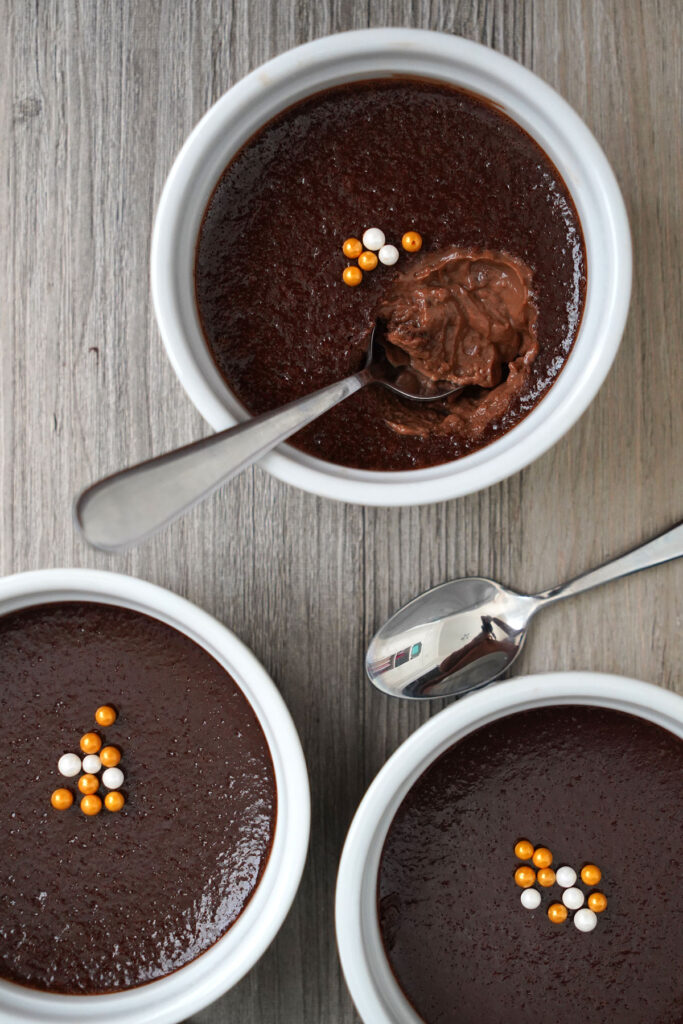 To make the custard, start by heating the milk and heavy cream to a boil. Stir in all the chocolate until it is completely melted. Let it cool slightly. The melting goes a lot faster if you have finely chopped chocolate so even if you are using chocolate chips, I would give them a rough chop.
Separately whisk together the remaining ingredients and then add the chocolate cream mixture. Strain the mixture and then divide it between four ramekins or oven safe containers of your choice.
Place the containers in a pan that's deep enough to allow you to pour hot water into it so that the water rises to about three fourths the height of the custard containers. Then place the pan in the oven.
Bake them until they are just slightly jiggly in the center. Remove them from the oven and from the water bath and allow them to cool.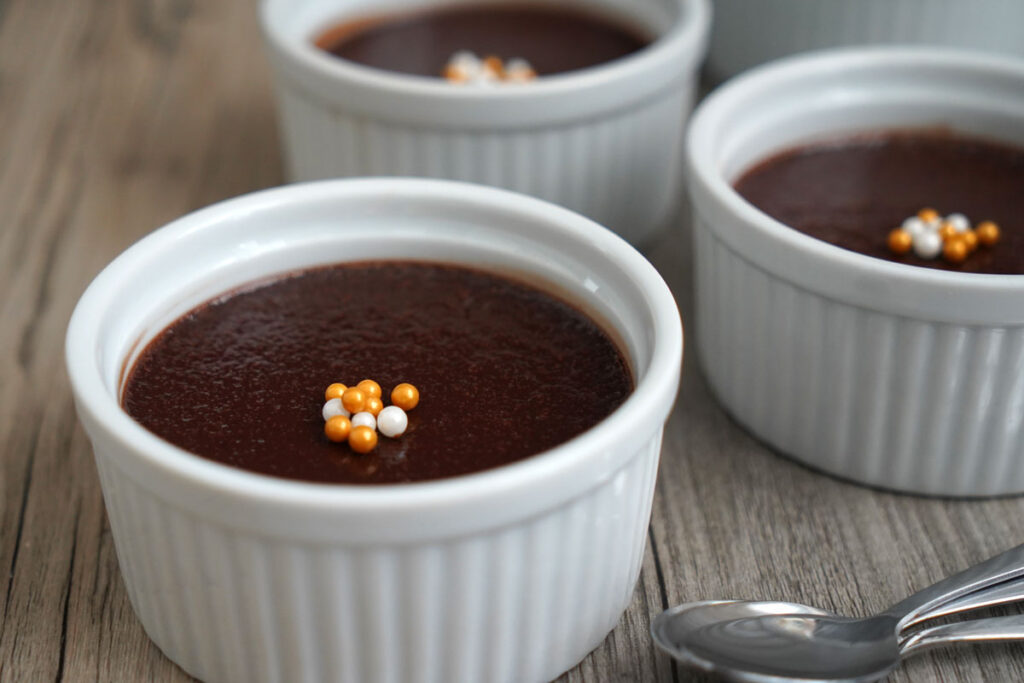 If you wish to decorate it, I recommend a dollop of whipped cream with shaved chocolate. I have used these gold and white sugar dragees for the sake of these photos. (Because I ran out of whipped cream!) However, I do not recommend anything that adds crunch.
Frequently Asked Questions
Do I need to strain my custard?
No. You don't have to strain it but if you have some egg bits or have some unmelted chocolate, this will eliminate them from the batter. This way, your custard cooks smooth and evenly.
What kinds of containers can I use for pots de creme? 
Ramekins work really well but you can use anything that is oven safe up to 300°F. Glass weck jars look really cute and you can also use small mason jars. 
Why do I need to bake custard in a water bath?
Baking the custards in a water bath prevents the outside edges from overcooking before the inside cooks. 
Why doesn't the top of my custard look smooth?
Your custard batter was not smooth before you placed it in the oven. If your eggs became too foamy when whisking, you will need to skim the top with a spoon or paper towel. Usually straining will also eliminate the foam but if you still have some left after transferring to the ramekins, you can skim off the top and even use a toothpick to poke out any remaining bubbles. 
Storing Chocolate Custards:
Baked custards can be stored in the refrigerator for up to two days. That makes this a great make ahead dessert!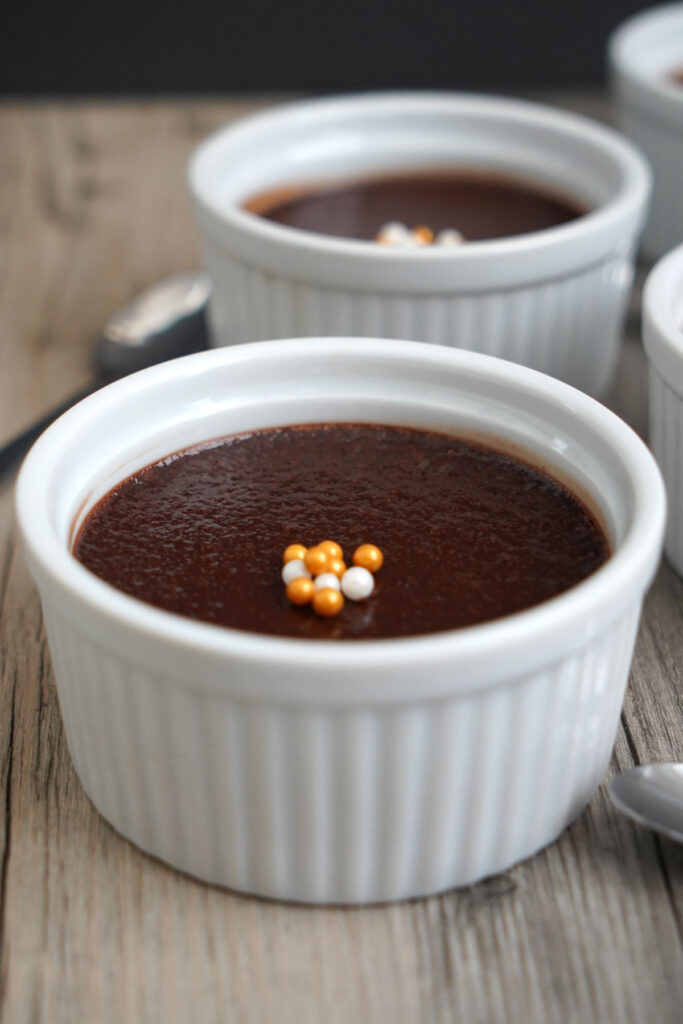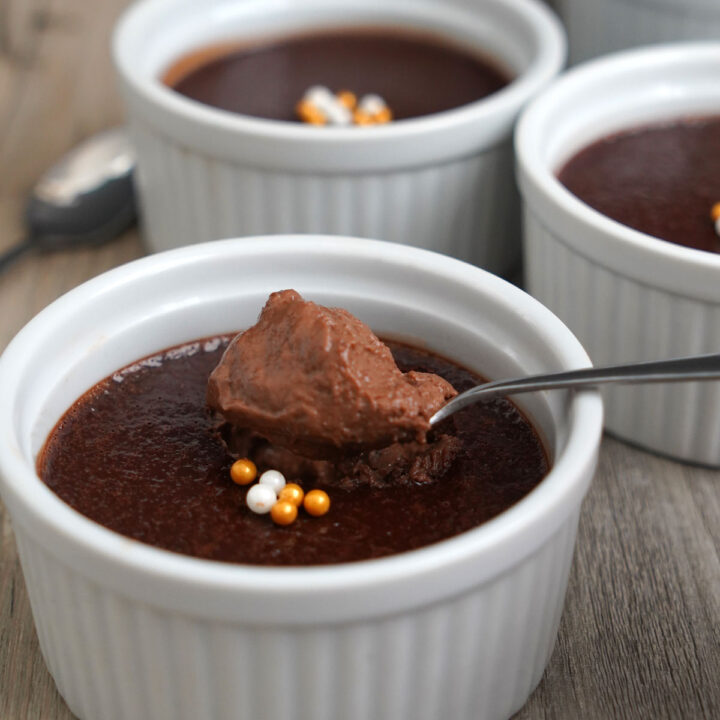 Chocolate Pots de Creme
Chocolate custards or pots de creme are easier to make than you may think. Creamy spoonfuls of chocolate are the perfect indulgence anytime. 
Ingredients
1 cup heavy cream
½ cup whole milk
4 oz bittersweet chocolate, chopped
1 egg
2 egg yolks
3 Tablespoons sugar
Pinch of salt
Instructions
Pre-heat oven to 300°F.
Combine milk and cream together in a sauce pan and bring it to a boil.
Remove from heat and stir in the chopped chocolate. Stir until completely melted.
In a separate bowl, whisk together egg, yolk, sugar and salt.
Stir the chocolate mixture into the egg mixture.
Strain the entire mixture through a fine sieve into another bowl.
If the mixture still looks foamy, remove the foam gently with a paper towel or spoon by skimming off the top.
Divide and transfer into four ramekins evenly. Remove any visible bubbles with a toothpick.
Create a water bath by placing the ramekins in an oven safe tray or baking dish. Fill the dish with hot water so that the water level is about halfway to three quarters up the ramekin sides.
Bake for about 30-40 minutes or until the centers are slightly jiggly.
Remove the containers from the water bath. Let them cool and enjoy room temperature or chilled.
Notes
Just before serving, finish with a dollop of whipped cream on top if desired. 
Do not let the sugar sit in the eggs unmixed. Always stir sugar into eggs immediately to prevent yolks from drying out.
Straining the mixture will remove any unmelted chocolate and bits of egg. 
Finished pots can be stored in the refrigerator for up to two days. 
Nutrition Information:
Yield:

4
Serving Size:

1 container
Amount Per Serving:
Calories:

485
Total Fat:

41g
Saturated Fat:

25g
Trans Fat:

1g
Unsaturated Fat:

14g
Cholesterol:

210mg
Sodium:

91mg
Carbohydrates:

21g
Fiber:

5g
Sugar:

13g
Protein:

10g
This nutrition information is only an approximate provided for convenience and as a courtesy only. Information comes from Nutritionix, an automated nutrition calculator.