This flourless chocolate orange cake is so decadent! Pair it up with some vanilla ice cream and you will be in heaven! It's perfect for birthdays, Passover, Valentine's Day or any celebration.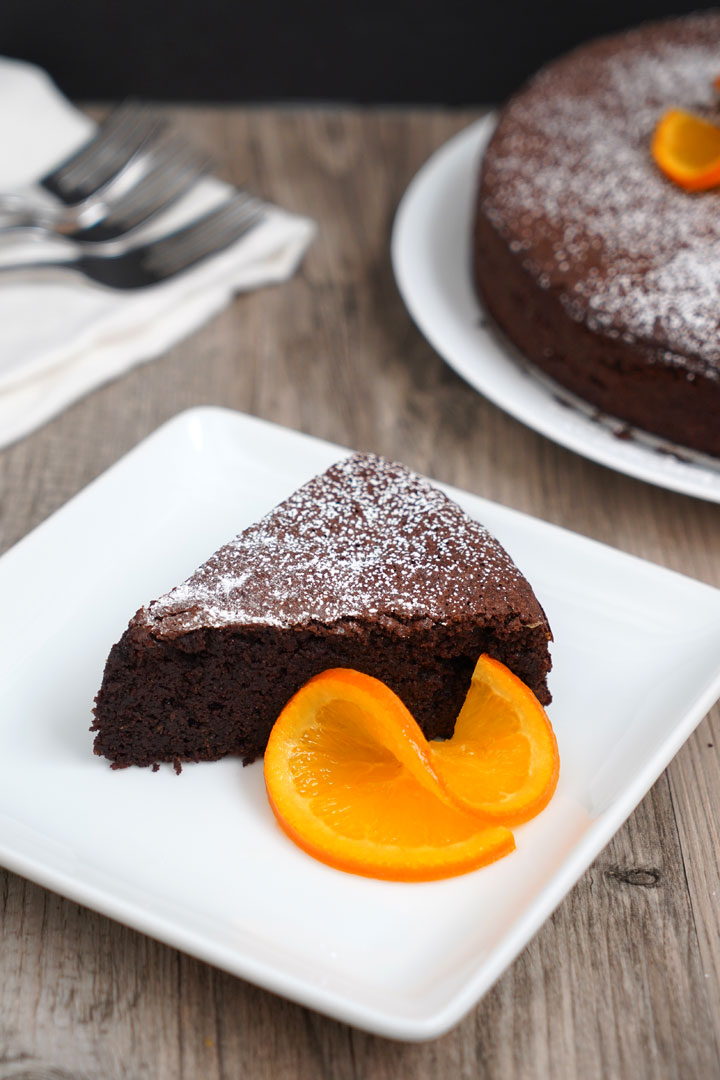 I admit, I got a little excited when I saw bags of almond meal at Trader Joe's and may have purchased too many! I needed to bake with it, so I finally decided to make a flourless chocolate cake.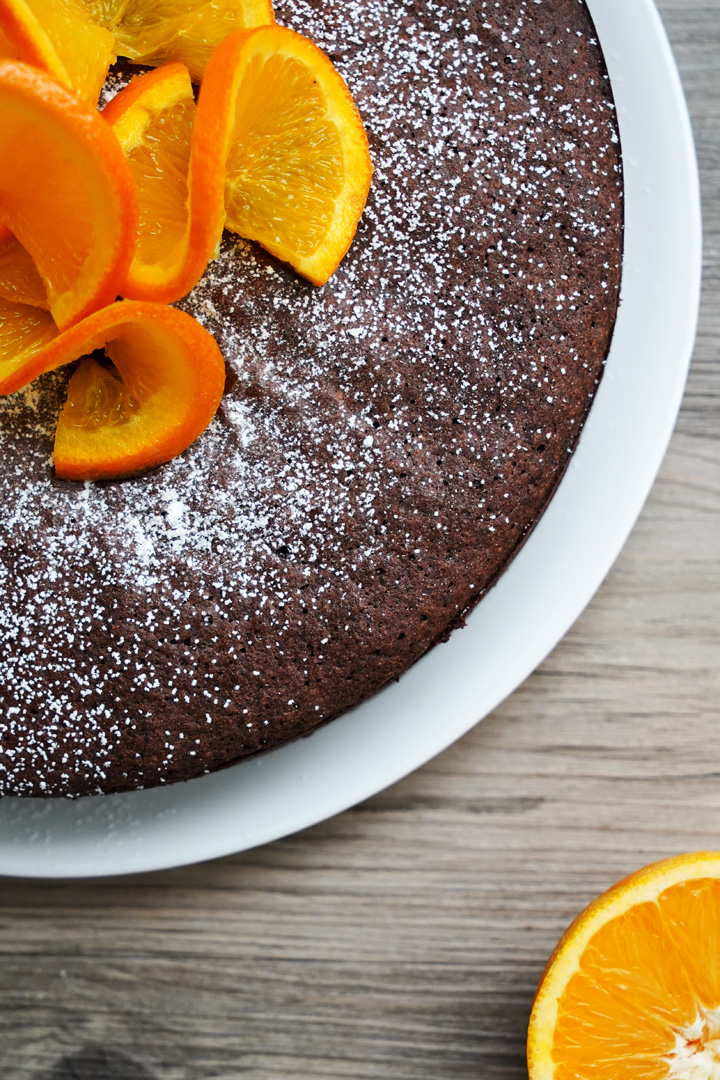 This is no ordinary flourless chocolate cake. My flourless cake is made with dark chocolate combined with oranges. I know the combination of chocolate and orange is not for everyone but it's a favorite of mine.
For those of you who do love it though, I also have a dark chocolate orange tart that is to die for! And if you prefer vanilla you can always hop on over to my vanilla based recipe for a layered orange cake.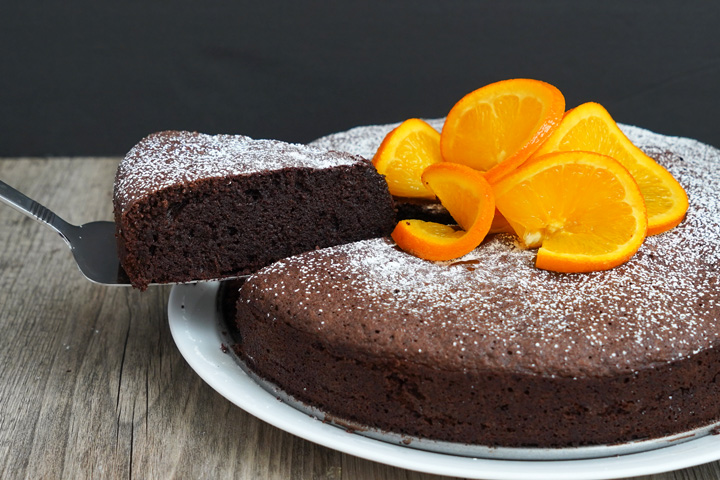 Unlike many other recipes, this flourless chocolate cake is not too sweet. It also has just the right amount of fudgy-ness without losing its cake-like properties. In other words, it still has a nice crumb. It's very moist and rich without being heavy.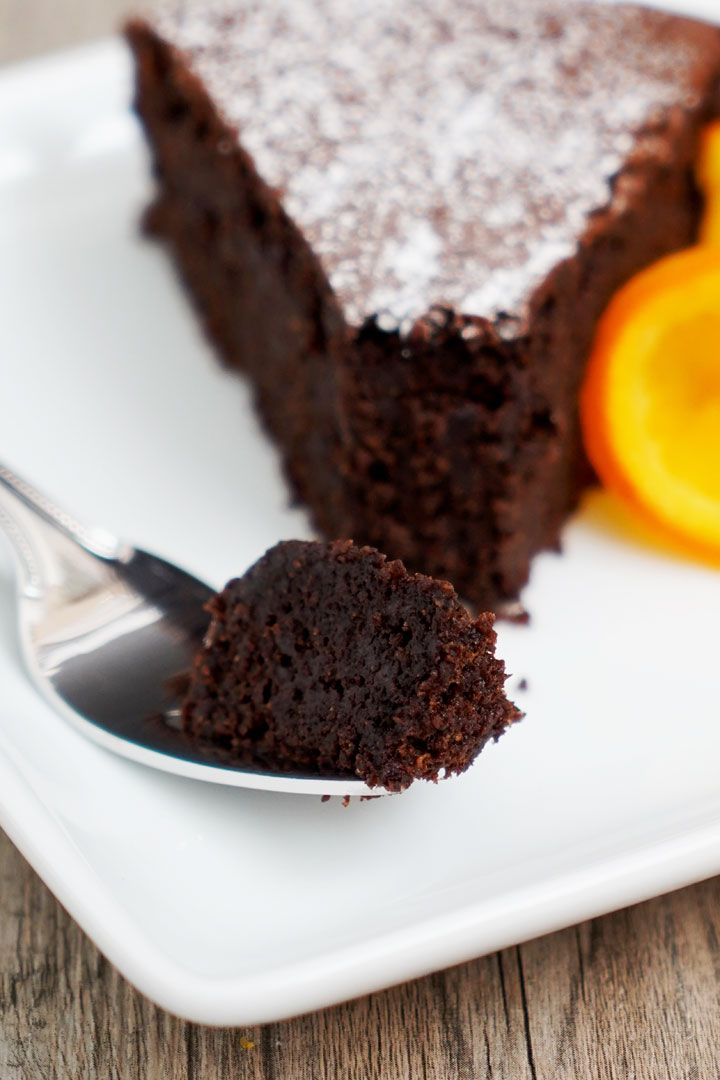 How to Make an Orange and Chocolate Flourless Cake
Since this cake has no chemical leaveners such as baking soda or powder, its rise relies on eggs and aerating the batter while mixing. In the first step, you make a "flour mixture" out of finely chopped chocolate and almond flour.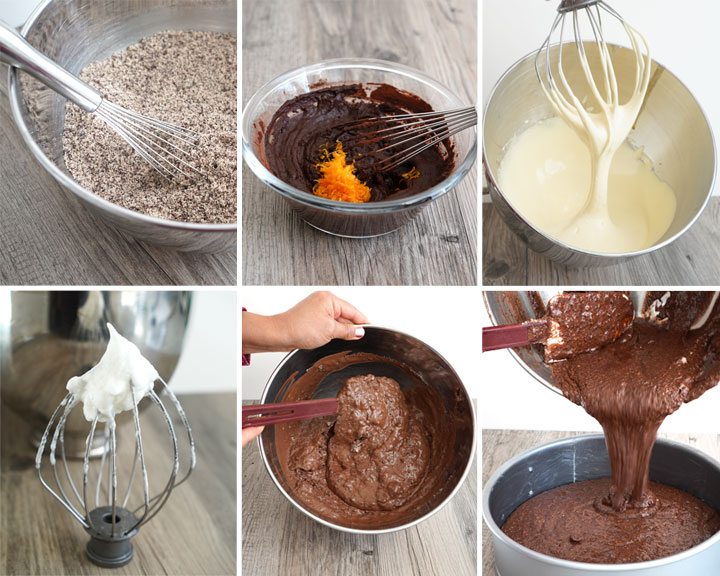 This recipe differs from other chocolate flourless cakes because you use almond meal and run the chocolate through a food processor instead of melting it. Next, you combine the cocoa with the juice and zest.
And then it gets a little tricky! First, the egg yolks are beaten with sugar until they become very pale and thick. It should be ribbon like when you lift the whisk attachment away from the bowl.
Notice how the batter stays connected to the bowl and whisk on the top right in the picture above. Once it reaches this stage, you can combine it with the cocoa and orange mixture.
Second, the egg whites are whipped separately to create a meringue with stiff peaks. A stiff peak means the meringue forms a "peak" that stays straight up when you turn the whisk upside down (as shown above on the bottom left).
Finally, you gently fold the two mixtures together being very careful that you don't deflate the batter. You took a lot of time to get that air in there so you want to keep it! Transfer the batter to your prepared pan and bake.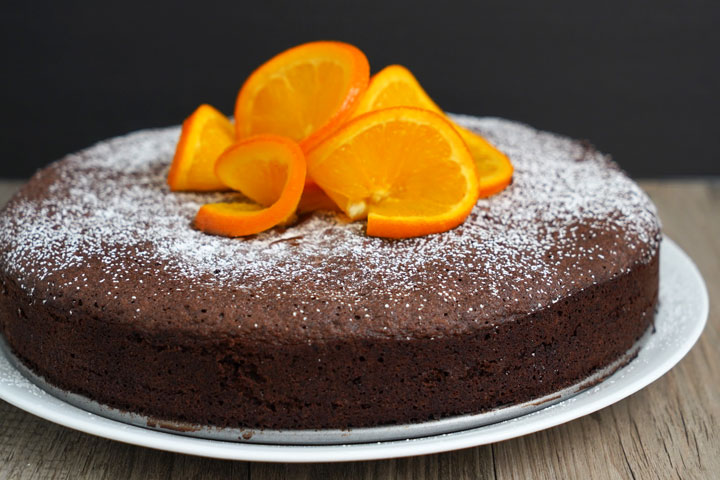 Tips for Making Orange and Chocolate Flourless Cake
Use a whisk to thoroughly mix the almond flour and ground chocolate. Be sure to remove any clumps or they will show in the finished cake.
Use quality chocolate to get the best chocolate flavor. I chopped up a bar of Ghirardelli chocolate.
I used a mixture of Dutch process cocoa and black cocoa powders for a darker cake.  
Decorate the cake after it cools with a dusting of cocoa powder and fresh or candied orange slices. (I used candied slices and gave each slice a twist before laying them on the cake.)
You can also add a third flavor to it by serving it with a raspberry sauce.
If you loved this recipe, you may also like my recipe for individual flourless molten chocolate lava cakes with kumquat sauce.
If you are looking for something more basic and gluten free, try my oat flour chocolate chip cookies.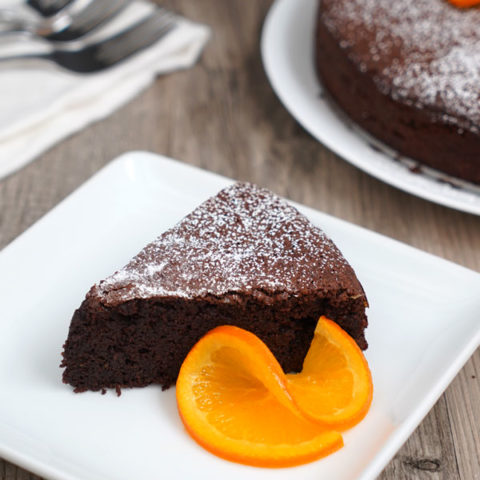 Flourless Chocolate Orange Cake
A rich chocolaty cake made with almond flour, lots of chocolate and oranges. Pair it up with some vanilla ice cream for an extra treat. This gluten free cake is perfect for birthdays, Passover, Valentine's Day or any celebration. Recipe adapted from Bon Appetit
Ingredients
6 ½ ounces almond flour
1 cup sugar, divided
6 ounces bittersweet chocolate
½ cup unsweetened cocoa powder
½ cup orange juice
2 teaspoon orange zest
6 large eggs, separated
1 vanilla bean, split lengthwise
¼ teaspoon salt
Instructions
Preheat the oven to 350F degrees. Prepare a 9 inch springform pan by generously coating the bottom and sides with butter.
In a large bowl, mix ¼ cup sugar into the almond flour. Coarsely chop your chocolate and then run it through a blender or food processor until finely ground. Thoroughly mix this into the almond flour. Break up any clumps.
Next, whisk together the cocoa, orange juice and zest. The mixture will get very thick.
In an electric mixing bowl, scrape the seeds of your vanilla bean (use the back of a paring knife) and combine it with the egg yolks and ½ cup plus 2 Tbs of sugar. Beat this mixture with a whisk attachment until it is very thick. The color should change from the yolk color to a very pale white.
Beat the cocoa mixture into the egg yolk mixture until just combined and then gently fold it into the dry almond mixture. Set it aside.
Using a clean bowl and whisk attachment of an electric mixer, beat the egg whites and salt on medium speed. Once it becomes a little foamy, gradually add the remaining 2 Tbs of sugar and beat until you have stiff peaks.
Fold the egg whites into the chocolate batter in three additions. Be sure to that it is completely incorporated but do not overmix! Transfer the batter to your pan and bake for about 40 minutes or until a toothpick comes out clean when tested in the center. It is normal for a flourless cake to fall a little when taken out of the oven. Let it cool completely in the pan before removing it.
Decorate with powdered sugar and oranges if desired.
Notes
You may substitute 2 teaspoons vanilla extract for the vanilla bean seeds.
Nutrition Information:
Yield:

12
Serving Size:

1 slice
Amount Per Serving:
Calories:

299
Total Fat:

18g
Saturated Fat:

6g
Trans Fat:

0g
Unsaturated Fat:

11g
Cholesterol:

93mg
Sodium:

88mg
Carbohydrates:

27g
Fiber:

5g
Sugar:

18g
Protein:

9g
This nutrition information is only an approximate provided for convenience and as a courtesy only. Information comes from Nutritionix, an automated nutrition calculator.
This post originally appeared on DessArts in April of 2010. It has been updated with new text and photos.