An easy and delicious alternative to buttercream frosting. Use this classic cream cheese frosting on carrot cakes, cupcakes and more.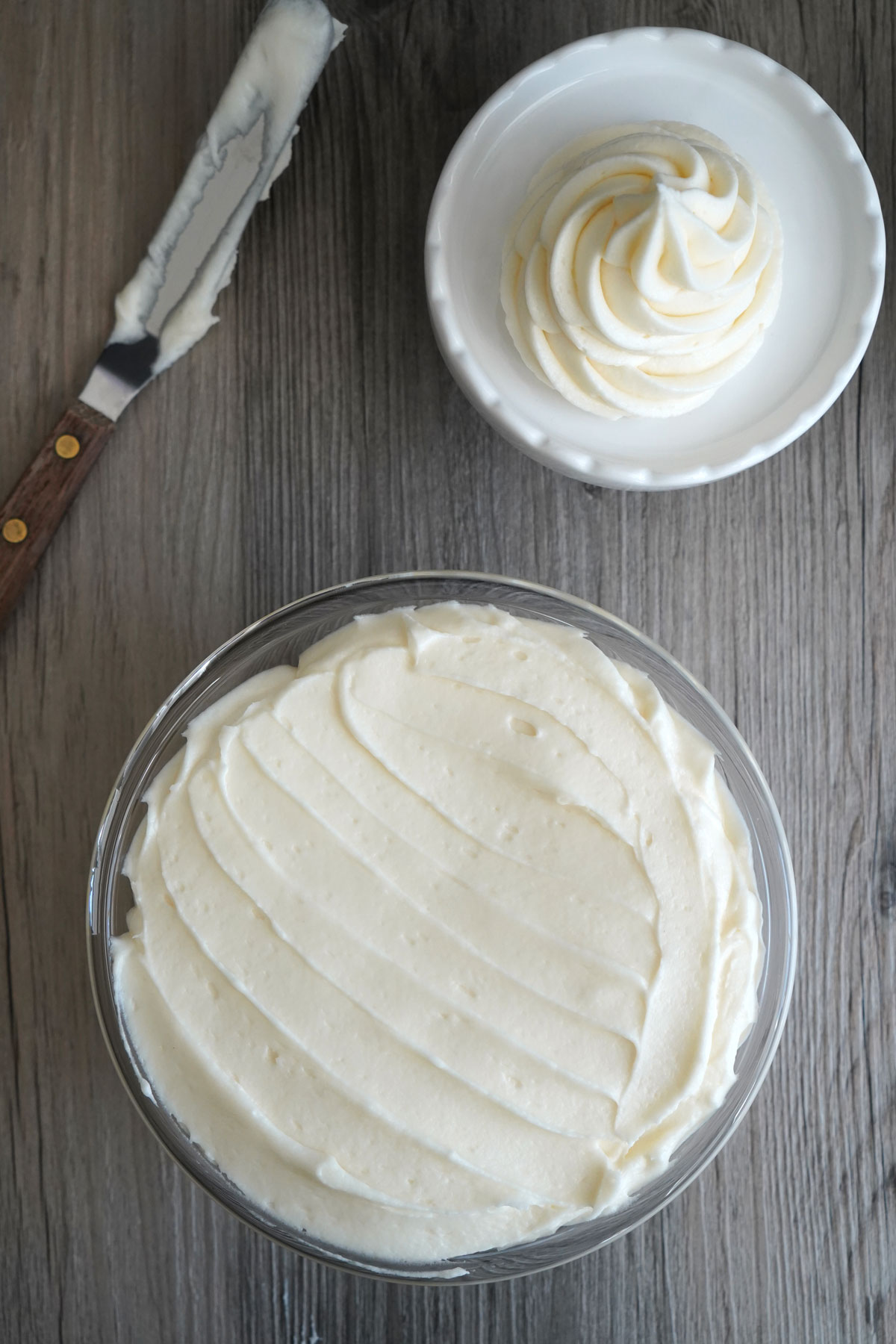 Cream cheese frosting ranks above vanilla buttercream for me any day. I love the combination of sweet and tangy.
You can use it on so many delicious treats. I've used it on carrot cake, red velvet cupcakes, key lime cupcakes and almost anything cinnamon or pumpkin flavored!
It's so versatile. Use this cream cheese frosting as filling for your cakes and cupcakes, pipe designs with it and dye it any color you want!
Ingredients for Cream Cheese Frosting
Making cream cheese frosting is easy. All you need is an electric mixer, full fat cream cheese, unsalted butter, quality vanilla extract and confectioners sugar.
The key here is to make sure your butter and cream cheese are room temperature. This allows for easier mixing. Having both out at room temperature for about an hour should do the trick.
The cream cheese should be full fat and be sure to use real cream cheese and not cream cheese spread. Do not use whipped cream cheese or anything found in a tub! Full fat brick cream cheese only.
Now let's talk about the butter. Use only unsalted room temperature butter. This way you have control over how much extra salt you add to the recipe. You never know how much salt is in a "salted" butter.
Finally, use pure vanilla extract not imitation vanilla for the best flavor.
Selecting the right ingredients and following the tips below will get you a delicious and sturdy cream cheese frosting that will never disappoint you.
How to Make Cream Cheese Frosting
In a large bowl or bowl of a stand mixer, beat the butter and cream cheese together until they are mixed. Be careful though, mixing for too long might make your frosting loose.
Keep an eye on it and stop and scrape down the sides to make sure everything is mixed and you are not needlessly beating it.
Add the vanilla and powdered sugar ½ cup at a time and mix on low speed until it's incorporated. Again, do not over mix!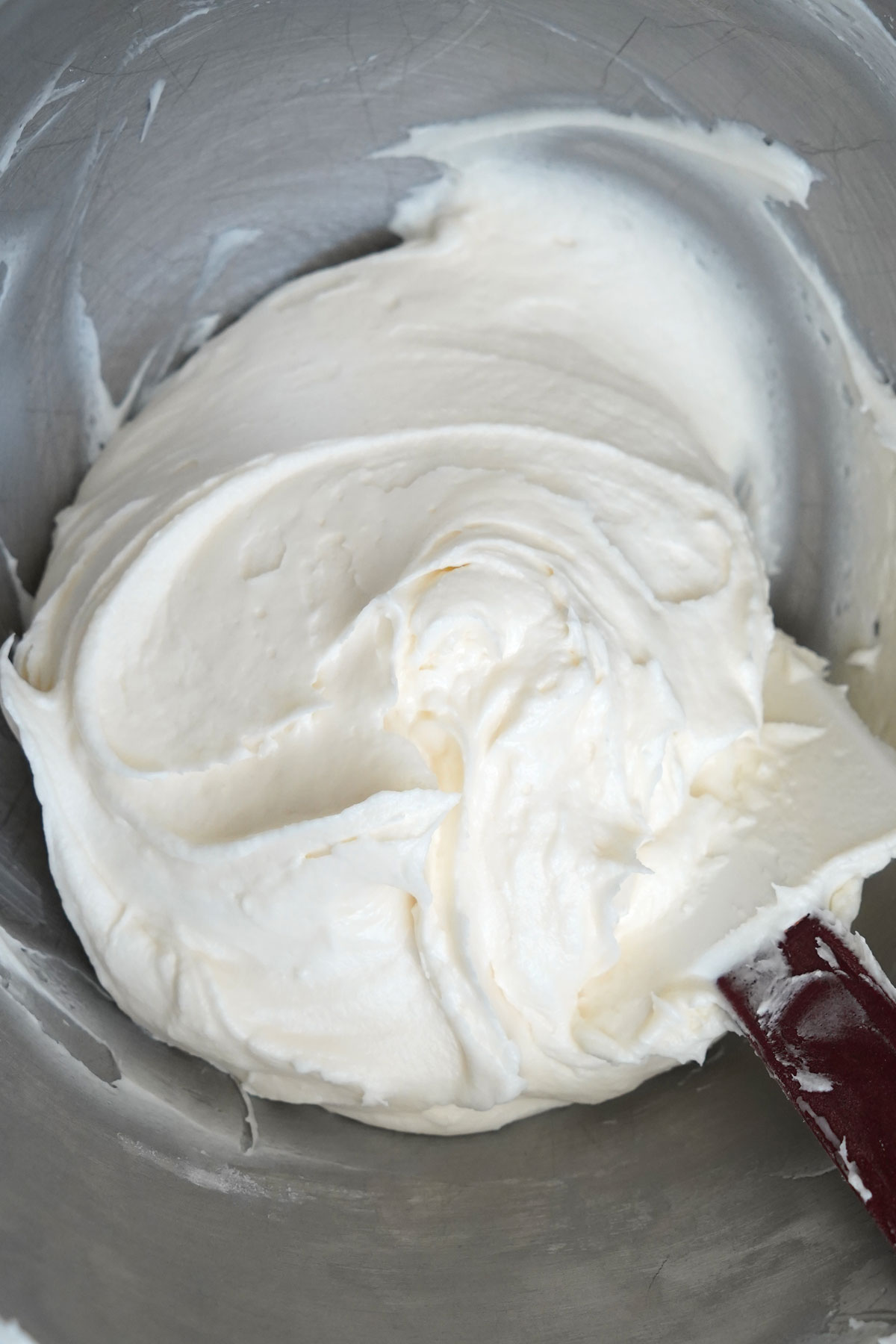 Tips for Making Cream Cheese Frosting
Use paddle attachments not whisk attachments on your mixer. Whisk attachments can create air pockets which don't look pretty when frosting your cakes and cupcakes. A paddle will still get you a fluffy frosting.
Mix on low speed after adding the sugar so powdered sugar doesn't go flying everywhere! Increase the speed to medium once all the sugar has been incorporated.
Easily thin out or thicken your frosting to adjust to your needs. Add powdered sugar a small amount at a time for thicker frosting and add milk a teaspoon at a time for thinner frosting.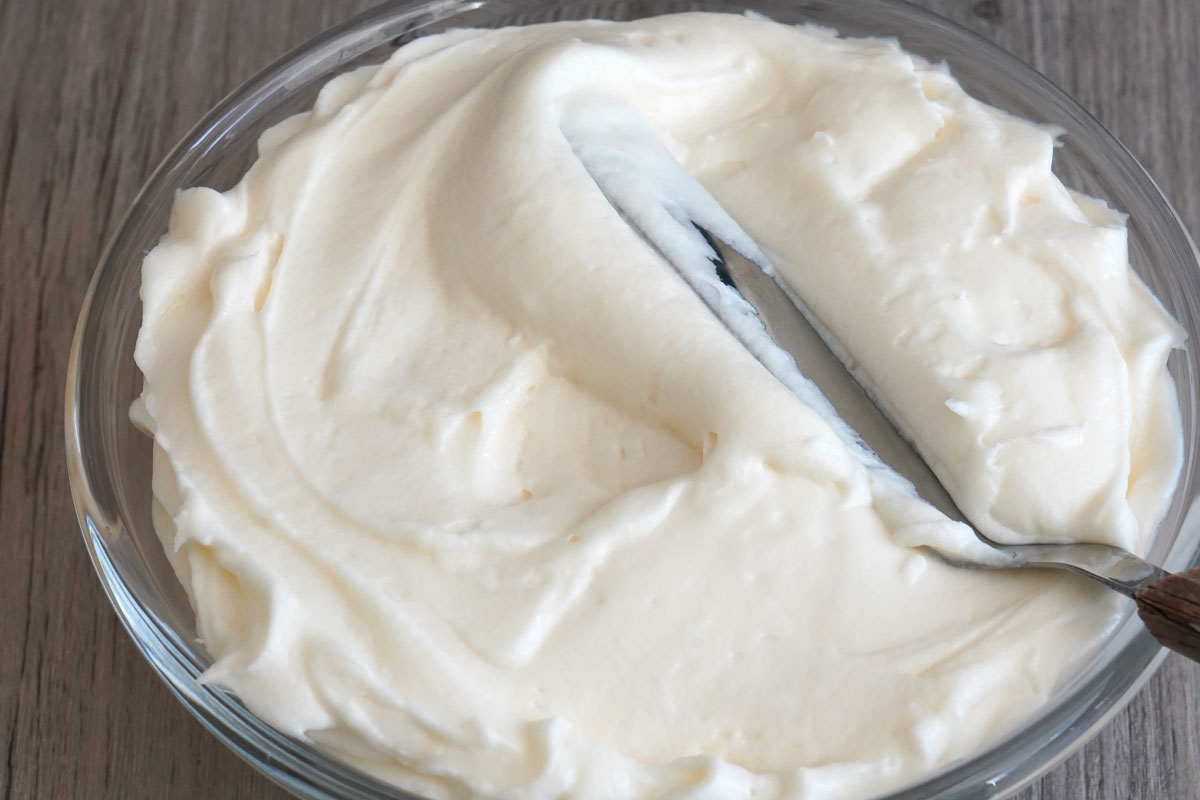 Storing Cream Cheese Frosting:
I wrap all leftover frosting in saran wrap and then place it in a container for storage. It can be stored in the refrigerator for up to 5 days or the freezer for one month.
When you are ready to use from the refrigerator, beat it again to get it back to it's creamy consistency but don't over mix! A quick 10 seconds is all it takes and it does not have to be room temperature. If you freeze it, let it thaw in the refrigerator first before beating it again.
Frequently Asked Questions:
Can you pipe with cream cheese frosting?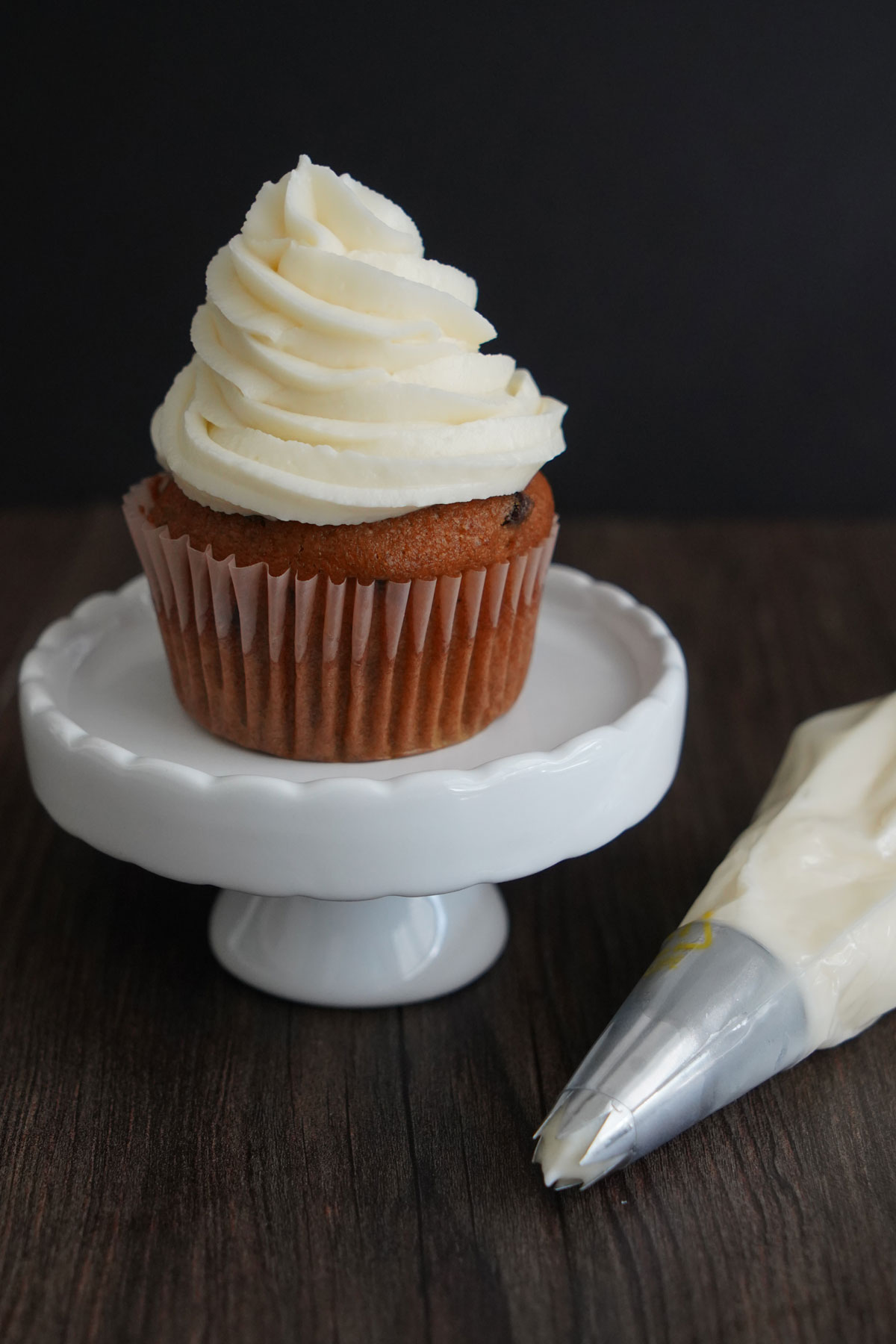 Yes! This is cream cheese frosting that can be piped. It holds a shape but it is not as sturdy as buttercream. You might want to use a vanilla buttercream in warmer months if you are serving outdoors or pipe using a simple round tip rather than a star shaped tip. 
It also helps to fill your piping bag with the frosting and let the whole bag chill in the refrigerator for about 20 minutes before you begin piping.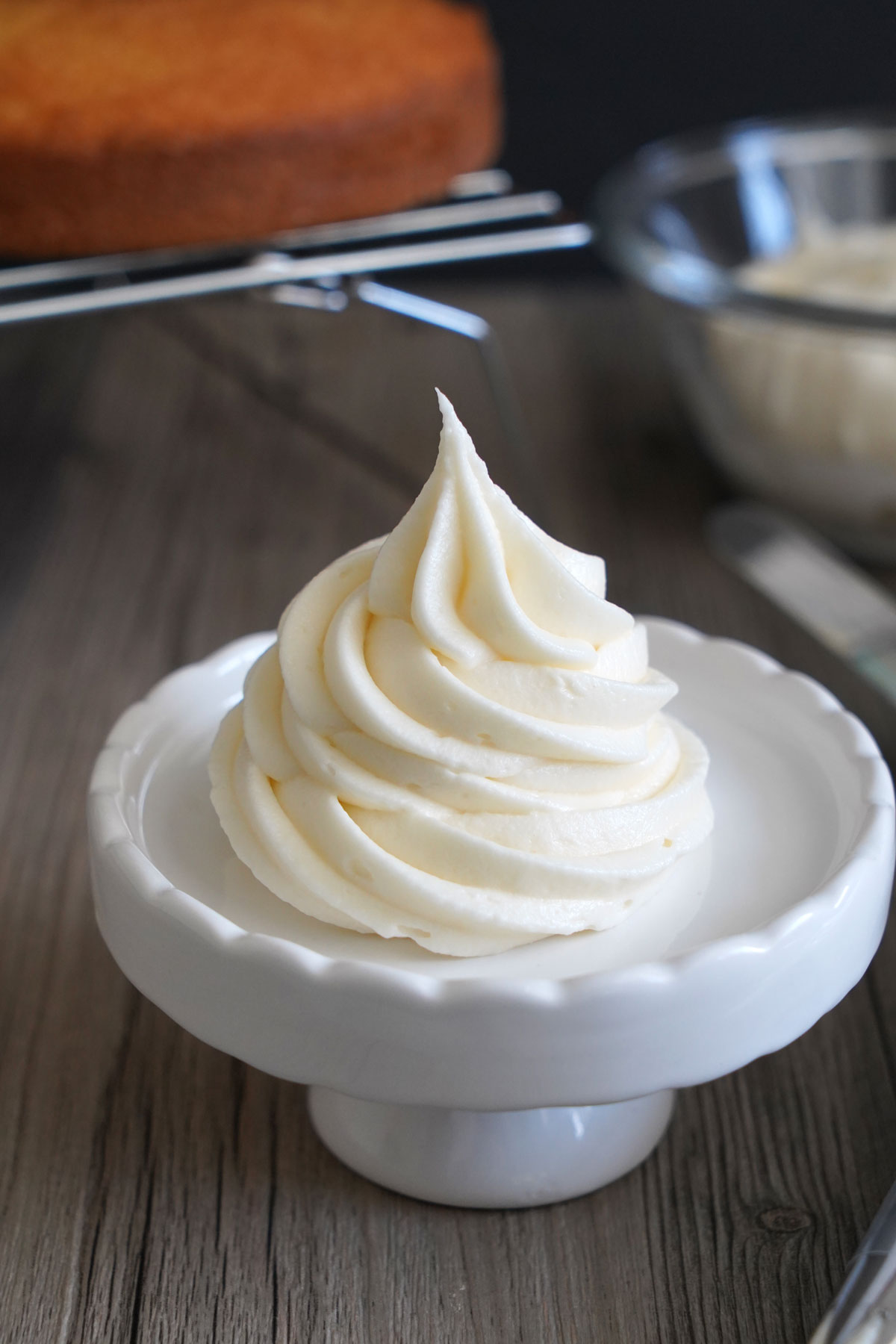 Can you make colored cream cheese frosting?
Yes! You can add a few drops of food dye gel after you mix in the sugar and then mix until blended.
How can I make a flavored cream cheese frosting?
You can add ½ to 1 teaspoon of your favorite extract such as coconut, almond, or lemon. You can also try these other flavor variations.

Cinnamon Cream Cheese Frosting: add three teaspoons of cinnamon powder when mixing the sugar.
Pumpkin Spice Cream Cheese Frosting: add ½ teaspoon pumpkin pie spice when mixing the sugar.
Chocolate Cream Cheese Frosting: add ½ cup unsweetened cocoa powder when mixing sugar.
Cookies and Cream Flavored Cream Cheese Frosting: Crush 8-10 chocolate sandwich cookies (such as Oreo) in a food processor. Stir the crumbs into the frosting.
What does cream cheese frosting go with?
Try this frosting out with any of these recipes. Note: some of these recipe links contain their own cream cheese frosting instructions but I recommend this updated version!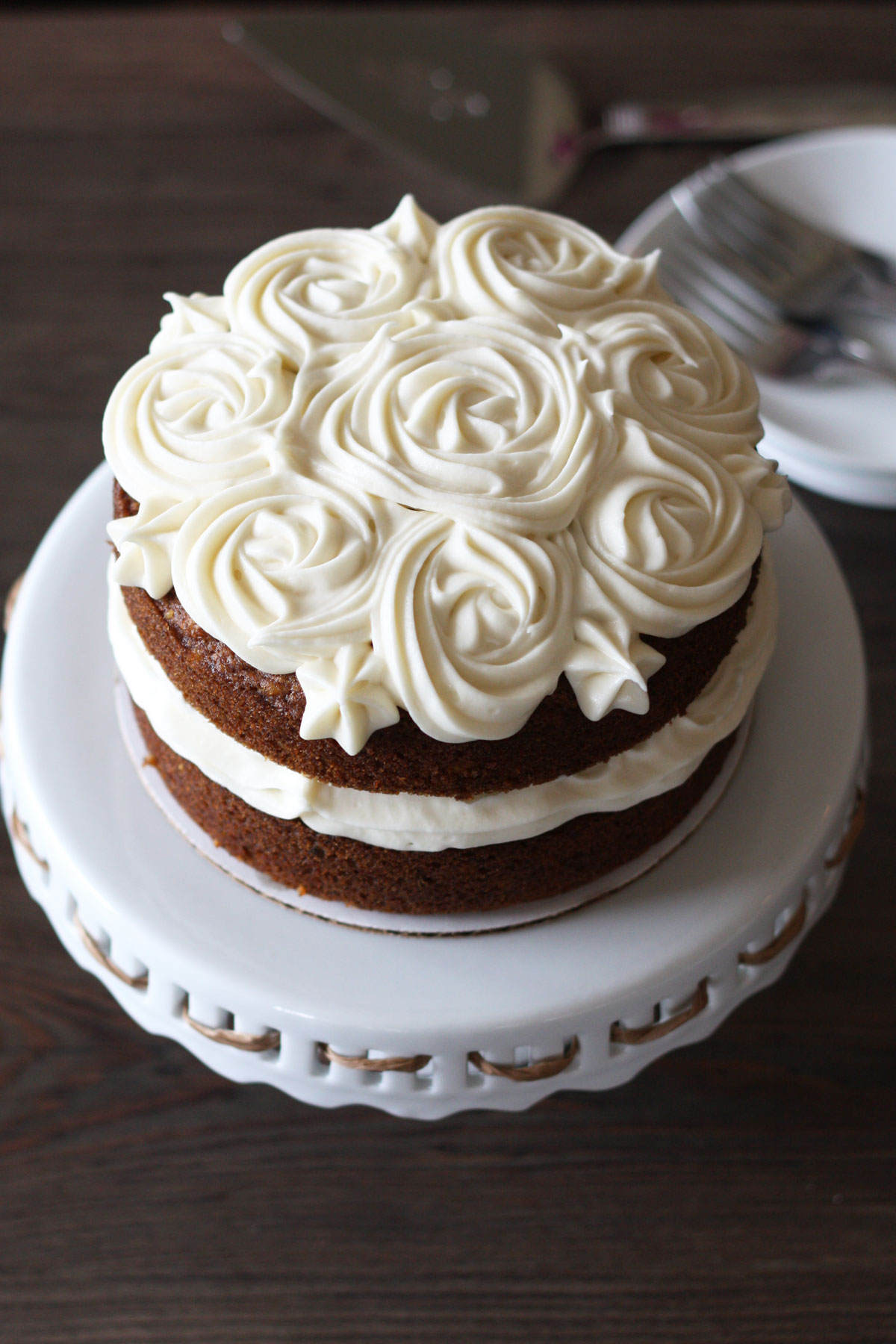 Carrot Cake (shown above)
Key Lime Cupcakes
Churro Cupcakes
Butterscotch Pumpkin Butter Bars
Cookies and Cream Chocolate Cake
Sweet Potato Cake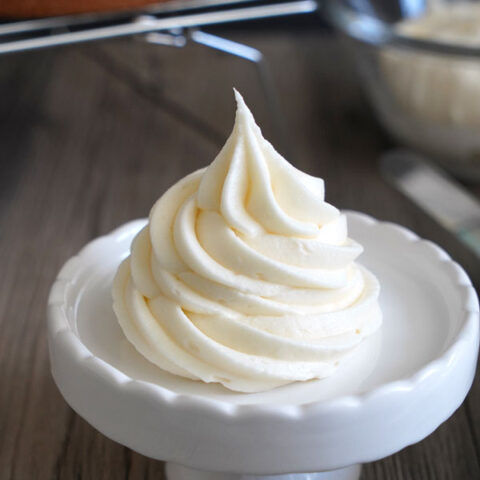 Cream Cheese Frosting
This frosting recipe is an easy and delicious alternative to buttercream frosting. Use this classic cream cheese frosting on carrot cakes, cupcakes and more. 
Ingredients
8 ounces cream cheese, room temperature
½ cup unsalted butter, room temperature
¼ teaspoon salt
2 teaspoons pure vanilla extract
3 cups confectioners sugar
Instructions
Using a stand mixer with a paddle attachment or hand mixer, beat the butter and cream cheese together until smooth. Begin with a low speed at first and then increase to medium speed.
Add the salt and vanilla and mix to combine.
Add the sugar and beat at a slow speed until the sugar is incorporated. Stop t0 scrape down the sides of the bowl with a spatula. Increase the speed and mix until smooth and combined.
Adjust the consistency by either adding either confectioner's sugar for a thicker consistency or a milk (a teaspoon at a time) for a thinner consistency.
Notes
Unused frosting can be stored in an airtight container in the refrigerator for up to 3 days and in the freezer for up to 1 month.
This recipe can easily frost a six inch cake with leftovers, an 8 inch cake thinly frosted or 12 cupcakes.
Nutrition Information:
Yield:

32
Serving Size:

2 Tablespoons
Amount Per Serving:
Calories:

91
Total Fat:

5g
Saturated Fat:

3g
Trans Fat:

0g
Unsaturated Fat:

2g
Cholesterol:

15mg
Sodium:

39mg
Carbohydrates:

11g
Fiber:

0g
Sugar:

10g
Protein:

0g
This nutrition information is only an approximate provided for convenience and as a courtesy only. Information comes from Nutritionix, an automated nutrition calculator.