This simple cupcake recipe makes 12 vanilla cupcakes. Top them with your favorite frosting flavor and decorations.
Sometimes you just want a simple cupcake recipe. Am I right? These classic vanilla cupcakes taste good with any frosting and are made with simple ingredients.
Ingredients and Tools Making for Vanilla Cupcakes
To make these cupcakes you will need:
Cupcake liners
12 cup muffin pan
Electric Mixer
Spatula and Mixing Bowls
All Purpose Flour
Baking Powder and Baking Soda
Sugar
Unsalted butter
Oil:  I used canola oil.
Sour Cream: I use full fat for all baking.
Pure Vanilla Extract
Milk: I used 2% but you can also use whole milk.
I've tried so many vanilla cupcake recipes. The number one problem I have had with them is moisture! That's why I've added a bit of sour cream and oil to this recipe.
Both are fats that help the cupcake retain their moisture. I know, I know, butter tastes better than oil! That's why I only replaced some of the butter with oil.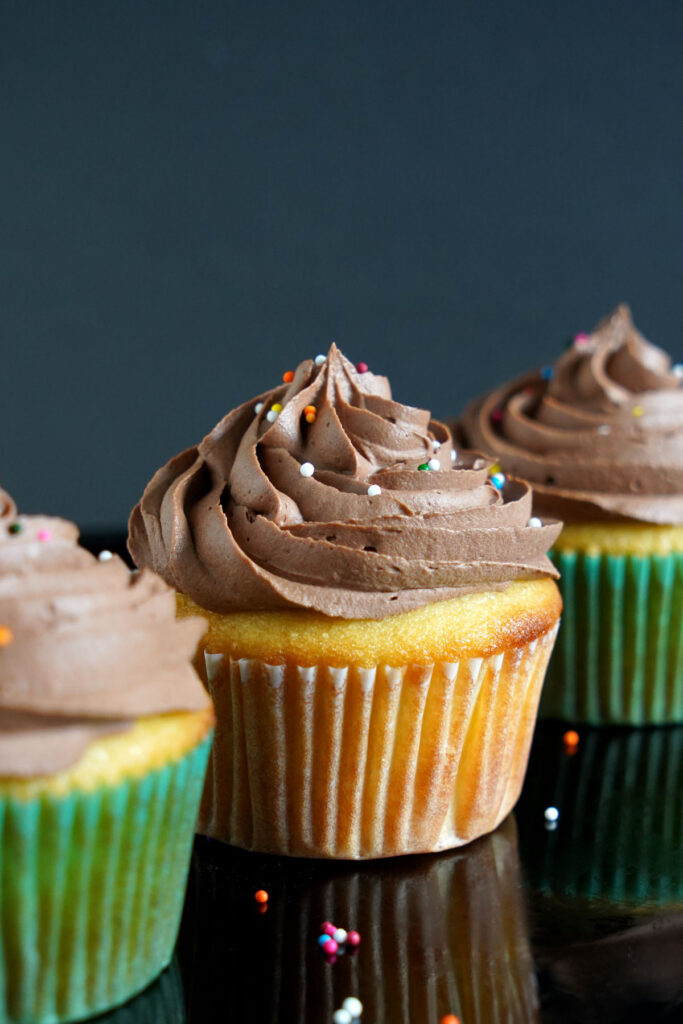 The sour cream also reacts with the baking soda which helps the cupcake rise better. Although baking powder has the same function, the reaction of baking soda with the sour cream makes it fluffier without having to add too much baking powder, which can cause bitterness.
How to Make Cupcakes
(See Recipe Card for Full Details)
Prepare your cupcake pan with liners and preheat your oven to 350F.
Mix together all the dry ingredients in one bowl. Use a whisk to evenly mix make sure nothing is clumping.
With an electric mixer, combine the butter and sugar.
Once the butter and sugar is light and fluffy you can add in the eggs, oil, and sour cream, one at a time until each is incorporated.
Finally, alternate adding the milk and dry ingredients, ending with dry ingredients. Be gentle with your mixing in this step! Only mix until you can no longer see flour in the last addition.
Fill the cupcake liners no more than ⅔ full.
Bake the cupcakes for about 15-18 minutes until they are springy on the top and a toothpick inserted into the center comes out clean.
Decorating and Frosting Vanilla Cupcakes
If you want to go all vanilla, definitely top it with a simple vanilla buttercream. My personal favorite pairing with vanilla cupcakes though is my fudge frosting. It's the best!!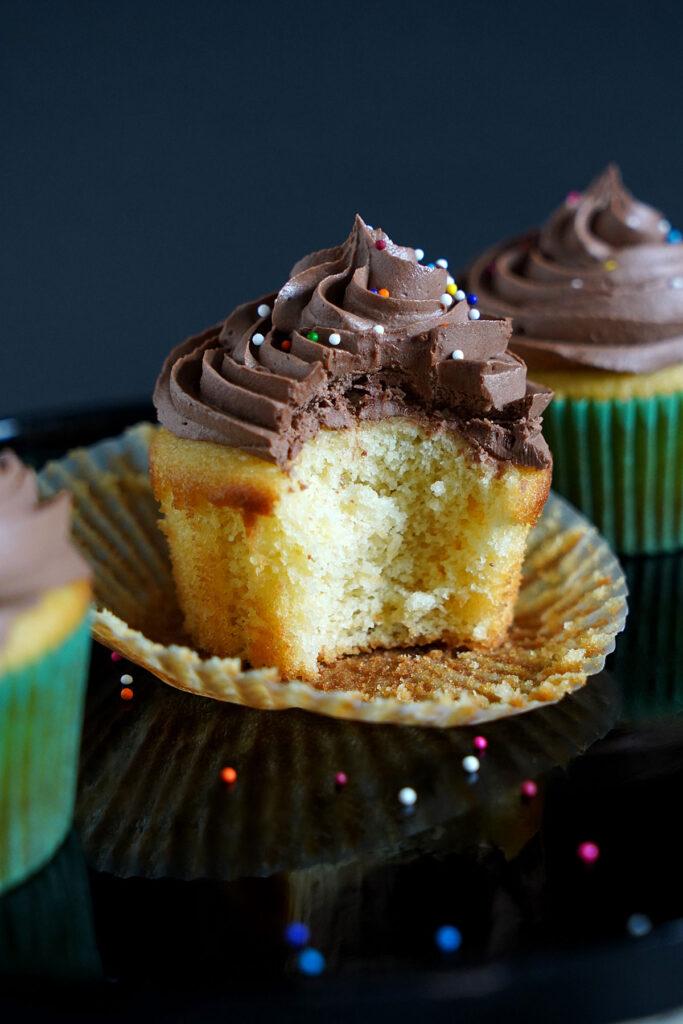 You can also try a cream cheese frosting, chai frosting, peanut butter frosting, mocha frosting, or go for something more exotic like saffron buttercream.
The cupcakes you see here were frosted with chocolate fudge frosting. To get the swirl, use a piping bag and a 1M size tip. Without releasing pressure, pipe a small amount in the center and then move to the outside and pipe concentric overlapping circles until you reach the middle again.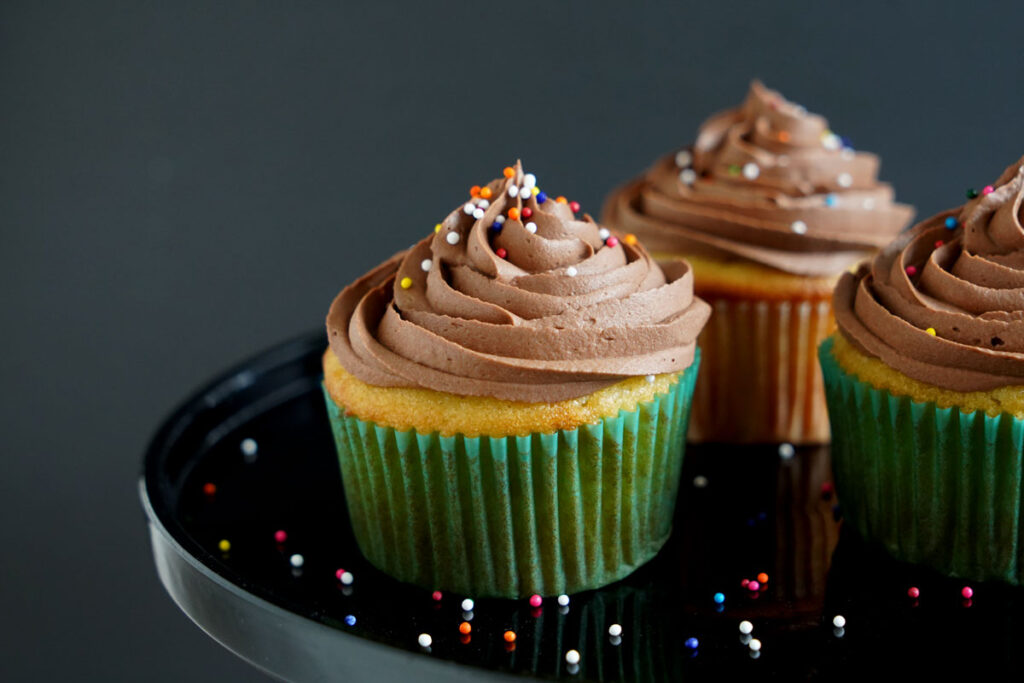 Top the cupcakes with colorful sprinkles or candy. You can even make your own cupcake toppers! Like these cute trains. See my DIY cupcake toppers post for tips and ideas.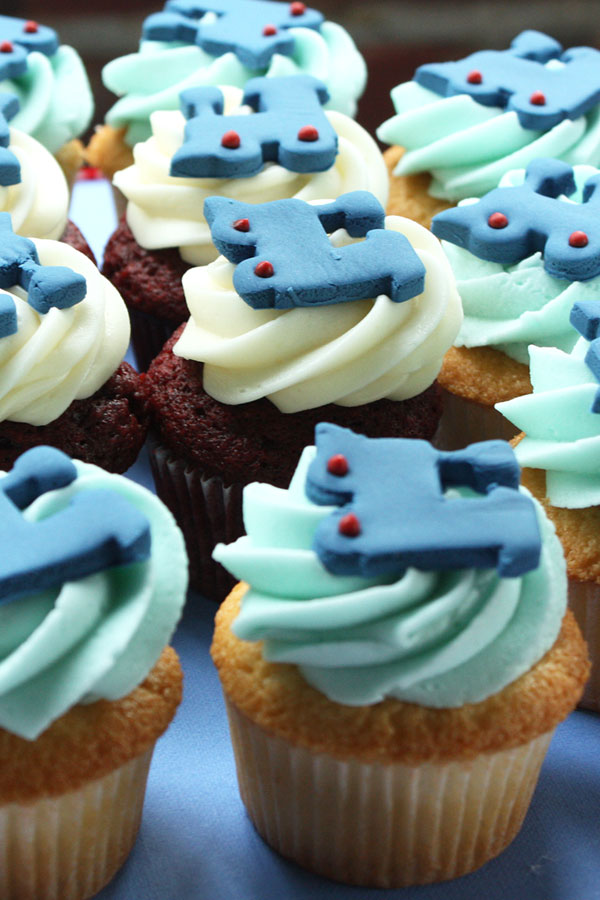 Some More Tips:
Room Temperature Ingredients: Always use room temperature ingredients to allow for even mixing. Even mixing ensures the fluffiest cupcakes with a nice even crumb.
Filling the Pan: An ice cream scoop (with a spring) helps with filling the cupcake liners evenly with batter. It's also less messy than a spoon!
Oven Temperatures: Always preheat the oven completely before putting in your cupcakes. Having the right temperature helps the cakes rise correctly. Also, don't open the oven door! Any fluctuations caused by opening your oven within the first half of baking can also affect the rise.
Freezing Cupcakes: Unfrosted cupcakes can be frozen for up to 3 months. Make sure they are wrapped tightly in plastic wrap and sealed in an airtight container for maximum freshness. Let them thaw on the counter before frosting.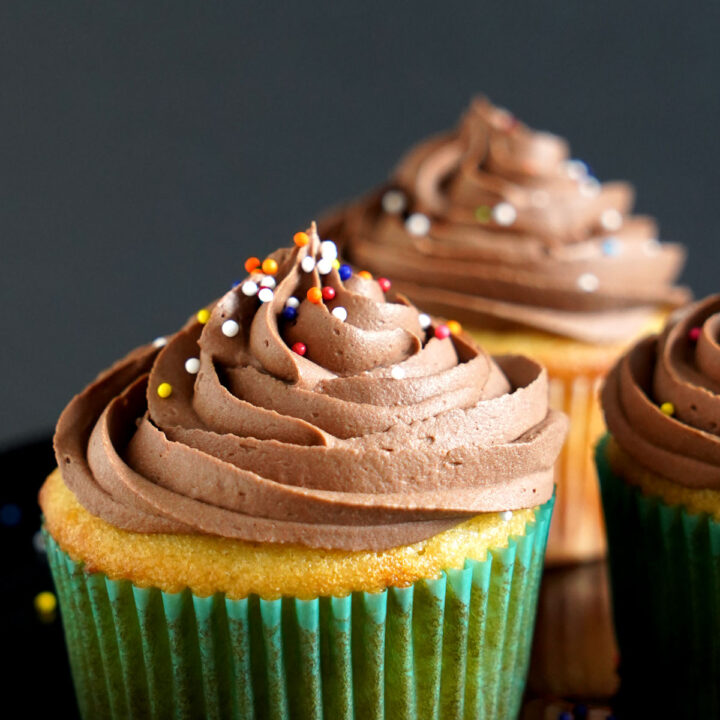 Simple Cupcakes
This simple cupcake recipe makes 12 vanilla cupcakes. Top them with your favorite frosting flavor and decorations. 
Ingredients
1 ⅓ cup flour
1 ¼ teaspoon baking powder
½ teaspoon baking soda
¼ teaspoon salt
4 Tablespoons unsalted butter
¾ cup sugar
2 Tablespoons oil
2 eggs
¼ cup sour cream
1 Tablespoon vanilla extract
⅔ cup milk
Instructions
Preheat the oven to 350℉ and line a cupcake pan with liners.
In a medium sized bowl, whisk together the flour, baking powder, baking soda and salt.
In a large bowl, beat the sugar and butter together until light and fluffy. Add the oil and eggs one at a time and mix until incorporated. Mix in the sour cream.
Alternate adding the milk and flour in three additions while slowly mixing and ending with the flour.
Do not over mix. Scrape down the bowl with a spatula and finish mixing any bits of flour with the spatula.
Bake for 15-18 minutes or a toothpick inserted into the center of a cupcake comes out clean.
Notes
Freezing: Unfrosted cupcakes can be wrapped in plastic and stored in an airtight container for up to three months. Thaw on the countertop before frosting.