S'mores cupcakes are perfect for birthdays and casual gatherings. Graham flavored cakes are filled with chocolate ganache and a marshmallow topping.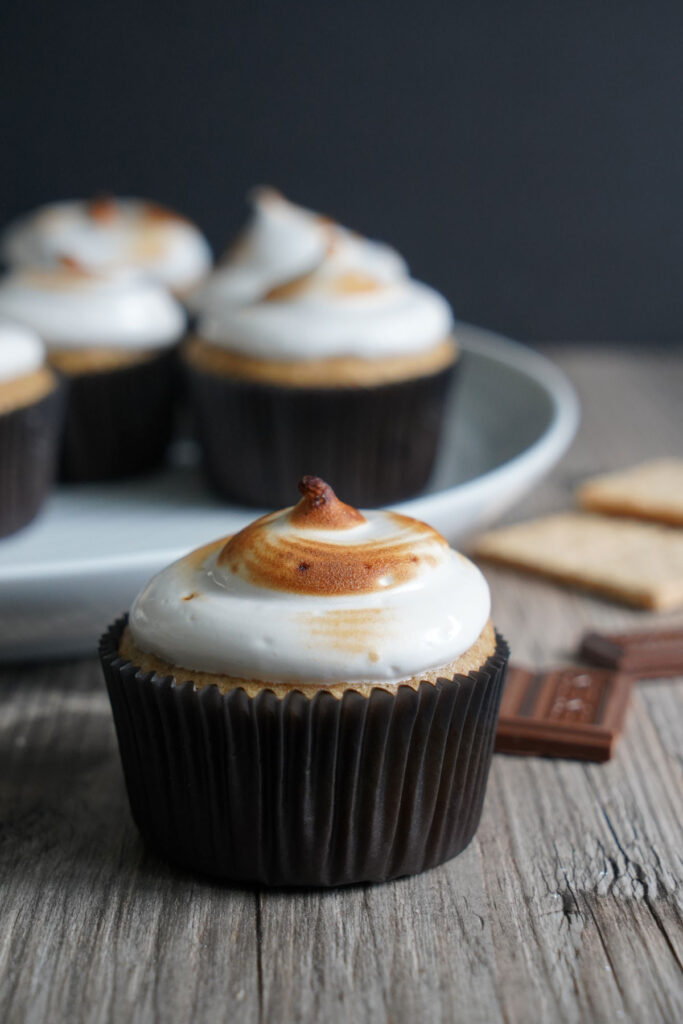 Who doesn't love a good s'more? Gooey chocolate and toasted marshmallow sandwiched between sweet graham crackers... What could be wrong about that? Those flavors were made to be together. That's why I put them into this cupcake.
My s'mores cupcake is made with graham cracker flavored cake that's stuffed with chocolate ganache in the middle and topped with a homemade marshmallowy meringue (Gelatin free and no marshmallow fluff from a tub).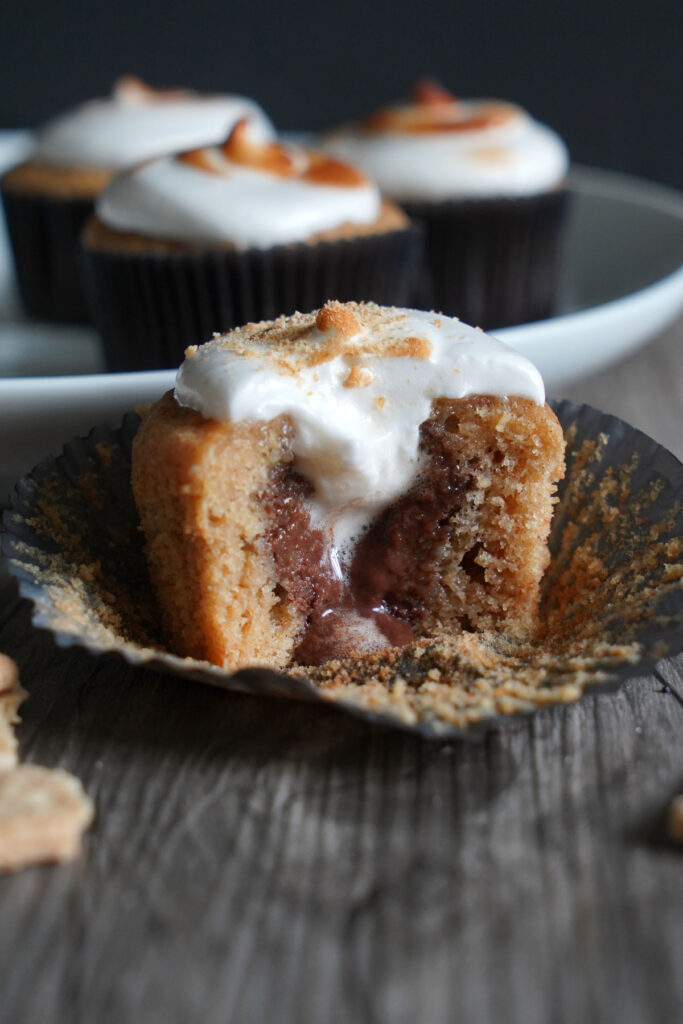 It sounds complicated, but the ganache and marshmallow topping are actually easy to make. The cupcakes are very similar to my six inch smores cake recipe.
Ingredients and Tools for S'mores Cupcakes
BATTER: Here's what you will need in addition to the baking basics (flour, baking powder, baking soda, unsalted butter, eggs, milk):
Graham Flour: The cupcake batter contains finely ground graham crackers. You can buy graham cracker crumbs but I used whole honey graham crackers and crushed them into fine crumbs in my food processor.
Dark Brown Sugar: This gives the cupcake a deeper toasty s'more-like flavor than regular sugar.
Cinnamon and Vanilla Extract: A little dash of cinnamon and vanilla give off nice subtle flavors.
Yogurt: I used Greek yogurt to help hold in the moisture of the cupcakes. Sour cream works too!
Cupcake Pan and Liners, Mixing Bowls, Spatula, Hand or Stand Electric Mixer
GANACHE FILLING
Semi-sweet or Bittersweet Chocolate: This can be a chopped up chocolate bar or in the form of small chocolate chips. 
Heavy Cream
MARSHMALLOW MERINGUE
Egg whites: I used pasteurized egg whites from a carton but you can also use separated eggs.
Cream of Tartar: This will help stabilize the topping and keep its shape.
Sugar and Vanilla
Pot of Simmering Water, Mixing Bowl, Candy Thermometer (helpful but not necessary), Spatula, Electric Mixer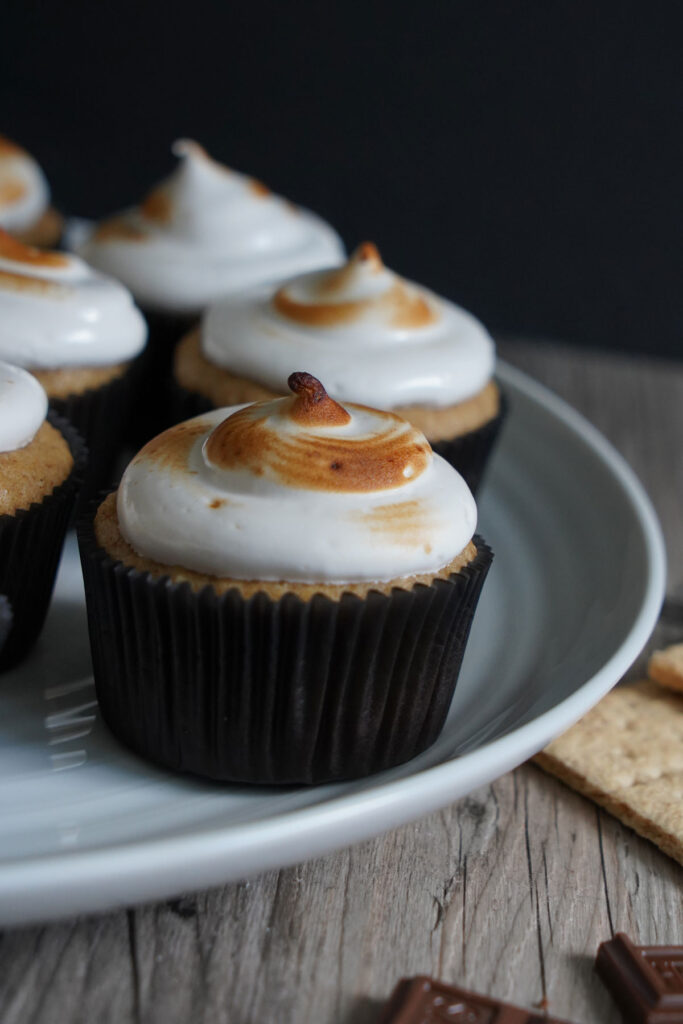 How to Make S'mores Cupcakes:
This cupcake batter is made using the same reverse creaming method I use in my Oreo Cupcakes. Reverse creaming combines the flour and other dry ingredients with the butter first and then the wet ingredients, leading to a smoother tighter crumb and a flatter top. Once they are baked, let them cool completely while you prepare the filling and topping.
All you need to do to make ganache filling is to mix chopped chocolate or chocolate chips with hot heavy cream. I find it easiest to microwave the cream until I start to see it bubble. Then, pour it over the chocolate and stir slowly until it becomes smooth and silky. Let the ganache stiffen while you prepare the topping.
Make a Swiss meringue by stirring egg whites and sugar in a bowl over a pot of simmering water. The goal is to melt the sugar and raise the temperature of the egg whites to about 130F.
You will need to stir continuously to avoid cooking the eggs. Then, whip the egg mixture until you get stiff white peaks. This can take quite some time so I highly recommend a stand mixer for this step.
To put it all together, core out the center of each cupcake, fill with ganache and swirl on the meringue topping!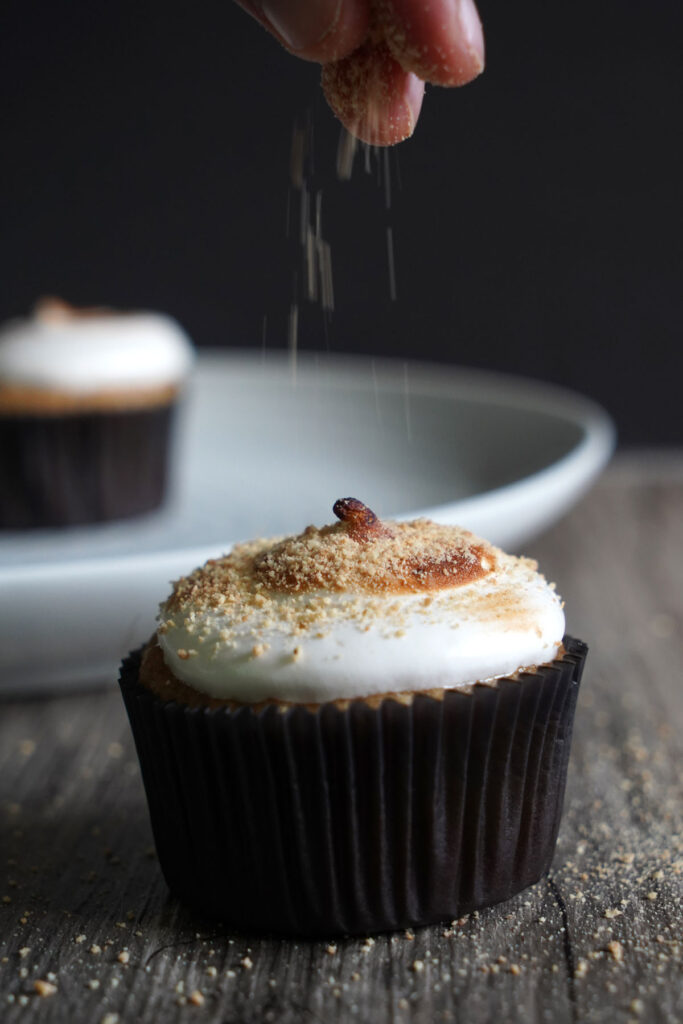 Some More Tips
Don't overmix the batter once the wet ingredients are added since overmixing can lead to dense chewy cupcakes.
Don't use big chocolate chips for the ganache. Chop them up so they melt faster. 
You can chill the ganache in the refrigerator so it stiffens faster. 
Transfer the ganache and meringue to a piping bag to make it easy to fill and frost the cupcakes.
If you decide to toast the meringue with a kitchen torch, remove the cupcake from the liner. It's very easy to burn the liners if you are not careful.
You can also decorate the cupcakes with graham cracker crumbs or pieces of Hershey bar chocolate. 
These cupcakes are best served the day you make the meringue topping. The cupcake itself can be baked ahead, wrapped tightly in plastic and stored in the freezer.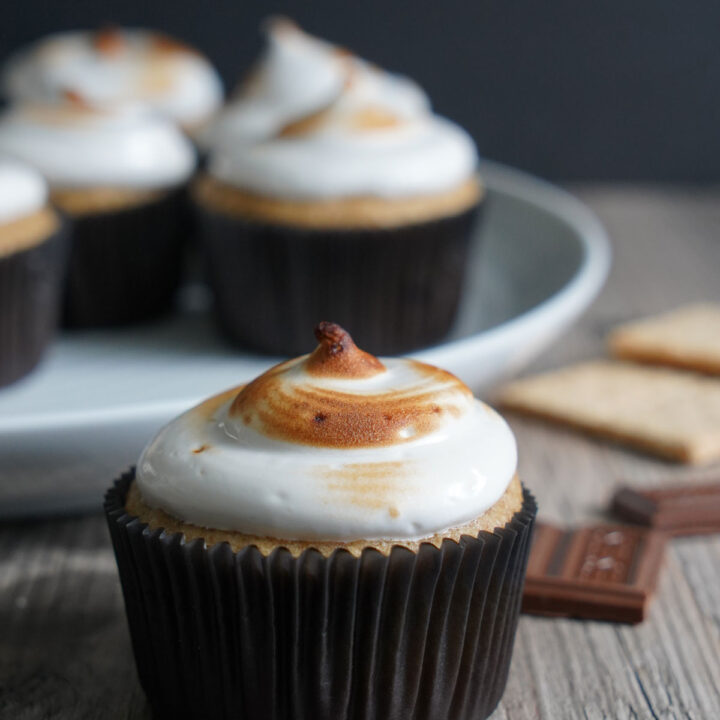 S'mores Cupcakes
S'mores cupcakes are perfect for birthdays and casual gatherings. Graham flavored cakes are filled with chocolate ganache and a marshmallow topping.
Ingredients
Cupcake Batter
1 cup cake flour
⅔ cup graham flour
⅓ cup dark brown sugar loosely packed
½ teaspoon baking powder
½ teaspoon baking soda
½ teaspoon kosher salt
¼ teaspoon ground cinnamon
½ cup unsalted butter softened
1 large egg plus 1 egg white
½ cup Greek yogurt
⅓ cup milk
1 teaspoons vanilla extract
Ganache Filling
¼ cup semi-sweet chocolate chips
¼ cup heavy cream
Topping
2 egg whites
½ cup sugar
¼ teaspoon cream of tartar
½ teaspoon vanilla
Instructions
For the cupcakes
Preheat the oven to 350°F and line the cupcake pans with paper liners.
In a medium sized bowl, whisk together the cake flour, graham flour, brown sugar, baking powder, baking soda, salt, and cinnamon. You may need to break apart clumps of brown sugar with your hands. Set aside.
In a small bowl, whisk together the eggs, yogurt, milk, and vanilla.
In the bowl of an electric mixer, beat the butter until fluffy.
Add the flour mixture and mix on slow speed until all the flour is hydrated and crumbly from the butter. Be sure to stop and scrape down the sides and bottom of the bowl at least once while mixing.
Add the milk mixture to the flour-butter mix. Mix on medium speed with the paddle attachment until just incorporated. Do not overmix!
Fill each cupcake liner with batter to about ⅔ full.
Bake the cupcakes in the oven for 15-17 minutes (15-17 for cupcakes) or until a toothpick placed in the center comes out clean.
Let the cupcakes cool for a minute in the pan, then remove the cupcakes from the pan onto a cooling rack to cool completely.
Prepare the ganache while the cupcakes bake. Heat the heavy cream on the stove or in the microwave until just boiling. Pour the hot cream over the chocolate chip in a bowl. Gently stir until the chocolate chips melt and the ganache is completely smooth. Let it cool on the counter or in the refrigerator until thickened.
Whisk the sugar and egg whites together in the bowl of an electric mixer. Set up the bowl over a pot of simmering water but do not let the bottom of the bowl touch the water. Continually mix the egg whites with a spatula or a whisk until the temperature reaches 130F. The sugar should be completely melted and you should not feel any granules when you rub the liquid between your fingers.
Add the cream of tartar and vanilla to the mixture and then whip it on high speed until you have stiff peaks. Transfer the meringue to a piping bag.
Using a paring knife or cupcake corer, remove the center of each cupcake. Fill each center with ganache using either a spoon or piping bag.
Swirl the meringue frosting on top of each cupcake.
Notes
You can garnish the top of the cupcake with chocolate bar pieces or graham cracker crumbles. You can also toast the tops with a kitchen torch but be VERY CAREFUL not to burn the cupcake liners. 
Nutrition Information:
Yield:

12
Serving Size:

1 cupcake
Amount Per Serving:
Calories:

274
Total Fat:

12g
Saturated Fat:

7g
Trans Fat:

0g
Unsaturated Fat:

4g
Cholesterol:

42mg
Sodium:

214mg
Carbohydrates:

37g
Fiber:

1g
Sugar:

17g
Protein:

5g
This nutrition information is only an approximate provided for convenience and as a courtesy only. Information comes from Nutritionix, an automated nutrition calculator.