Saffron is a spice used in many savory dishes as well as sweet ones, especially in Indian sweets. It has a distinctive exotic taste and releases a fabulous golden color. These mini saffron cupcakes are perfect for a small party or brunch.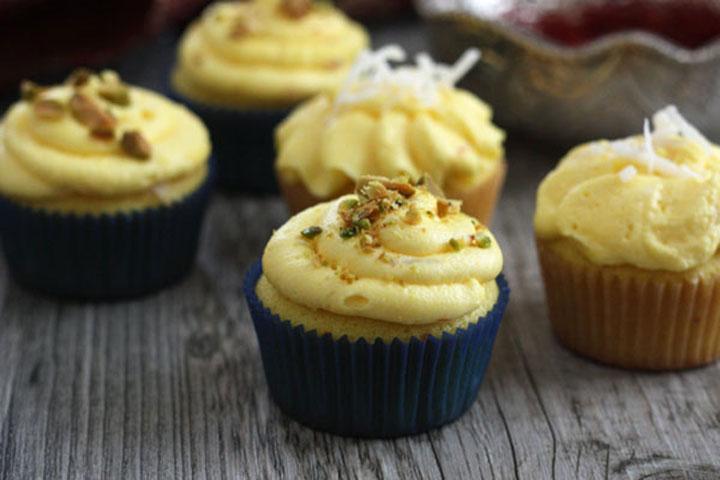 What kind of cupcakes should one make for a gathering of 50 women who are mostly South Asian? Hmmm…well all the typical flavors used in Indian sweets came to mind…cardamom, rose, pistachios, almonds, coconut and saffron of course!
These saffron cupcakes have a strong exotic flavor and a gorgeous golden colored. I also topped these cupcakes with a delicious saffron buttercream.
What is Saffron?
Saffron is an exotic spice that is well known for its uses in Spanish dishes but it's also often used to flavor Indian desserts. It has a distinctive flavor and gives off a nice golden color.
If you've ever bought saffron you may have noticed the high price tag too. People say saffron is worth its weight in gold.  But why?
This biology teacher is about to give you a short botany lesson. Saffron comes from the stigma of the crocus flower. Those are the tiny threads you see in the center of a flower. Think about it. Flowers only open for a short time before they wilt. There are no machines that can pick off such delicate parts so the stigmas have to be hand picked.
It's no wonder the price of this spice is so high. It takes roughly 70,000 flowers to make just one pound of saffron.  The good news is that a little bit of this aromatic spice goes a long way in flavoring and coloring foods.
Be Sure to Buy Quality Saffron
I've been lucky to have a continual supply having received it as a gift on more than one occasion from traveling friends and family. More recently, I picked up some myself from a trip to Spain.
I had read online somewhere that there are a lot of issues with merchants selling fake saffron. Some have even tried to substitute finely shredded paper for saffron. Powdered forms are often mixed with turmeric which can release a similar color but has a very different flavor.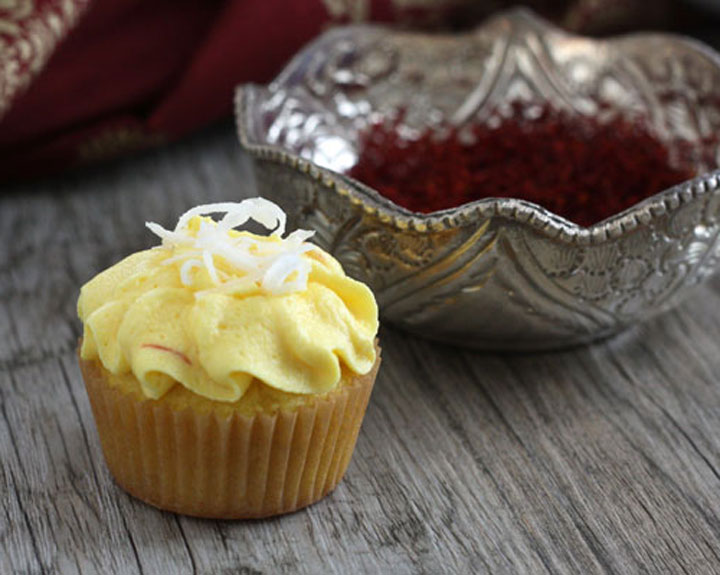 So how can you tell you are getting the real stuff? For starters, buy threads not powder. That at least eliminates the risk of other powders being substituted.  Second, if it's really cheap, think twice. Inspect the color and smell it.
The best saffron has only red threads and a nice floral aroma. It might be hard to find this grade of saffron. More often, you will see some yellow too. If you see yellow on the ends, you are paying for the style, the part of the flower that has no culinary value. On the other hand, the partial yellow color also shows that the red portion wasn't dyed red.
Knowing all this, I carefully shopped around for some saffron at the Spanish markets. The merchant at the farmers market in Valencia could sense my doubt as I inspected his saffron. To assure me he took out a few strands and crushed them in water so I could see the golden color (not red) being released and smell it. Hey, there's no harm in asking!
Cooking with Saffron
When I decided to make saffron cupcakes, I was a little hesitant.  I've used saffron to make savory dishes like biryani. I've also used it in non-baked desserts like white chocolate bark and coconut burfi but had never put it into a cake. Heat releases saffron's flavor so I had to really think about how much to use and whether I wanted to use saffron buttercream as well.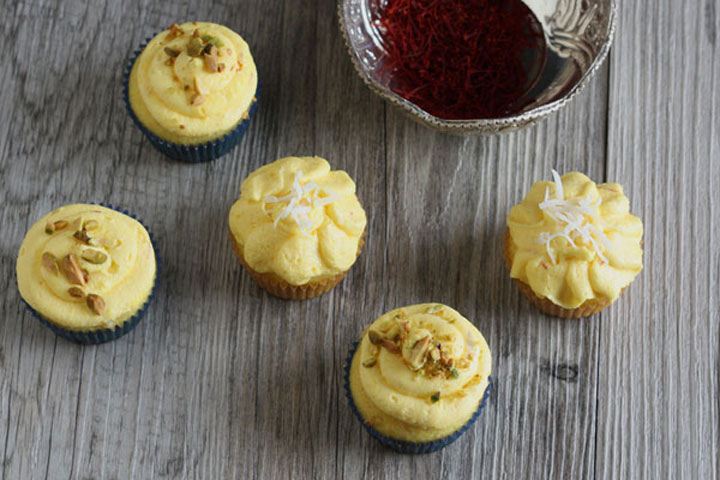 The recipe below is for saffron flavored cupcakes with saffron buttercream. I was curious to see how the saffron buttercream would turn out since I was heating the butter to infuse the flavor. It seemed to not affect the consistency but I thought the flavor was strong.
If you love saffron, go for it. If you are looking for more subtle flavoring, the cupcake pairs nicely with a lemon buttercream as well. That is what I actually ended up making for the party. You can also garnish with a sprinkle of coconut or crushed pistachio.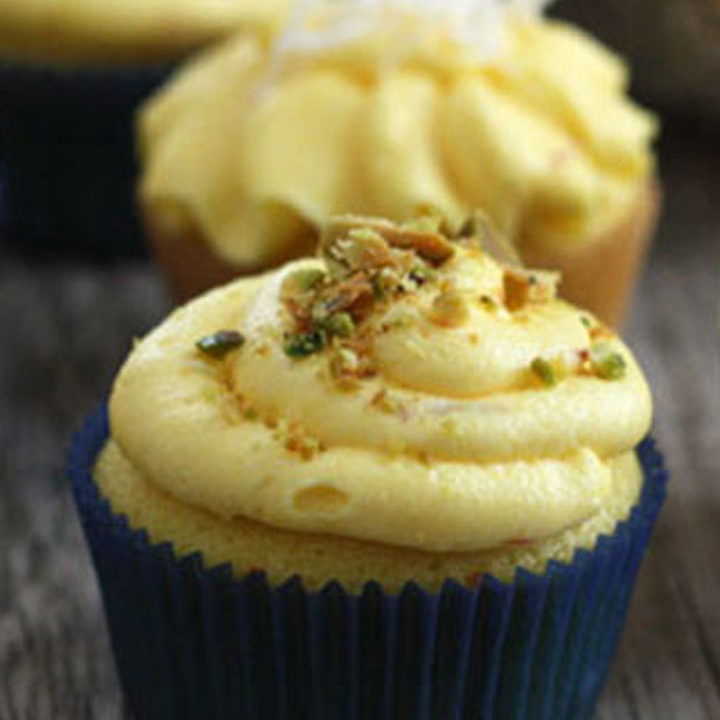 Saffron Cupcakes with Saffron Buttercream
Saffron is a spice used in many savory dishes as well as sweet ones, especially in Indian sweets. It has a distinctive exotic taste and releases a fabulous golden color. These mini saffron cupcakes are perfect for a small party or brunch.
Ingredients
For the cupcakes
¾ cup plus 2 Tbs milk
¼ teaspoon crushed saffron threads
1 ¼ cup all purpose flour
¼ teaspoon salt
1 ¼ teaspoon baking powder
6 Tablespoons unsalted butter
¾ cup sugar
1 egg
1 ½ teaspoon vanilla
For the saffron frosting
½ cup butter plus 3 Tbs unsalted butter
½ teaspoon saffron
1 ⅔ cup sifted powdered sugar
Instructions
For the cupcakes
Preheat the oven to 350°F and line a 24 cup muffin tin with paper liners. Gently warm 2 Tbs of milk with the saffron for a few minutes and let it cool.
In a large bowl sift together the flour, salt, and baking powder. In an electric mixer with the paddle attachment, beat the sugar and butter until light and fluffy.
Add the egg and vanilla and mix until incorporated. Add the cooled saffron milk to the rest of the milk.
Keeping the mixer on low, alternate adding the milk with dry ingredients into the butter mixture in three additions.
Using a small cookie scoop (1 Tablespoon), fill the liners with one scoop each. Bake for about 10 minutes.
For the saffron frosting
Gently heat the butter and saffron while swirling the pan until the butter just melts. Transfer to a bowl and let it cool completely and refrigerate until hardened. Paddle the butter in an electric mixer until it's fluffy and soft.
Slowly add the sugar while mixing on low. You may need to use more or less sugar depending on the stiffness of the butter cream.
Notes
The saffron flavor is strong. If you want it to be more subtle, use less. 
Nutrition Information:
Yield:

24
Serving Size:

1 cupcake
Amount Per Serving:
Calories:

154
Total Fat:

8g
Saturated Fat:

5g
Trans Fat:

0g
Unsaturated Fat:

3g
Cholesterol:

29mg
Sodium:

82mg
Carbohydrates:

19g
Fiber:

0g
Sugar:

14g
Protein:

1g
This nutrition information is only an approximate provided for convenience and as a courtesy only. Information comes from Nutritionix, an automated nutrition calculator.