Make mini tiramisu jars and stock your freezer. Thaw. Sprinkle with cocoa powder. AND DIG IN! Any day and anytime. Easy and eggless.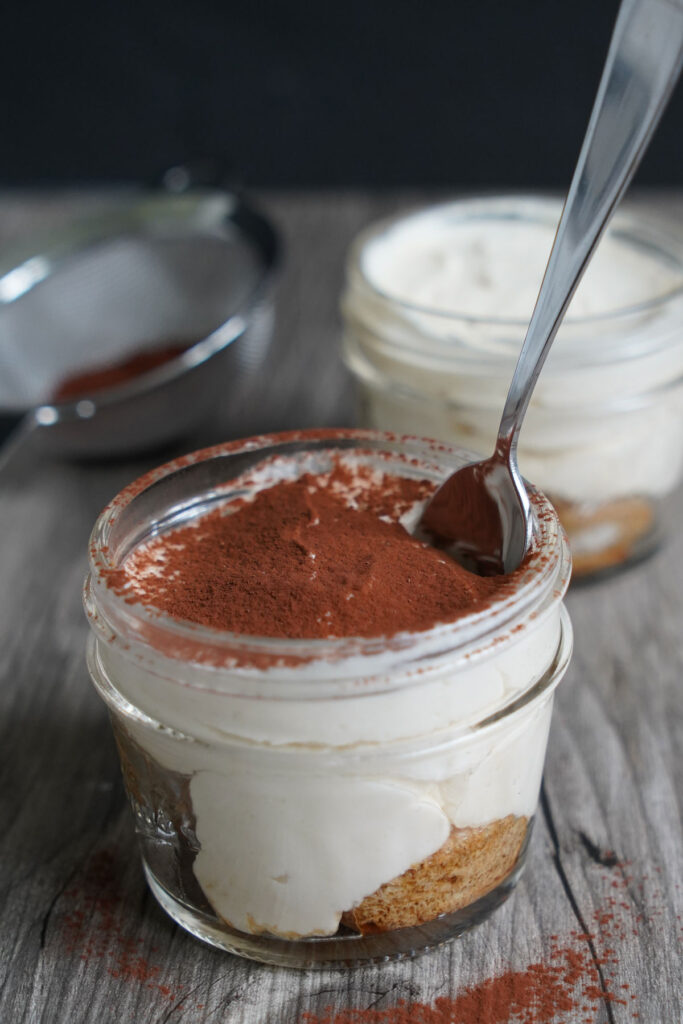 Wouldn't it be great if you could have some tiramisu on whim? Just a few bites and you would be satisfied right? Well, here's the solution you've been looking for and it's SO EASY!
Here's how it works. Purchase some ready made ladyfinger cookies. (The hard kind). Brew some strong coffee or dissolve some instant espresso powder in hot water and cool.
Next, make this quick filling with mascarpone, powder sugar, whipped cream and vanilla. No egg required! Remember, this is the quick tasty version of tiramisu not the authentic version!  Splash in some coffee liqueur, amaretto or rum if you want the alcohol flavor or a stronger coffee flavor.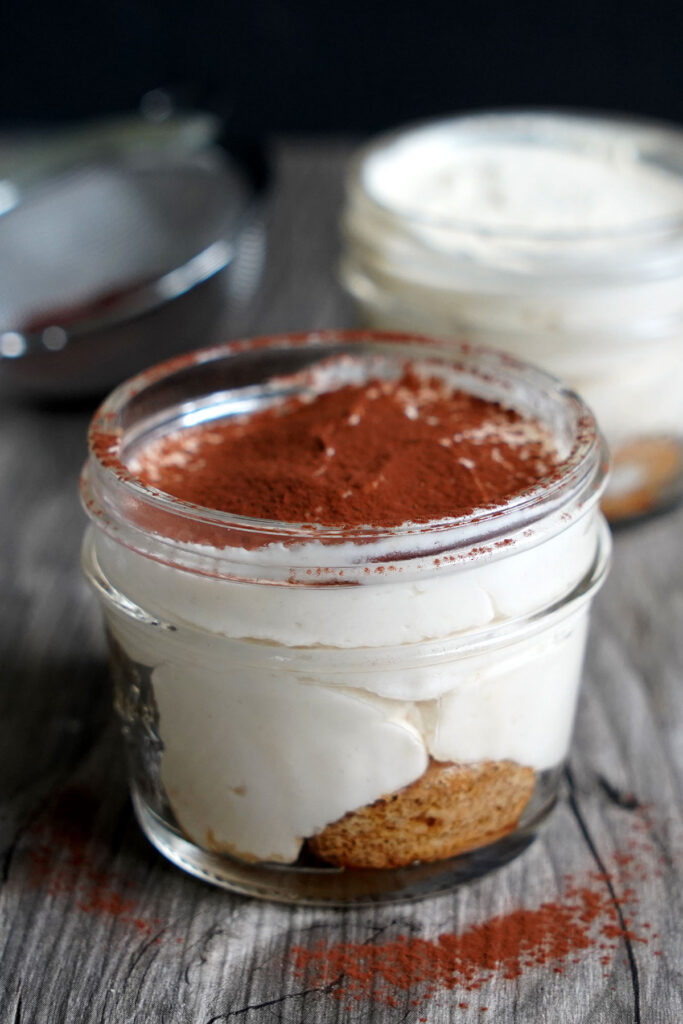 Give each cookie a quick soak in the cooled coffee or espresso and cut them in half.
Stack two ladyfinger halves perpendicular to each other in a small 4 ounce jar and fill the remaining space with the mascarpone mix. Freeze for later. 
When you are ready to enjoy, just thaw, sprinkle with cocoa powder and eat! You will need to thaw it for about an hour if it's coming out of the freezer but that will be your only waiting time!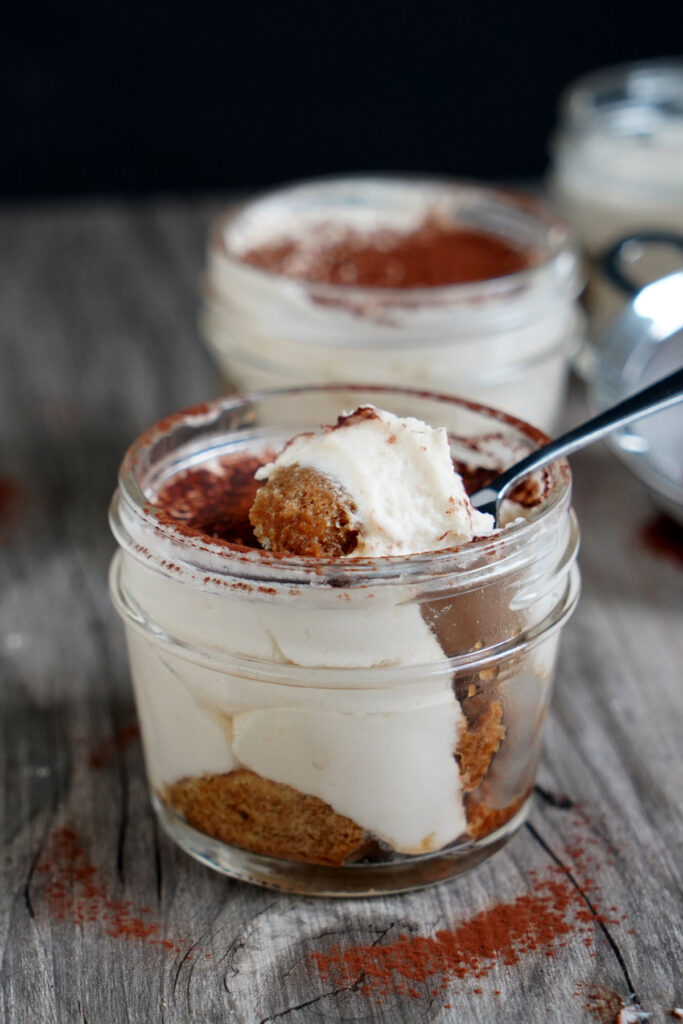 I do highly recommend buying the coffee flavored mascarpone cheese if you can find it. For plain mascarpone, I also add an espresso flavored liqueur which makes that tiramisu extra special with a stronger coffee taste.
Not into coffee but like trifle desserts and mascarpone? You might also want to check out my strawberry tiramisu recipe for an alternative flavor.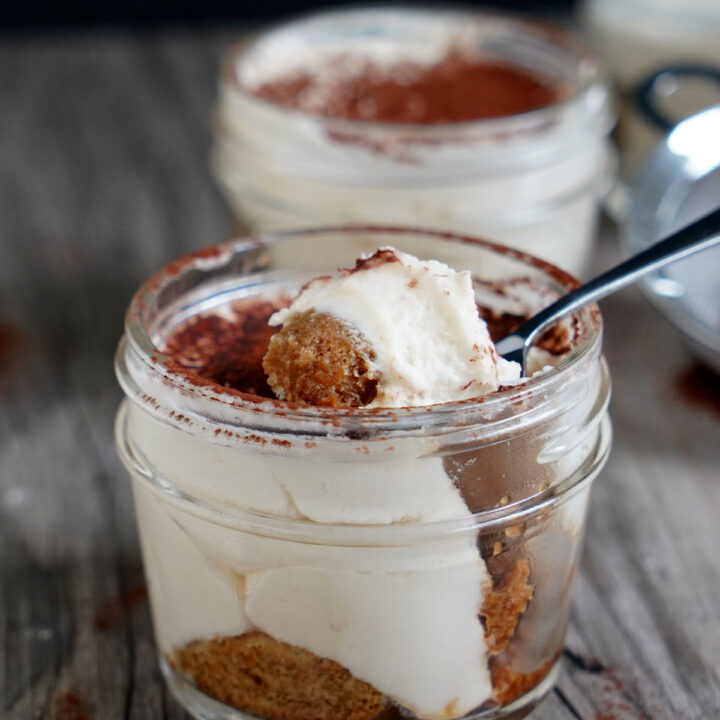 Tiramisu in Jars
Make tiramisu in individual servings in jars. Freeze and treat yourself anytime!
Ingredients
1 cup mascarpone cheese
1 cup confectioners sugar
1 teaspoon vanilla extract
1 cup heavy cream
8 ladyfingers (or more for larger jars)
6 ounces STRONG coffee or espresso, cooled
1 Tablespoon coffee liqueur (optional)
Instructions
Pour the cooled coffee or espresso in a shallow dish and set aside.
In a medium bowl, beat the mascarpone, sugar, vanilla extract and liqueur (if using)
Whip the heavy cream in a bowl with an electric mixture until you have stiff peaks.
Fold the whipped cream into the mascarpone mixture.
Briefly dip the ladyfingers into the espresso and cut in half.
Place two halves, stacked and perpendicular to each other into each jar.
Fill the remaining space with the cheese mixture either with a spoon or by first transferring the mixture to a piping bag and squeezing it in.
Store the jars in the refrigerator for 2-3 days or in the freezer for up to one month.
Use a tea strainer to sprinkle the top with unsweetened cocoa powder before serving.
Notes
You can cut the recipe in half if you want to make less.
You can use coffee flavored mascarpone cheese for an enhanced taste.
You may need more lady fingers if you use a larger jar. 
If freezing, let the jar thaw for at least 1 hour before adding the cocoa powder and consuming.