This is the easiest candied pecans recipe! Enjoy them alone or use these delicious treats in ice cream, salads, or as pancake and yogurt toppings. Makes a great gift too!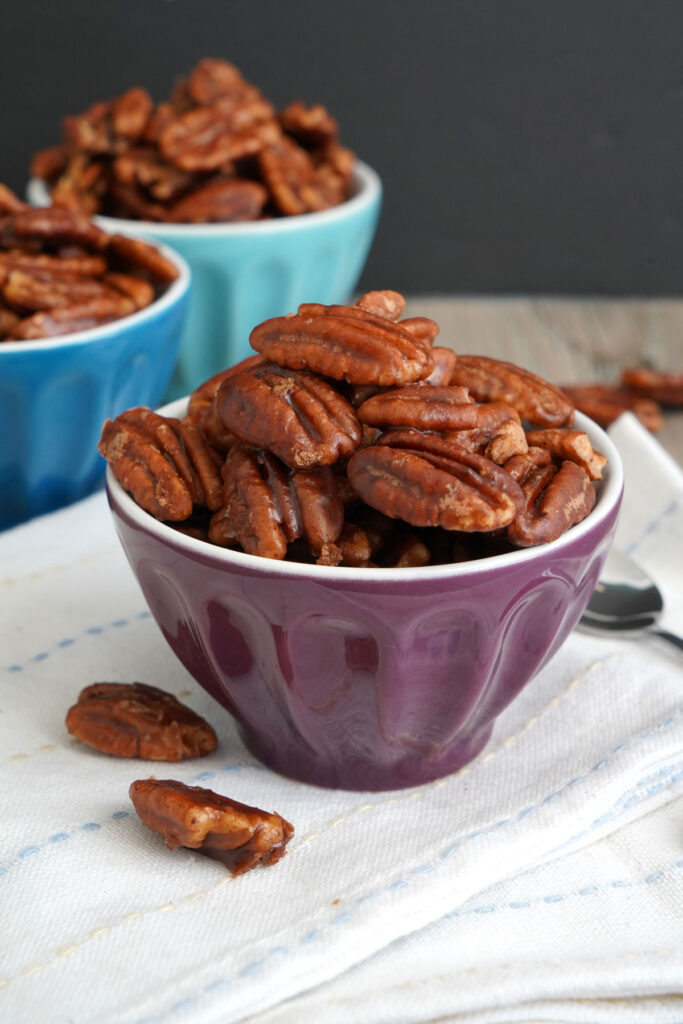 I suppose technically the term "candied" means to cook in sugar water. I've made candied lemons and candied ginger this way.
Well, I've cheated here because the pecans are never actually cooked in the sugar. You can call them glazed pecans if you prefer. I've tried both ways for pecans and I definitely like these better. It's easier and prettier.
How to Make Candied Pecans
The first step is to toast your pecans. I toast them in the oven so I don't have to stand at my stove and stir the whole time.
If you prefer to toast in a stovetop skillet, be careful not to let them burn. Use a low temperature and stir them around constantly for a few minutes.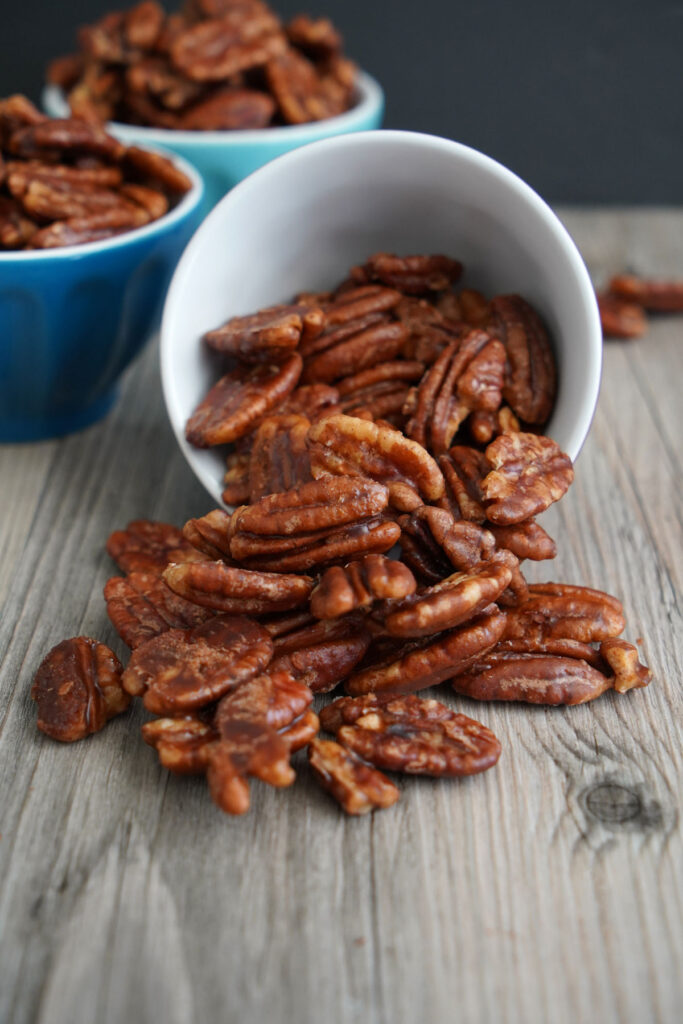 If you toast them in the oven, you can also use that time to prepare the coating. Just don't make the mixture too early because the nuts should be added while the sugar mixture is still hot.
Bring all the ingredients (except the vanilla) to a boil preferably in a WIDE bottom pot. Keep stirring! 
Once the mixture has boiled for 1-2 minutes, remove it from the heat and stir in the vanilla. Add your toasted pecans right into the pot.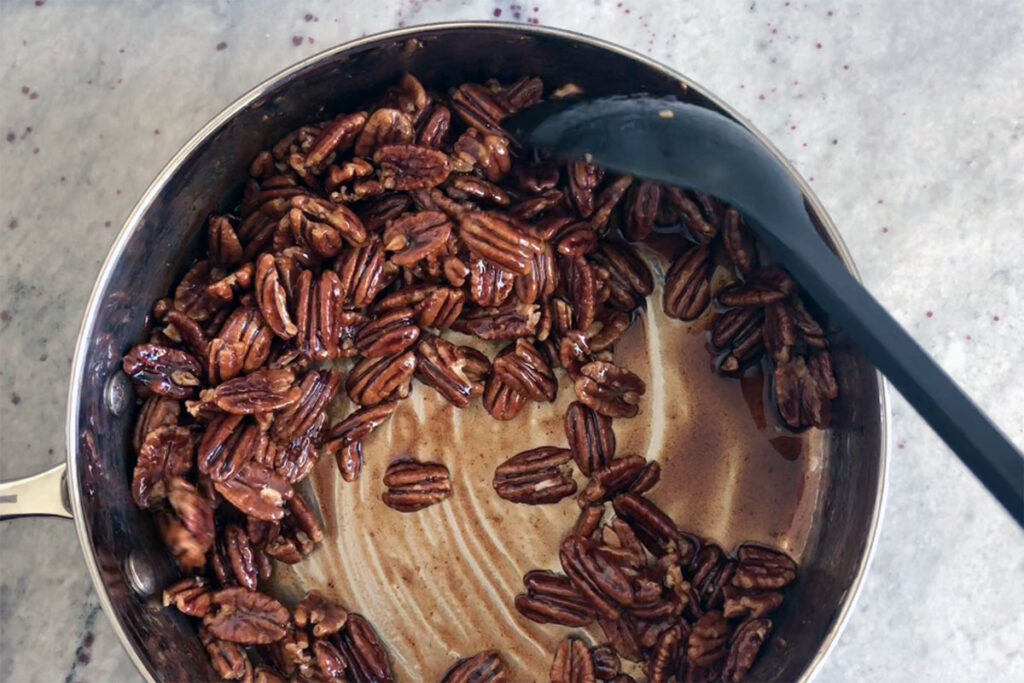 Then mix it around to thoroughly coat all the nuts. This is where it helps to have a wide bottom pot!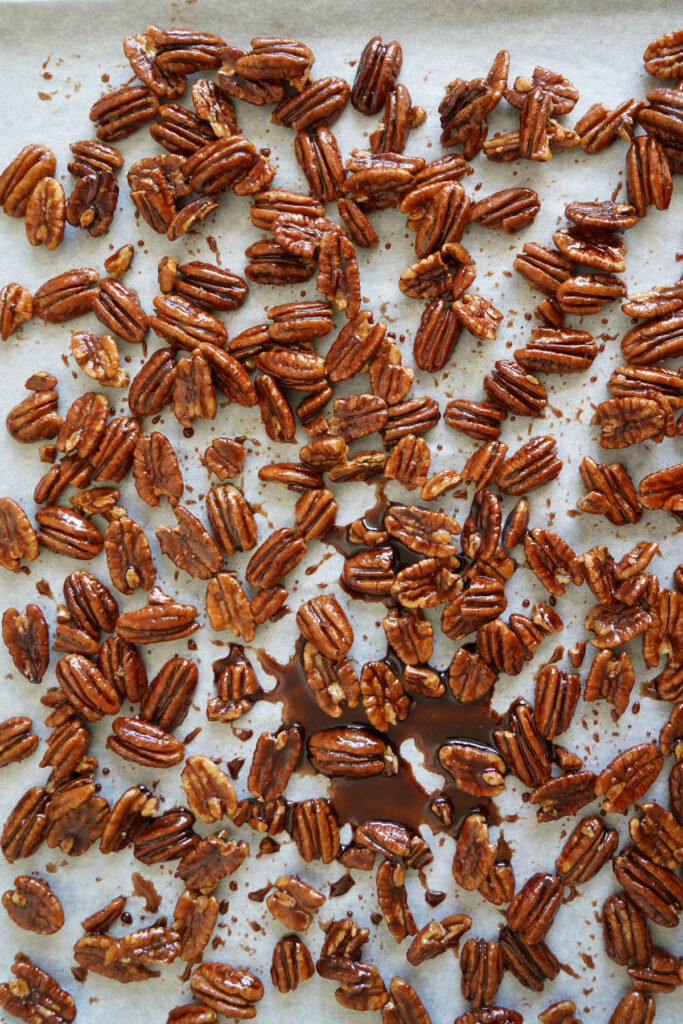 Spread the nuts on parchment paper to let them cool and dry. Don't worry if they are sticky, they will become less sticky as they dry.
Why do some recipes use eggs?
Egg whites are sometimes used in candied pecan recipes to act as a binder for the sugar and spices. The sugar crystals on these candied pecans will be more visible.
I prefer to make candied pecans with no egg. Mostly, because one less ingredient is just easier but also because I prefer the smoother appearance of the nuts. The spice flavors still come through because they are heated along with the sugar to make the coating.
Variations
This recipe is flexible when it comes to spices and nuts. If you don't care for pecans, try walnuts. You can also use pumpkin spice, cardamom, ginger, or add some heat with a pinch of cayenne.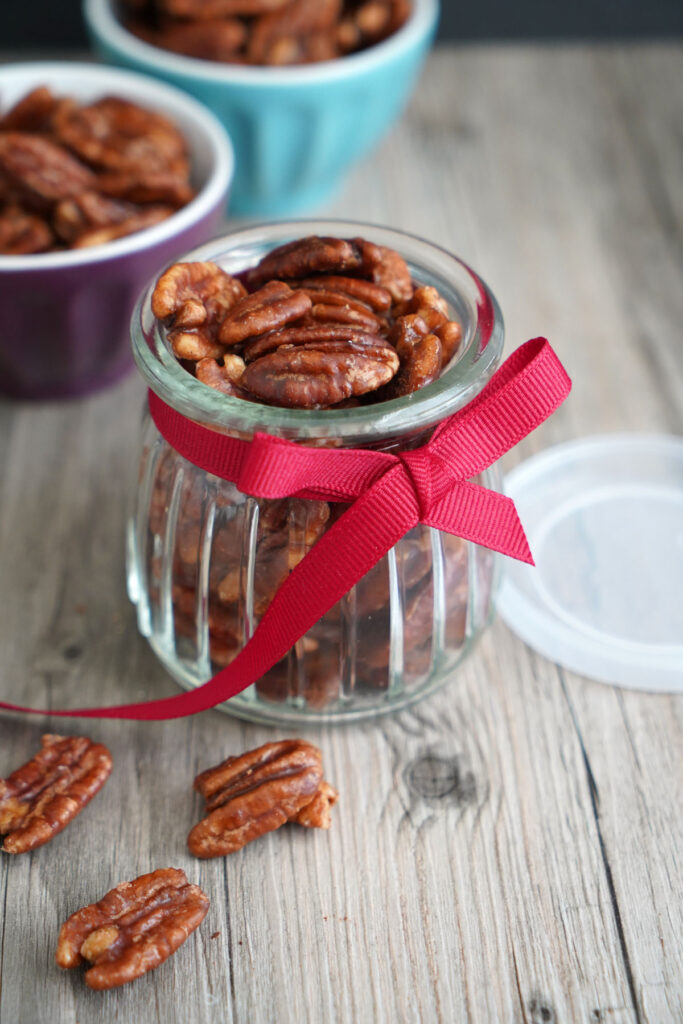 How to Use Candied Pecans
Use it as an ice cream or parfait topping. 
Add it to salads. I like to add it to my roasted root quinoa salad. 
Do you like to top your pancakes with chopped nuts? I do! Especially on my whole grain pumpkin pancakes.
Decorate homemade cakes and cupcakes. It pairs perfectly as a garnish on this sweet potato cake.
Package them up into cute little labeled jars or candy bags for hostess and holiday gifts.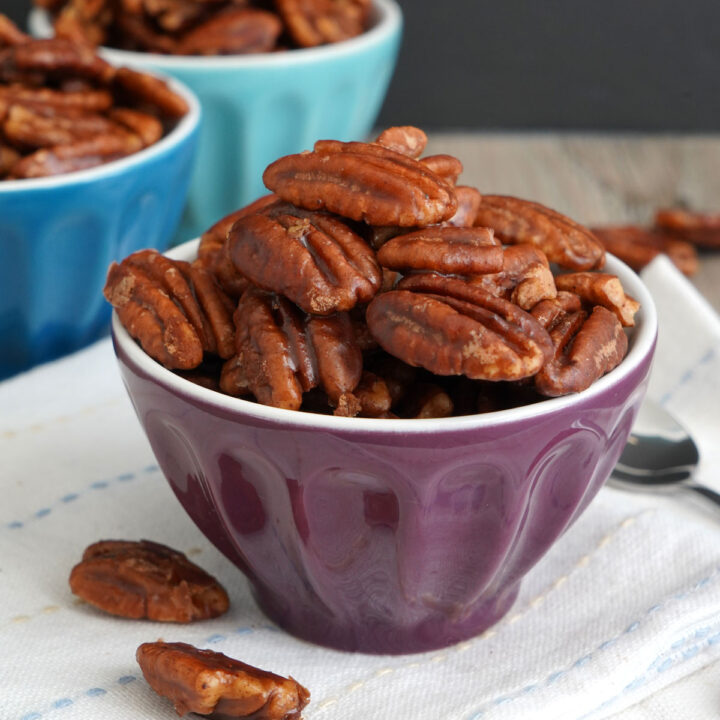 Candied Pecans
This is the easiest candied pecans recipe! Enjoy them alone or use these delicious treats in ice cream, salads, or pancake and yogurt toppings. Makes a great gift too!
Ingredients
2 ½ cups pecan halves
¼ cup sugar
¼ cup brown sugar
¼ cup water
2 teaspoons cinnamon
½ teaspoon ground cloves, optional
Pinch of salt
1 ½ teaspoon vanilla extract
Instructions
Spread the pecan halves over a parchment lined sheet pan and bake them at 275°F for 10 minutes.
Mix the sugar, water, cinnamon, cloves and salt together in a wide bottom pot. Bring the mixture to a boil while stirring and let it boil for about 1-2 minutes.
Remove the mixture from the heat and stir in the vanilla extract.
Add the toasted pecans and mix until the pecans are thoroughly coated.
Spread the nuts back onto the parchment paper and let them cool.
Enjoy immediately or store in an airtight container.
Notes
Store the pecans in an airtight container at room temperature for up to 2-3 weeks. 
This method works perfectly for making candied walnuts too.
Nutrition Information:
Yield:

10
Serving Size:

¼ cup
Amount Per Serving:
Calories:

220
Total Fat:

19g
Saturated Fat:

2g
Trans Fat:

0g
Unsaturated Fat:

16g
Cholesterol:

0mg
Sodium:

15mg
Carbohydrates:

14g
Fiber:

3g
Sugar:

11g
Protein:

2g
This nutrition information is only an approximate provided for convenience and as a courtesy only. Information comes from Nutritionix, an automated nutrition calculator.