This festive colorful dish is perfect for fall and winter. Quinoa, roasted beets and carrots, spinach and goat cheese are topped with a delicious cranberry dressing.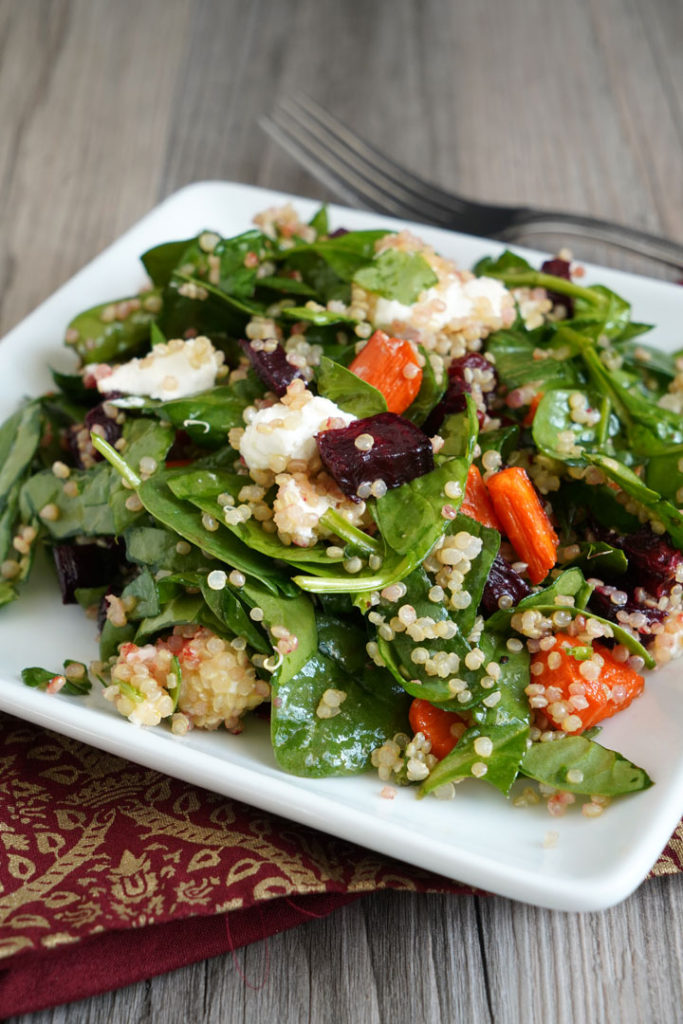 Don't think that quinoa salads are just for those looking for healthy food options. This quinoa salad with roasted vegetables is meant for entertaining. Bright bold roasted beets and carrots dotted with goat cheese and cranberries on a bed of baby spinach makes this one gorgeous looking salad. You should definitely share it with all your dinner guests!
I'd say it's relatively healthy too but why tell them that! So go ahead and prepare a feast with this roasted vegetable salad along side your favorite main dish and perhaps some spicy butternut squash. Then consider topping it off with this spiced pear upside down cake.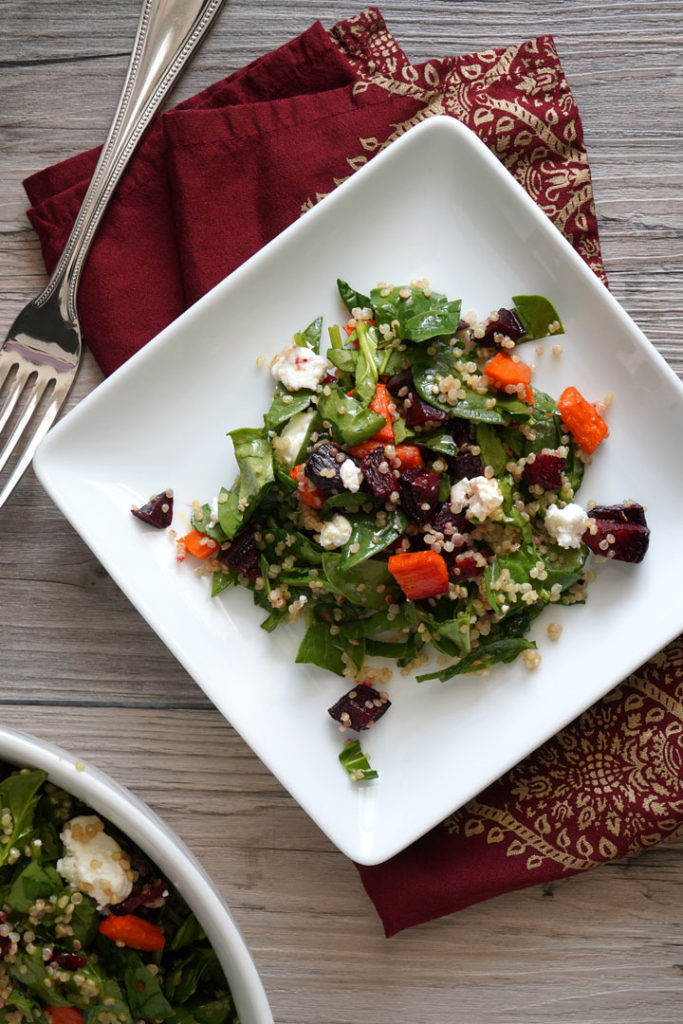 How to Make Roasted Beet and Carrot Quinoa Salad
This salad can be made the day before and stored in the refrigerator and taste just as delicious the next day.
It also comes together in no time despite the fact that you have to cook quinoa and vegetables. Just follow along here and you'll see what I mean: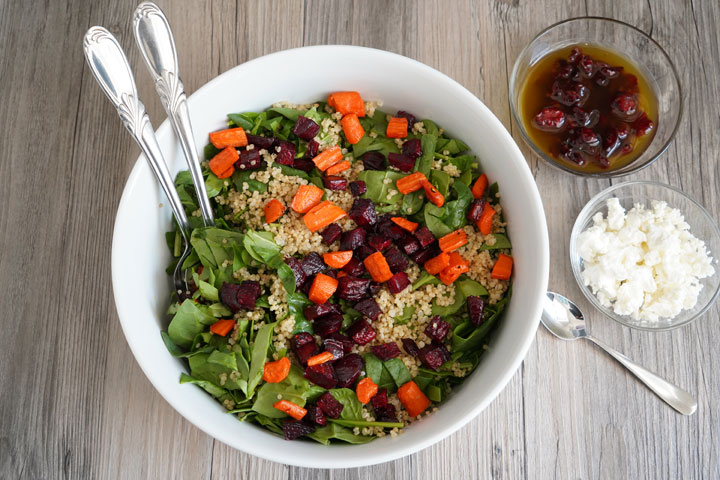 First, get that oven preheated and prepare the cranberry dressing. Next, if you have an Instant Pot, you can cook perfect quinoa with almost no effort at all. If you don't, simply follow the stove top directions on your quinoa packaging.
While the quinoa cooks and cools, cut your vegetables and transfer them to your preheated oven. Then, make sure you have your spinach and goat cheese ready to go. Kick back and have a glass of wine while those veggies roast. (OK- fine, so I washed the dishes in this time instead of kicking back.)
Remove the veggies from the oven and let them cool while you finish your wine or dishes- your choice.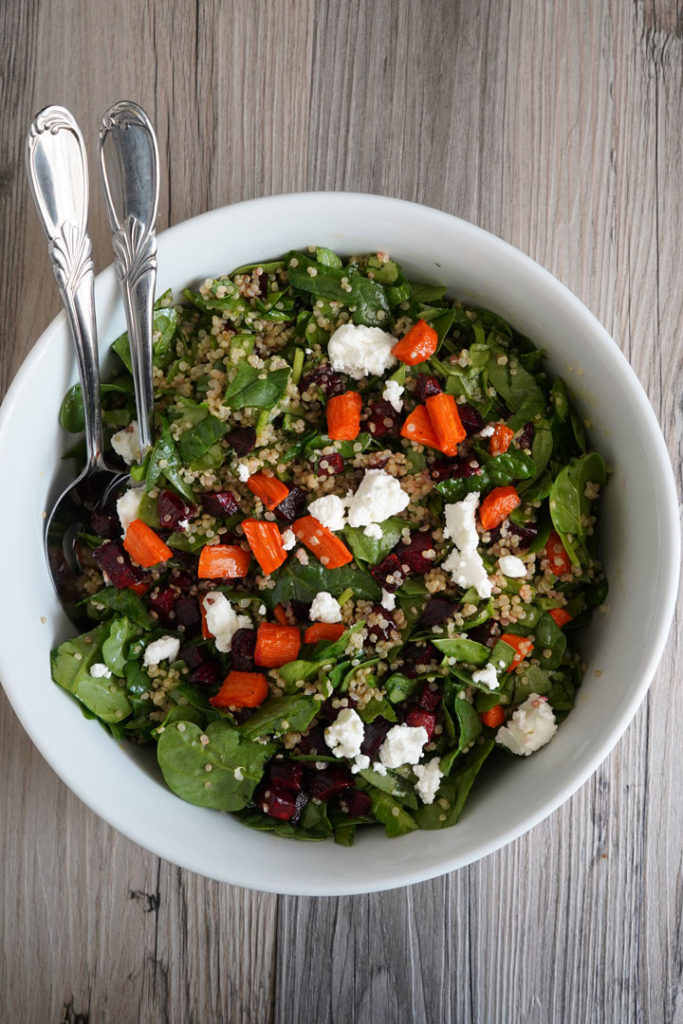 Finally, toss everything together in a salad bowl. I like to keep a few of the roasted veggies and goat cheese off to the side and sprinkle them on top after mixing. This makes for a better presentation if I'm having a dinner party. Just a little tip!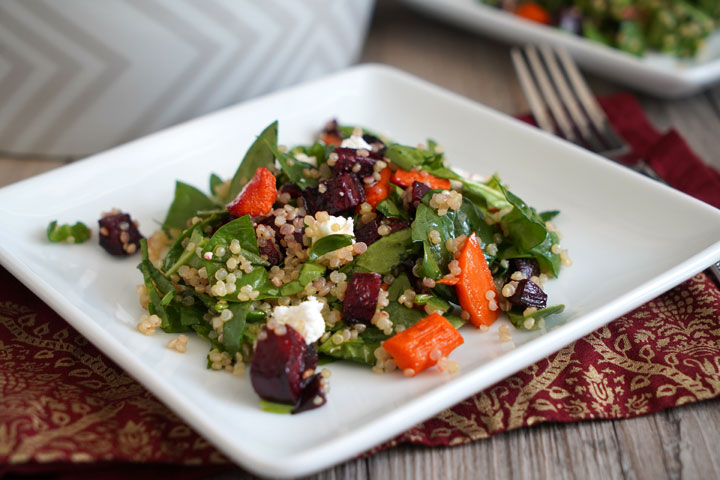 This roasted beet and carrot quinoa salad recipe first appeared on Food Fanatic so be sure to see it there as well as my other vegetarian recipes.