This Fennel Orange Salad is sweet, crunchy and full of flavor. Orange and mint come together with fennel to make this vibrant winter salad.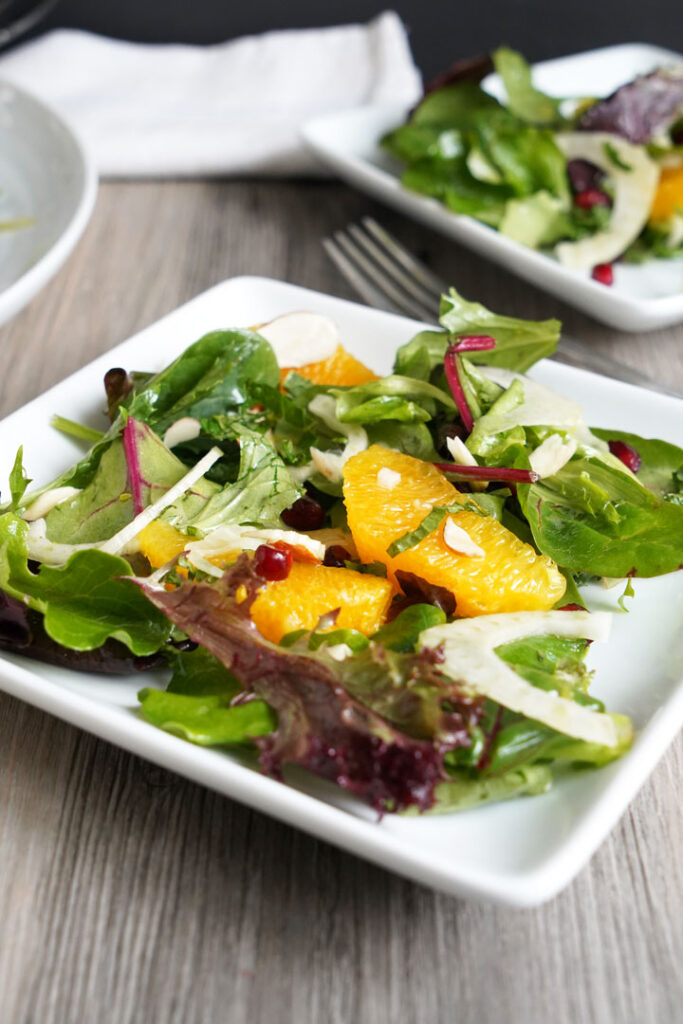 Yep. There's a lot going on in this salad and that's why I absolutely love it. I'll be adding this to my list of perfect winter salads, right along with my roasted carrot and beet quinoa salad.
Tangy sweet orange, a hint of mint, and subtle flavors from fennel make this one tasty salad. Pomegranate seeds provide color pops and extra sweetness while the almond slices add a little crunch.
To bring it all together, it's drizzled with an easy three-ingredient dressing. Yes, that's right. Just three. There is already so much flavor coming through in this salad that a simple lemon, honey, and olive oil dressing is all you need.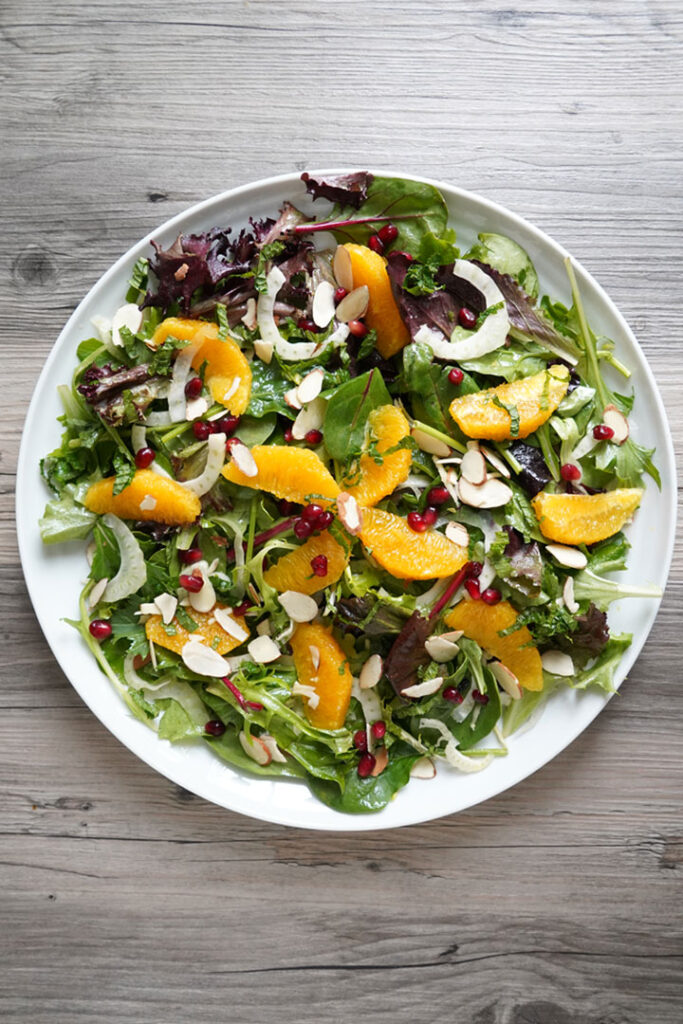 What Does Fennel Taste Like?
Never had fennel before? Most people describe it as a licorice or anise flavor but that is more characteristic of the leafy parts.
The flavor of the bulb on the other hand, is much harder to pinpoint. It has a light earthy taste is all I can say. If you have not tried it, you should!
We happen to love it on our homemade pizza and I've even used it on top of tomato tarts. Sweet oranges and earthy fennel make quite a nice pairing too!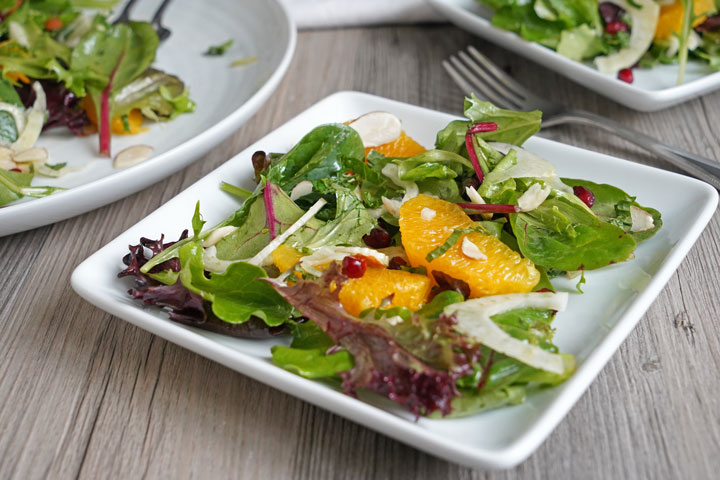 How to Make Fennel Orange Salad
The beauty of this salad is that you can prepare everything in advance, store it in the refrigerator, and then bring it all together just before serving. Make the dressing first and set it aside.
To prepare the fennel bulb, cut off the stems and leaves in one slice with a large chef's knife. Then, cut off the root on the opposite end.
Remove the outer tough layers of the bulb. Turn the bulb cut side down and slice through the center. Then turn each bulb half with the newly cut side facing down and begin making thin slices.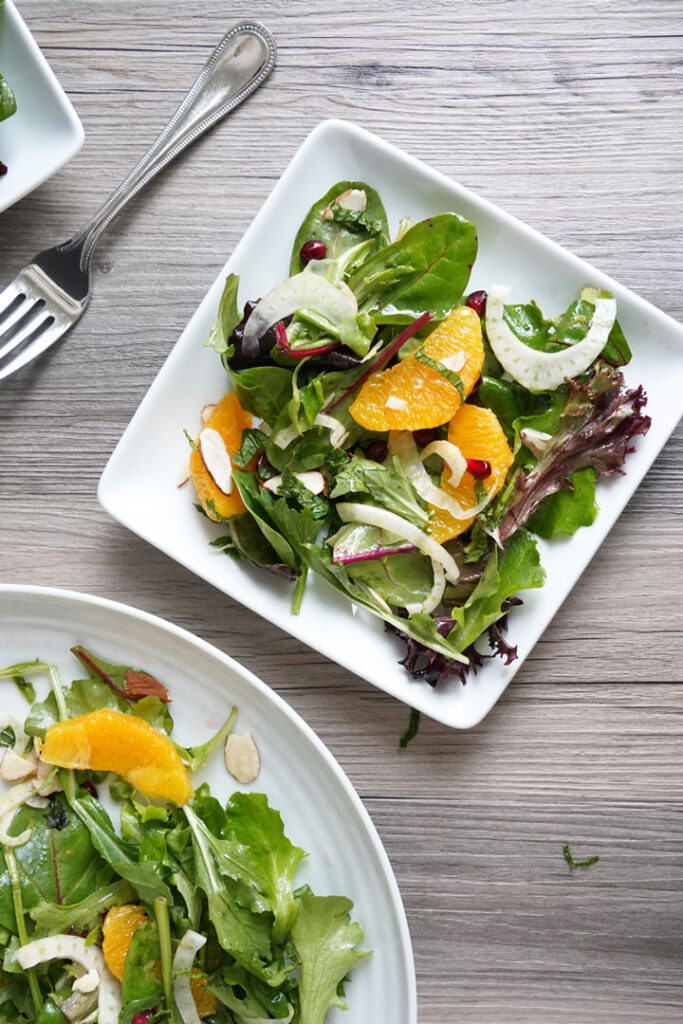 The best way to prepare oranges for a salad is by cutting the orange into segments or supremes. This way, you eliminate the tough outer part which doesn't look as pretty in the salad and makes it hard to eat.
I've described this method in my how to cut an orange tutorial but here's the gist of it. Basically, you cut off the ends, slice away the peel and then cut on either side of the membranes to remove the segments.
Toss the greens, fennel, and half the mint in a large bowl. Next, add half the dressing to the mixture and thoroughly mix.
You can always add more later or set it aside and let people help themselves. You might find that it already has enough flavor with the juicy oranges and the chopped mint leaves.
Gently mix in the oranges and half the pomegranate and almonds. (Sprinkle the other half along with the remaining mint at the end for a nice decoration on top.)
If serving your salad on a large platter, you can also neatly arrange the oranges on top instead of mixing them in.
Finally, you don't need it but if you would like to add a cheese, some shredded or shaved parmesan works really well!
Love orange flavor? You may also want to check out my orange layer cake recipe and my dark chocolate orange tart recipe.
I first shared this orange fennel salad recipe on Food Fanatic so be sure to visit it there along with some of my other recipes.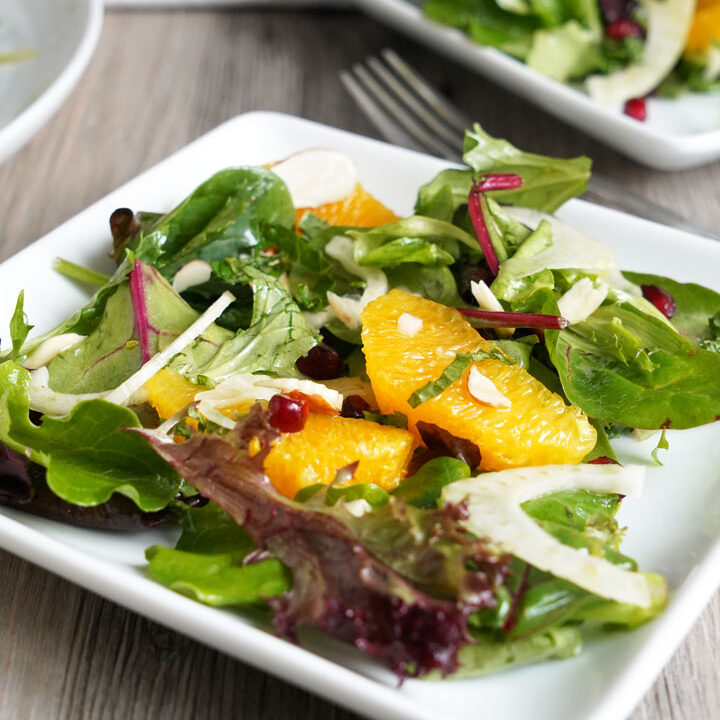 Orange Fennel Salad
This Fennel Orange Salad is sweet, crunchy and full of flavor. Orange and mint come together with fennel to make this vibrant winter salad.
Ingredients
For the Dressing:
1 tablespoon Honey
2 tablespoons Lemon Juice
2 teaspoons Extra Virgin Olive Oil
For the Salad:
1-2 Oranges
1 cup Shaved Fennel
15 Mint Leaves, finely chopped
5 ounces Mixed Greens
2 tablespoons Fresh Pomegranate Seeds
2 tablespoons Sliced Almonds
Instructions
In a small bowl, whisk together the honey, lemon juice and olive oil and set aside.
In a large bowl, combine the mixed greens, fennel and half the chopped mint. Toss to mix.
Drizzle about half of the dressing over the greens and mix thoroughly. Mix in about half the almonds and pomegranate.
Cut off the orange peel and slice the orange into segments.
Transfer the greens to a large plate and arrange the orange segments on top.
Sprinkle with remaining almonds, pomegranate, and mint.
Add additional dressing after serving if desired.