This French cherry tart with almond cream will surprise your taste buds! Grab those fresh cherries and make this tart today!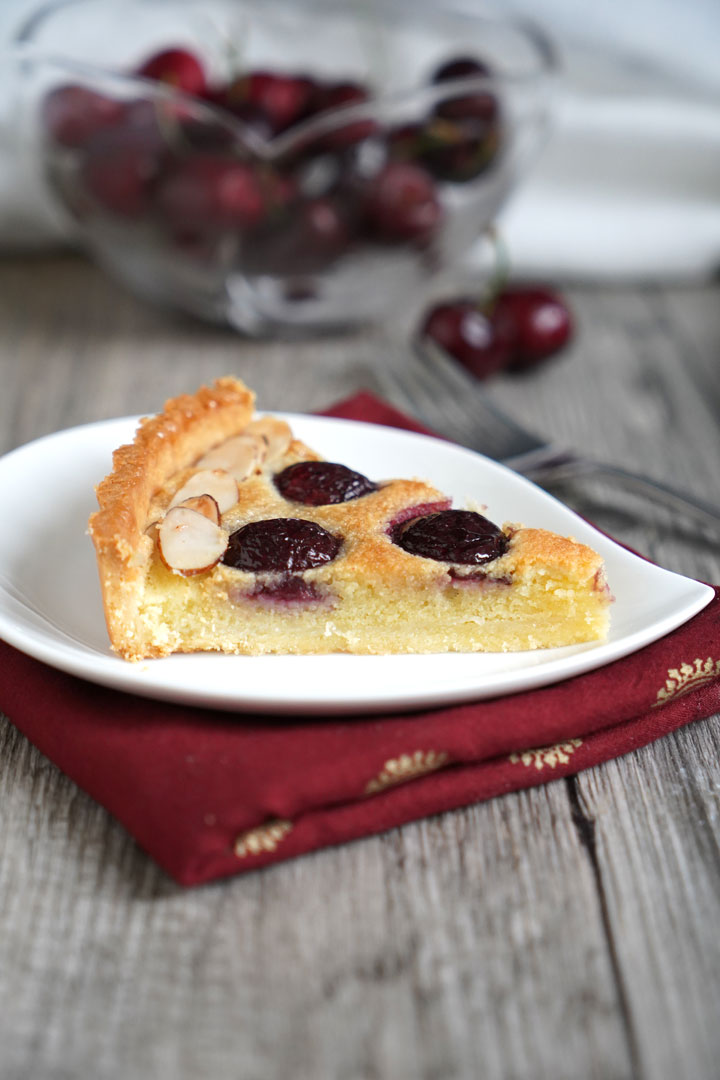 I don't care much for cherries. I've never even had cherry pie. But when I came across some cherry dessert photos taken by Mowie Kay, I changed my mind about cherries.
I was inspired. And then I remembered frangipane.
What is Frangipane?
Also known as almond cream, frangipane is a delicious filling made with sugar, ground almonds, butter, and eggs. Frangipane is always baked in and the end result is the most aromatic fluffy moist filling!
Wouldn't some nice fresh sweet cherries pair really well this fluffy filling? Yaasss! A fresh French-style cherry frangipane tart. I could almost smell it.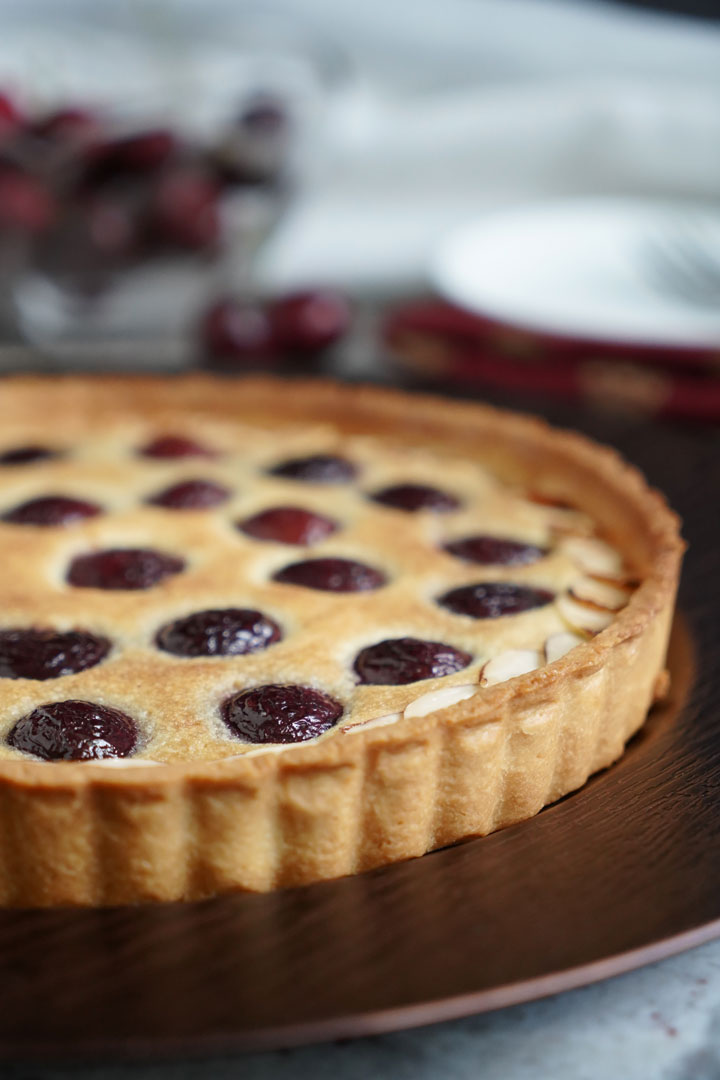 How to Pit Cherries Without a Cherry Pitter
Ugh! Pits. Another reason why I avoid eating cherries. Maybe I should buy a cherry pitter? Nope!
Luckily my urge to constantly de-clutter my home stopped me from buying a kitchen tool that only accomplishes one task. I found a better way.
Alton Brown once suggested on a Good Eats episode to use a star shaped pastry trip to hull strawberries. Works on strawberries, why not cherries?
It took a few cherries and few different size tips but I figured it out...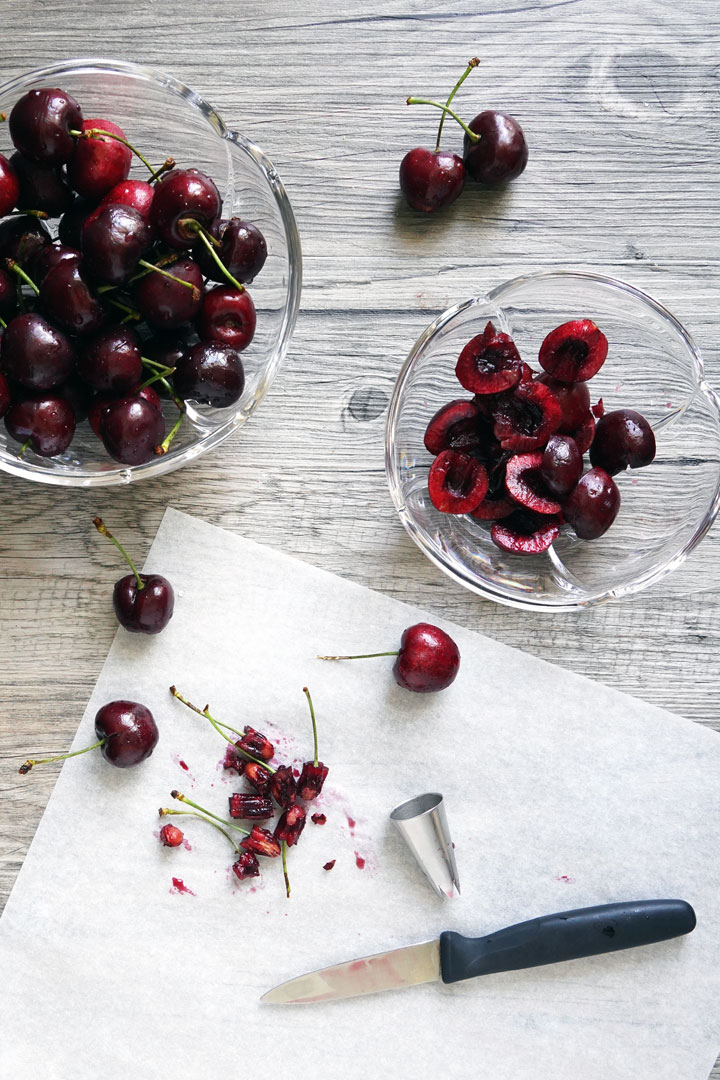 So beautiful and no cherry pitter required!
PRO TIP: To pit the cherry, a size 1M star shaped tip works like a charm. Insert the tip on top of the cherry stem. Push down and then pull up at a very slight angle. The pit and stem should come out all at once.
The first time I made cherry tart, I had sliced the cherries smaller but I recommend just cutting them in half like shown in the pictures.
This is because the almond cream rises and hides the smaller cherry slices so halves look prettier.
Next time though, I will place the cherry halves much closer together than I have done. More cherry in each bite!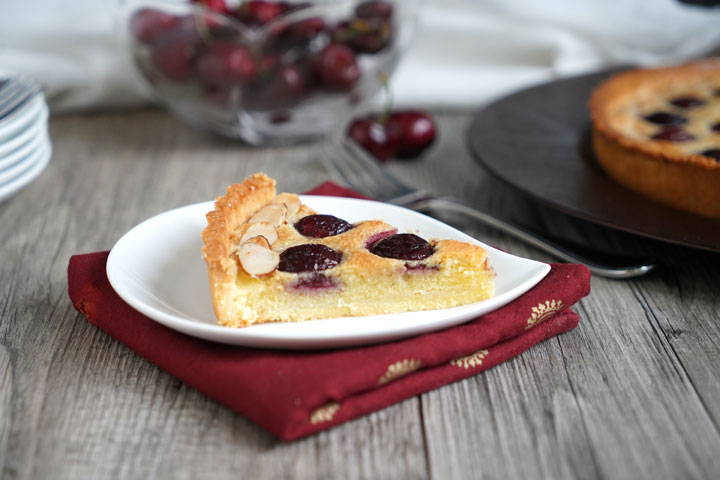 The Tart Crust
On to the tart...I originally made my cherry tart with a flaky tart dough filled with almond cream and topped with sliced cherries. This is a very simple tart dough to make and it is the one written in the recipe card below.
HOWEVER, more recently, I redid these photos and made the tart with my sweet tart dough which turned out even better. So, if you want to try a different crust I highly recommend you check my sweet tart dough recipe.
The sweet tart dough is more tender and crumbly and of course sweeter! The French call this tart dough pate sucree and it's generally used for sweet fillings.
The best part about it is that it comes together in a food processor really fast and the results are fantastic.
Finishing and Decorating the Cherry Tart
I used sliced almonds to decorate the edge before baking. The shiny glaze finish is brushed on after the tart is fully baked.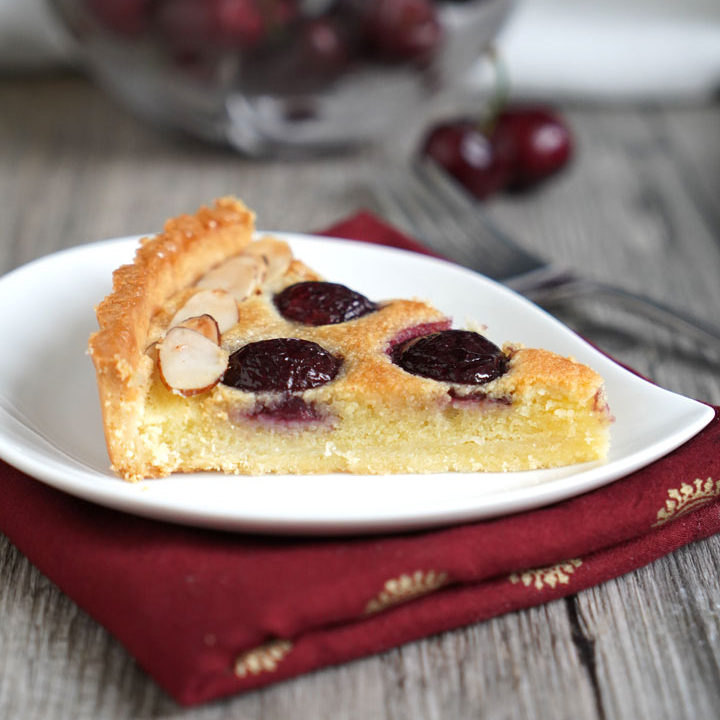 Cherry Frangipane Tart
Total Time:
1 hour
55 minutes
This cherry and almond cream tart will surprise your taste buds! Grab those fresh cherries and make this tart today!
Ingredients
For the crust:
1 ¼ cup cake flour
¼ teaspoon salt
¼ teaspoon sugar
4 ½  Tbs butter, cold, cubed
35 mL water, cold
For the almond cream:
6 Tbs butter
⅜  cup sugar
¾  cup almond flour
1 egg
1 ½   Tbs corn starch
1 Tbs amaretto, optional
For the tart:
35-45 cherries
sliced almonds, for decorating
2-3 Tbs apricot preserves
Instructions
For the crust:
Mix together the dry ingredients. In an electric mixer combine the dry ingredients and the cold butter and paddle on slow speed until the butter is the size of small lentils.
Add the water gradually and mix until just combined. Use your judgement here. Don't use all the water if it looks like the dough has come together. Wrap and store the dough in the refrigerator for at least 1 hour.
For the almond cream:
In an electric mixer, paddle the butter, sugar and almond flour until light and fluffy.
Add the egg and mix until combined. Add the corn starch and mix to combine. Finally, add in the amaretto or any liqueur of choice.
For the tart:
Wash, pit, slice your cherries or just cut halves. (I do have not amount of cherries here because it is really up to you and how you decorate your tart.) Roll out your dough to 2 inches larger than your tart pan. Line your tart pan with the dough, trimming off the excess. Refrigerate the dough for at least 20 minutes.
Using a fork, poke holes on the bottom of the dough. Fill the tart shell with the almond cream spreading it as evenly as possible. Place your cherries on top and add sliced almonds if you wish.
Bake at 350 F for about 30-35 minutes or until the top has browned and the almond cream has set.
Heat the apricot preserves on the stove top until it becomes liquid. Brush on the warm preserves (avoid the chunks) onto the cooled tart.
Nutrition Information:
Yield:

8
Serving Size:

1 slice
Amount Per Serving:
Calories:

462
Total Fat:

27g
Saturated Fat:

11g
Trans Fat:

1g
Unsaturated Fat:

15g
Cholesterol:

63mg
Sodium:

209mg
Carbohydrates:

50g
Fiber:

4g
Sugar:

24g
Protein:

8g
This nutrition information is only an approximate provided for convenience and as a courtesy only. Information comes from Nutritionix, an automated nutrition calculator.
SaveSave