Want to know how to glaze a fruit tart and get it shiny? It's actually a very simple fruit glaze that can be used on tarts, pies, and cheesecakes. There are no complicated ingredients and it's so easy to do.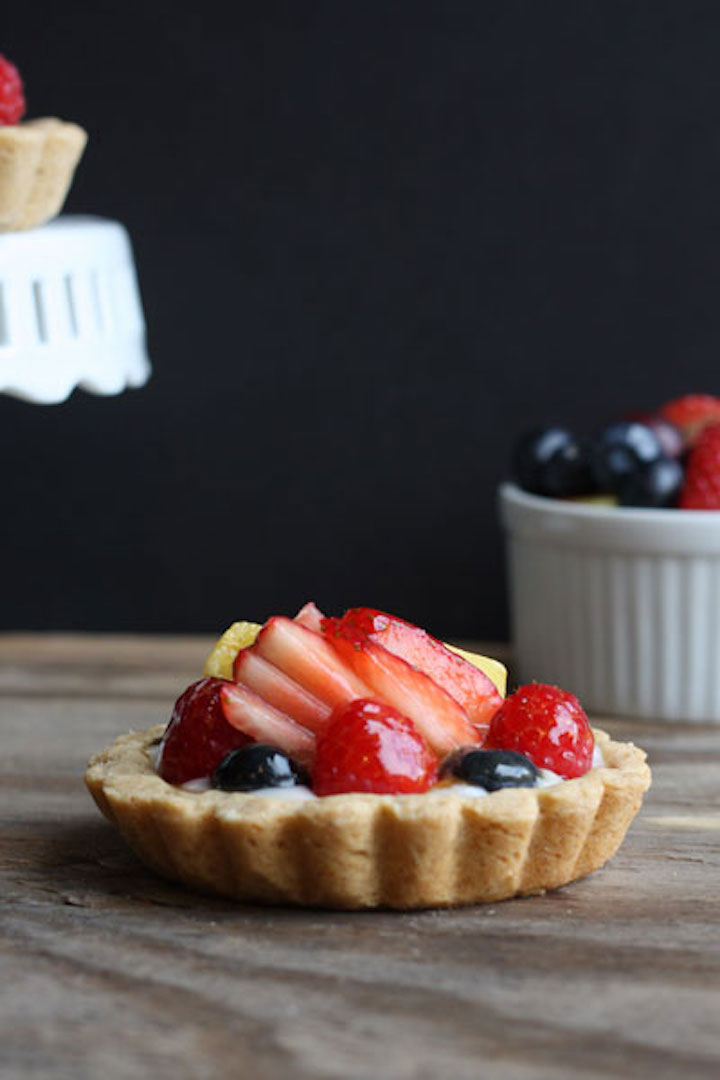 Ever see those gorgeous shiny fruit tarts in the bakery display case? They're so colorful and meticulously arranged that you almost don't even want to eat them.
How do they make those bakery style fruit tarts look so shiny anyway? It's a simple fruit tart glaze.
There's been a few times where I've looked into the bakery pastry case and the glaze was total overkill. I had no idea what they were using on it. Gelatin maybe? Whatever it was, looked very rubbery.
My personal opinion is that less is more. Make it look pretty but in no way take away from the flavors and textures of the tart itself.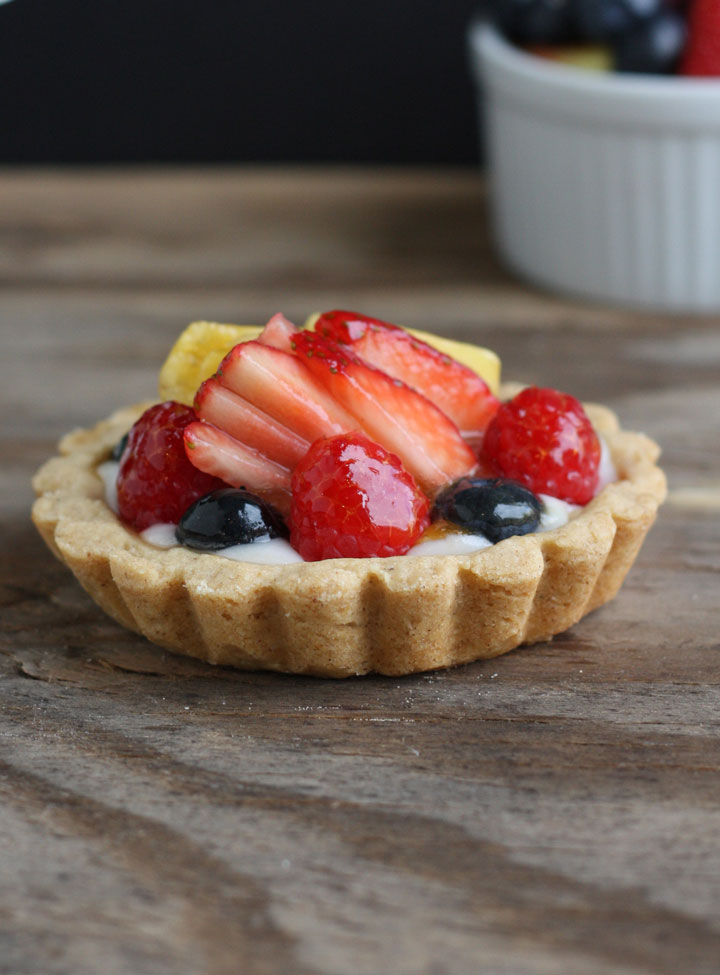 Why Glaze a Fruit Tart?
Fruit tarts are brushed with a glaze for two reasons. First, it gives it that nice shiny look. More importantly, it preserves the moisture and color of the fruit.
You can easily brush on a fruit tart glaze at home too. I promise it takes very little effort. Once you've made your own tart dough and pastry cream, the glaze is a piece of cake (or should I say piece of tart?).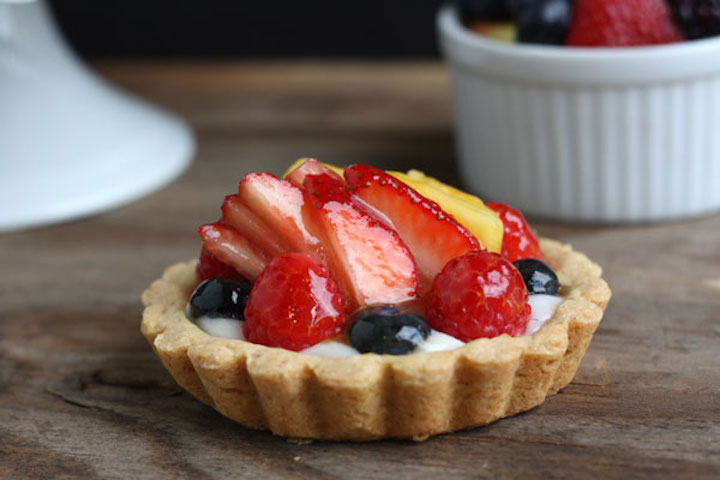 How Do You Glaze a Fruit Tart?
1. Choose a Fruit Preserve or Jelly
I prefer to use apricot preserves but you can use apple, red currant or other flavors depending on what fruits you've used on your tart.
2. Loosen the Preserves by Heating It
Simply heat a few Tablespoons of fruit preserves over the stovetop so that it becomes loose. Depending on the type/brand of jelly you are using, you might need to make a few adjustments. Sometimes it helps to add a small amount of water (½ to 1 teaspoon per Tablespoon of jam) and then heating it.
3. Strain If Needed
If you find that it's still too chunky you can strain it before brushing it onto your pastry.
4. Brush the Glaze Over Your Tart
Use a pastry brush to gently glaze over the tart. Be careful not to move your fruits around as you brush it.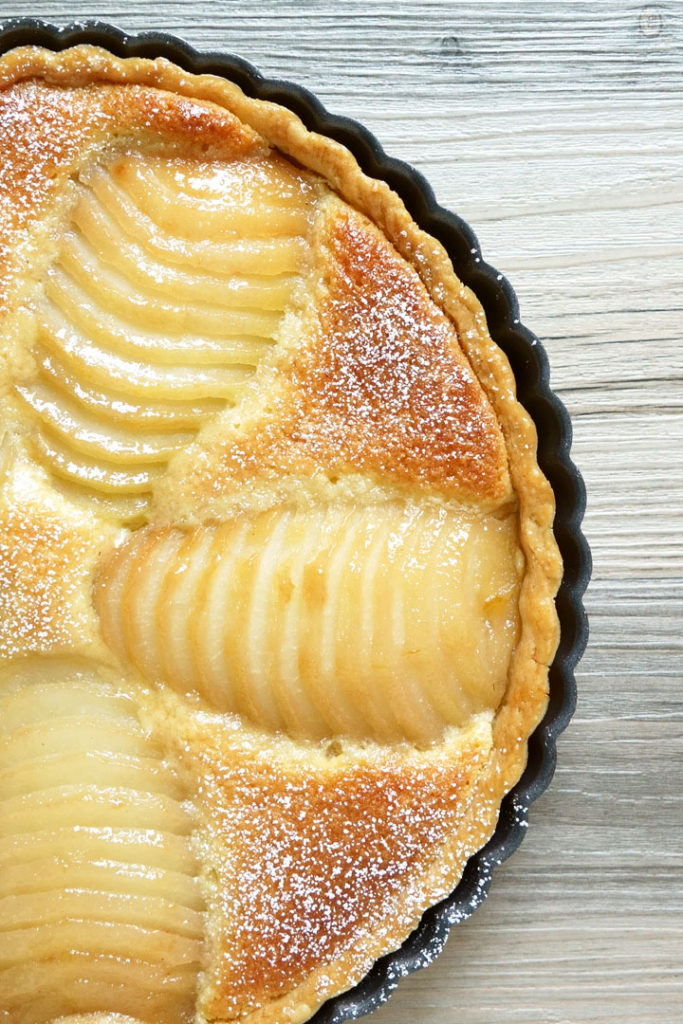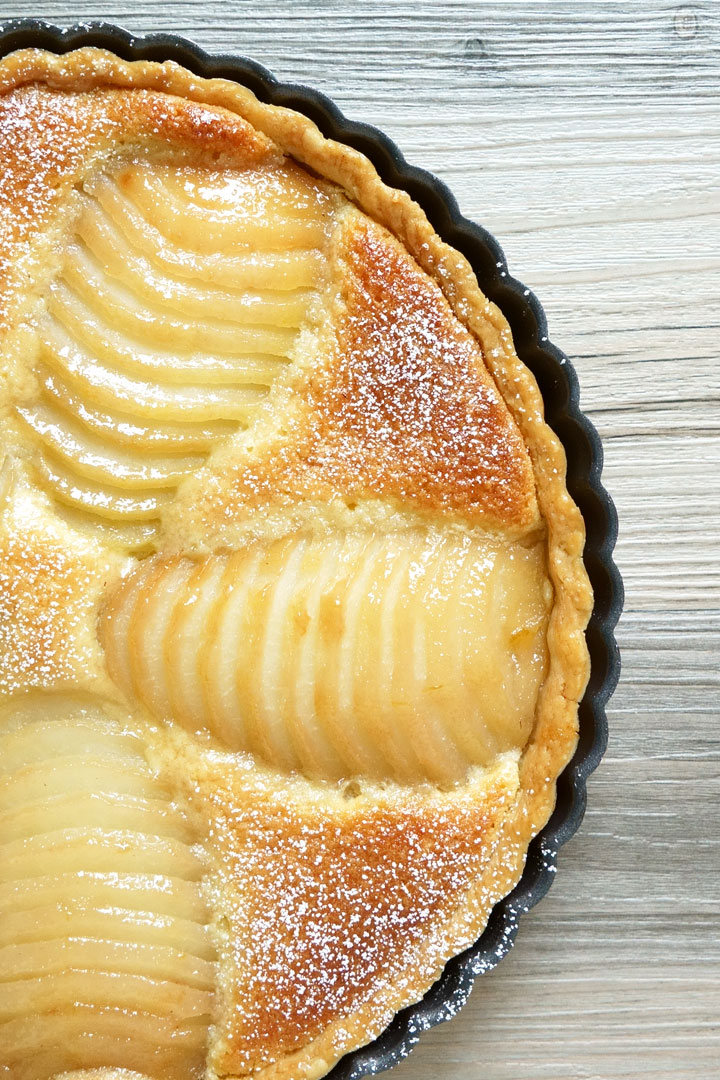 The use of this glaze is not limited to fresh fruit tarts. It helps preserve cooked tarts and makes them look shiny too. The pear frangipane tart shown above was brushed with glaze after it was cooked.
If you are looking for other delicious cooked fruit tarts, I also highly recommend my pineapple almond tart or cherry almond tart.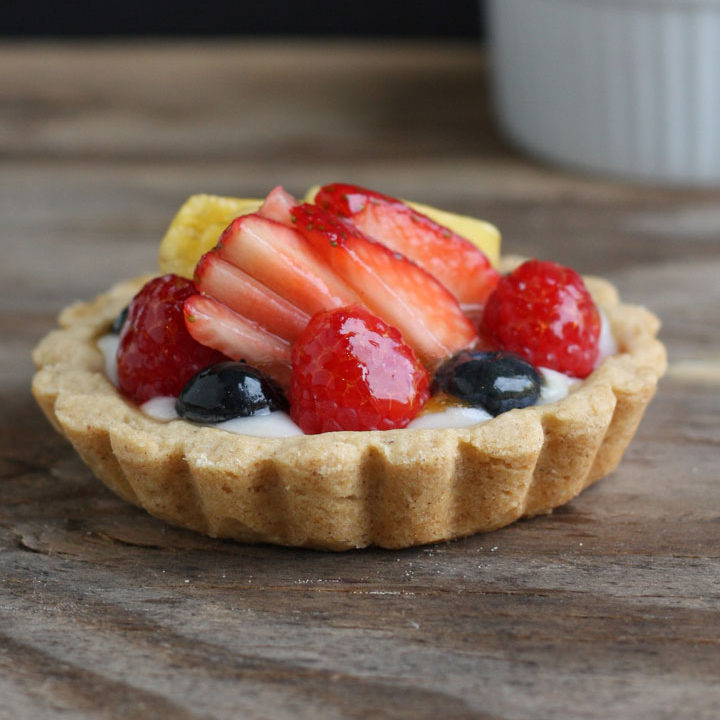 How to Glaze a Fruit Tart
Make your fruit tarts shiny and pretty with this easy glaze. You can use any type of fruit preserve, jam or jelly to make this glaze.
Ingredients
1 cup apricot fruit preserves, (or another flavor)
2-5 Tablespoons water, optional
Instructions
In a small pot, heat the fruit preserves on medium heat until it starts to loosen up and become thin. If it is too thick, add water a few tablespoons at a time to help thin it out.
Strain the mixture into a bowl if you have large chunks of fruit or seeds.
Use a pastry brush to gently apply the glaze over your fruit tart being careful not to move the arranged fruit.
Nutrition Information:
Yield:

48
Serving Size:

1 teaspoon
Amount Per Serving:
Calories:

3
Total Fat:

0g
Saturated Fat:

0g
Trans Fat:

0g
Unsaturated Fat:

0g
Cholesterol:

0mg
Sodium:

0mg
Carbohydrates:

1g
Fiber:

0g
Sugar:

1g
Protein:

0g
This nutrition information is only an approximate provided for convenience and as a courtesy only. Information comes from Nutritionix, an automated nutrition calculator.
You May Also Like:
SaveSave
SaveSave
SaveSave
SaveSave
SaveSaveSaveSave