This meringue coffee cake is stuffed with chocolate, cinnamon and walnuts. A beautiful coffee cake that is perfect for any brunch or tea time!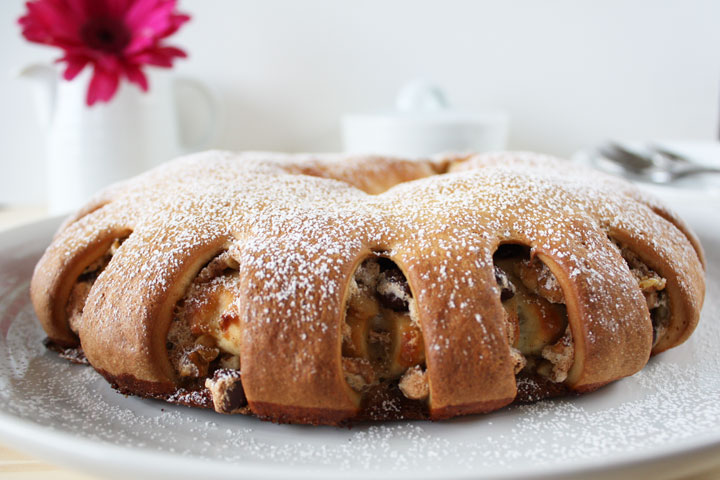 Where did March go? As always, It feels like I just posted last month's challenge yesterday. The March 2011 Daring Baker's Challenge was hosted by Ria of Ria's Collection and Jamie of Life's a Feast. Ria and Jamie challenged The Daring Bakers to bake a yeasted Meringue Coffee Cake.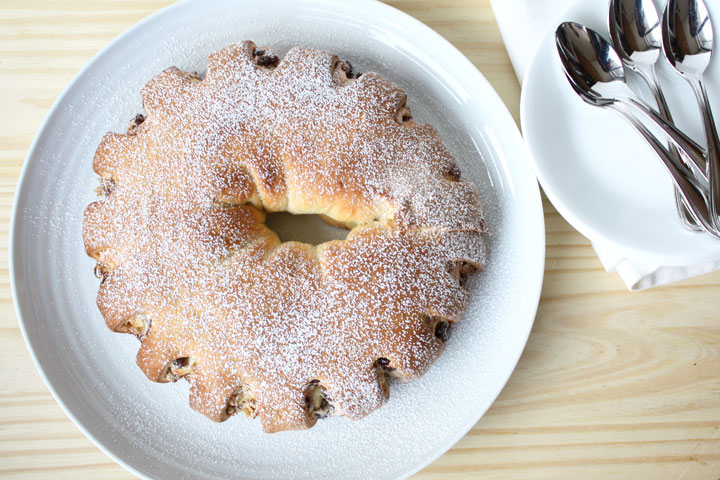 This meringue coffee cake looked delicious from the start so I knew I was going to keep it exactly as it was written. We were allowed to alter the fillings but who can resist a bread stuffed with meringue, chocolate and walnuts? The challenge reminded me of a chocolate babka. The funny thing is that the babka was on list of things to make this month. I've put it off for now but I am curious to see how the taste compares to this recipe.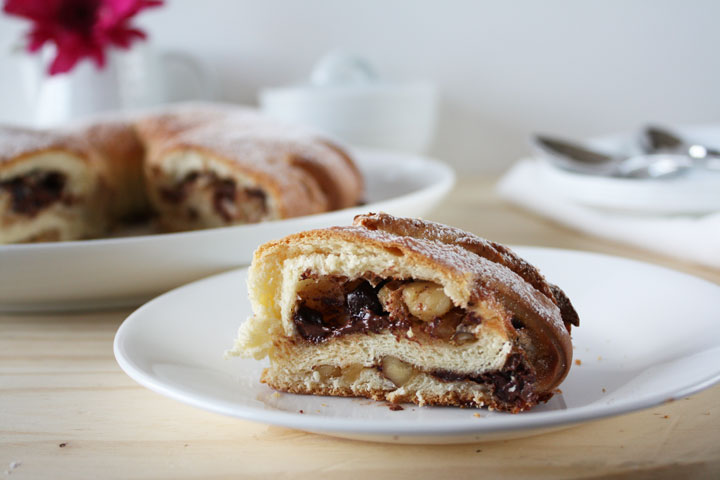 I think what made this challenge most interesting to make was the use of meringue. I'd never thought about meringue being rolled up into a bread. It was a bit disappointing though. I am not sure if it's just me, but I did not really notice how it added anything to the coffee cake. It seemed to disappear after baking. I was expecting there to be some sort of crunch from the meringue. I am curious to know what the other Daring Bakers thought about this.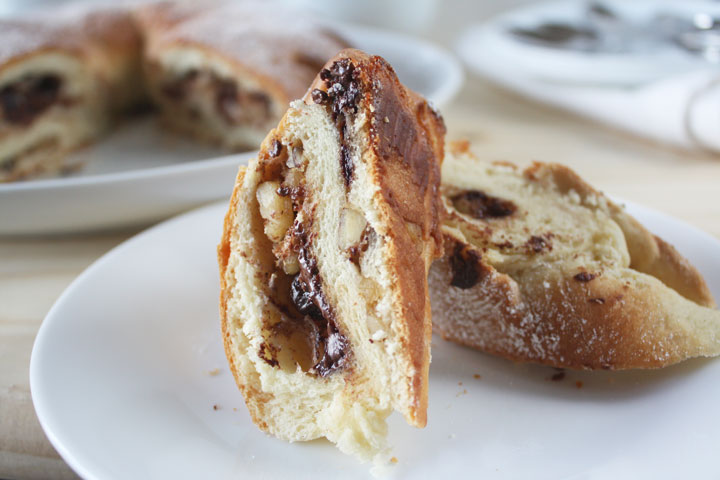 Regardless, the meringue coffee cake did not disappoint anyone in this household. Impatiently waiting to have a bite, V stubbornly refused to get out of my shot while taking photos. So I just had to go with it...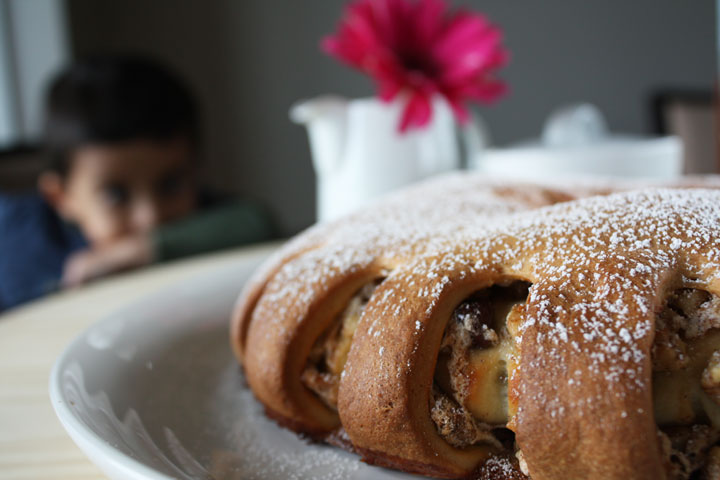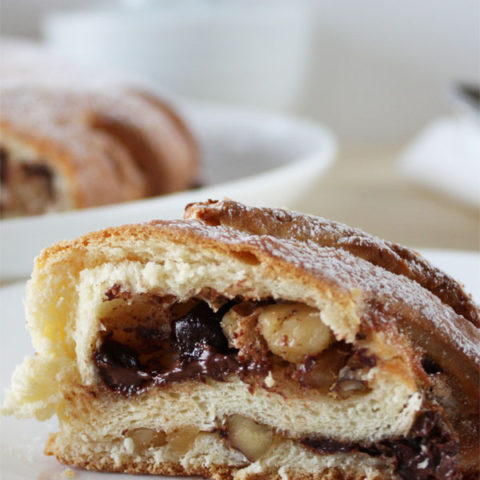 Meringue Coffee Cake
Total Time:
3 hours
20 minutes
This meringue coffee cake is stuffed with chocolate, cinnamon and walnuts. A beautiful coffee cake that is perfect for any brunch or tea time! (Recipe from Jamie of Life's A Feast, makes one 10 inch cake)
Ingredients
For the yeast coffee cake dough:
2  cups flour
⅛  cup sugar
⅜  teaspoon  salt
1 ½  teaspoons active dry yeast
⅜  cup whole milk
⅛  cup  water, doesn't matter what temperature
¼  cup  unsalted butter at room temperature
1  large egg at room temperature
For the filling:
½  cup  chopped pecans or walnuts
1  Tablespoon granulated sugar
⅛  teaspoon ground cinnamon
½  cup  semisweet chocolate chips or coarsely chopped chocolate
For the meringue:
2  large egg whites at room temperature
⅛  teaspoon salt
¼  teaspoon vanilla
¼  cup  sugar
For the egg wash:
Instructions
For the yeast coffee cake dough:
In a large mixing bowl, combine ¾ cups of the flour, the sugar, salt and yeast.
In a saucepan, combine the milk, water and butter and heat over medium heat until warm and the butter is just melted.
With an electric mixer on low speed, gradually add the warm liquid to the flour/yeast mixture, beating until well blended. Increase mixer speed to medium and beat 2 minutes. Add the eggs and ½ cup flour and beat for 2 more minutes.
Using a wooden spoon, stir in enough of the remaining flour to make a dough that holds together. Turn out onto a floured surface (use any of the ¾ cups of flour remaining) and knead the dough for 8 to 10 minutes until the dough is soft, smooth, and elastic, keeping the work surface floured and adding extra flour as needed. Alternatively, you can use a dough hook in an electric mixer. I actually did some of both.
Place the dough in a lightly greased bowl, turning to coat all sides. Cover the bowl with plastic wrap and a kitchen towel and let rise until double in bulk, 45 – 60 minutes. The rising time will depend on the type of yeast you use.
For the filling:
In a small bowl, combine the cinnamon and sugar for the filling if using. Mix together the nuts and chocolate.
For the meringue:
Once the dough has doubled, make the meringue: In a clean mixing bowl – ideally a plastic or metal bowl so the egg whites adhere to the side (they slip on glass) and you don't end up with liquid remaining in the bottom – beat the egg whites with the salt, first on low speed for 30 seconds, then increase to high and continue beating until foamy and opaque.
Add the vanilla then start adding the ¼ cup sugar, a tablespoon at a time as you beat, until very stiff, glossy peaks form.
Assembly of Coffee Cake:
Prepare an egg wash by beating 1 egg
Line 2 baking/cookie sheets with parchment paper. Punch down the dough and divide in half. On a lightly floured surface, working one piece of the dough at a time (keep the other half of the dough wrapped in plastic), roll out the dough into a 20 x 10-inch (about 51 x 25 ½ cm) rectangle.
Spread the meringue evenly over the rectangle up to about ½-inch (¾ cm) from the edges. (I did not use quite all of it) Sprinkle half of your filling evenly over the meringue
Now, roll up the dough jellyroll style, from the long side. Pinch the seam closed to seal. Very carefully transfer the filled log to one of the lined cookie sheets, seam side down. Bring the ends of the log around and seal the ends together, forming a ring, tucking one end into the other and pinching to seal.
Using kitchen scissors or a sharp knife (although scissors are easier), make cuts along the outside edge at 1-inch (2 ½ cm) intervals. Make them as shallow or as deep as desired but don't be afraid to cut deep into the ring. Cover the coffee cake with plastic wrap and allow it to rise again for 45 to 60 minutes.
Preheat the oven to 350°F (180°C). Brush the tops of the coffee cakes with the egg wash. Bake in the preheated oven for 25 to 30 minutes until risen and golden brown. The dough should sound hollow when tapped. Dust with confectioners sugar when cooled. Enjoy!
Nutrition Information:
Yield:

20
Serving Size:

1 slice
Amount Per Serving:
Calories:

171
Saturated Fat:

3g
Cholesterol:

23mg
Sodium:

65mg
Carbohydrates:

18g
Fiber:

1g
Sugar:

7g
Protein:

3g
SaveSave