New to food photography? Here's a brief lesson on aperture as seen through my photos of espresso chocolate chip muffins. Recipe is included too!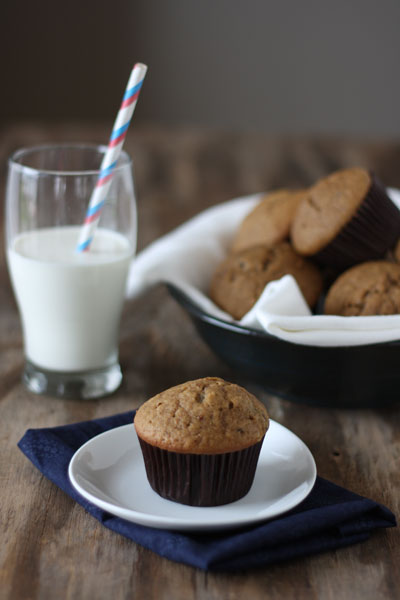 Last night I decided I was going to make some chocolate chip muffins . On a whim, at the last second, I decided to add a little extra flavor with some espresso.
So I replaced the milk in my muffin recipe with a cup of strong coffee and added in some instant espresso powder. The results? A ridiculously moist muffin with a nice combination of coffee and chocolate flavor. It's quick and delicious.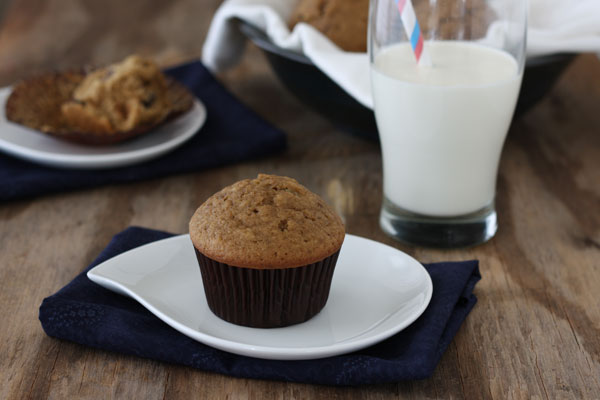 I like to think I've come a long way in my photography but I know I still have much to learn. I spend hours trying to get the right photo and it's mostly because I don't have a good grasp on all the technical aspects of photography. (Food styling and getting the right props is a whole other problem!)
So when Aparna of My Diverse Kitchen invited her readers to join in on a series of food photography exercises, I jumped at the opportunity.
The first exercise is all about aperture. Aperture is the opening size of your lens that lets the light in. You can open and close it to whatever size you want.
Anyone trying to get better shots always wonders how you get that wonderful blurry background. That's all aperture too because it also controls your depth of field (DoF) or how much of your photo is in focus. Here's what the numbers mean:
Small Aperture (Ex. F2.0) = Small DoF (more blur in the back) and big opening (more light)
Large Aperture (Ex. F5.6) = Large DoF (less blur in the back) and small opening (less light)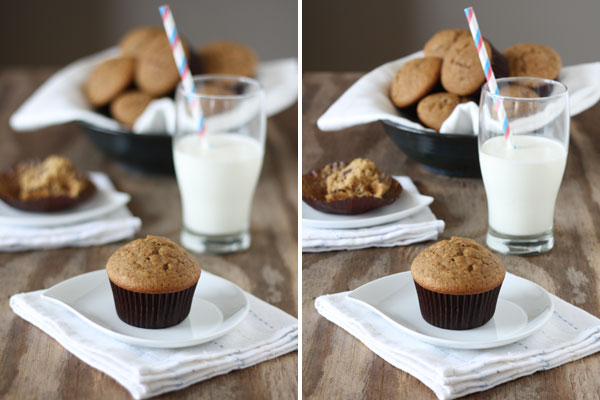 The set up had natural light coming in from the left and I used a white board on the right to reflect some of the light and eliminate shadow. I like both photographs.
I love the blurry background on the left photo because it puts less focus on the sharpness of the glass rim. However, I like the right one too because you can see the colorful straw more.
Doing this exercise made me start noticing a lot more things besides the aperture. For example, I realized that the photos just have too much white in them because of the plates and napkins and milk.
You can see in the photo at the beginning of the post that I changed my napkin color. I like this much better because I can still use the milk glass but not distract from the muffin too much. Then I noticed the back wall has a shadow on half of it.
Of course, I can go on and on with flaws but I'll save it for another photography exercise. Thanks Aparna for this little lesson on aperture. If you want to learn more head over to her post or join us and link your own.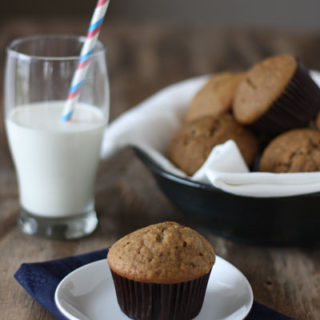 Espresso Chocolate Chip Muffins
These espresso chocolate chip muffins is like having your coffee and pastry all in one bite. So moist, tasty and addictive.
Ingredients
2 cups all purpose flour
1 cup sugar
2 teaspoon baking powder
½ teaspoon salt
1 Tbs instant espresso powder
1 egg
1 teaspoon vanilla extract
½ cup unsalted butter, melted and cooled
1 cup strong coffee, cooled
½ cup chocolate chips
Instructions
Preheat oven to 375F and line your muffin tin or generously butter.
Mix the flour, sugar, baking powder, salt, espresso in a large bowl with a whisk. Whisk the eggs, vanilla, butter and coffee in another bowl.
Add the liquids to the the dry ingredients mix until almost combined and then add the chocolate chips and mix until combined. Fill the muffin tins evenly with the batter. Use an ice cream scoop to keep it from getting messy and get a more even distribution between the 12 muffins.
Bake for about 20-25 minutes or until a toothpick comes out clean when poked in the center.
Nutrition Information:
Yield:

12
Serving Size:

1 muffin
Amount Per Serving:
Calories:

251
Total Fat:

10g
Saturated Fat:

6g
Trans Fat:

0g
Unsaturated Fat:

4g
Cholesterol:

36mg
Sodium:

187mg
Carbohydrates:

38g
Fiber:

1g
Sugar:

21g
Protein:

3g
This nutrition information is only an approximate provided for convenience and as a courtesy only. Information comes from Nutritionix, an automated nutrition calculator.
SaveSave
SaveSave
SaveSave
SaveSave