Classic coffee cake in a two bite version is hard to resist. Plus, this one is loaded with chocolate chips too!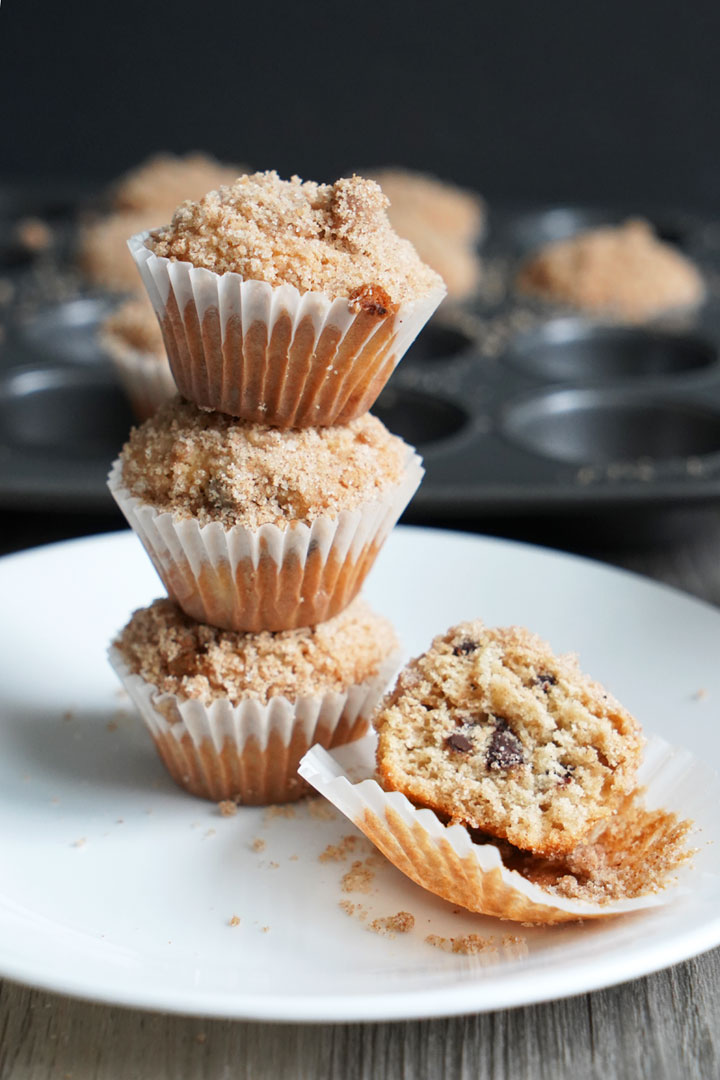 Don't you just love those two bite versions of the classics? You know, like those little chocolate chip cookies or those mini brownies they sell in buckets at the grocery store. Well I've got one more for you! Classic coffee cake.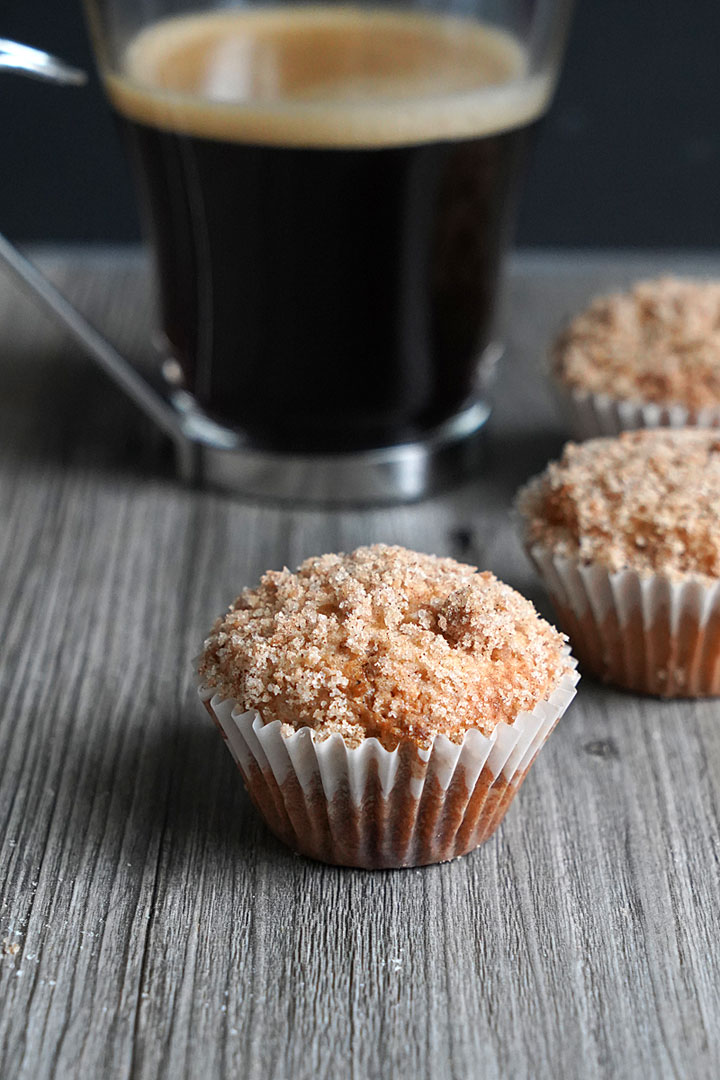 I love coffee cake. In fact, it's one of the first cakes I ever baked. I used to make it as a kid from a recipe given to me by a teacher. I loved that recipe but sadly, it was lost.
This coffee cake recipe is pretty darn close though. It's moist, tender and packed with bursts of cinnamon and chocolate. Irresistible.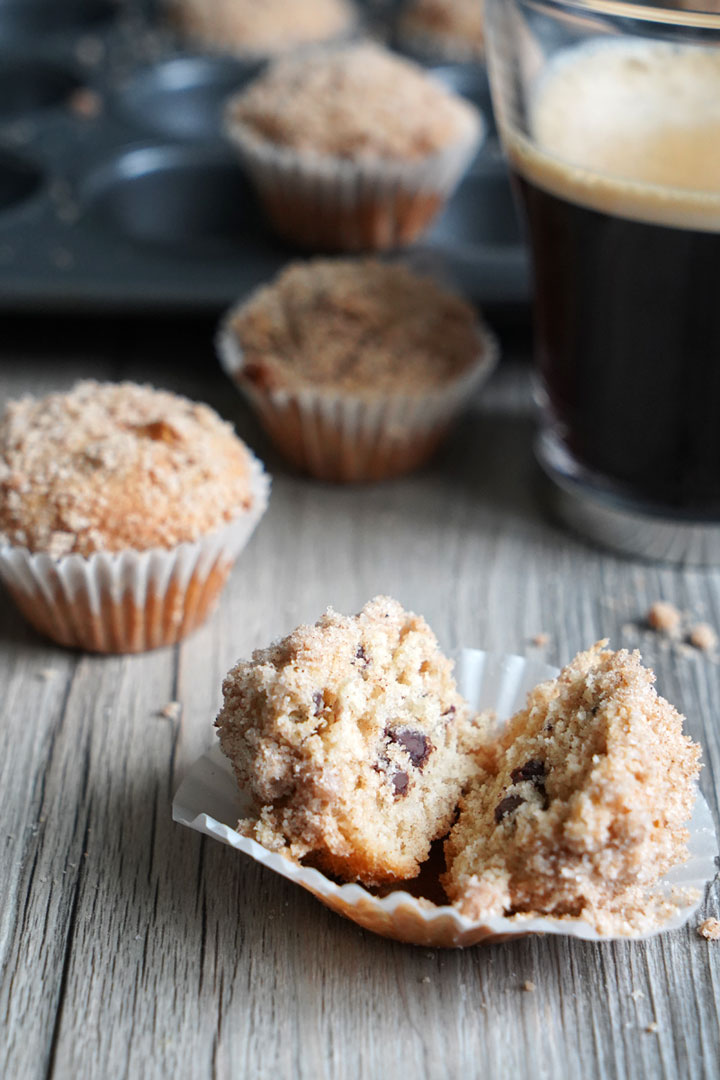 If you're like me and have a hard time resisting cake, I've built in some portion control. I made the same coffee cake into bite sized muffins.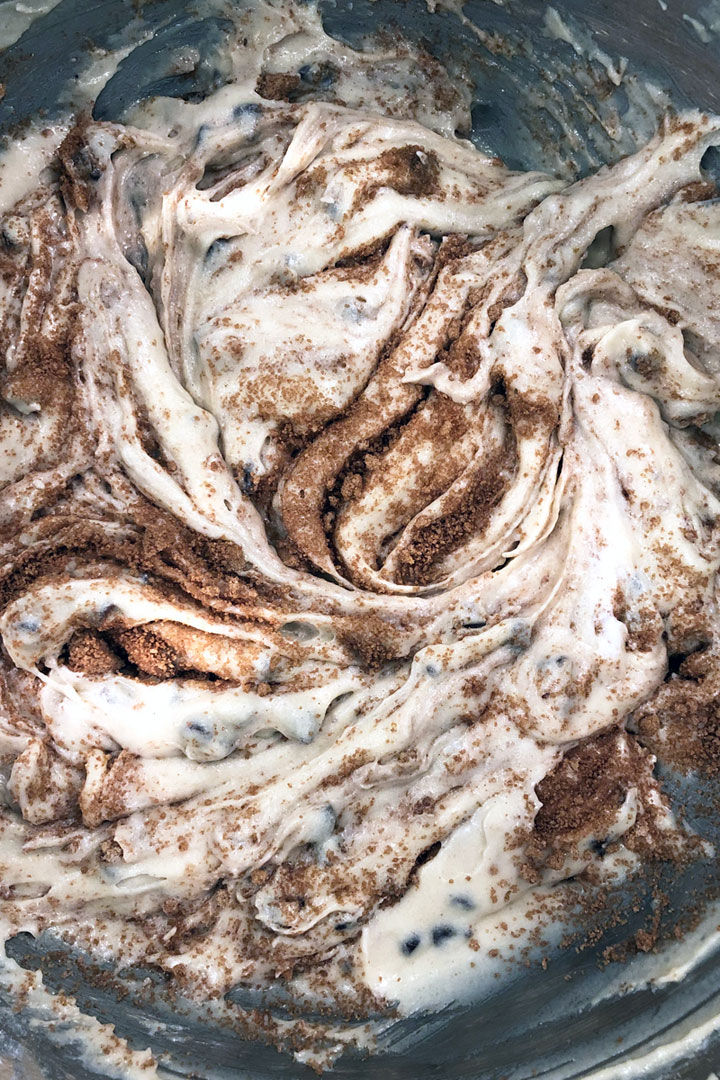 It still has the same sugary cinnamon swirl filling and crunchy crumb topping. Oh and I added some chocolate chips too. What more could you want?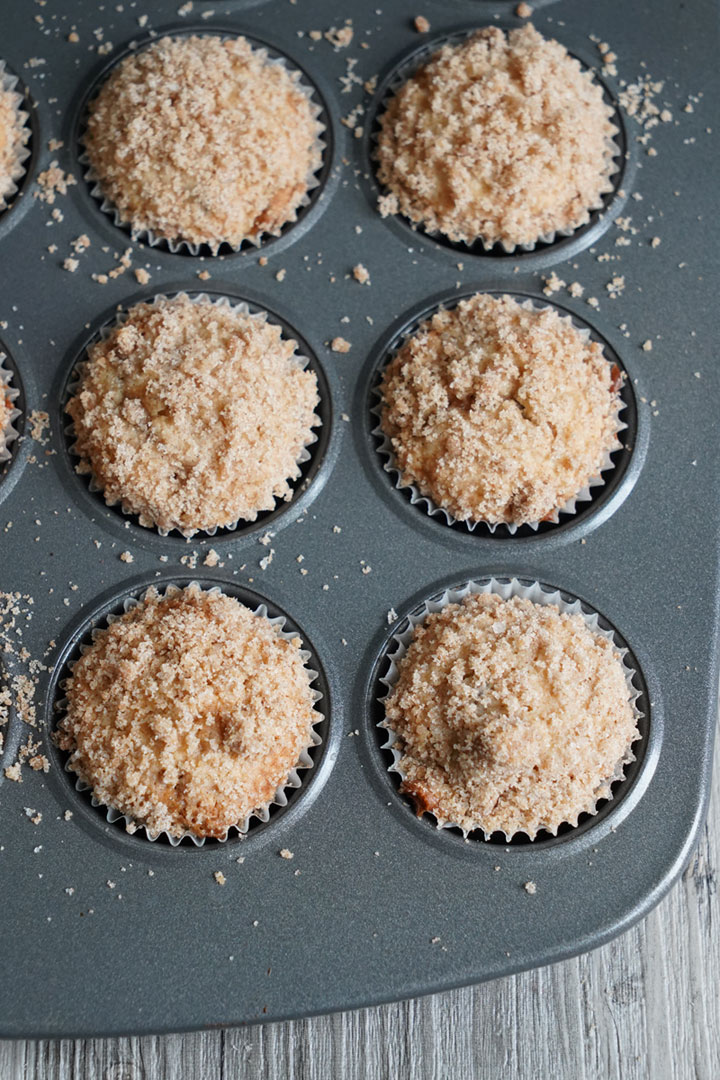 Tips for Making Coffee Cake Muffins
Use a fork to mix your streusel. You want crumbles, not a paste, so do not overwork it. You can also add chopped nuts to the mixture as an option. Walnuts would be a great choice!
I used full fat sour cream in this recipe to make sure it had the richest taste and most tender crumb.
Because these are mini muffins, it doesn't make sense to add a filling layer to each little muffin. Instead, add the filling to the batter and just leave it a little streaky to get a cinnamon swirl going through the batter.
Chocolate chips are totally optional but if you are adding them, be sure to use mini-sized chocolate chips since these are mini sized muffins.
Use a mini cookie scoop to fill the muffin tin. If you don't have one, use a tablespoon amount for each muffin.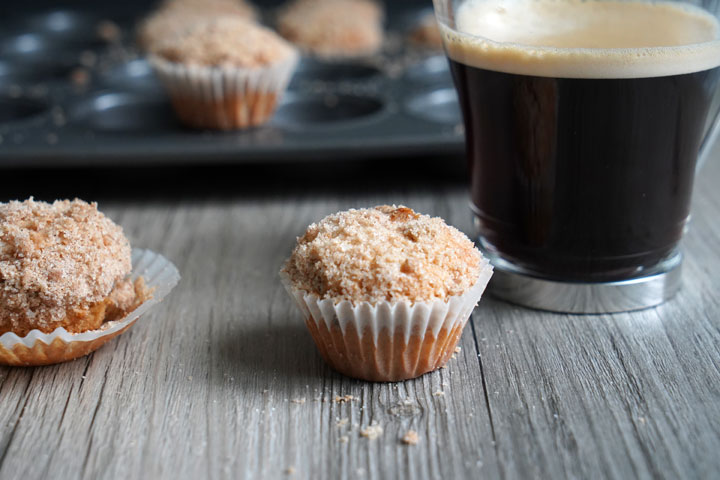 There's not actually coffee in a coffee cake, but it does pair well with a good cup of coffee. (For something with actual coffee flavor, I would recommend my espresso chocolate chip muffins.)
You can enjoy these little bites at breakfast, brunch, snack or as dessert. If coffee cakes are your jam, you might also enjoy my pumpkin coffee cake recipe.
Mini Coffee Cake Muffins
Classic coffee cake in a two bite version is hard to resist. Plus this one is loaded with chocolate chips too!
Ingredients
For the streusel
⅓ cup sugar
⅓ cup all purpose flour
½ tablespoon cinnamon
¼ teaspoon cardamom
2 ½ Tablespoons melted butter
For the filling
⅓ cup brown sugar
½ tablespoon cinnamon
For the batter
¼ cup unsalted butter
½ teaspoon salt
½ cup sugar
3 Tablespoons brown sugar
1 teaspoon baking powder
1 teaspoon vanilla
1 egg
¼ cup sour cream
½ cup milk
1 ¼ cup all purpose flour
⅔ cup mini chocolate chips
Instructions
For the streusel: Add the sugar, flour, cinnamon and cardamom to a small bowl and mix. Pour in the melted butter and mix with a fork until the butter is evenly distributed.
Mix the filling ingredients together in a small bowl and set aside.
Preheat the oven to 350F and line a mini muffin pan with liners.
Using an electric mixer or a stand mixer, cream the butter, salt, sugar, brown sugar, baking powder and vanilla until light and fluffy.
Add the egg and mix until just incorporated.
Combine the sour cream and milk in a small bowl and mix. It does not have to be completely smooth.
Alternate adding the flour and milk mixture in three batches, gently mixing and beginning and ending with the flour. Do not over mix.
Stir in the chocolate chips.
Sprinkle the filling on top of the mixture and run a fork through it a few times. You don't want to completely blend it in. Leave it streaky.
Scoop batter into the muffin tin using a tablespoon sized cookie scoop.
Sprinkle 1 teaspoon of streusel mixture on top of each muffin.
Bake for 12-15 minutes or until a toothpick comes out clean when inserted in the center of a muffin.
Nutrition Information:
Yield:

20
Serving Size:

2
Amount Per Serving:
Calories:

161
Total Fat:

7g
Saturated Fat:

4g
Trans Fat:

0g
Unsaturated Fat:

2g
Cholesterol:

21mg
Sodium:

99mg
Carbohydrates:

25g
Fiber:

1g
Sugar:

16g
Protein:

2g
This nutrition information is only an approximate provided for convenience and as a courtesy only. Information comes from Nutritionix, an automated nutrition calculator.