Classic pumpkin roll gets a makeover with an inlay design. It's the same delicious pumpkin cake with smooth cream cheese filling but with a decorative twist.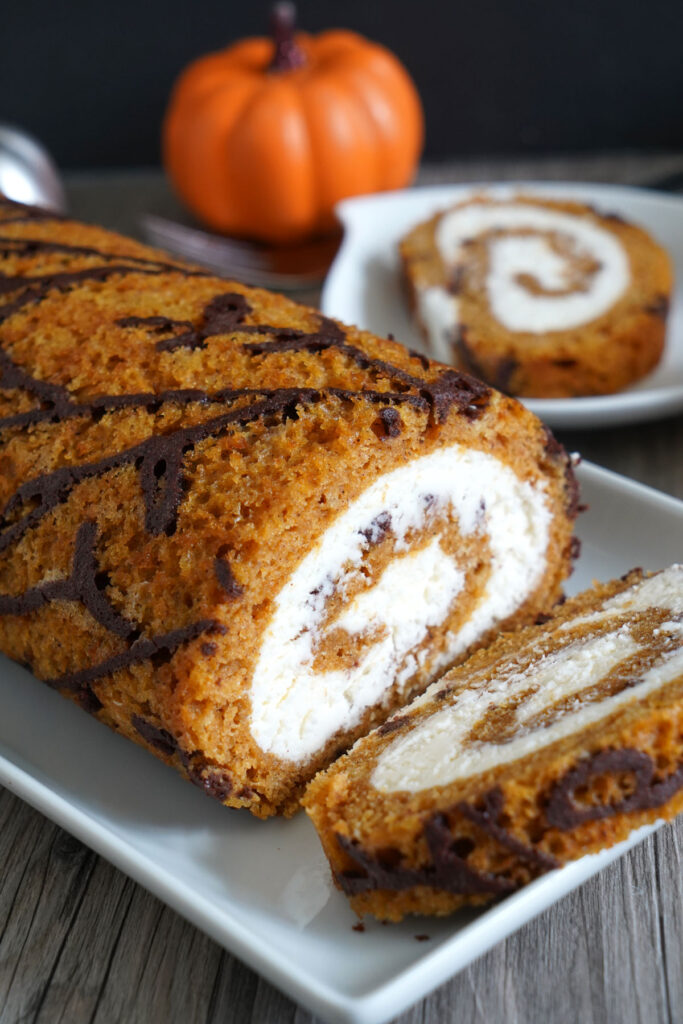 Anything with cream cheese frosting is amazing and pumpkin cake is no exception. If you're a fan of pumpkin, I'm sure you have made or seen recipes for this classic pumpkin roll.
I decided to turn this classic roll cake into a decorated roll cake. Chocolate vines on the outside make this pumpkin flavored patterned roll cake perfect for the fall!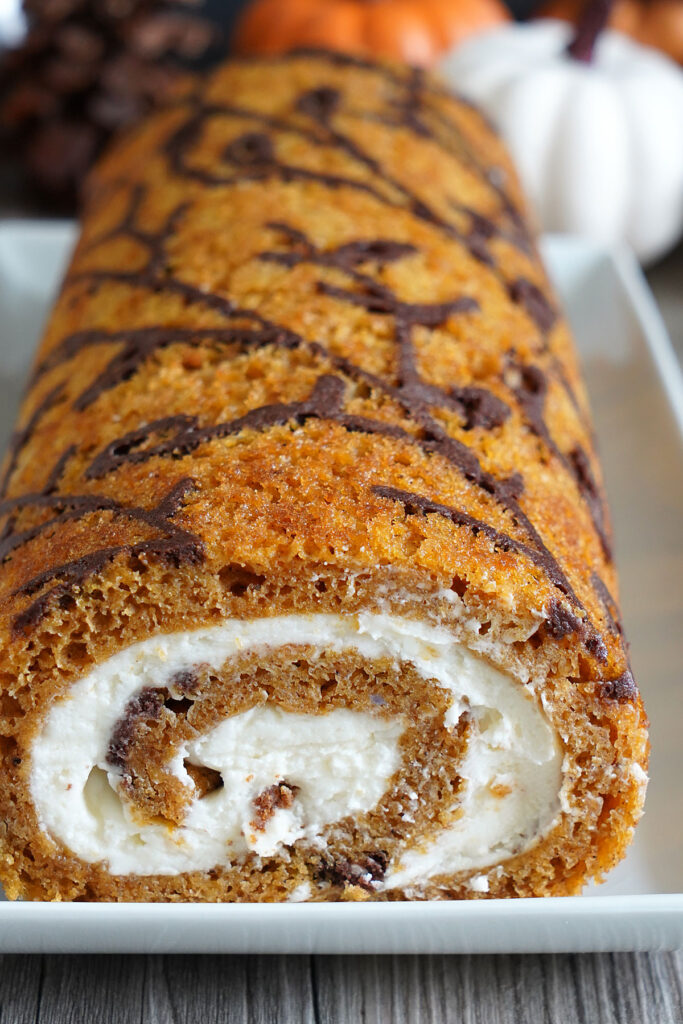 I've used the pumpkin roll recipe provided by Libby's (makers of canned pumpkin) because there was no reason to mess with a good thing. It's soft, flavorful and bakes with no issues.
Roll cakes always look intimidating but I promise they are not! And adding the extra design is easy peasy. I used a method similar to the one in my chocolate hazelnut entremet cakes. Let me take you through the process.
How to Make a Decorated Pumpkin Roll
TIP: You will need a 10x 15 inch space in your freezer to fit the sheet pan. So make sure you have space in the freezer before starting.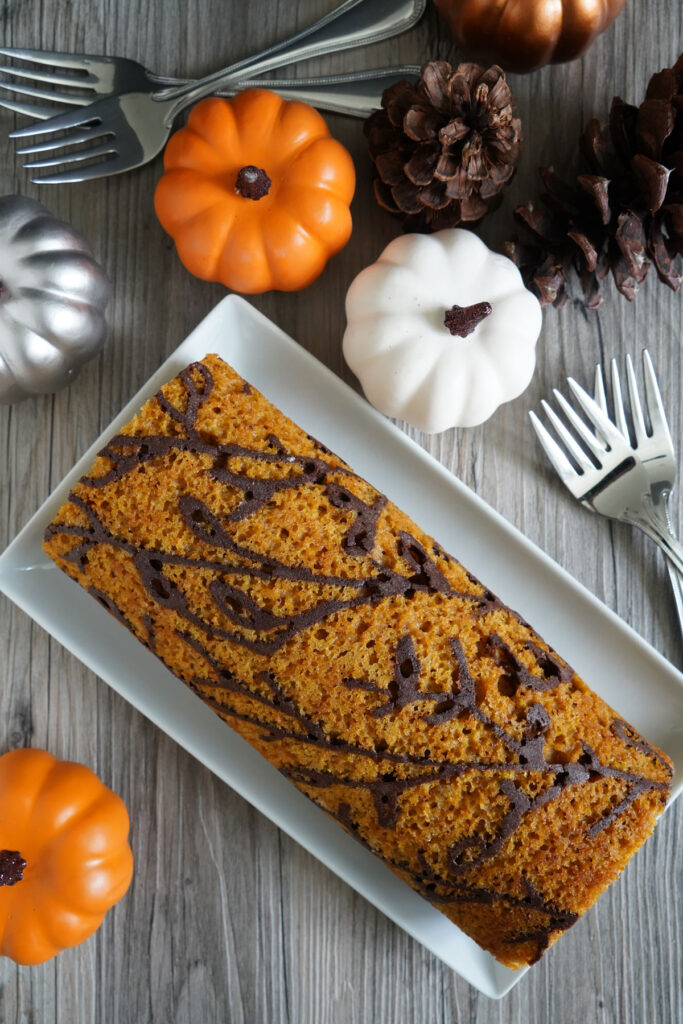 The design on the outside of the cake can be anything you want as long as you have a steady piping hand. You will need to make a small batch of decorating paste or pate a cornet.
It's basically just a small batch of chocolate batter. You will also need a piping bag, preferably fitted with a tip. (I used a small number 4 tip)
Draw out your design by piping the chocolate batter onto a sheet of parchment paper lining the same pan you will use to bake your pumpkin batter. Then, place the entire pan into the freezer to firm up the design while you make the pumpkin batter.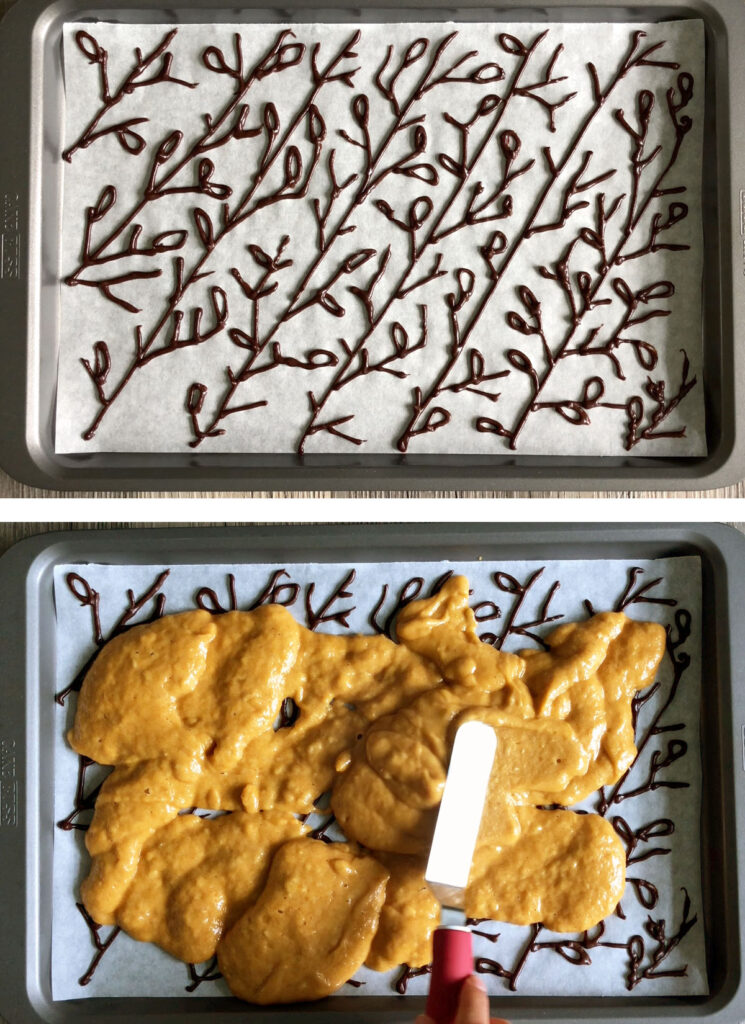 Gently spread the pumpkin batter over the design. It should not mess up the design as long as the design batter is firm.
Once the cake is baked, it's important to release it from the pan and roll it up while it is still warm. Run a plastic knife along the edge to release it. Sprinkle powder sugar over the top of the cake and flip it on to a new parchment lined sheet pan.
Carefully remove the first parchment, lightly sprinkle with powdered sugar and re-flip the cake onto clean parchment. Then, roll slowly but tightly.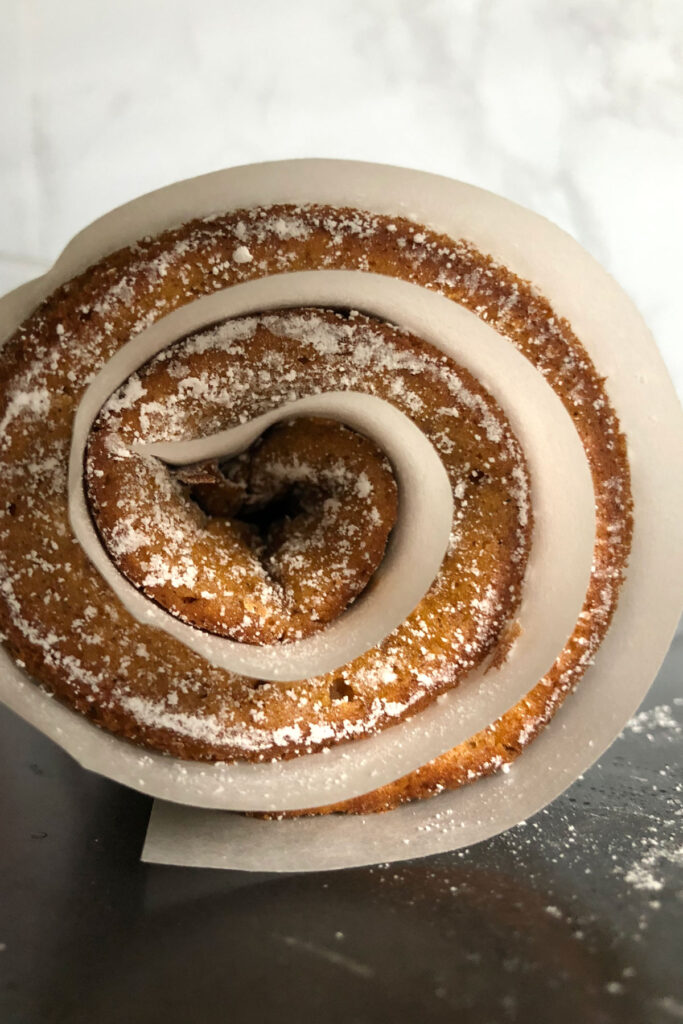 Let it cool COMPLETELY in this rolled shaped with the seam side down while you prepare the filling.
When you are ready to fill, unroll the cake and spread your filling leaving a 1-2 inch border so it doesn't ooze out while rolling. Roll it up again, wrap it in plastic and let it chill in the refrigerator for at least an hour before serving. Chilling the cake will allow you to cut neat slices.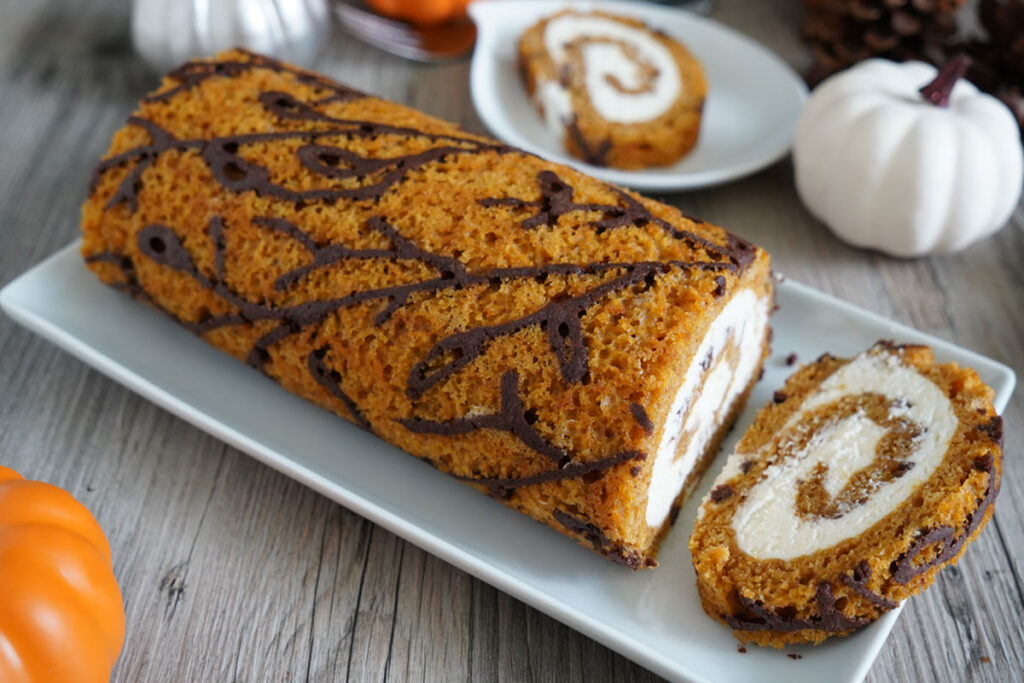 Frequently Asked Questions
Can I make this recipe without the decoration?
Yes! Just skip making the decorating paste. You also don't have to flip the cake twice before rolling it while it's hot. Just flip once and roll. As a finish, you can sprinkle powdered sugar over the cake just before serving. 
Why does my pumpkin roll crack?
Rolled cakes are likely to crack if they are too cool. Try to roll the cake as soon as it comes out of the oven.
How long does pumpkin roll last in the fridge?
These cakes are good in the refrigerator for up to three days but they can be frozen for up to three months if wrapped well in plastic. Let the roll thaw in the refrigerator the night before serving.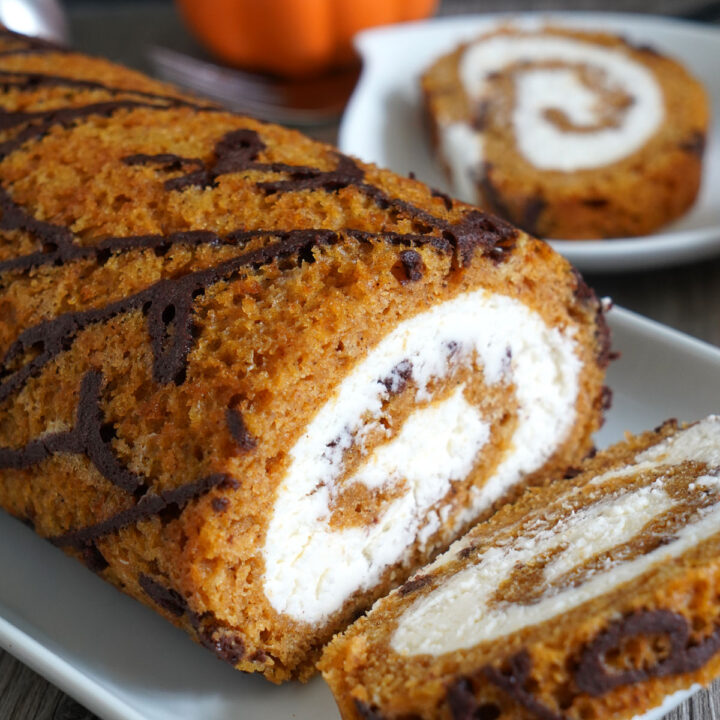 Pumpkin Roll Cake
Total Time:
2 hours
58 minutes
Classic pumpkin roll gets a makeover with an inlay design. It's the same delicious pumpkin cake with smooth cream cheese filling but with a decorative twist. Recipe adapted from Libby's.
Ingredients
For the Decorating Paste (pate a cornet)
¼ cup + 1 TBS cake flour
2 ½ Tablespoons cocoa powder
4 tablespoon unsalted butter
½ cup powdered sugar sifted
¼ cup egg whites (about 2 eggs)
For the Cake
¼ cup powdered sugar (to sprinkle)
¾ cup all-purpose flour
½ teaspoon baking powder
½ teaspoon baking soda
1 teaspoon pumpkin spice
¼ teaspoon salt
3 large eggs
1 cup granulated sugar
⅔ cup canned pumpkin puree
1 teaspoon vanilla extract
For the Filling
8 ounces cream cheese, at room temperature
1 cup powdered sugar, sifted
6 tablespoons butter, softened
1 teaspoon vanilla extract
Instructions
Preheat the oven to 350° F. Line a 10x 15 inch baking sheet with parchment paper or a silicone mat.
For the decorating paste (pate a cornet)
Sift together the flour and cocoa powder and set aside.
Mix the butter and sugar until well blended.
Slowly add the egg whites. Add the flour mixture and mix until just combined.
Pipe a design onto the prepared parchment sheet or silicone baking mat with your paste.
Freeze the baking sheet while you make the sponge.

For the sponge layer
In a small bowl, combine the flour, baking powder, baking soda, pumpkin spice, and salt.
Beat eggs and granulated sugar in a large mixer bowl until thick. Beat in pumpkin. Stir in flour mixture.
Spread evenly into prepared pan.
Bake for 13 to 15 minutes or until top of cake springs back when touched. (If using a dark-colored pan, begin checking for doneness at 11 minutes.)
Immediately loosen the cake by running a plastic knife along the edge. ]
Sprinkle the top of the cake with powdered sugar and flip the cake over onto a sheet of parchment by placing a parchment lined pan on top and turning the whole thing over.
Carefully peel off paper. Dust more powdered sugar (not too much) and flipover again onto parchment.
Roll the cake as tightly as you can and lay the cake seam side down. Let it cool completely. This may take up to 2 hours. You can place it in the refrigerator to speed up the process.
For the filling
Beat the cream cheese, 1 cup powdered sugar, butter and vanilla extract in a small mixer bowl until smooth.
Carefully unroll cake. Spread cream cheese mixture over cake leaving an inch border around the sides. Re-roll cake as tightly as possible. Wrap in plastic wrap and refrigerate at least one hour.
Notes
PREP: You will need to use a sheet pan that can fit into your freezer. So make sure you have space in the freezer before starting. 
Nutrition Information:
Yield:

14
Serving Size:

1 slice
Amount Per Serving:
Calories:

310
Total Fat:

15g
Saturated Fat:

9g
Trans Fat:

0g
Unsaturated Fat:

5g
Cholesterol:

78mg
Sodium:

214mg
Carbohydrates:

41g
Fiber:

1g
Sugar:

33g
Protein:

4g
This nutrition information is only an approximate provided for convenience and as a courtesy only. Information comes from Nutritionix, an automated nutrition calculator.