Asparagus, leeks and and peas make this the perfect spring vegetable quiche. This vegetarian quiche is perfect for breakfast, lunch or dinner.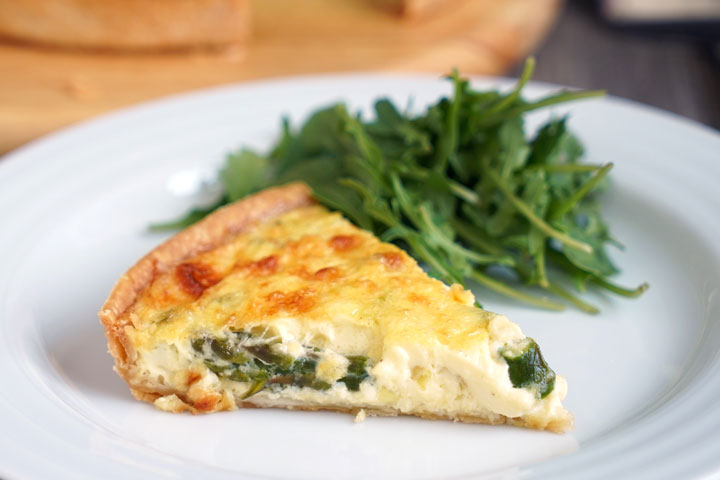 The first time I made a quiche, I was in culinary school for pastry arts and I was assigned to make a classic quiche Lorraine for an exam. As you may know, this requires working with bacon and being a vegetarian, I did not want any part of it.
I politely explained to my instructor my discomfort of touching bacon. He made it clear that he didn't really care. So, I also made it clear that I didn't care if he failed me on the exam.
I was going to make a spectacular quiche Lorraine minus the bacon. And so I did. Needless to say, he was not very happy with me the rest of the classes we had together. But I survived!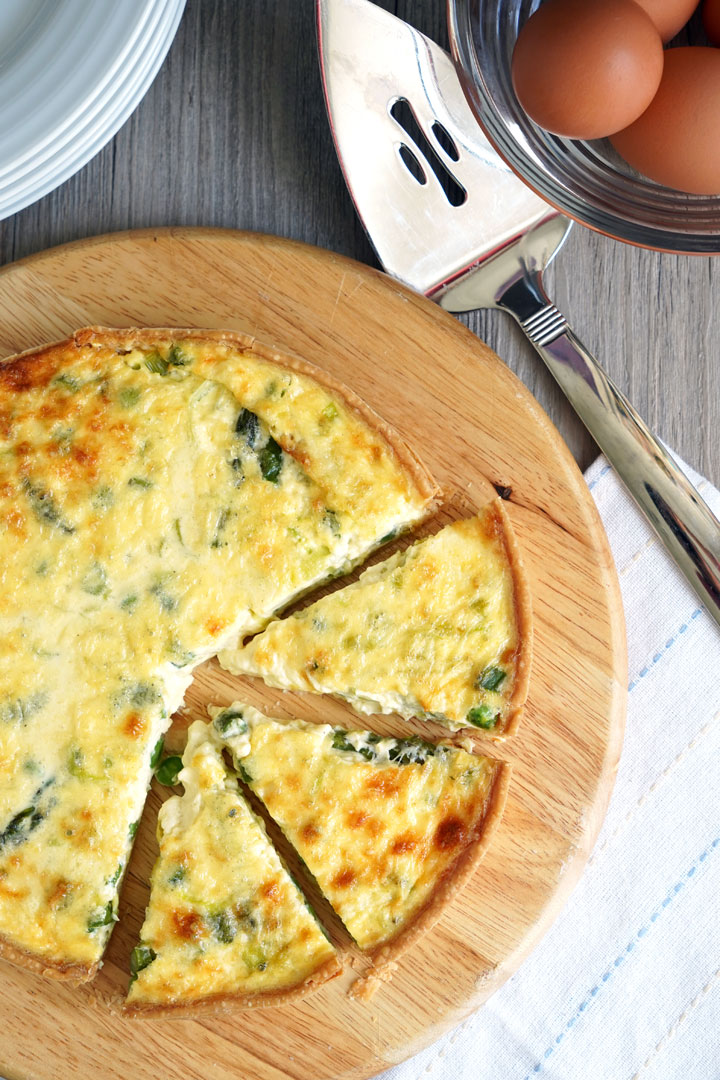 Today I present to you, my vegetable quiche, my quiche Lorraine minus the bacon with added spring vegetables! I love asparagus this time of year, but I also added leeks and fresh peas to this quiche for some added flavors and textures. Feel free to add or substitute any of your favorite spring veggies.
I used a store bought pie crust for this vegetable quiche because I was short on time but you can make your own using either your favorite recipe or my flaky pie crust recipe. You can even experiment with a refrigerated puff pastry dough.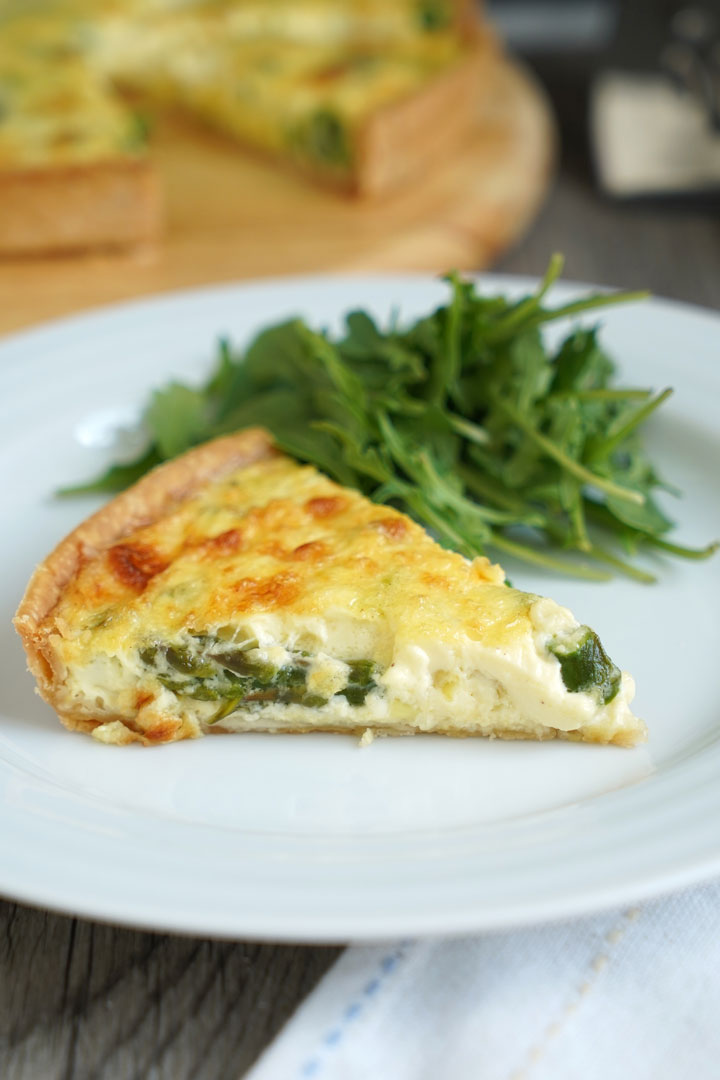 Whichever you choose, you must blind bake the crust first. Blind baking means you have to set a piece of parchment paper or foil in the crust and fill it with pie weights or dry beans and then cook it so the crust will set. This will ensure that the crust gets baked fully and does not get soggy.
Next, sauté your vegetables in a little bit of oil (or butter for richer taste). Let it cool, and then fill your crust with veggies and cheese. I prefer gruyere cheese but you can also use Swiss, cheddar or parmesan.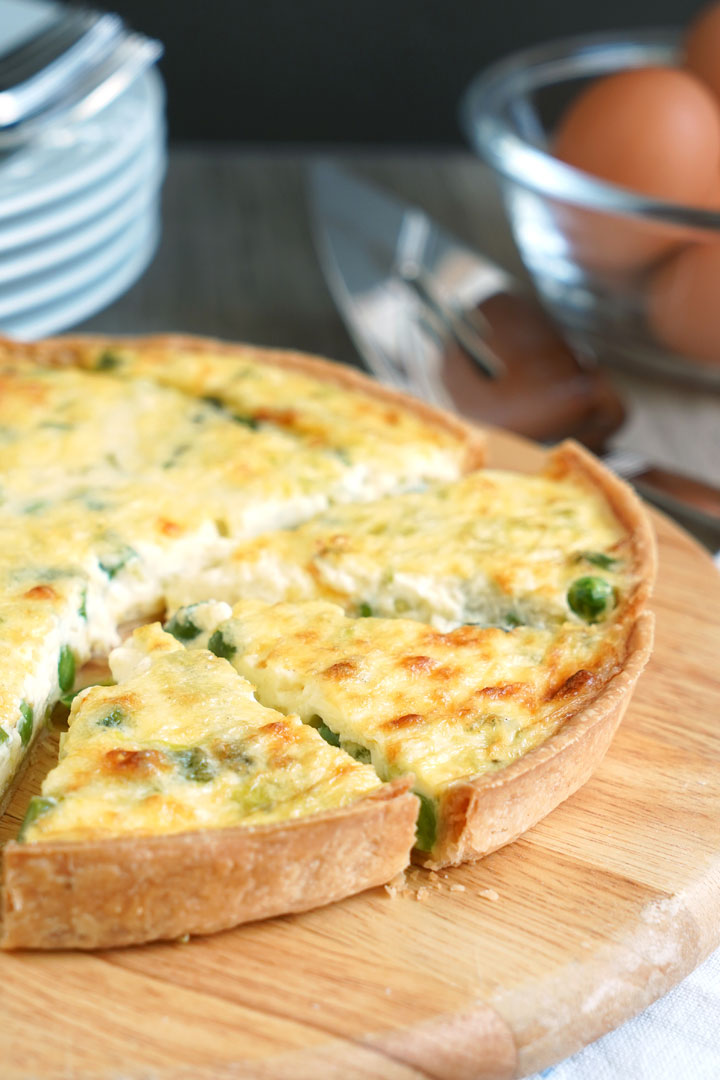 Prepare an egg custard with milk, cream and seasonings. Pour it over the vegetables and cheese and bake until set!
Serve it with some greens or another side salad. If you are making a full brunch and want a sweet side treat, try making mini coffee cake muffins.
Tips for Making Vegetable Quiche
Save your trimmed dough. If you end up with holes in the crust after blind baking, you can fill the holes with small pieces of raw dough.
Pat dry your veggies if needed after cooking to remove excess moisture.
Arrange the vegetables and cheese in the crust first rather than adding it to the egg mixture. This will give you a more even distribution and vegetables in each bite.
Strain the egg, milk, cream mixture before adding seasonings so the quiche texture is smooth.
Bring the veggie and cheese filled crust and the egg mixture to the oven separately and then pour the liquid mixture in the shell to prevent sloshing of the egg mixture over the edge of the crust.
I first shared this spring vegetable quiche recipe on Food Fanatic so be sure to visit it there along with my other recipes.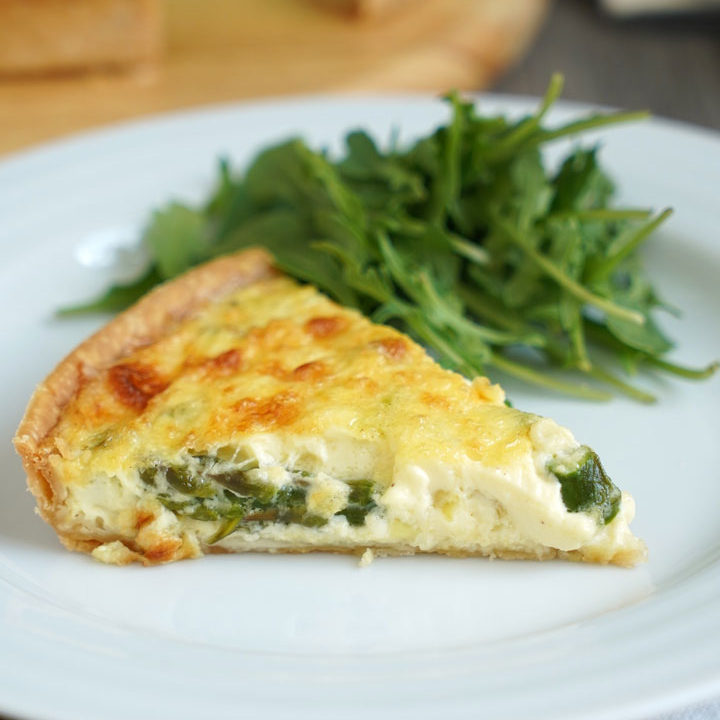 Spring Vegetable Quiche Recipe
Yield:
1 eight inch quiche
Total Time:
1 hour
5 minutes
Asparagus, leeks and and peas make this the perfect spring vegetable quiche. This vegetarian quiche is perfect for breakfast, lunch or dinner.
Ingredients
Pre-made Pie Crust
1 tablespoon Oil
¼ cup Fresh Peas
1 Leek
6 spears Asparagus
½ cup Milk
½ cup Heavy Cream
2 Eggs
pinch of Ground Nutmeg
½ cup Gruyere Cheese, grated
Instructions
Preheat the oven to 350°F.
Roll out the dough and line a tart ring or pie pan with the dough. Chill for 30 minutes.
Blind bake the tart shell by laying parchment paper or foil (sized slightly larger than the pie pan) over the dough and placing pie weights or dry beans on top of the paper. Bake until the crust is light brown. Remove the parchment paper and weights. If any part of the dough looks raw, return it to the oven for a few minutes without the weights and parchment and cook until lightly browned. Let the pie shell cool. Lower the oven temperature to 250°F.
Trim the asparagus tips and set aside. Thinly slice the rest of the asparagus.
Thinly slice the pale part of the leek.
Heat the oil in a large skillet over medium high heat. Add the leeks and cook until soft. Add the asparagus slices and tips and cook for another minute until tender. Add the peas and remove from the heat.
In a medium bowl, whisk together the milk, cream, and eggs. Strain the mixture through a sieve. Add the nutmeg and then salt and pepper to taste.
Cover the bottom of the pie shell with the vegetable mixture and the cheese in an even distribution.
Pour the egg mixture over the vegetables and cheese. Bake for 20-30 minutes or until the filling is set.
Notes
This is enough filling if you are using an 8 or 9-inch tart ring. If you are using a pie pan, you may want to add an extra egg + ¼ cup milk since the pan is deeper.
Nutrition Information:
Yield:

8
Serving Size:

1
Amount Per Serving:
Calories:

232
Total Fat:

17g
Saturated Fat:

7g
Trans Fat:

0g
Unsaturated Fat:

8g
Cholesterol:

73mg
Sodium:

176mg
Carbohydrates:

15g
Fiber:

1g
Sugar:

2g
Protein:

7g
This nutrition information is only an approximate provided for convenience and as a courtesy only. Information comes from Nutritionix, an automated nutrition calculator.