This Mexican corn soup recipe has all the sweetness of corn with a little bit of poblano spice. It's the perfect combination.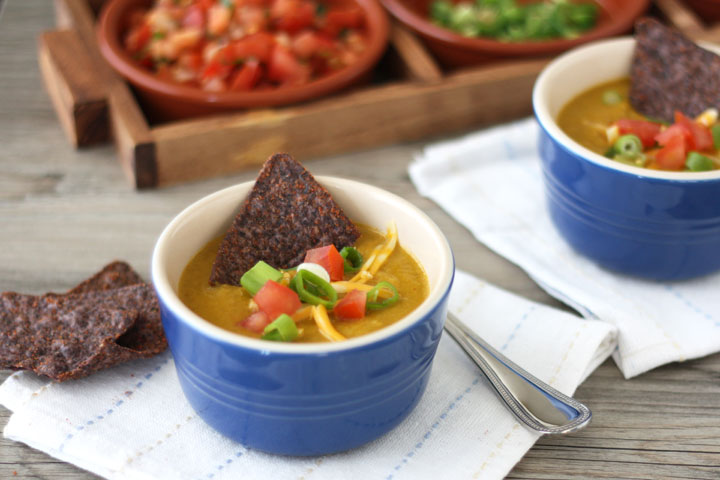 The area where my husband and I grew up has this great Mexican restaurant that has been around forever.
My husband's family would always rave about their corn soup. One day, being vegetarians, we decided to question the waiter about the type of broth they used.
It took him a while to find the answer and there seemed to be some back and forth about the matter that made us all uncomfortable.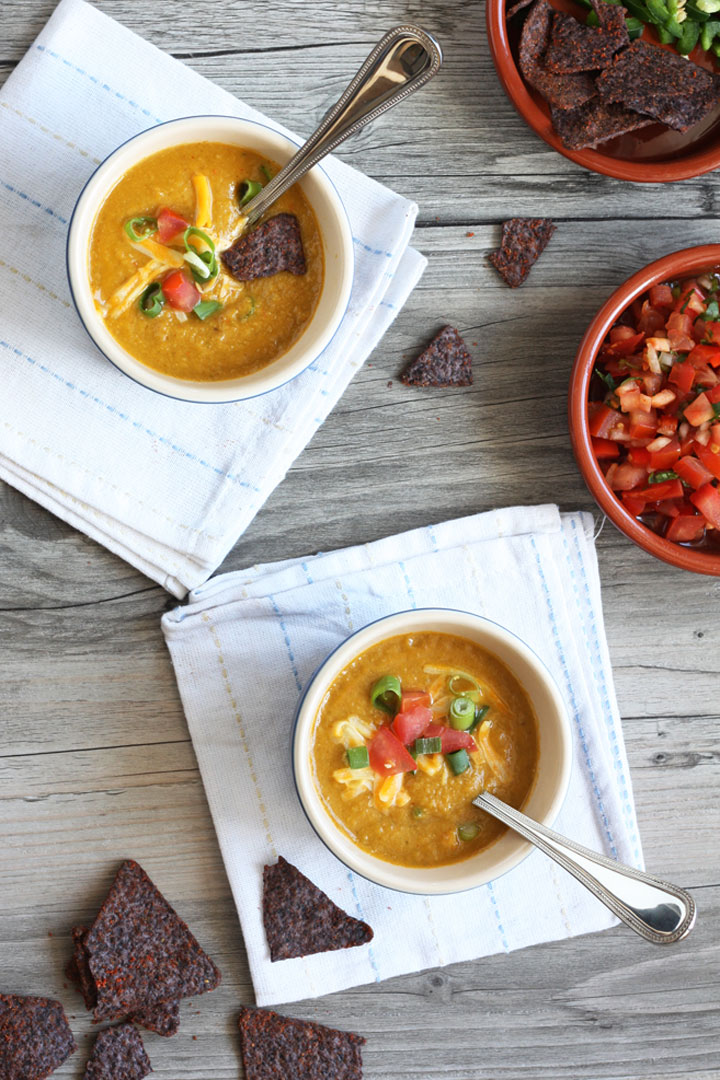 It's vegetarian. No, sorry it's chicken stock. The next time we went we asked again. It's vegetarian. Frustrated and confused, we kind of just stopped ordering it at that point.
So, I decided I was going to try to make my own vegetarian corn soup at home.
The restaurant corn soup was a bit bland for my taste so I spiced it up a bit. My version is simple to make, definitely vegetarian, husband approved, and personally, I like it better.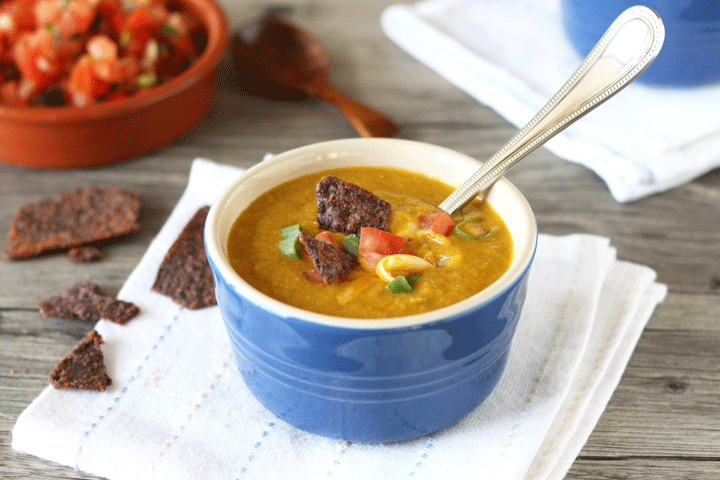 The addition of poblanos gives it a nice flavor without adding too much heat. It also turns out creamy from blending the corn, so there's no additional fat added by cream or butter.
You can always make things spicier by using other peppers for some of the poblanos, such as jalapeños, serranos, or habañero. Or to add smoky flavor, try chipotles in adobo sauce. Add a small bit at a time, as they can be very hot!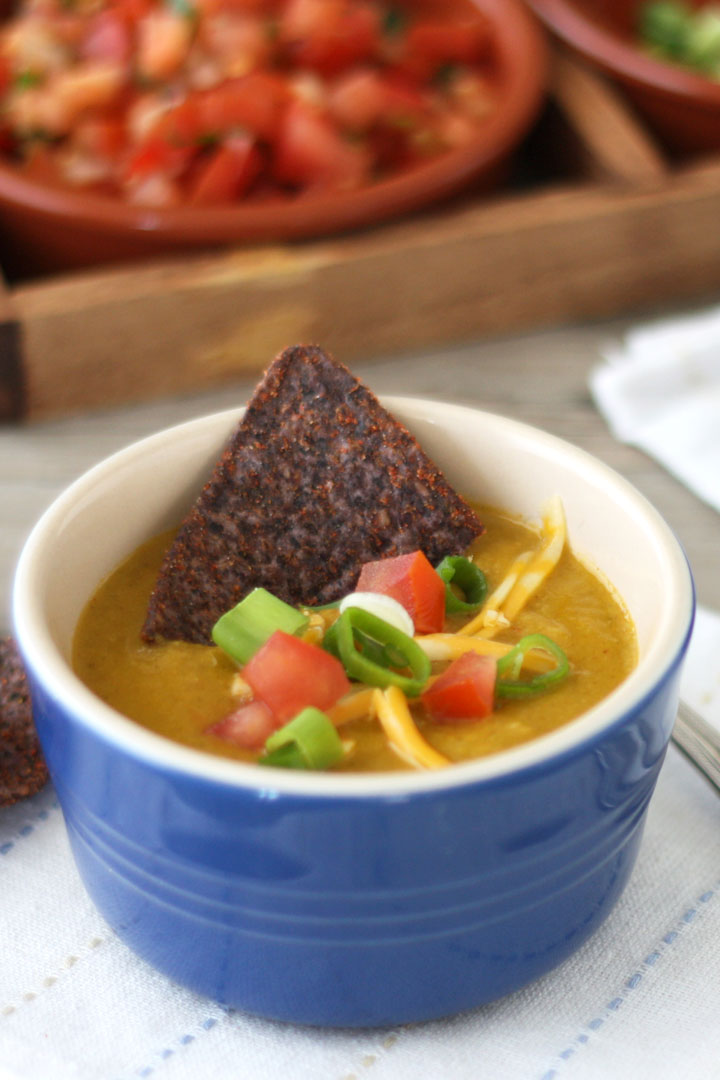 This is a great side dish to go with a hot grilled sandwich or my spicy tofu quesadillas.
If you're looking for a low fat tasty soup or an accompaniment to go with your tostadas, enchilada casserole or other favorite Mexican dish, then look no further. This spicy Mexican corn soup is for you.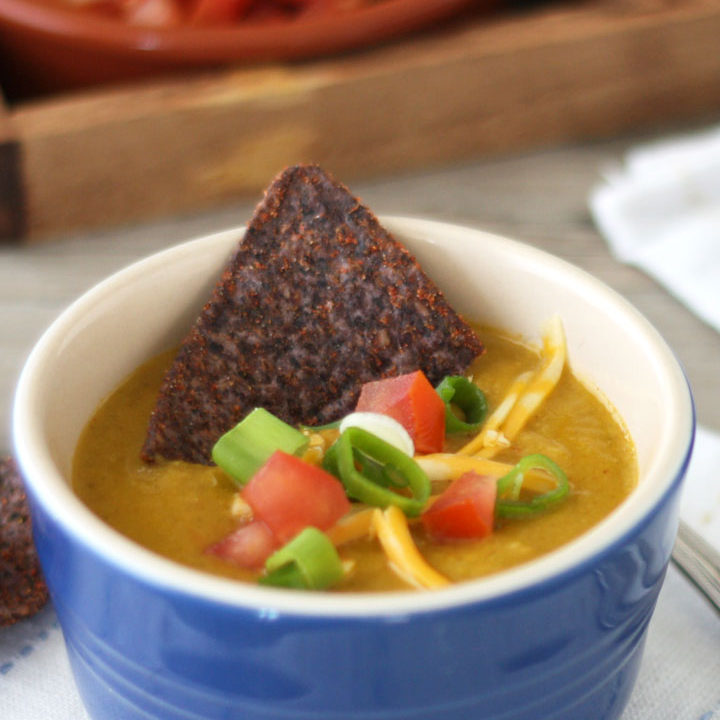 Mexican Corn Soup
Additional Time:
6 minutes
Spicy vegetarian mexican corn soup.
Ingredients
1 ½ tablespoons Olive Oil
¾ cup Onion, diced
2-3 cloves Garlic, minced
½ teaspoon Cumin Seeds
1 cup Poblano Pepper, diced
16 ounces Frozen Corn, (1 lb) fresh or frozen
½ cup Red Bell Pepper, diced
1 teaspoon Red Chili Powder
½ teaspoon Coriander Powder
1 teaspoon Ground Cumin
2 ½ cups Vegetable Broth
2 tablespoons Fresh Lime Juice
½ cup Scallion, diced
½ cup Diced Tomatoes
½ cup Pepper Jack Cheese, shredded
Instructions
Heat olive oil over medium heat in a large pot. Add cumin, and fry for 30 seconds.
Add the onions, garlic, and poblano peppers and sauté for 5 minutes or until onions are softened.
Add the corn and bell peppers. After a few minutes add the chili, coriander, and cumin powders and cook for another 10 minutes, stirring occasionally.
Remove from the heat, add ½ cup of the broth. Transfer to a blender and blend until smooth. Transfer back to the pot over medium heat.
Add the remainder of the broth and lime juice. Reserve some of the scallions and tomatoes for garnish and add the remainder to the pot. Stir and salt to taste. Simmer for 10 minutes.
To serve, ladle in a bowl and garnish with scallions, tomatoes, and cheese. Enjoy with spicy corn tortilla chips.
Notes
My brand of chili powder is mild, so be sure to adjust the spice level according to your taste and brand of chili powder.
Desserts to Pair with Mexican Corn Soup
Mexican Inspired Desserts