These fresh fig tartelettes with amaretti crust give rise to a refreshing new flavor combination. The subtle taste of licorice will delight your taste buds. Serve it plain or a la mode!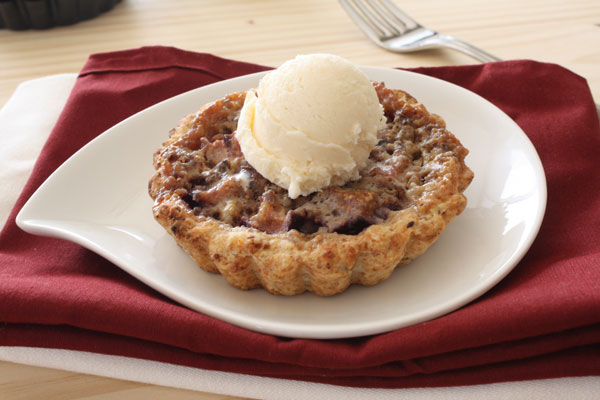 I popped into Williams Sonoma a while ago with no particular shopping goal in mind (as always with WS!) and came across a major clearance on cookbooks. I mean major- they were all only two or three bucks! Of course, I immediately asked the salesperson to show me all the dessert books. Martha Stewart's Baking Handbook? Have that. William Sonoma's New Flavors For Dessert? I'll take it! I'll admit I've barely looked at the book since I bought it. (This seems to happen with most of the cookbooks I buy.) But this week I really needed some inspiration to make use of the figs I bought.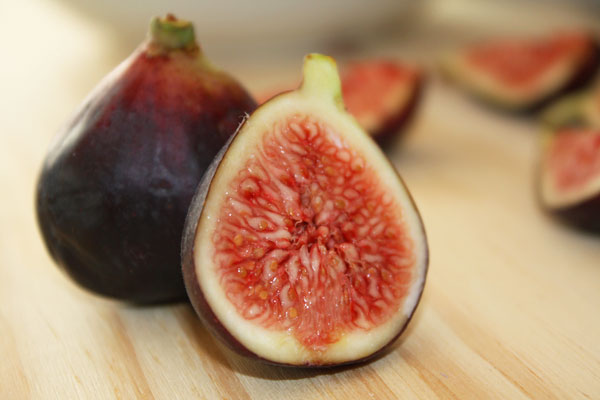 The book has a recipe for fresh fig tartelettes with an amaretti crust. Ok. let's see...amaretti, grand marnier, orange zest, anise seeds...the list of ingredients seemed like it could not go wrong. The only part I was unsure about were the anise seeds. But the licorice taste ended up being really subtle in a good way.
I liked these fresh fig tartelettes best while they were still warm and ate mine with a scoop of vanilla ice cream. Yum!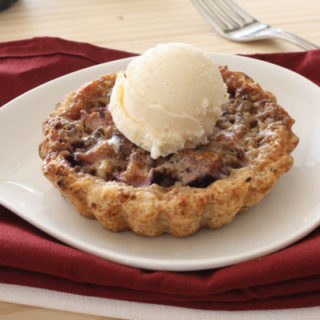 Fresh Fig Tartelettes with Anise and Amaretti
Total Time:
2 hours
5 minutes
These fresh fig tartelettes with amaretti crust give rise to a  refreshing new flavor combination. The subtle taste of licorice will delight your taste buds. Serve it plain or a la mode! Adapted from Raquel Palzel (New Flavors for Desserts)
Ingredients
4 dried figs
3 Tbs grand marnier
1 ¼ cups all purpose flour
¾ cup whole amaretti cookies
1 teaspoon anise seeds
¼ teaspoon salt
7 Tbs cold unsalted butter cut into ½ inch pieces
4-5  Tbs ice water
¾ cup heavy cream
⅓ cup + 1Tbs sugar, divided
1 teaspoon orange zest
½ lb fresh mission figs
Instructions
Pour the grand marnier over the dried figs in a small bowl and let it sit for an hour or over night.
In a food processor, combine the flour, cookies, anise, and salt and process until the cookies are finely ground. Add the butter and pulse until the butter is the size of small peas.
Put the mixture into a large shallow bowl or onto a clean flat work surface. Drizzle 4 Tbs of water over the mixture and gently knead the dough until come together. Add another tablespoon of water if you need to. Wrap the dough and let it rest in the refrigerator for 30 minutes or overnight.
Roll out the dough and cut circles slightly larger than your tartelette pans. I used pans with bottoms but if you have rings that would be easier. Line each pan with the dough, pressing it up the sides. Let the dough rest again in the refrigerator for at least 30 minutes.
Prick the bottom of the crust with a fork to prevent rise or line each crust with a piece of parchment paper with dry beans on top. The weight of the beans will also prevent the rise.
Bake the shells at 400°F for 8-10 minutes or until they just begin to color. Reduce the oven temperature to 350°F
Combine the dried figs mixture with the cream, ⅓ cup sugar and orange zest in a blender until the figs are broken up into tiny pieces.
Cut the fresh figs into ⅛ pieces and then sprinkle with the 1 Tbs of sugar. Remove the tarts from their pans (if you used pans with bottoms) and place them on a parchment lined cookie sheet.
Arrange the fresh figs, cut side up, in the cooled tartelette shells and then distribute the dry fig mixture over each tartelette. Bake at 350ºF for 15-20 minutes or until the filling begins to just jiggle and set.
Nutrition Information:
Yield:

5
Serving Size:

1 tart
Amount Per Serving:
Calories:

585
Total Fat:

37g
Saturated Fat:

19g
Trans Fat:

0g
Unsaturated Fat:

16g
Cholesterol:

83mg
Sodium:

140mg
Carbohydrates:

58g
Fiber:

5g
Sugar:

29g
Protein:

9g
This nutrition information is only an approximate provided for convenience and as a courtesy only. Information comes from Nutritionix, an automated nutrition calculator.