Savory Indian fried rice makes an awesome dinner or side dish. Who needs take out?!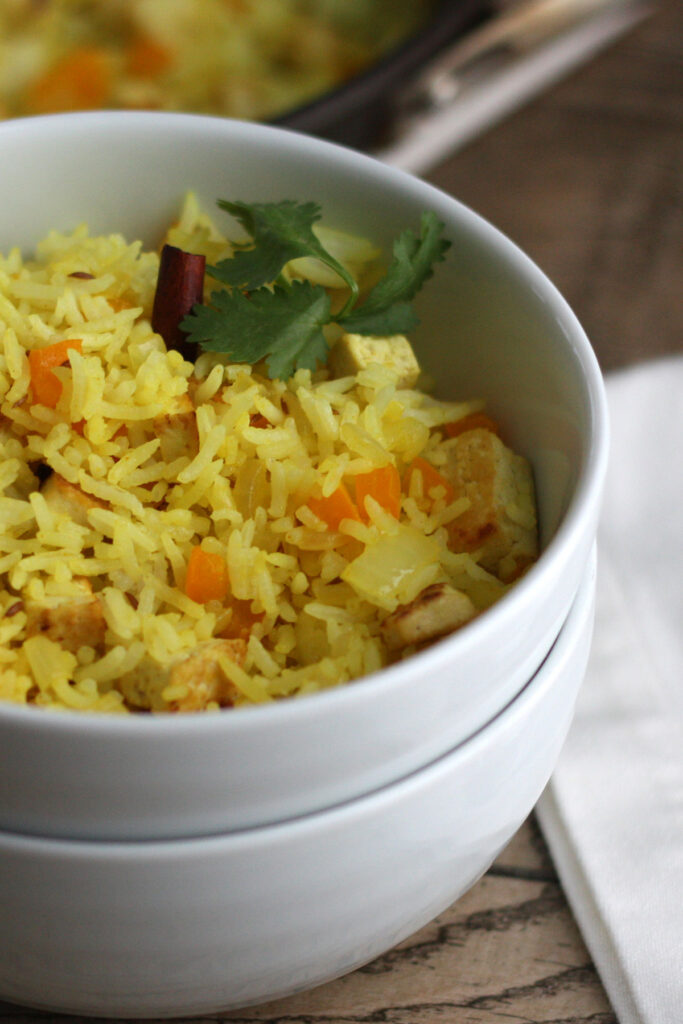 For some reason I have a really hard time estimating how much rice I need to make for a meal. If it's not enough, that's a problem. On the other hand, leftover rice is a time saver for another day.
There are so many ways to turn it into a meal. One of my favorites is fried rice, Gujarati-Indian style or as we call it, vagharelo bhaat. This tasty one pot masala fried rice works perfectly for lunch or dinner the next day.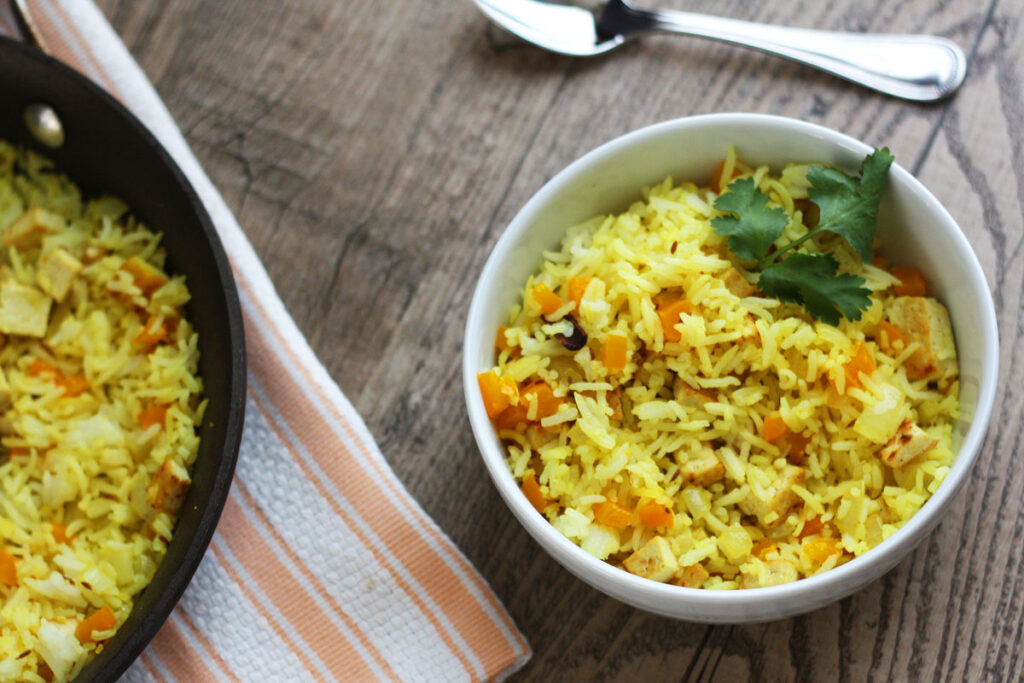 Why Use Leftover or Day Old Rice
Fried rice actually turns out better with leftover rice compared to fresh cooked rice. The rice has had some time to dry out and this makes it easier to stir-fry. The resulting stir-fried grains have a looser, chewier texture.
Fried rice is a staple item you see on Chinese and Thai menus but it's typically not on Indian menus. You're more likely to see complex rice dishes such as biryani.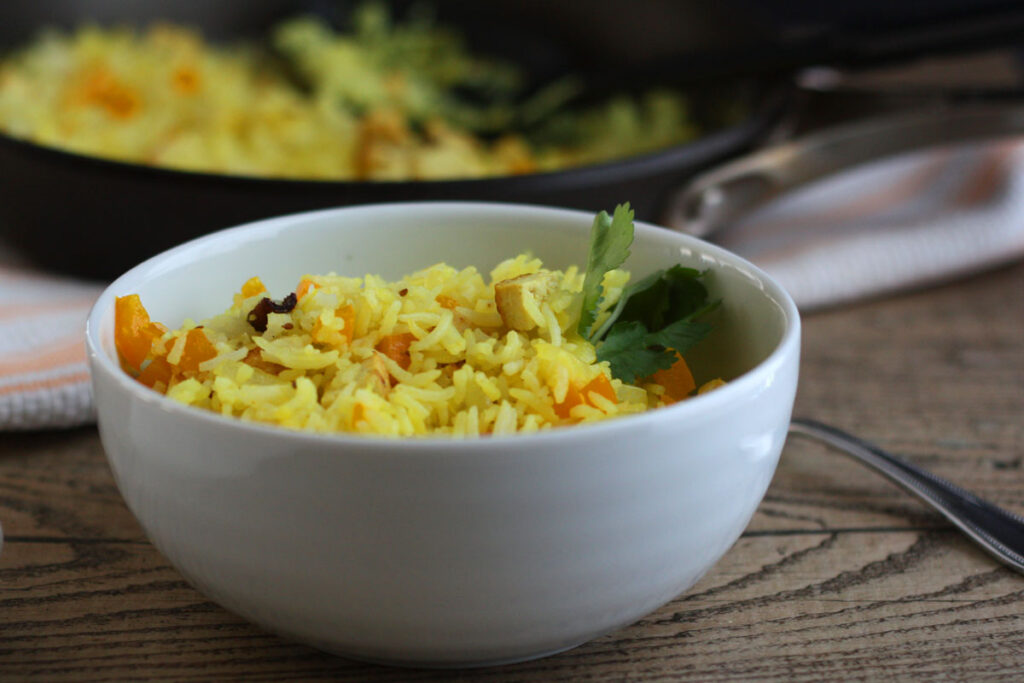 For Gujaratis like myself, it's a common way to eat leftover rice either as a light lunch or tasty snack. It's super quick to make when there's no time to cook.
Spices in Indian Fried Rice
Indian style fried rice also has a completely different flavor from other Asian fried rice recipes because it has no soy sauce. Instead, most of the flavor comes from the addition of onions and spices. The spices include cumin and my favorite warming spices- cinnamon and clove.
Add Protein with Tofu
I know what you're thinking. What's with the tofu right? Tofu is not an ingredient you ever see in Indian food.
My tofu addition is where I deviate from Mom's standard recipe. I've added it to this dish for the protein. It takes a little more time to prep but it makes for a more complete meal. It's optional and if you're just making this as a side dish, I'd skip it.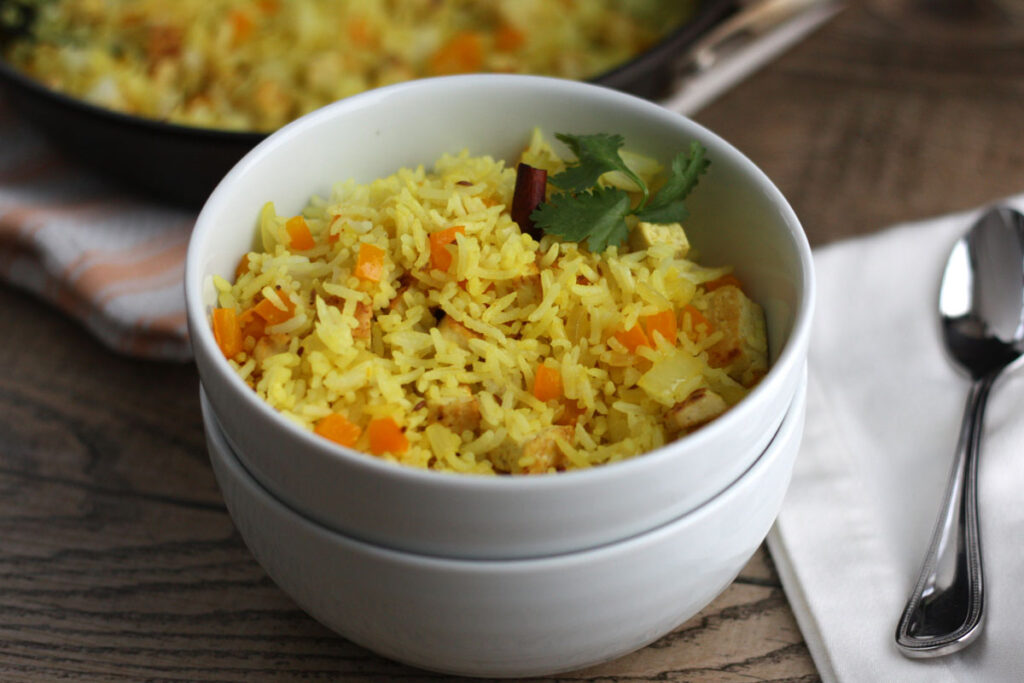 Oh and here's an added bonus incentive to try this recipe. It also uses little oil and has the health benefits of turmeric. So the next time you cook rice, go ahead and make a little extra. Fry it into this tasty dish the next day. You'll love it.
I first shared this Indian fried rice recipe on Food Fanatic so be sure to visit it there along with my other recipes.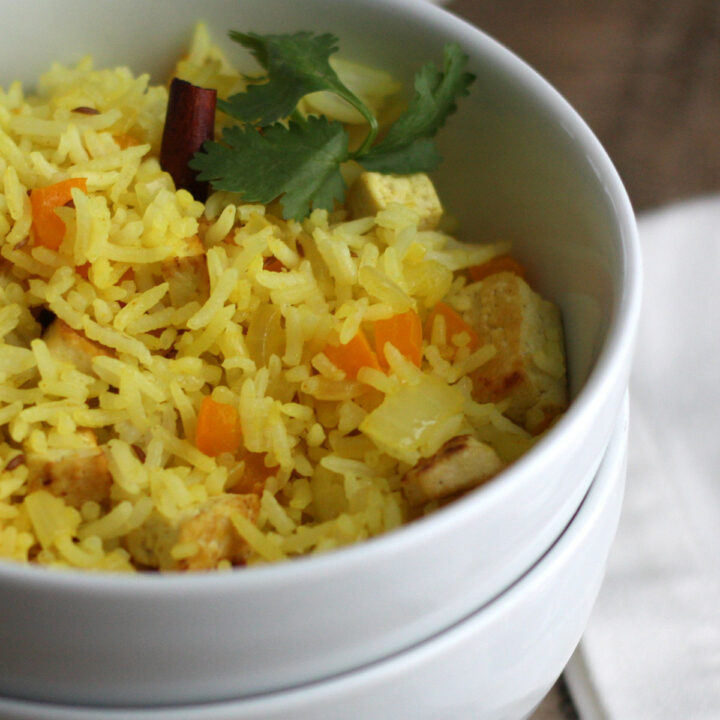 Indian Fried Rice
Ingredients
7 ounces Firm Tofu, drained
1 tablespoon Canola Oil
2 Whole Cloves
1 Cinnamon Stick, 1" long
½ teaspoon Cumin Seeds
⅛ teaspoon Asafoetida
½ cup Onion, diced
½ cup Bell Peppers, diced
1 jalapeños Jalapeño, deseeded and minced, optional
¼ teaspoon Turmeric
2 cups Cooked White Rice, day old
Instructions
Cut the tofu into small cubes. Heat a non-stick pan over medium heat and cook the cubes until lightly browned.
Remove the tofu from the pan and set aside. Heat the oil in the pan over medium heat.
Heat the cloves, cinnamon stick and cumin in the oil until it begins to brown slightly and become fragrant. Add the asafoetida.
Stir in the garlic, onions, bell pepper and jalapeno (if you want spicy). Cook until the vegetables soften. Add the turmeric.
Stir in the rice, breaking apart any clumps and making sure all the rice is coated with the seasonings. Salt to taste.
Add the tofu and cook for another 2 minutes while stirring.

Notes
I stir-fry my tofu first to get it crispy but use no oil. If you do not have a good non-stick pan you will need to use a little oil to prevent sticking.