Addictive chai spice donuts are easy to make and a perfect addition your next brunch. Add a tea glaze, a unique lemongrass chocolate glaze, or just eat them plain!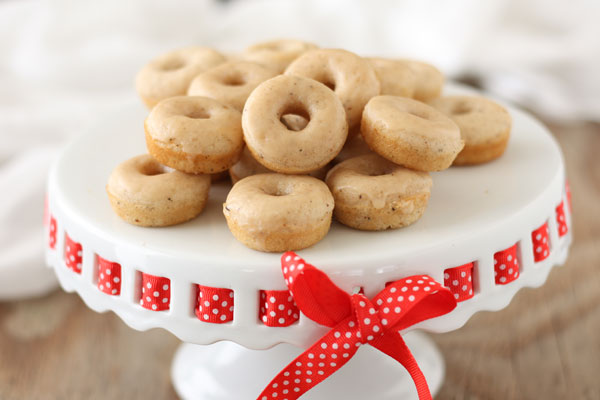 I think donuts will forever make me think of my dad. My parents use to run a small business and there was (and still is) a Dunkin Donuts right next door.
So my dad would pick up a boxed dozen every so often on his way back home. We'd get home from school and there it would be waiting for us on the kitchen table ready to eat for snack time.
Dad got so excited to bring donuts home for us too. I can still picture those happy moments in my head.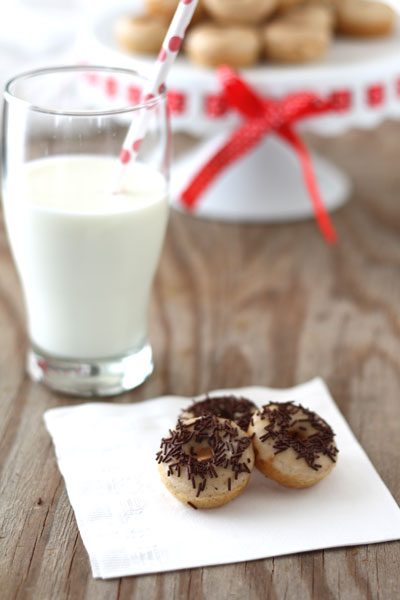 I love it when Dad gets excited about food whether its fresh bread straight from the bakery's belt, ripe tomatoes and peppers from his garden, or donuts! There's something about the way he talks about some foods that just makes me smile.
I know I am reminiscing about childhood and my dad but this was never meant to be a post about Father's Day. (No really it's true!) However, since it is around the corner, Happy Father's Day!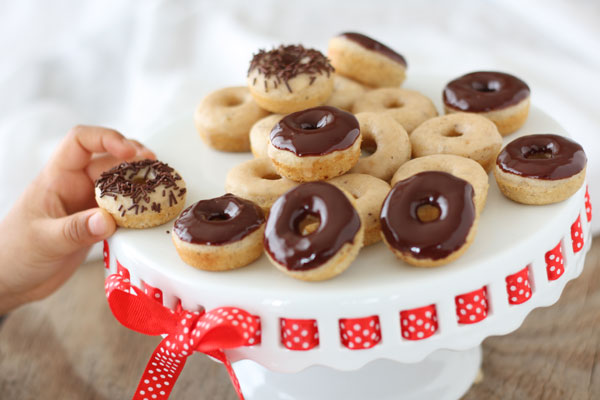 Back to the childhood donuts! My favorites were the chocolate glazed and toasted coconut. Sadly, those donuts just aren't the same anymore. The older me is also a little more health conscious.
Fresh fried donuts like my homemade doughnuts recipe are damn delicious but these baked versions taste good too and they take less time to make. I've used the Wilton mini donut pan and have followed the recipe it comes with and they turn out really well. Cute too!
This time though I altered the recipe to give them a chai spice flavor and finished them with a tea glaze.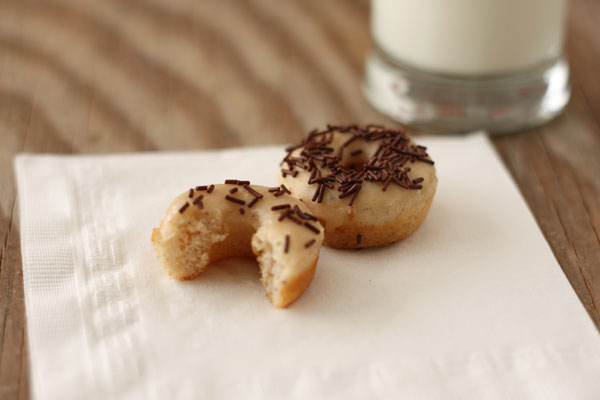 Midway through glazing, I felt like I really needed to have that chocolate glaze again. I compromised by adding some chocolate sprinkles over the tea glaze.  Good, but not good enough.
And then I suddenly remembered that I had a bar of Pacari lemongrass dark chocolate that I had picked up at the New York Chocolate Show. Perfect! My parents sometimes brew their masala chai with lemongrass so I knew it was a good pair.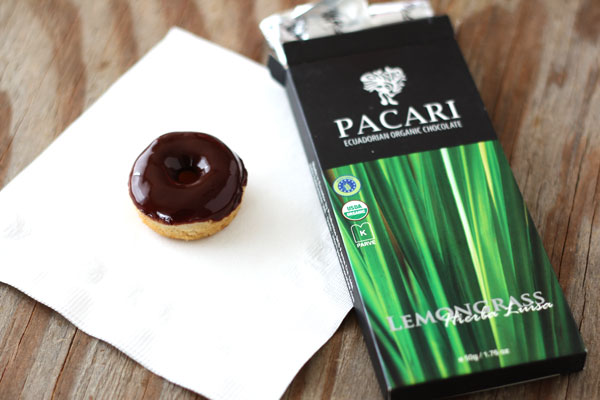 These donuts were ridiculously addictive. I've gone back and forth about buying this donut pan many times and am so glad I did. Totally worth it!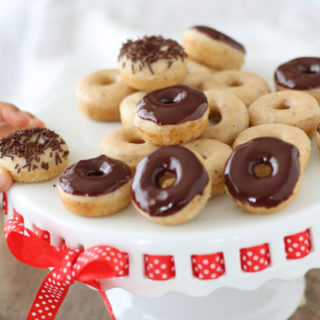 Chai Spiced Donuts
Addictive chai spice donuts are easy to make and a perfect addition your next brunch. Add a tea glaze, a unique lemongrass chocolate glaze, or just eat them plain!
Ingredients
Donut Batter: (adapted from Wilton)
1 ¼ cups cake flour, sifted
½ cup sugar
1 ¼ teaspoon baking powder
2 ½ teaspoon chai spice mix
¼ teaspoon salt
½ cup buttermilk
1 egg, lightly beaten
1 ½ Tbs unsalted butter, melted
Tea Glaze:
⅓ cup powdered sugar
½ Tbs strong brewed tea.
Lemongrass Chocolate Glaze:
40 g Pacari lemongrass chocolate
1 ½ Tbs sugar
3 teaspoon corn syrup
Instructions
Donut Batter:
Preheat oven to 425°F. Spray a mini doughnut pan with nonstick cooking spray. In a large bowl, sift together the flour, sugar, baking powder, and chai spice mix.
Add the buttermilk, egg, and butter and stir until just combined. Fill each donut cup about ½ full. Bake 4-6 minutes or until the donuts spring back when touched.
Let them cool in the pan for 4 minutes before removing. Once they have cooled completely, dip them in a glaze and let the glaze set.
Tea Glaze
Sift the powdered sugar and stir in the tea until you have a glaze consistency.
Lemongrass Chocolate Glaze:
Mix the chocolate, sugar and corn syrup in a double boiler and stir until the chocolate has melted.
Nutrition Information:
Yield:

48
Serving Size:

2 donuts
Amount Per Serving:
Calories:

34
Total Fat:

1g
Saturated Fat:

0g
Trans Fat:

0g
Unsaturated Fat:

0g
Cholesterol:

5mg
Sodium:

32mg
Carbohydrates:

7g
Fiber:

0g
Sugar:

4g
Protein:

1g
This nutrition information is only an approximate provided for convenience and as a courtesy only. Information comes from Nutritionix, an automated nutrition calculator.
SaveSave
SaveSave
SaveSave
SaveSave