If you love pepper, you might just enjoy these chocolate pots de creme with pink peppercorns.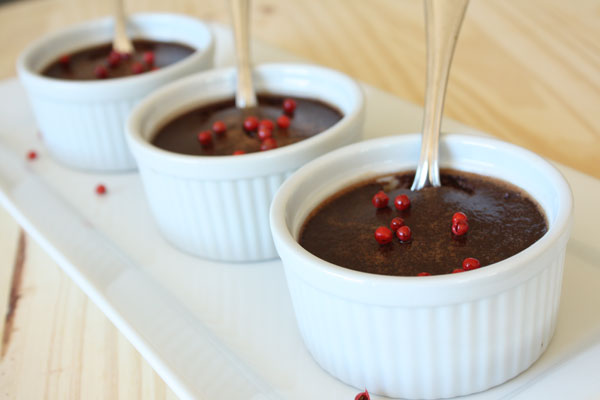 Last Monday I posted some thoughts about pink peppercorns.
Anyways, I have been reading more and more about pink peppercorns and the more I read the more hesitant I became about mixing them into my chocolate. I've read things like, oh it tastes exactly what you would expect- chocolate with some pepper sprinkled on top. Or, the oils from the pepper lead to bitterness if you let it sit for a while. Then, I also saw a comment about a pink peppercorn chocolate bar that was the worst chocolate bar ever!
Eh, whatever, I decided to move on with it anyway. I love pepper in general, so I may enjoy the taste more than others.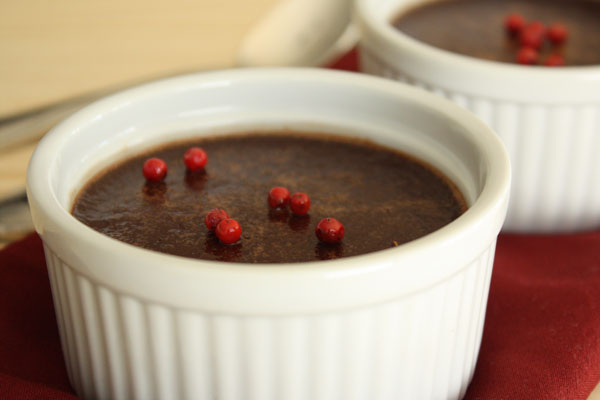 Tablefare has a recipe for candied pink peppercorns that they used in making chocolate cupcakes. Yummy, sweet, and peppery! I made a batch but then could not decide what to do with them.
My mind went back and forth between using the candied peppercorns as just a pretty garnish or actually putting them into a recipe. I finally decided to make these chocolate pots de creme and what the heck, I was going to throw in a small amount of crushed pink peppercorns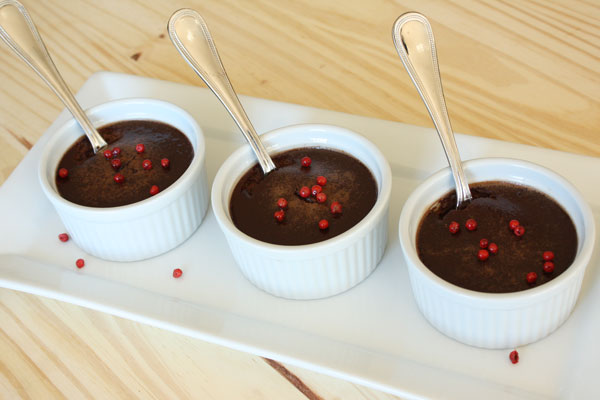 I personally did not mind the peppery taste in my dessert. It added a little extra something to the chocolate and the pink peppercorns are definitely more fruity and aromatic than regular pepper so they work better with the chocolate. Then again, I am not your average pepper eater either. I like to throw pepper in everything while cooking and then some more at the table.
I'll admit the addition of the peppercorns in the pots de creme was not mind blowing spectacular but I did enjoy the crunch of the candied peppercorns thrown on top! All in all, I still think pink peppercorns make a pretty garnish and can work for you in a dessert. I guess it just comes down to how much you are willing to step outside the box.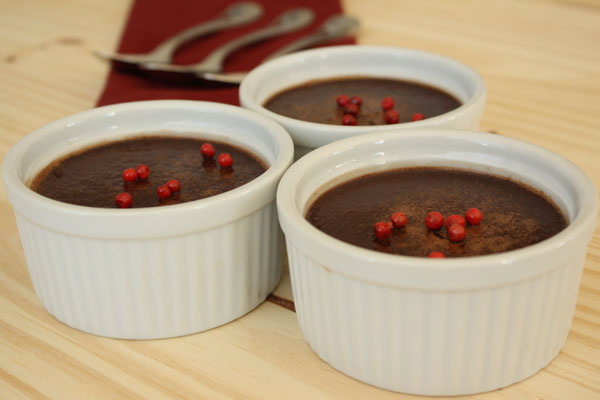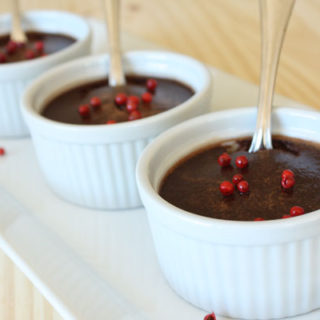 Chocolate Pots de Creme with Pink Peppercorns
If you love pepper, you might just enjoy these chocolate pots de creme with pink peppercorns.
Ingredients
¾ cup whole milk
½ cup heavy cream
3 ounces bittersweet chocolate, chopped
1 egg
1 egg yolk
2 Tbs sugar
pinch salt
¼ teaspoon crushed candied or plain pink peppercorns
1 Tbs of candied pink peppercorns for decoration and garnish
Instructions
Boil the milk and cream in a pot, remove from heat and stir in the chopped chocolate until melted.
Whisk together the egg, egg yolk, sugar, and salt. combine the two mixtures and strain through a sieve to remove egg bits. Stir in the crushed peppercorns then remove any foam from the surface by placing a paper towel on the surface. Pour the mixture into three ramekins.
Cook the custards in a water bath at 300°F until the custard jiggles slightly. Garnish with candied peppercorns and or whipped cream.
Notes
For the candied pink peppercorn recipe please visit TableFare
Nutrition Information:
Yield:

3
Serving Size:

1
Amount Per Serving:
Calories:

409
Saturated Fat:

17g
Cholesterol:

181mg
Sodium:

67mg
Carbohydrates:

27g
Fiber:

2g
Sugar:

21g
Protein:

7g