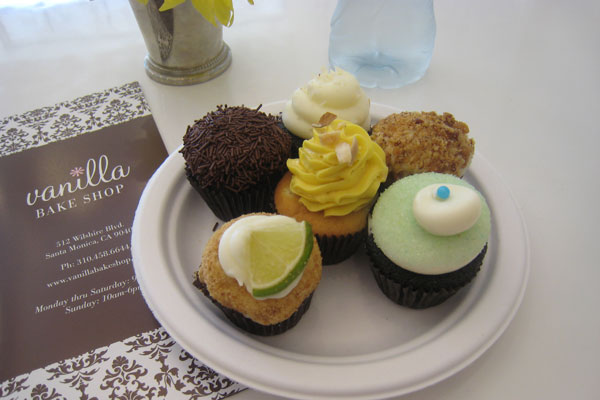 This past weekend we were out in Santa Monica for a friend's wedding.   In between catching up with friends and the wedding event, I tried to squeeze in some time at the local dessert venues. Sadly, we were only out there for three days and I only had time to visit one place.  We made it to Vanilla Bake Shop just before our drive up to the wedding.
I knew this bake shop would have some promising stuff as soon as I walked in. The display case included cakes, icebox desserts in jars and shot sizes, macarons, cookies, brownies, bars, tarts and cake lollipops. They had so many flavors of cupcakes. I opted to try three of their "cupcake babies". (Priced at 3 for $5! Not so bad compared to what you get at other bakeries.) Uh- so why are their six cupcakes in my plate? Our little tot was sitting in his stroller picking out his own flavors! We ordered (clockwise in picture) key lime, bittersweet dark chocolate, toasted dark chocolate, spicy carrot, chocolate vanilla bean, and mango cream (pictured in center).
My favorite was definitely the bittersweet dark chocolate. I'm not a huge fan of tons of icing and this cupcake had just the right enough amount for me. The icing was also very light and not overly buttery in flavor. The chocolate sprinkles were thin and delicate and tasted much better than the ones you typically find in the grocery aisle. I think it might be the best double chocolate cupcake I've found so far in a bakery. As for our son, he gobbled up the mango cream cupcake, which along with the spicy carrot, were runners up for my favorite.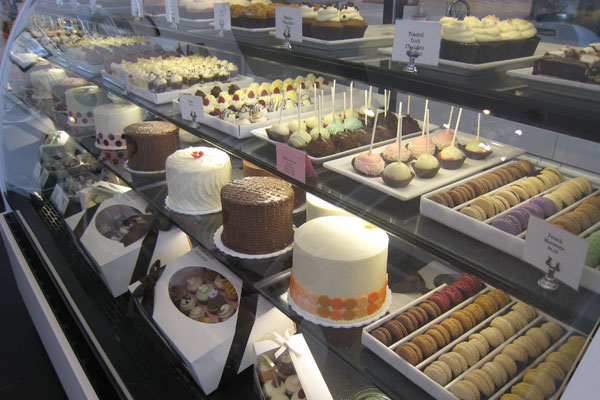 If I'm ever in the area again, I think Vanilla Bake Shop would definitely get another visit. I would love to try one of their dessert shots and maybe some macarons. They also rotate their cupcake flavors daily! They have a few tables in the shop so you can enjoy your dessert and coffee right there.
SaveSave