Vegetable Barley Soup makes a fantastic lunch or supper in the cold weather. Comforting and hot on cold days!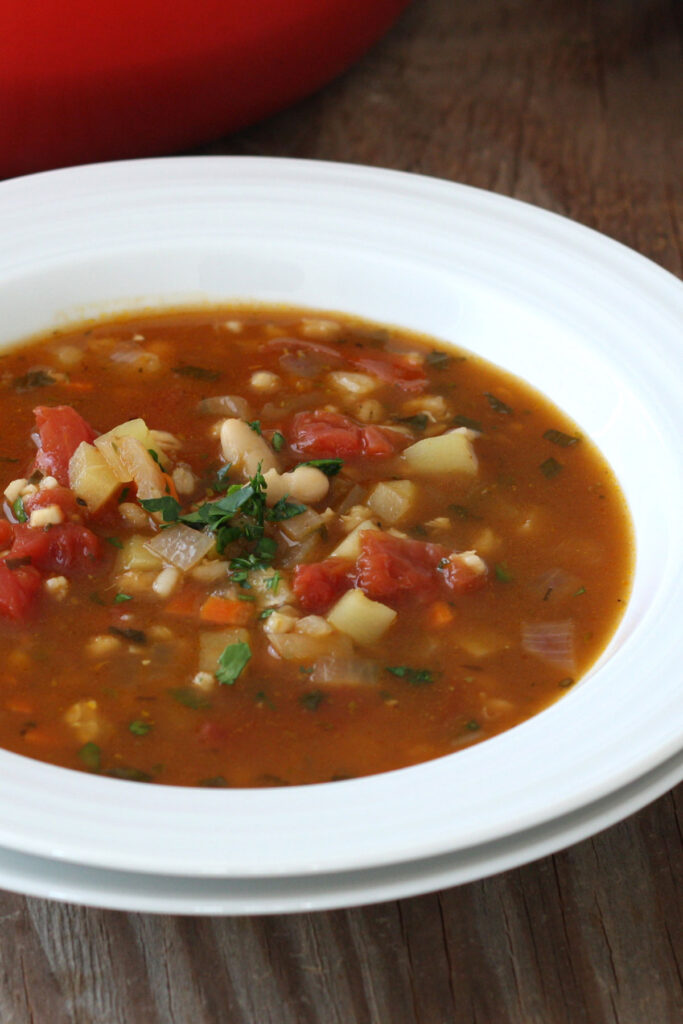 I wished for it and it finally came…a nice big blanket of snow! I did not, however, ask for the single digit temperatures. How are you supposed to enjoy the snow with your kid when it's so cold out?
Oh well! If you can't go out, then at least stay warm with this hearty vegetable barley soup. You can then fire up the oven and bring the winter fun inside by baking these chocolate snowflake cookies with the kids.
I have to say this soup makes a perfect lunch for when cold weather has you stuck in your house. I usually find soup to be very unfulfilling and it ends up being more of a side dish. I needed something that was more of a meal on its own.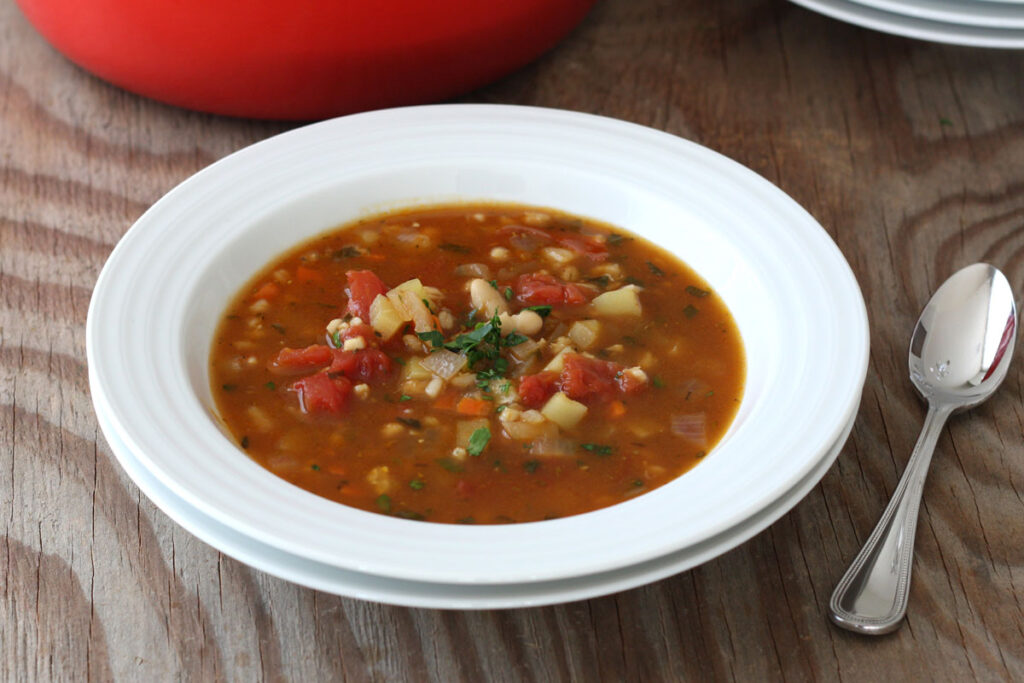 So I decided to experiment a little from my usual soups. By using beans and barley, I ended up with a tasty soup that was both filling and provided a good balanced mix of vegetables, fiber and protein.
This was also the first time I had ever used barley in anything. I immediately loved the texture of it. My first thought for adding texture to soup is usually to add tiny pasta but this tastes much better and is healthier.
Barley is high in fiber and thiamin, both of which are important for intestinal health and controlling cholesterol levels.
If you've never tried barley in your soup, I highly recommend it. Unlike pasta, it doesn't feel mushy. It's smooth and slightly chewy and adds a nice contrast to the softened vegetables. It was also a favorite part of the soup for my five year old so that definitely makes it a winning ingredient for me.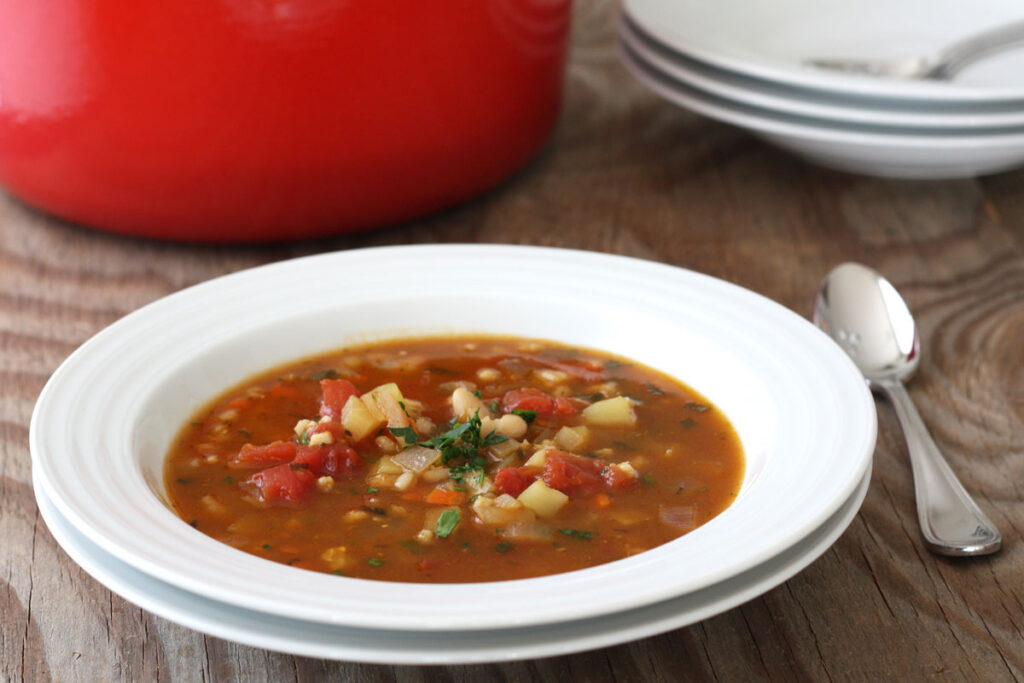 I'm thinking this soup is going to be the new winter favorite. It takes some time to make a batch but it's mostly cooking time and involves little preparation. It makes quite a bit of soup so you can easily make it ahead and freeze it in small portions. This way you can pull it out for a quick lunch anytime!
I first shared this vegetable barley soup recipe on Food Fanatic so be sure to visit it there along with other great recipes.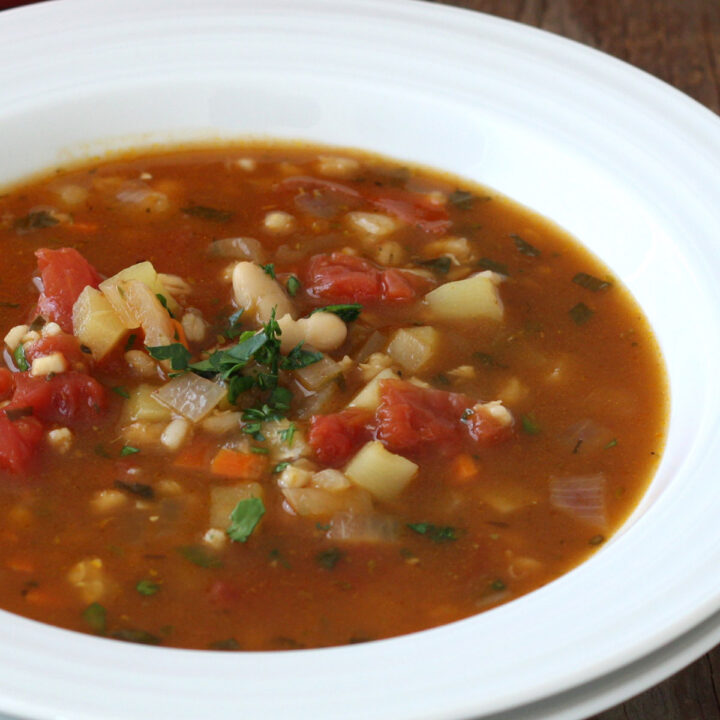 Vegetable Barley Soup
Total Time:
1 hour
15 minutes
Vegetable Barley Soup makes a fantastic lunch or supper in the cold weather. Comforting and hot on cold days!
Ingredients
⅓ cup Pearled Barley
1 ½ tablespoons Olive Oil
1 clove Garlic, minced
1 small Onion, minced
5 cups Vegetable Stock
1 large Carrot, chopped
1 Zucchini Squash, chopped
1 ½ teaspoons Oregano
1 tablespoon Fresh Basil
1 ½ teaspoons Granulated Sugar
1 cup Cannellini Beans, (canned)
1 15 oz can Stewed Tomatoes
1 ½ tablespoons Balsamic Vinegar
2 tablespoons Fresh Parsley, chopped
Instructions
In a small bowl, soak the barley in water while prepping the remaining ingredients.
In a large soup pot, heat the oil over medium-high heat. Add the garlic and onion and fry until softened.
Add the stock, drained barley, carrots, zucchini, oregano , basil and sugar and bring to a boil.
Let the soup simmer for 45 minutes on low heat. The barley should be soft and cooked.
Add the beans, tomatoes and vinegar. Break up any tomato chunks with a wooden spoon or spatula
Salt and pepper to taste and let the soup simmer for another 10 minutes.
Serve and garnish with parsley.