Baked Falafel can be frozen and pulled out when you need them. Great for a busy weeknight.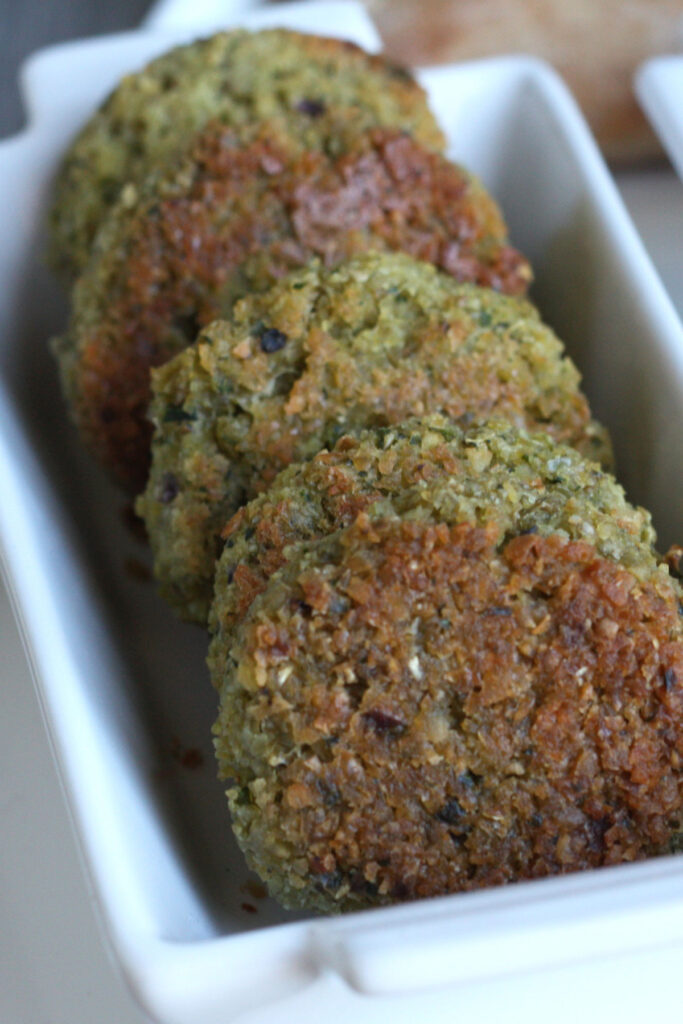 There's nothing like crispy hot falafel coming out of the fryer. I can eat them all by themselves, but frying is work and not the healthiest.
If you are looking for an alternative, these baked falafels are easy to make at home, better for you, and can be made ahead for those busy weeknights.
Of course, nothing can completely replace the taste of fried falafel. Baking over frying does throw off the outside texture, but you have to get the inside right too.
I've either been using a pre-made mix or preparing my own mixture of chickpea flour and spices. I loved the taste, but the texture was just not right.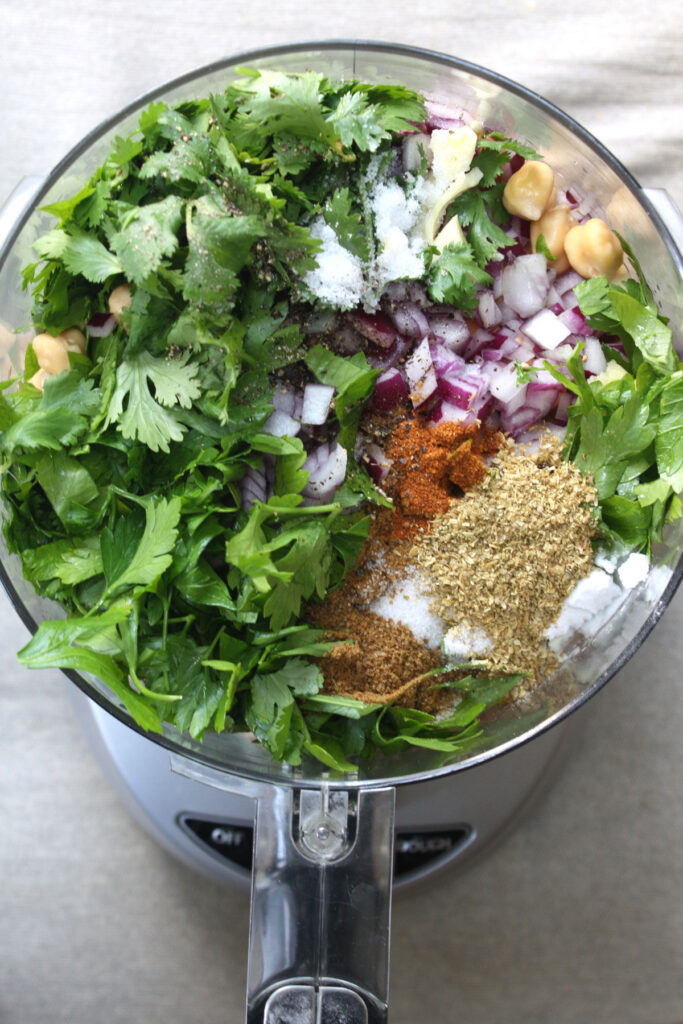 I realized that using whole chickpeas makes all the difference and it's super easy to make. The only difficult part is remembering to soak the chickpeas! That's where I fall apart.
Why I can't remember to do a task that takes only seconds is beyond me. For those of you that are more organized and like to plan menus, this is a great add on recipe.         
If you have school-aged kids, I'll bet that you have at least one crazy weekday full of after school activities where there is no way you are going to get dinner on the table. It's easy to declare it a pizza night or in our case, Chipotle night.
I was getting a little tired of it, so recently, I've decided that day is going to be a freezer meal. Not a store bought frozen dinner, but a homemade frozen meal.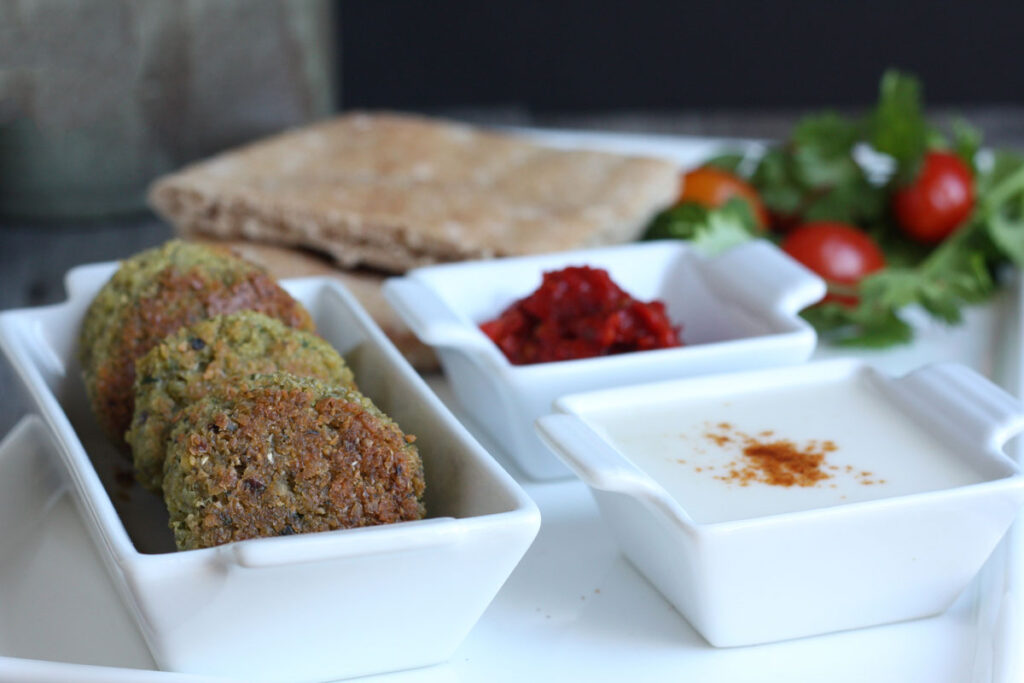 I have a few recipes that I make in bulk, divide into portions, label and then store in the freezer. I've been doing this with my spicy black bean burgers and it's been great. So I figured, falafel patties should freeze just as easily. I wrapped them in a single layer in foil and stored them in a Ziploc bag.
To reheat, just wrap the frozen falafel patties in foil and heat at 350 for about 20 minutes or until they are hot. Chop up some veggies and put together a tahini sauce while the patties are reheating. Easy! Healthy homemade dinner is on the table in no time.
I first shared this baked falafel recipe on Food Fanatic, so be sure to visit it there along with my other recipes.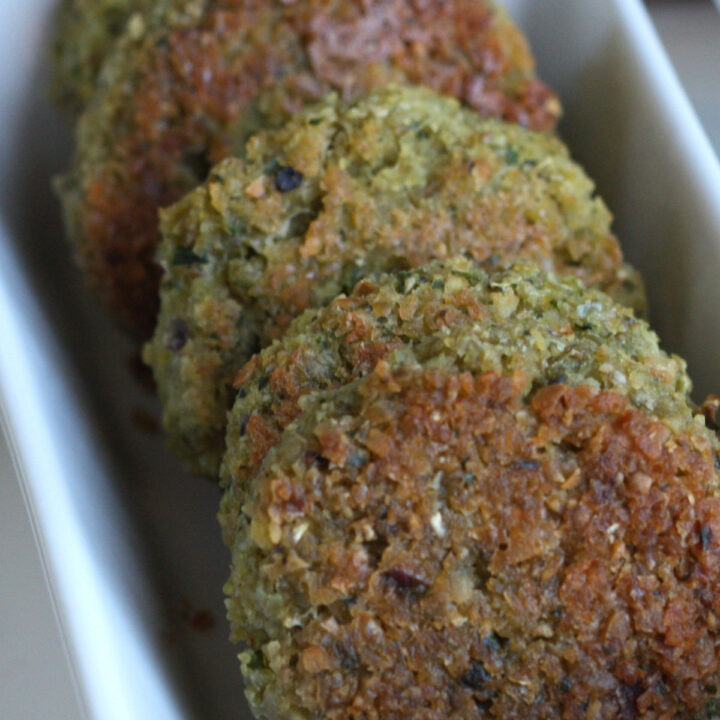 Baked Falafel
Baked Falafel can be frozen and pulled out when you need them. Great for a busy weeknight.
Ingredients
2 cups Dry Chickpeas, Soaked for 24 hours
1 cup Red Onion, Diced
½ cup Parsley Leaves
¾ cup Fresh Cilantro Leaves
4 cloves Garlic, Chopped
2 teaspoons Ground Cumin
2 teaspoons Ground Coriander
pinch of Ground Cayenne Pepper, Or to taste
1 ½ teaspoons Salt
½ teaspoon Black Pepper
½ teaspoon Baking Soda
2 tablespoons Lemon Juice
5 tablespoons Oil
Instructions
Heat the oven to 375°F. Drain the chickpeas.
Combine the chickpeas, onion, parsley, cilantro, garlic, spices and baking soda in a food processor and pulse it a few times. Scrape down the sides and add the lemon juice and pulse until the chickpeas are finely minced.
Taste and adjust salt and spices if necessary.
Brush a full size baking sheet with 3 Tablespoons of oil.
Form 2 inch patties with your hands and place them on your baking sheet. Brush the tops with the remaining oil.
Bake for 12 minutes, flip over the patties and bake for another 12 minutes or until they nicely browned on both sides.
Serve with tahini or harissa alone or with pita and vegetables.
Notes
Only the part of the patty touching the baking sheet will brown so make sure your patties are flat enough to have contact with the baking sheet.
I use my small cookie scoop to get each patty to be the same size.
Nutrition Information:
Yield:

6 servings
Serving Size:

1
Amount Per Serving:
Calories:

383
Total Fat:

16g
Saturated Fat:

1g
Trans Fat:

0g
Unsaturated Fat:

13g
Cholesterol:

0mg
Sodium:

657mg
Carbohydrates:

48g
Fiber:

9g
Sugar:

9g
Protein:

15g
This nutrition information is only an approximate provided for convenience and as a courtesy only. Information comes from Nutritionix, an automated nutrition calculator.