Update: This recipe has been retested and improved upon, please see my post: Fresh Mango Cupcakes, Revisted.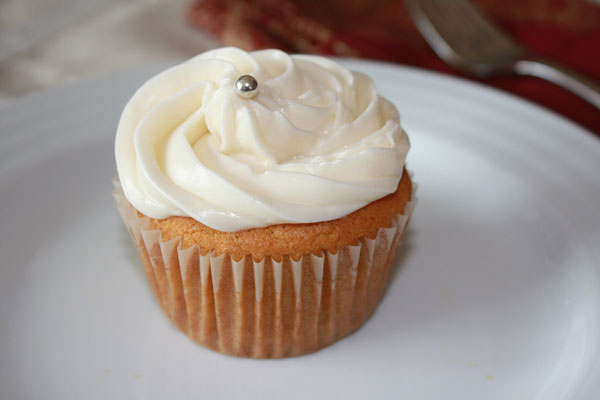 I have to start by saying I'm not crazy about mangos. I'll eat them but not because I crave them. I grew up eating them everyday of the summer because my family, like most South Asian families, has to have their daily fix as soon as they are in season. Indians are crazy about their mangos and they fuss over where to buy the sweetest ones, what variety they are and where they were imported from. Not one bit of that mango pulp goes to waste when they cut one up to eat! I know people that were even willing to to drive all the way to Canada for their mangos before the U.S. allowed imports from India. So as you can see, mangoes are a big deal and when I tell family that I think they are just okay, it drives them nuts.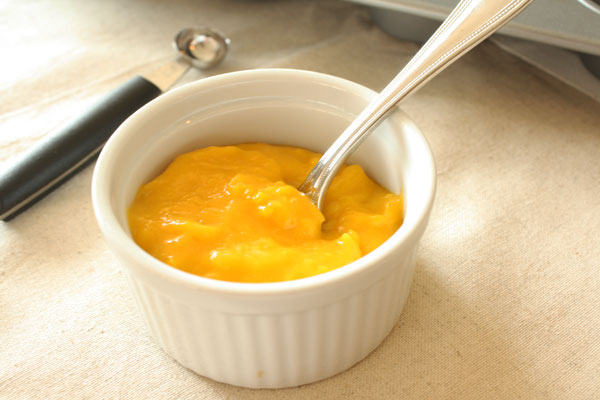 My parents were over last weekend and brought a basket of fruit with them for us to enjoy. In the mix of course was a mango. My husband prefers underripe mangoes and my little one does not seem to be  a huge fan. My parents  had left and this mango was clearly at its peak and not going to be enjoyed by anyone in this house. So I decided to turn it into some cupcakes. I also happen to have just enough buttercream left over from the last birthday cake I made to frost a dozen cupcakes!
I chose a vegan recipe for this cupcake because I wanted to create a cupcake that could be made and enjoyed by the mango fans in my family and their guests. Many South Asians, especially the elderly, do not eat eggs. The book Vegan Cupcakes Take Over the World seems to have great reviews so I thought I'd try a recipe from it. I have to admit I was impressed with the outcome despite not being able to use eggs and regular milk. I adapted the recipe for Golden Vanilla Cupcakes to create these Fresh Mango Cupcakes...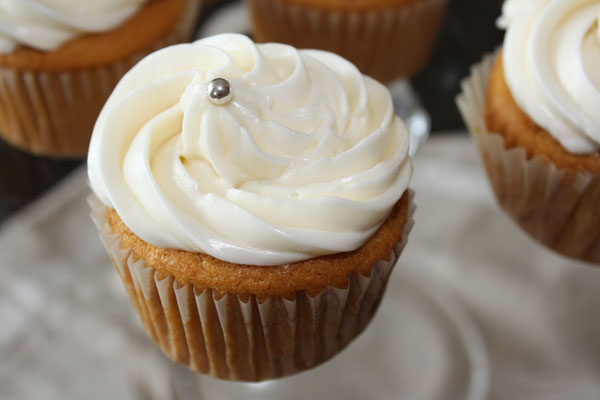 The cake is made with mango puree mixed with some coconut cream. Each cupcake is also filled with a thick mango filling...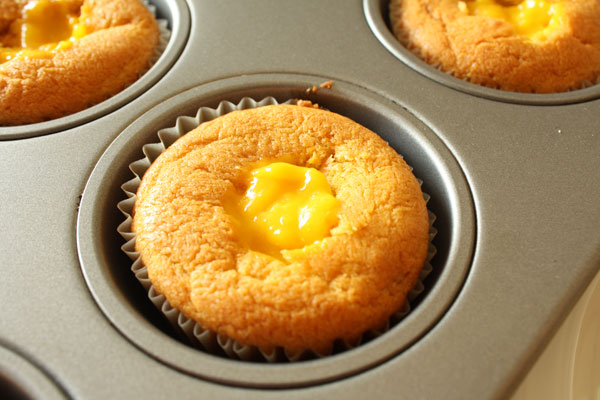 The buttercream is an Italian meringue buttercream and is NOT vegan. I used it because I did not want the buttercream that I already had to go to waste. In case you need vegan buttercream, try this recipe from the same book for Vegan Fluffy Buttercream
Below is a new and updated recipe. Please note that it is NOT vegan.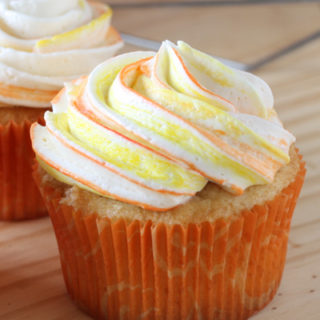 Fresh Mango Cupcakes
These fresh mango cupcakes are filled with mango puree and topped with a colored swirl of vanilla butter cream. They are the perfect treat for any mango fanatic.
Ingredients
For the cupcake batter:
1 ¼ cup all purpose flour
pinch salt
1 ¼ teaspoon baking powder
¾ cup sugar
6 Tbs unsalted butter
1 egg
2 teaspoon vanilla extract
¾ cup milk
For the filling:
½ cup fresh mango puree
4 teaspoon sugar
1 Tbs lime juice
½ Tbs corn starch mixed with 1 Tbs cold water
For the frosting:
1 cup unsalted butter, cubed
2 ½ cups powdered sugar
2 teaspoon vanilla extract
Instructions
Fo the cupcakes
Preheat the oven to 350°F and line a muffin tin with cupcake liners. Sift together the flour, salt, and baking powder. Beat the butter and sugar until light and fluffy.
Add the egg and vanilla to the butter mixture and mix until combined. Alternate adding the milk and dry ingredients to the egg mixture. Mix each addition only until just combined.
Fill the cupcake liners to ⅔ of the way. Bake at 350°F for 15-18 minutes or until a skewer comes out clean. Cool cupcakes on a cooling rack.
For the filling:
Combine the puree, sugar, and lime juice in a pot and heat it over medium heat until it bubbles.
Add the corn starch and water mixture a little at a time while stirring.
Once the mixture thickens, remove the filling from the heat and transfer to another bowl to cool.
For the frosting:
Whip the butter cubes in an electric mixer on medium speed for about 5 minutes. Stop in the middle to scrape down the sides.
Reduce the speed to low and gradually add the sugar. Add the vanilla and whip again on medium speed for 3 minutes, stopping once to scrape down the sides.
For the assembly:
Using a small paring knife, cut out the center of each cupcake at about a 45 degree angle so that you have cut out a cone shape.
Add the filling into the hole using a spoon or pastry bag.Remove the bottom part of the cone and replace the top on the cupcake.
To create a two tone effect frosting, apply food coloring to the inside of a pastry bag using a paint brush. Then, carefully drop the buttercream to the bag. Pipe on the buttercream.
Notes
You can change the extract flavor in the cake or buttercream. Mango extract will enhance the mango flavor or try a nut extract such as almond.
One mango can yield up to 1 cup of puree depending on the size of your mangoes.
You may want to adjust the amount of sugar in the filling depending on the sweetness of your mango.
Use an ice cream scoop to evenly distribute the batter in your cupcake liners.
Nutrition Information:
Yield:

15
Serving Size:

1 cupcake
Amount Per Serving:
Calories:

321
Total Fat:

18g
Saturated Fat:

11g
Trans Fat:

0g
Unsaturated Fat:

6g
Cholesterol:

58mg
Sodium:

64mg
Carbohydrates:

39g
Fiber:

0g
Sugar:

30g
Protein:

2g
This nutrition information is only an approximate provided for convenience and as a courtesy only. Information comes from Nutritionix, an automated nutrition calculator.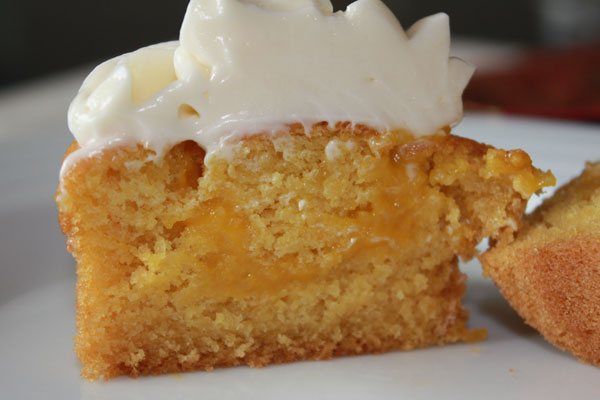 SaveSave