Looking for a tasty bite with some spice? Tickle your taste buds with this sweet, sour, garlicky, spicy Kung Pao Cauliflower.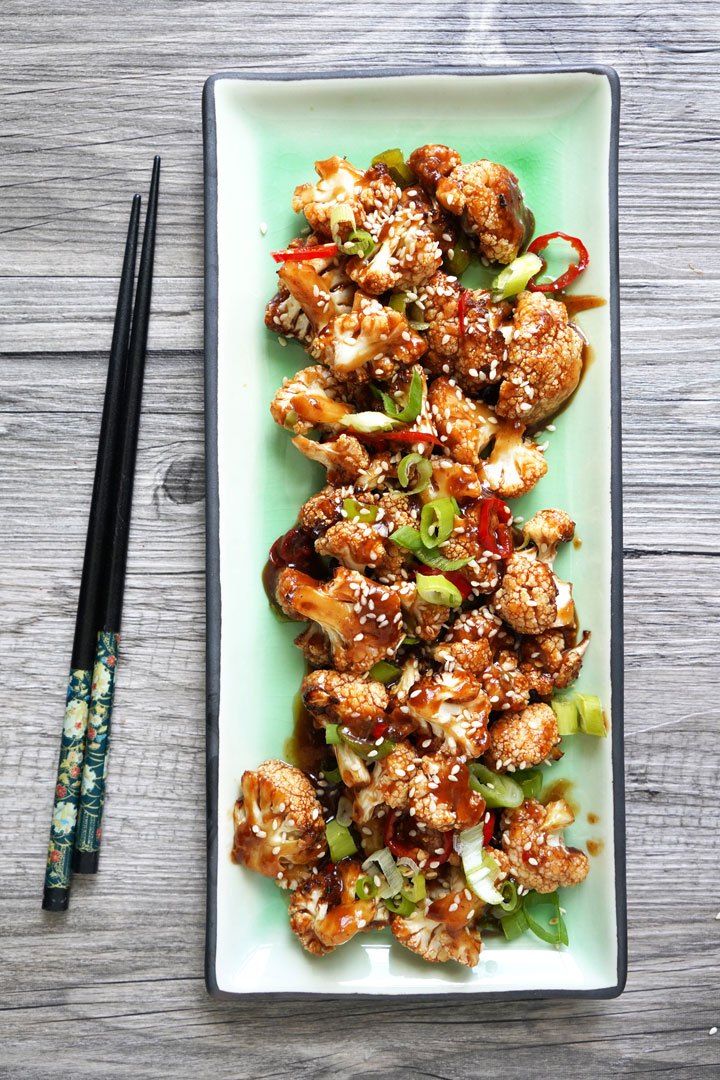 Kung Pao cauliflower has become my new favorite and I think you're going to love it too! When you're craving some of that take-out flavor but know it's healthier to cook at home, this is your answer.
There are lots of other reasons to make this cauliflower dish. If you're looking for a meat-free alternative to Kung Pao chicken, cauliflower is a perfect substitute.
It's also an easy weeknight meal because it's only a 30-minute effort. More importantly, I think you're going to love the flavors.
Kung Pao cauliflower is packed with all kinds of tastes that will make your mouth happy. It's tangy, garlicky, sweet and spicy all at once.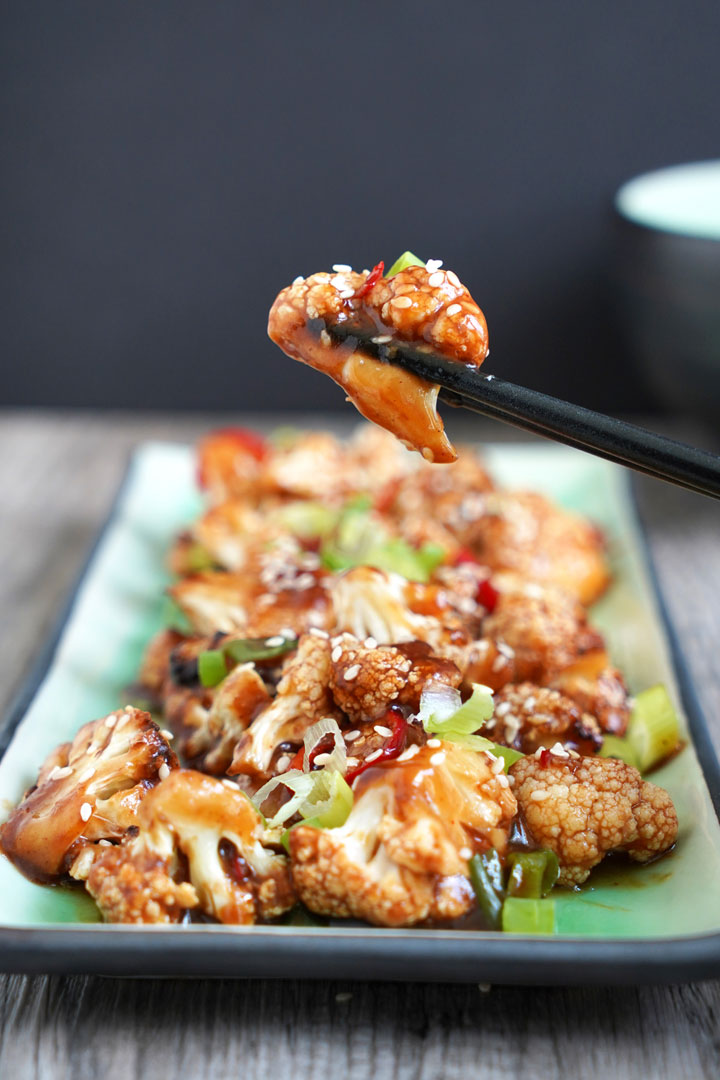 How to Cook the Cauliflower
Prepare the cauliflower into small even bites as instructed in the recipe. This allows for even browning in the oven and a better presentation on the plate.
I roast my cauliflower in the oven with a little bit of olive oil. Since the oven does all the work, I use that cooking time to prepare the Kung Pao sauce.
What Do You Need to Make Kung Pao Sauce?
You can make Kung Pao cauliflower with a few basic pantry items and some key Asian ingredients. Basics that you will need are garlic, red pepper flakes, brown sugar, corn starch and vinegar.
If you make Asian stir fries a lot, you probably already have the rest of ingredients to make the Kung Pao sauce. This includes sesame oil, soy sauce and Hoisin sauce.
The types of chilis you use really depends on what level of spice you can tolerate. You can use only red pepper flakes or combine them with dried red chilis or fresh chilis such as serrano peppers or Thai chilis. I happen to have red fresno peppers which are milder and work better for our spice tolerance. Red chili paste or a chili garlic paste such as sambal oelek can also add some nice flavor and be used instead of whole chilis.
Start by heating up the sesame oil and simmering your garlic and chilis in it for just a quick 30 seconds. This releases the garlic flavor and heat from the peppers into the oil.
Once that's done, all the other ingredients go in together and are heated for just a few minutes until it forms a thick sauce.
Pour it over your roasted cauliflower, mix and return it to the oven for a few minutes to get a nice glaze over each cauliflower piece.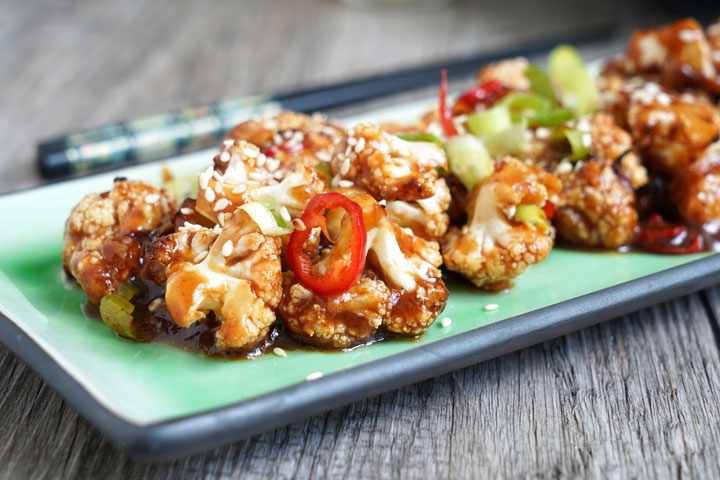 How to Serve Kung Pao Cauliflower
Transfer your cauliflower to a serving dish and garnish it with sesame seeds and scallions. Then, serve it as a side dish. Alternatively, you can make it a meal by serving it over a bed of brown rice and adding some tofu for extra protein.If you choose to make it a meal, I recommend doubling the amount of sauce to add more flavor to your rice and tofu.
If you like cauliflower, you may also enjoy my recipes for turmeric roasted cauliflower or cauliflower steaks.
I originally shared this Kung Pao Cauliflower on Food Fanatic, so be sure to check it out there.