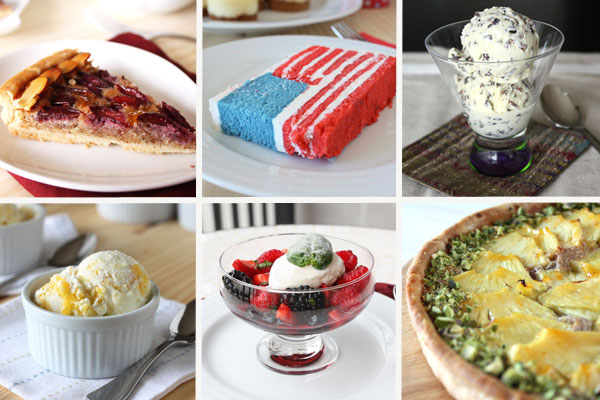 The weather's been pretty weird huh? Warm and cold, warm and cold, cold and rainy, warm and rainy. It seems our first heat wave is arriving this week in the northeast so maybe summer is finally here? I've put together a short list of summer recipes from the blog archives. I hope you find it inspiring for now because there's more to come in the next few months!
From left to right...
Cherry Almond Tart
Not a fan of cherries? This tart will change your mind. The cherry season is now and very short. So get baking!
Hidden Flag Cake
Fourth of July is not too far away. Are you planning a gathering? Don't let this flag cake scare you. It's not as hard as you think!
White Chocolate and Cocoa Nib Ice Cream
Words cannot describe how delicious this ice cream tastes. It's one of my favorites!
Fresh Mango Swirl Ice Cream
Ice cream is a great way to enjoy fresh summer fruit. Mangoes are perfect because they blend easily and gives nice pops of yellow color!
Summer Berry Salad Cocktail
This berry salad is easy to make and perfect for entertaining guests. Berries are tossed with chopped mint and basil and drizzled with a lemon Chambord "dressing".
Pineapple Almond Tart
This is my favorite fruit tart. Pineapple and almonds may seem like a strange combination but you'd be surprised at how irresistible it is once you try it.