Looking for a healthier lasagna? This hearty vegetarian lasagna is packed with flavor, easy to prepare and perfect for making ahead.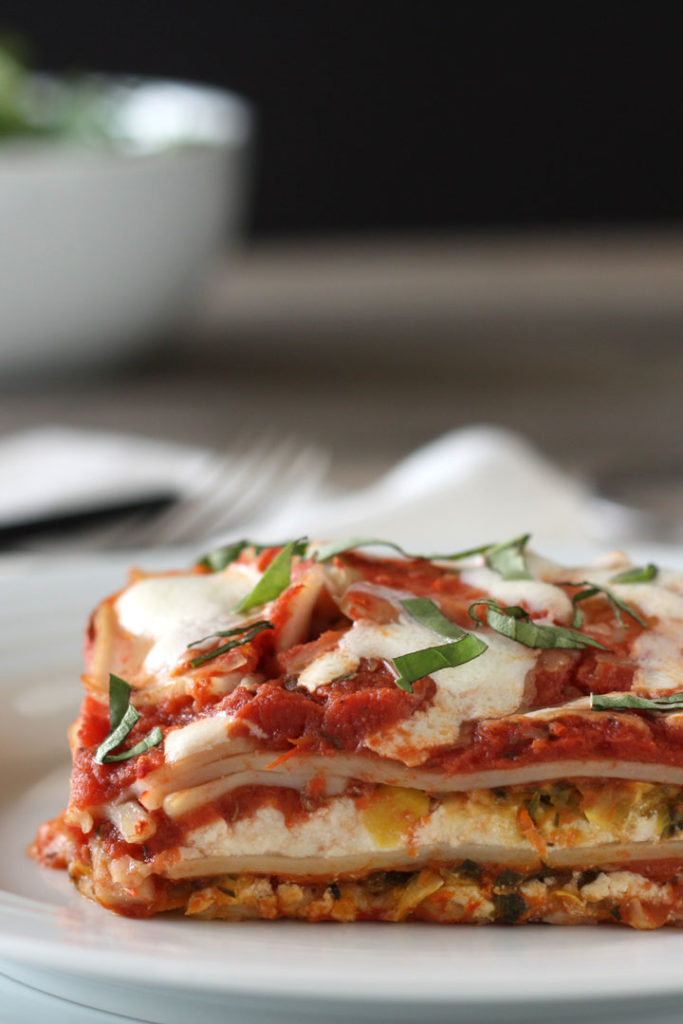 Whenever I'm planning to go away for vacation, I find myself desperately trying to clean out the refrigerator that week. Some things easily freeze, but the vegetables are almost always destined for vegetable lasagna.
I like to make this vegetable packed dish the night before a trip and kick back with a nicely paired glass of Chianti and maybe even follow it up with some affogato.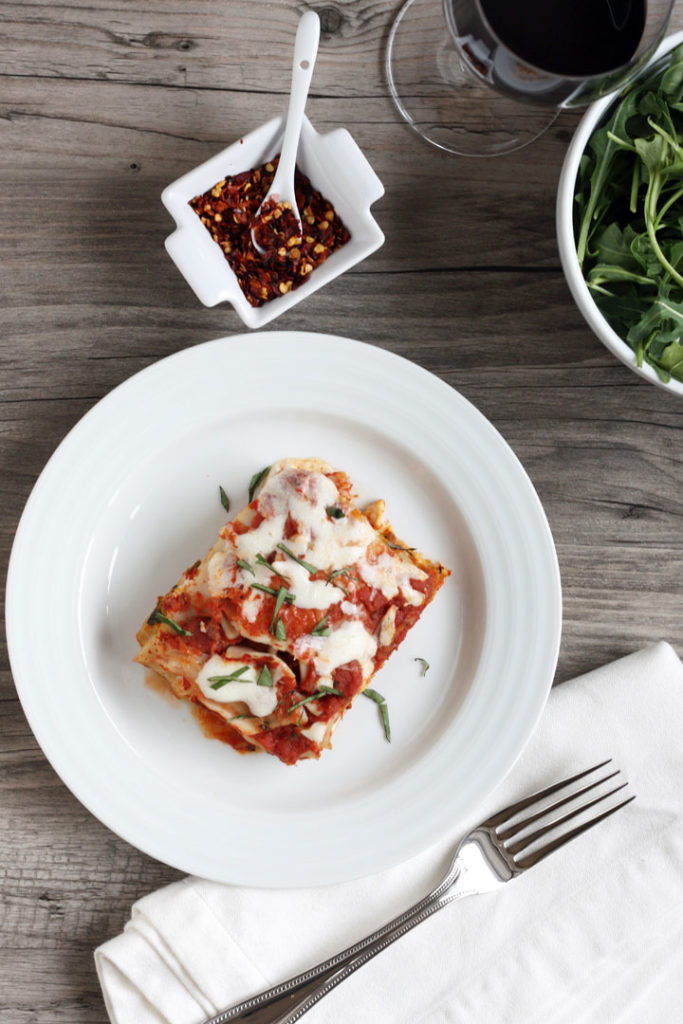 Some time ago, I began making my meatless lasagna recipe with "tofu ricotta" in place of ricotta cheese. We really wanted to cut back on cheese and add more protein to our vegetarian diet.
I can honestly say that I don't miss the ricotta at all and we eat our lasagna guilt free.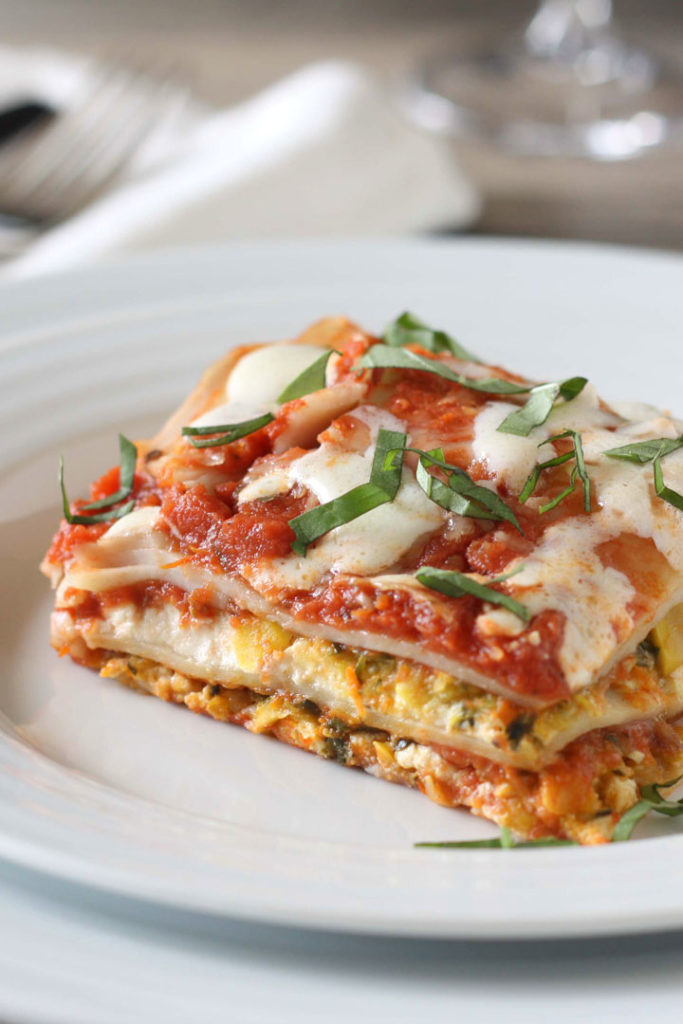 There are so many reasons why I love this tofu vegetable lasagna. It's packed with veggies, lower in fat, freezes well, and not as time consuming as you might think.
Tips for Making Vegetable Lasagna
This recipe works great with "no boil" noodles. I recommend this over boiling your own noodles.
Use your food processor if you have one. I like to have all the vegetables finely chopped in the lasagna. It saves chopping time and also helps to get the tofu to the right consistency quickly. And if you have a picky vegetable eater, they won't know what's in it.
Combine layers. If I'm in a hurry, I will combine the veggie layer with the sauce layer. After cooking the veggies, add the sauce ingredients to the same pot and follow the sauce instructions in the recipe. Just be sure to use a bigger pot when cooking.
Substitutions
If you don't want to make "tofu ricotta", eliminate the tofu and parmesan cheese and replace it with 15 oz. of ricotta. There's no need to run it through the food processor. Salt and pepper to taste and mix it by hand. Alternatively, you can use a combination of ricotta and tofu in any ratio that you want.
To make a completely vegan lasagna, substitute the parmesan and mozzarella cheeses for vegan cheeses. I have also made versions where I completely skipped the parmesan in the tofu layer and added a little extra salt for flavor.
Use a jar sauce. If you are in a hurry, you can also use your favorite jar sauce instead of making your own.
I first shared this vegetable lasagna recipe on Food Fanatic, so be sure to visit it there along with my other recipes.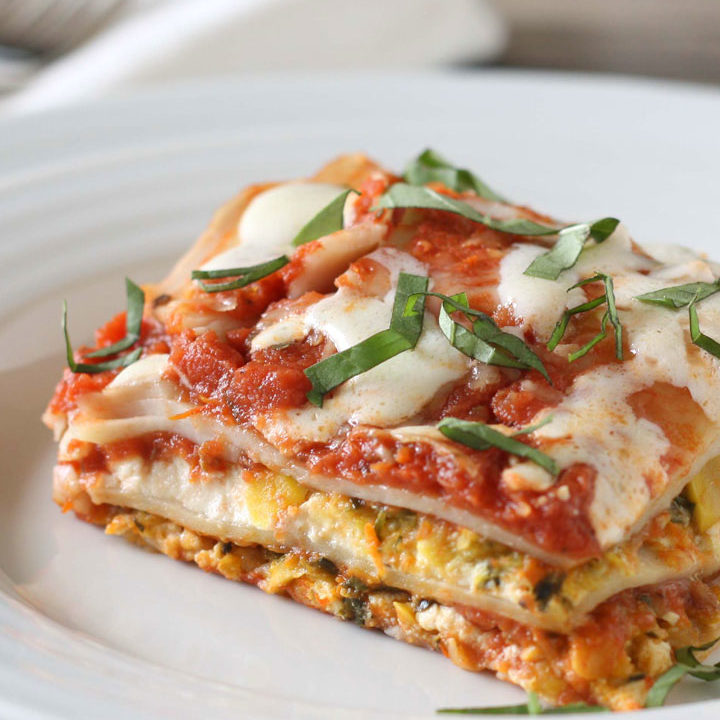 Vegetable Lasagna
Total Time:
1 hour
25 minutes
Looking for a healthier lasagna? This hearty vegetarian lasagna is packed with flavor, easy to prepare and perfect for making ahead.
Ingredients
Veggie Layer:
1 ½ tablespoons Olive Oil
¾ cup Onion
1 cup Red Bell Pepper
½ tablespoon Garlic, minced
¾ cup Carrot
1 ½ cups Yellow Squash
5 ounces Baby Spinach, chopped
½ teaspoon Salt
¼ teaspoon Black Pepper
1 teaspoon Oregano
Tofu Layer:
14 ounces Firm Tofu
¾ cup Grated Parmesan Cheese
dash of Salt
Sauce:
4 ½ cups Crushed Tomatoes, undrained
1 teaspoon Salt, Sauce
1 teaspoon Sugar
¼ teaspoon Black Pepper
1 tablespoon Fresh Basil, chopped
1 teaspoon Oregano
Assembly:
9 sheets No Boil Lasagna Noodles
1 cup Mozzarella Cheese
1 tablespoon Fresh Basil, chopped
Instructions
For the veggie layer:
Heat the olive oil in a large pan over medium heat.
Add the onions, bell pepper and garlic and stir for 1-2 minutes or until softened.
Add the carrot and squash and cook for another 4-5 minutes.
Add the baby spinach, salt, pepper, and oregano and stir for another minute. Remove from heat.
For the tofu layer:
Combine the tofu and parmesan in a food processor and process for at least a minute or until it has a smooth consistency.
Salt to taste. Set the mixture aside.
For the sauce:
In a large pan over medium heat, combine the tomatoes, salt, sugar, black pepper, fresh basil, and oregano.
Bring it to a boil and then simmer on low for 3 minutes. Remove from heat and set aside.
Assembly:
Preheat the oven to 375°F.
Spray a 9x13 glass baking dish with a non stick spray.
Spread 1 cup of sauce on the bottom of the baking pan.
Roughly divide the tofu mixture and veggie mixture into 6 parts.
Spread 1 part tofu onto each of three uncooked noodles and place them on top of the sauce across the tray.
Spread 1 part veggie mixture onto each of the three noodles in the tray.
Cover with 1 cup of the sauce.
Repeat with a second layer of noodles with the remaining tofu and veggies and cover with another cup of sauce.
Top the second layer with three more noodle and cover with remaining sauce.
Sprinkle the top with 1 cup of shredded mozzarella.
Cover the entire tray with foil and bake for 50 minute.
Uncover the tray and bake for another 5-10 minutes or until the cheese bubbles.
Garnish with chopped basil. Let it stand for 10 minutes before cutting.
Notes
These are my staple vegetables but you can always substitute or use more or less of something
I use extra firm tofu because it's what I am normally stocked with. Because I want it to be softer, I do not squeeze all the water from it.
Nutrition Information:
Yield:

9
Serving Size:

1 square
Amount Per Serving:
Calories:

215
Total Fat:

11g
Saturated Fat:

4g
Trans Fat:

0g
Unsaturated Fat:

6g
Cholesterol:

17mg
Sodium:

910mg
Carbohydrates:

21g
Fiber:

5g
Sugar:

10g
Protein:

13g
This nutrition information is only an approximate provided for convenience and as a courtesy only. Information comes from Nutritionix, an automated nutrition calculator.