This easy coconut burfi is an Indian fudge made with coconut, sugar, condensed milk, and spiced with cardamom and saffron. It's sweet and simple to make.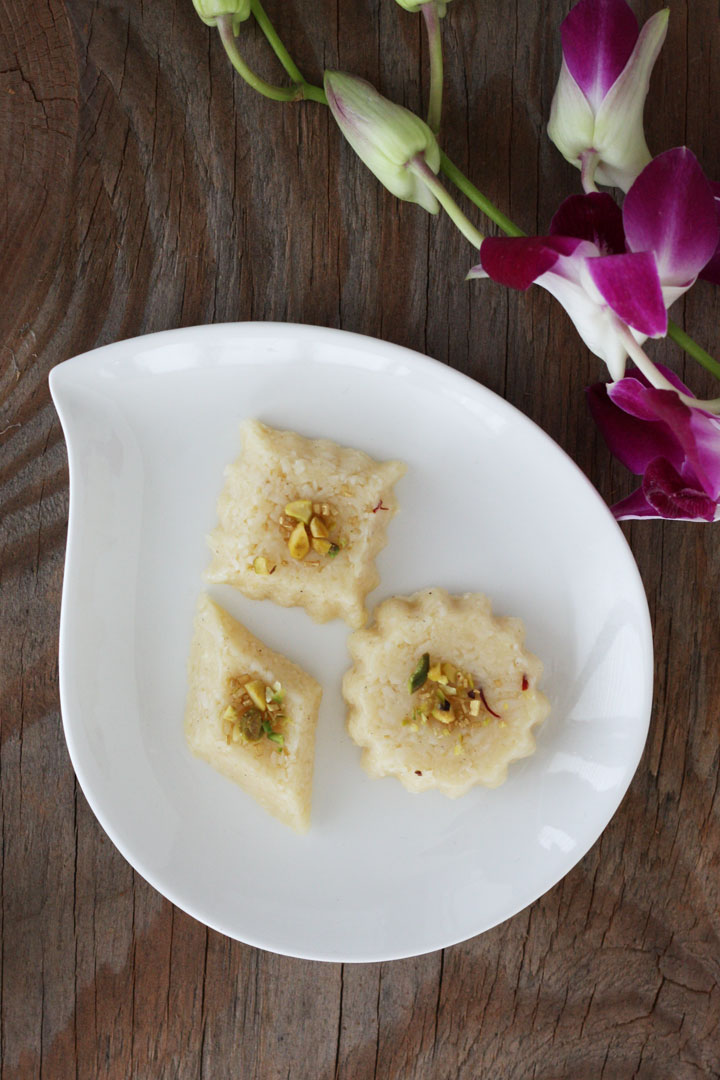 I'm not a huge lover of Indian sweets or mithai, but there are a few exceptions. Burfi is milk based and similar to fudge. It's not chocolate, although I have made a chocolate burfi.
Coconut burfi is something my mom made quite often and not one that would pop up in a box of mixed mithai. So to me, this, like her  baklava, was unique. 
In the spirit of Mother's Day, I thought I would share this easy coconut burfi recipe with you. I'll also leave you with one simple kitchen lesson learned from my mom.
It's nothing brilliant or new but sometimes we need reminders.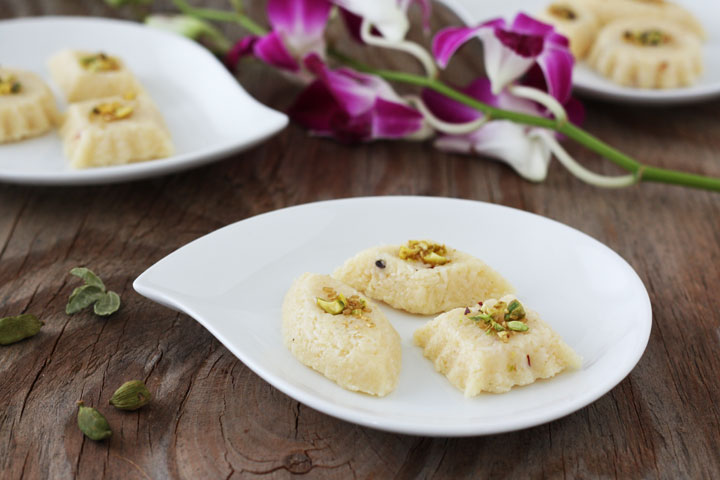 Several years ago, I watched my mom make coconut burfi and wrote down the recipe. I looked it over recently, only to read it and have the first ingredient say, "2 packets of Swad coconut".
Well, how much is in a packet of Swad brand coconut? Don't they come in different sizes? And why would I write down such a measurement?
To take the guess work out of it, I gave her a call. We had a long conversation about butter to coconut and sugar to milk ratios. I was trying to get a quick answer to my measurement question. To say the least, it was not helpful.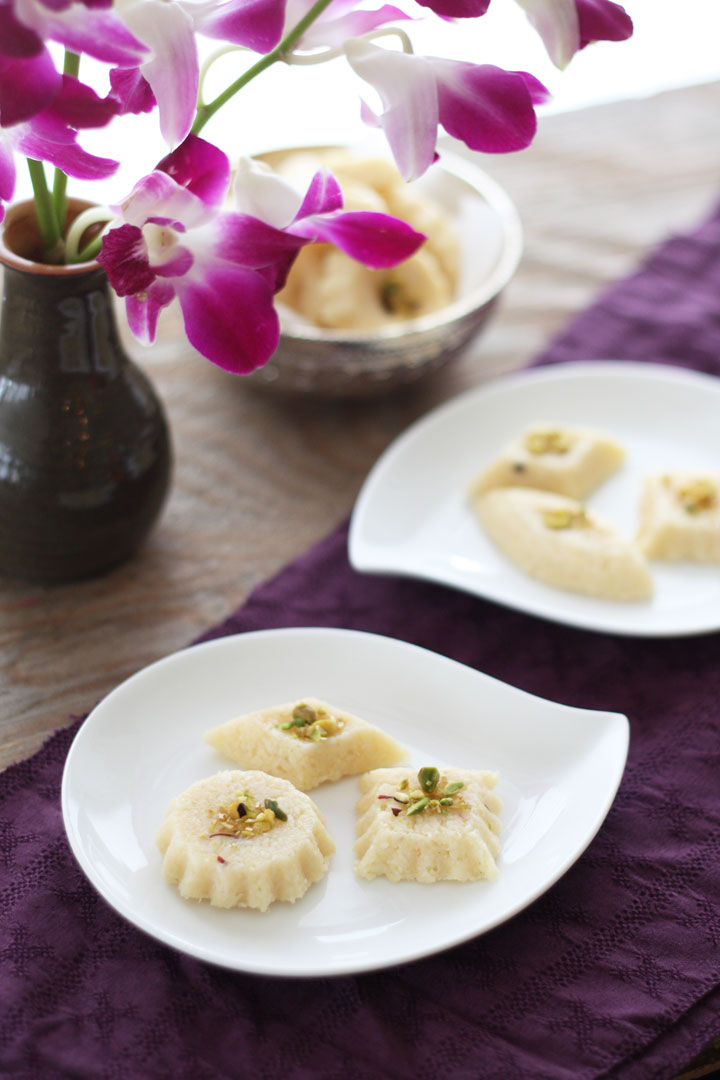 So I googled, and googled and googled. But then I realized that if there is one thing I learned in my mom's kitchen it's that there is no such thing as measurements.
Go with your gut and your knowledge of the food. If you know what it's suppose to taste, smell, feel, and look like it should not be so hard. So this is not the recipe I originally wrote down from her, but it seemed to work out just fine and its easy.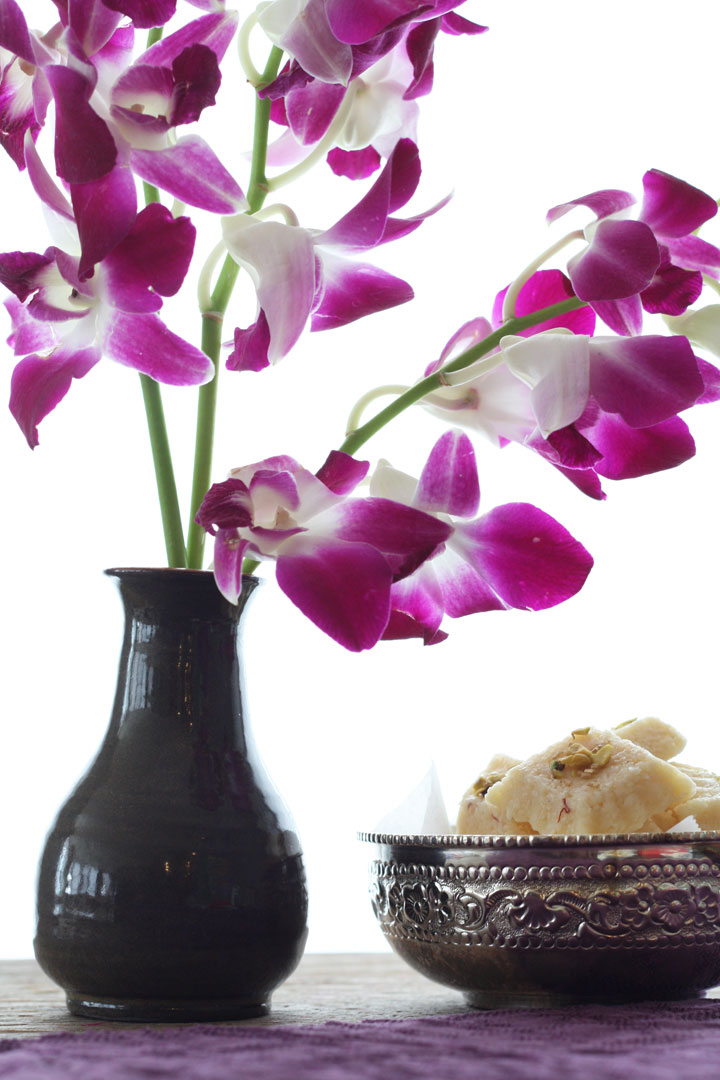 Some notes about how to shape burfi:
Usually, the burfi is spread out in a tray, cooled and cut into squares. Here's a tip on how to shape burfi and dress it up a little. I use my petit four molds for shaping. I only needed to grease one of each type of mold.
I used my handy offset spatula to spread it into the mold and it popped right out with a toothpick.
The more you press into the mold, the smoother the burfi will look. I also sprinkled some traditional pistachio garnishes but then added some gold shimmering sugar. I left my cardamom seeds whole, but you can crush them if you prefer not to see large specks.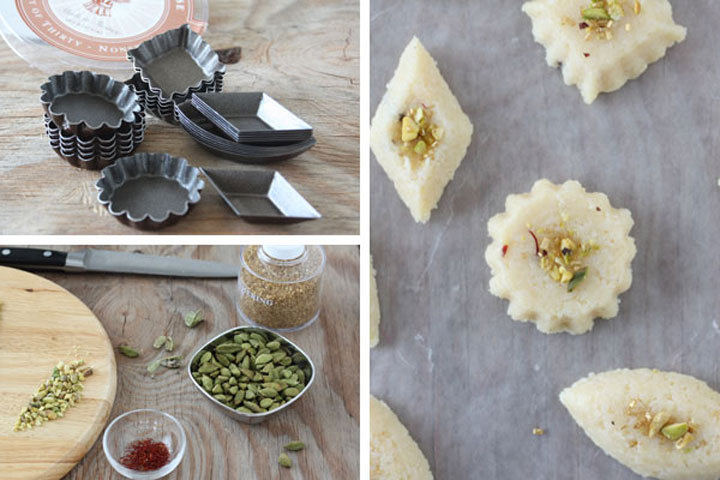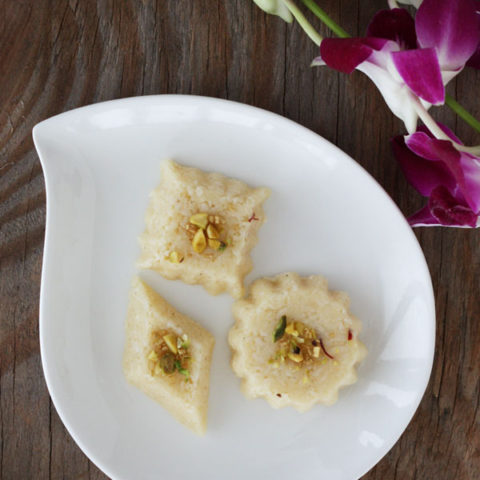 Coconut Burfi
This easy coconut burfi is an Indian fudge made with coconut, sugar, condensed milk, and spiced with cardamom and saffron. It's sweet and simple to make.
Ingredients
4-5 green cardamom pods
3 Tbs unsalted butter
2 pinches saffron
3 cups unsweetened finely shredded coconut
¼ teaspoon ground cardamom
3 Tbs dry milk powder
14 oz sweetened condensed milk
chopped pistachios for garnish
gold shimmering sugar for garnish
Instructions
Carefully remove the seeds from the cardamom pods and set aside. In a large nonstick pot, melt the butter. Add the sweetened condensed milk.
Add the seeds and the saffron, and stir over a gentle flame until fragrant. Keeping a medium to low heat, add the coconut, ground cardamom, and milk powder and stir until it is thoroughly mixed with the butter.
Stir until the mixture clumps together.
Spread the mixture in a tray and press it down. Let it cool and then cut it into squares. Alternatively you can use molds like I did. Just press the mixture into a buttered mold and gently pop them out.
Garnish with pistachios and or shimmering sugar.
Nutrition Information:
Yield:

36
Serving Size:

1 piece
Amount Per Serving:
Calories:

111
Total Fat:

6g
Saturated Fat:

3g
Trans Fat:

0g
Unsaturated Fat:

2g
Cholesterol:

8mg
Sodium:

57mg
Carbohydrates:

13g
Fiber:

1g
Sugar:

11g
Protein:

2g
This nutrition information is only an approximate provided for convenience and as a courtesy only. Information comes from Nutritionix, an automated nutrition calculator.
SaveSave