Homemade doughnuts may seem like a daunting task but this recipe works perfectly! You will master it no time!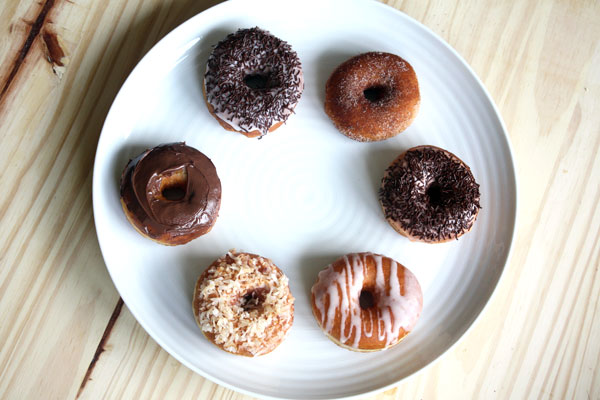 Is it donuts or doughnuts? Who cares? They are fried and delicious!
I have to admit, I was not too excited about making homemade doughnuts (or donuts) but I really wanted to try it. Standing over a hot stove and deep frying is very unappealing. I put off making the doughnuts until yesterday. I do have to say though, the end result was delicious and worth the time spent deep frying.
Since I have never made homemade doughnuts before, I decided to keep the doughnut dough plain and simple.  I used Alton Brown's yeast doughnut recipe and flavored them with a simple glaze and toppings.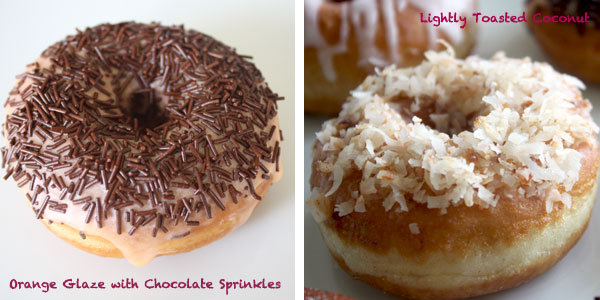 I finally got to use my favorite 100% chocolate sprinkles. Don't they look so pretty? Delicious too!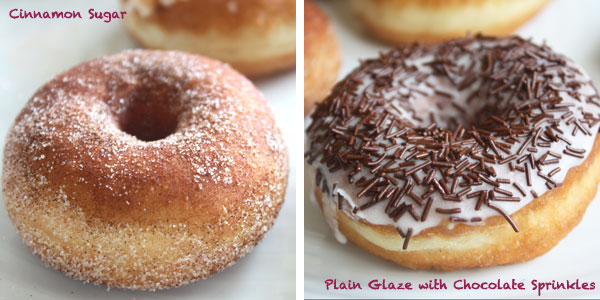 I also made some smaller cinnamon and sugar donuts. These are great for dipping into sauces. I had mine with a nice side of apple sauce...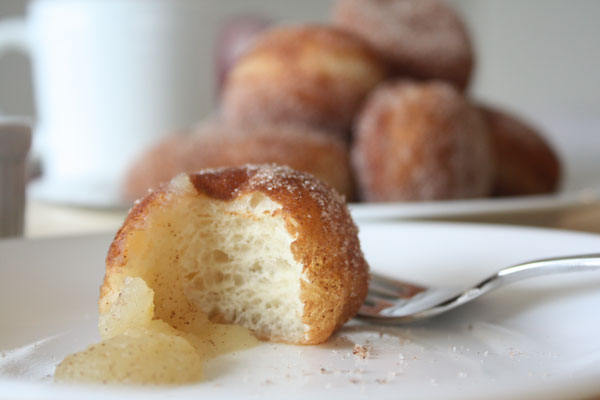 People say Alton Brown's recipes are fool proof. I believe it! These homemade doughnuts came out perfectly. They were proofed twice and rose the exact amount they were suppose to in the time given in the recipe.
They had a great texture and crumb and not overly sweet! If you want simple fresh tasting doughnuts, this recipe is definitely the way to go.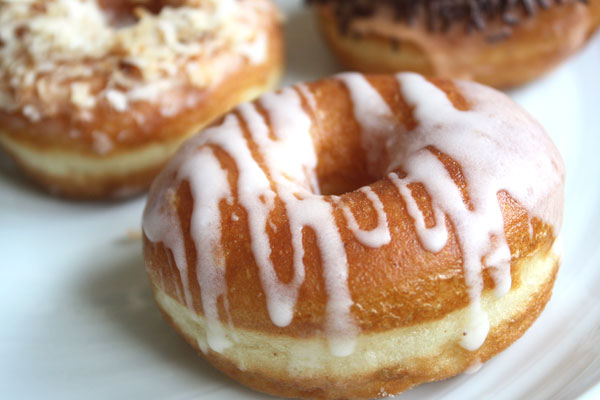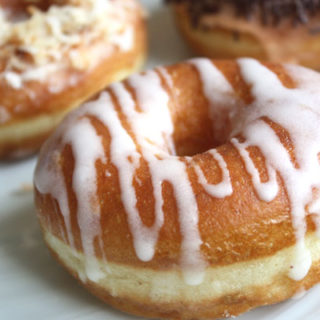 Homemade Doughnut Recipe
Resting Time:
1 hour
30 minutes
Total Time:
2 hours
15 minutes
Homemade doughnuts may seem like a daunting task but this recipe works perfectly! You will master it no time! This recipe makes 20 to 25 doughnuts & 20 to 25 doughnut holes, depending on size. Recipe adapted from Alton Brown.
Ingredients
1.5 cups Milk
⅓ cup Vegetable Shortening
4.5 teaspoon Active Dry Yeast
⅓ cup Warm Water
2 Eggs, Large, beaten
¼ cup White Granulated Sugar
1.5 teaspoon Table Salt
1 1 teaspoon Nutmeg, grated
4 ⅔ cup  All Purpose Flour , + extra for dusting surfac
Canola Oil, DEPENDS on size of vessel you are frying in- you want 3 inches of oil
Instructions
Place the milk in a medium saucepan and heat over medium heat just until warm enough to melt the shortening. (Make sure the shortening is melted so that it incorporates well into the batter.)
Place the shortening in a bowl and pour warmed milk over. Set aside.
In a small bowl, sprinkle the yeast over the warm water and let dissolve for 5 minutes. It should get foamy. After 5 minutes, pour the yeast mixture into the large bowl of a stand mixer and add the milk and shortening mixture, first making sure the milk and shortening mixture has cooled to lukewarm.
Add the eggs, sugar, salt, nutmeg, and half of the flour. Using the paddle attachment of your mixer (if you have one), combine the ingredients on low speed until flour is incorporated and then turn the speed up to medium and beat until well combined.
Add the remaining flour, combining on low speed at first, and then increase the speed to medium and beat well.
Change to the dough hook attachment of the mixer and beat on medium speed until the dough pulls away from the bowl and becomes smooth, approximately 3 to 4 minutes (for me this only took about two minutes). If you do not have a dough hook/stand mixer – knead until the dough is smooth and not sticky.
Transfer to a well-oiled bowl, cover, and let rise for 1 hour or until doubled in size.
On a well-floured surface, roll out dough to ⅜-inch (9 mm)thick. (Make sure the surface really is well-floured otherwise your doughnuts will stick to the counter).
Cut out dough using a 2 ½-inch (65 mm) doughnut cutter or pastry ring or drinking glass and using a ⅞-inch (22 mm) ring for the center whole. Set on floured baking sheet, cover lightly with a tea towel, and let rise for 30 minutes.
Preheat the oil in a deep fryer or Dutch oven to 365 °F/185°C.
Gently place the doughnuts into the oil, 3 to 4 at a time. Cook for 1 minute per side or until golden brown (my doughnuts only took about 30 seconds on each side at this temperature).
Transfer to a cooling rack placed in baking pan. Allow to cool for 15 to 20 minutes prior to glazing, if desired.
Notes
For the sugar glaze: There's no real recipe for this. I just took about ⅓ cup powdered sugar and slowly added heavy cream while whisking until I got a nice glaze consistency. It should be thick enough to stay on the doughnut but thin enough to coat on its own.  I turned the doughnut upside down into the glaze and just let it drip off before letting it dry on a cooling rack. For the above doughnut, I just drizzled it on with my whisk. For a few doughnuts I added a drop or two of orange extract and orange food coloring to the glaze.
Nutrition Information:
Yield:

36
Serving Size:

1
Amount Per Serving:
Calories:

106
Total Fat:

4g
Saturated Fat:

1g
Trans Fat:

0g
Unsaturated Fat:

3g
Cholesterol:

12mg
Sodium:

98mg
Carbohydrates:

15g
Fiber:

1g
Sugar:

1g
Protein:

3g
This nutrition information is only an approximate provided for convenience and as a courtesy only. Information comes from Nutritionix, an automated nutrition calculator.
SaveSave