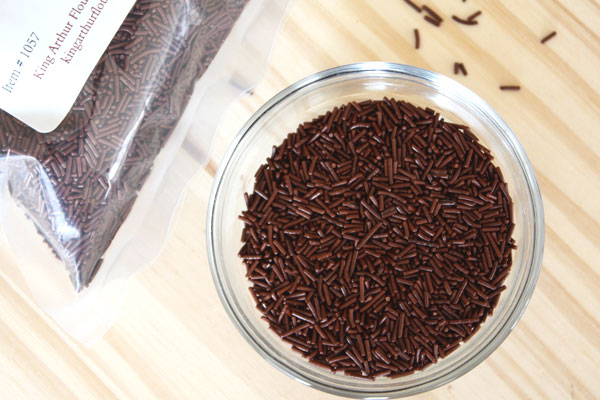 You may have read about these chocolate sprinkles from King Arthur Flour before on my post on Dark Chocolate Cupcakes. They are made from real chocolate and look much nicer than the sprinkles you buy at the local grocery store. The color, even shape and skinny size can really make your sweets look more professional.
After making my cupcakes with ordinary sprinkles, I did ordered these chocolate sprinkles but have yet to use them in a recipe. I think I have finally found a use for them and hope to share it with you in the next few weeks. In the mean time, I think it's worthwhile to checkout some of these online shops if you are looking to make your baked goods look and taste more professional. The right ingredients or decorations, be it sprinkles, cupcake liners, or frosting tips, can go a long way in making your dessert plate a work of art.
Bake it Pretty...one of my favorite places to browse cupcake liners especially.
King Arthur Flour...more specialized ingredients than you would find even at a Williams Sonoma.
Etsy...don't forget to look at the ton of Etsy shops specializing in food items. More and more Etsy shops are popping up with great stuff!