Did you know not all sprinkles are created equal? I've found the perfect sprinkles to make your next cupcake, cake, or other dessert treat look irresistible.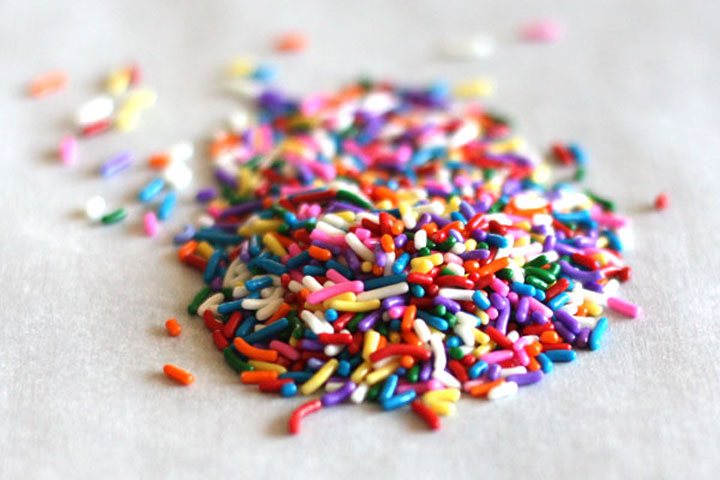 I'm picky when it comes to presentation. I keep two rulers right next to all the baking tools in my kitchen drawer because I need to cut my brownies, blondies, scones or whatever into perfect equal shapes.
You may recall that I posted about finding the perfect chocolate sprinkles before. So it won't surprise you that last week I had a last minute need for perfect rainbow sprinkles and was really disappointed at what I was finding in my local grocery stores.
They were all containers of fat, dull and well just ugly rainbow sprinkles. I won't mention any brand names and I'll spare you the photo. (Because I don't have one- but they looked a lot like those ugly chocolate ones I had to use on my cupcakes.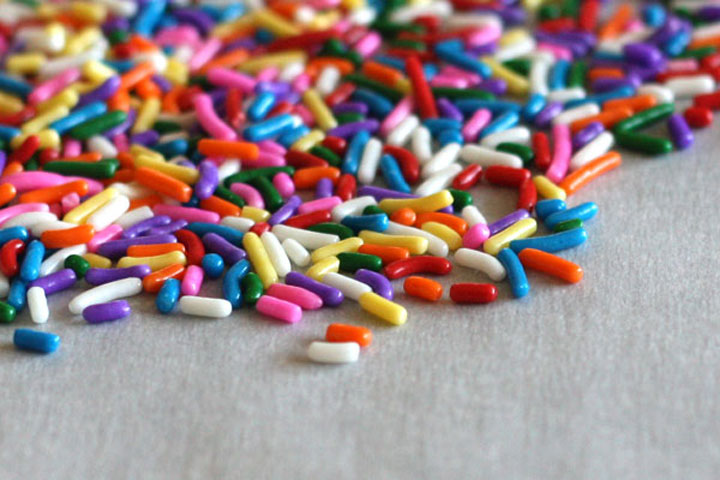 Lucky for me, I had to pick up some last minute items for dinner one night and found these on the shelf hidden behind an aisle display.
Mr. Sprinkle's rainbow sprinkles were slightly more expensive than the big tub of sprinkles but they just look so much nicer!  I think I was probably paying more for the kid magnet friendly packaging.
V was so excited about the attractive bottle he snuck it off the kitchen counter and nearly spilled it all over our living room.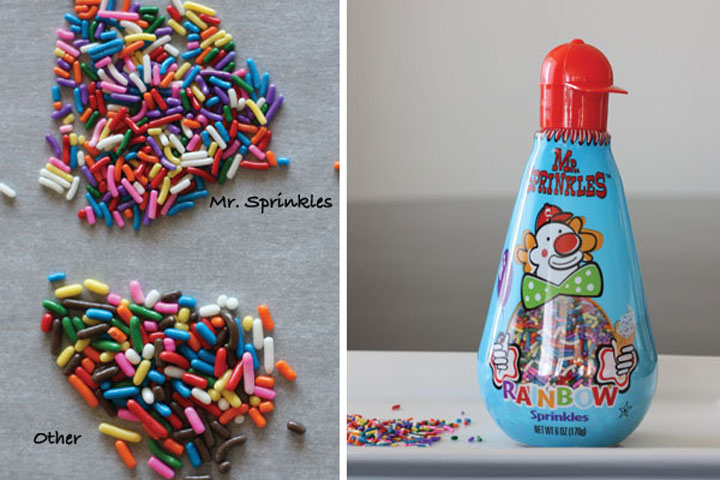 Okay, I'll admit that the "other" in the photo don't look so bad but trust me they are ugly in real life.
Mr. Sprinkles are thinner, shinier and look much more attractive on cakes, cookies and other baked goods especially if you are trying to sell or give it as a gift. So there it is, another fabulous find that is easily available in your grocery store for all you picky bakers or caterers.
And speaking of perfect sprinkles, here are some more sprinkle things to muse about as you start your week today...
Do you call them sprinkles or jimmies? I grew up calling them jimmies and only started referring to them as sprinkles after moving closer to NYC. Jimmies seems to be a Philly/New England term whose origins are unknown but rumored to be from a range of things- Jim Crow Laws, the Jimmy Fund, to an employee named Jimmy at the Just Born candy company.
Do you prefer rainbow or chocolate?
Want to customize the colors of your sprinkles? Disappointed that the colors don't have different flavors? Brave Tart was and she decided to make her own! Check out her post here. Also check out I Am Baker's technique on making your own.
 Wondering what I needed the sprinkles for in the first place? Confetti Cookie Bars!
SaveSave
SaveSave