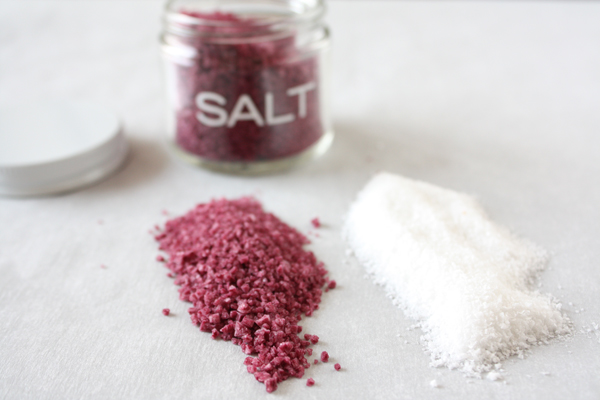 Wondering what salt has to do with desserts? An avid baker knows that all dessert dishes have a pinch of salt in them, but that's not what this is about.  Many years ago S and I went to check out Pichet Ong's restaurant P*ONG in New York City. I chose this restaurant purely based on some tidbit I had read somewhere  mentioning the star pastry chef. I think while I was attending pastry school I felt the need to try out every single dessert venue I could possibly find in our area. (Well, actually still have that need)  The desserts here were definitely out of the ordinary. They all had distinct salty tastes. I think this is the first time I noticed the flavor possibilities of adding something a little savory to a dessert dish.
This Monday, I bring to you some recently discovered sources as well as recipes that have to do with combining a little saltiness or spice to your desserts. Test it out...you may be pleasantly surprised.
Salt Sources
The Filling Station
- This shop has a great selection of rare salts, including espresso salt,  green tea salt, Himalayan pink salts, Thai ginger salt and the pretty merlot salt pictured above.
Spices and Tease
- Rare salts and a lot more! I first found these guys and the New York Chocolate Show. They have an amazing selection of teas and spice combinations as well.
Salted Dessert Recipe
How to Season and Spice Fruit-
Putting a little salt and cumin on fruit may sound a little strange but you'd be surprised at how good it tastes over a nice crispy guava. (My favorite way to eat guava) Gilt Taste offers some nice suggestions to seasoning fruits with savory spices.
Salted Caramel Brownies
- I tend to stay away from caramel, but salted caramel mixed with chocolate is a whole different story. I recently made these brownies for a bake sale.
Oatmeal and Buckwheat Chocolate Cookies
- Asha over at Fork Spoon Knife uses Saffron salt to sprinkle over these delicious looking chocolate cookies. Don't you just find the idea of a saffron flavored salt intriguing?