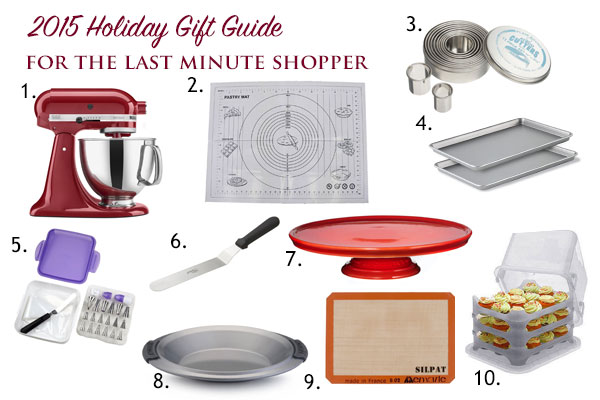 Are you last minute shopping? Well, I have a confession, I'm last minute writing this post just for you. If you've got a foodie or baker to shop for and need it fast, this is the list for you. This gift guide has 10 things ranging from large items to stocking stuffers. These were hand picked by me because I either use them all the time or i just think they would be fabulous. They can all be purchased through Amazon and you can get them with 2 day free shipping if you are an Amazon Prime member. This is the only way it will get shipped fast and free.
1. Kitchen Aid Artisan Stand Mixer

This is the ultimate gift for the baker if they don't already have one. I've had mine for 13 years and it has never let me down. They come in many colors so you can choose their favorite or match their kitchen!
2. R and M Silicone Pastry Mat

I picked this up on a whim at a small shop but its been one of the best purchases ever made. Its nonstick surface is great for fondant and pie dough. It's about 19x25 inches so its even big enough to roll out my pizza dough. It cleans easily and keeps the counter from getting full of flour dust.
3. Ateco 11 Piece Plain Round Cutter Set

This is a great stocking stuffer! It is my most useful set of cutters. It's not only great for cutting cookies and biscuits in any size but also for getting those fondant shapes for cakes and cupcake toppers just right.

4.Calphalon Nonstick Bakeware, Baking Sheet

These are another favorite that I've had for many years. They are a great size for making cookies or cake layers. I also use them as trays to organize my ingredients for recipes! They come in a set of two which is great because trust me they will need two!
5. Wilton 46-Piece Deluxe Cake Decorating Set

Ok. I don't actually own this particular tip set. I've collected mine one by one but this is a cute starter set for anyone that enjoys cake decorating.
6. Ateco Offset Ultra Spatula

I've said this before, I love my off-set spatulas. These come in all different sizes and you can get a set of three on Amazon. They are great for decorating cupcakes and cakes, lifting cookies, spreading batters and more. It's an essential baking tool and yet another great stocking stuffer.
7. Le Creuset Stoneware Dessert/Cake Stand

Once you're done baking that great cake, you need to show it off! Le Creuset makes cake stands in many vibrant colors. Get one to match that Kitchen Aid mixer!
8.Anolon Advanced Nonsticke 9" Pie Pan

This is a great pie pan. The silicone grips make it easy to handle and the non-stick surface makes the pie glide right out. Add this to a collection of other great Anolon bakeware and your gift is good to go!
9. Silpat Premium Non-Stick Silicone Baking Mat

This mat can turn any pan into a non-stick surface. Unlike parchment paper, you can use it a thousand times. It's also great for sticky material like caramel, taffy and sticky doughs. I'd say it's another baker's essential tool.
10. Cupcake Courier Cupcake Caddy

I can't tell you how many times this caddy has come in handy. This is one of the first carriers made to hold 36 cupcakes. There are several others now with other functions as well but I know this one is made with sturdy plastic. It has held up well. Gift this to the baker who has to always transport cupcakes to your house!
SaveSave
SaveSaveSaveSave