Green Bean Salad with Lemon Harissa Dressing brings a spicy kick to your green bean side dish. Amazing.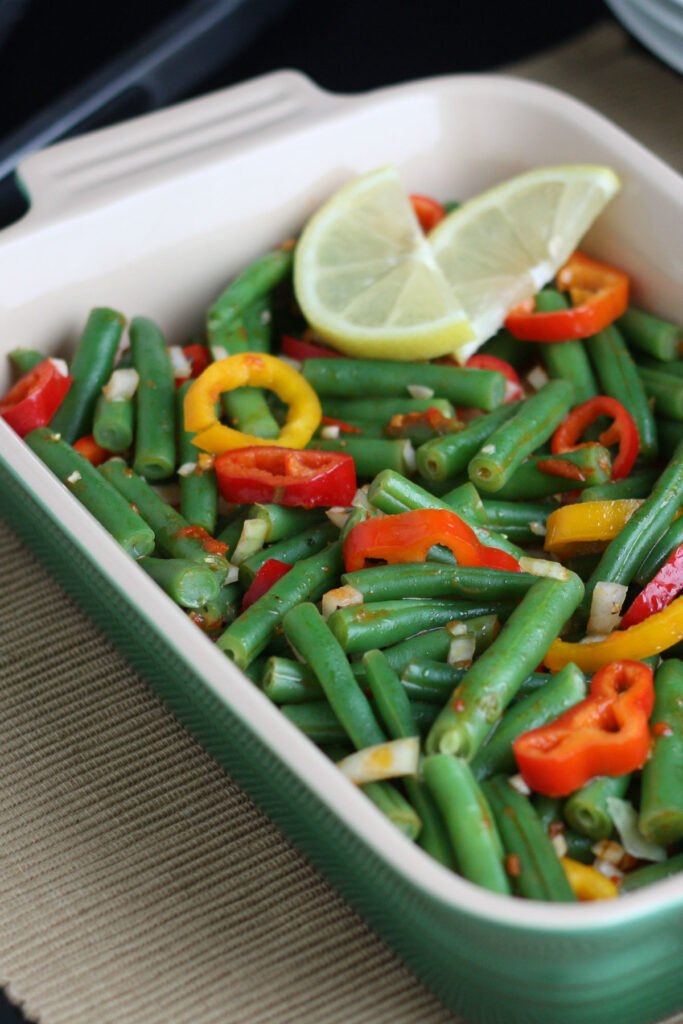 Look out! I just discovered harissa and I'm loving it. I've been trying it out in everything.
My latest obsession is in this green bean salad with those cute mini peppers. The dressing is a mix of garlic, lemon and harissa.
Let me tell ya, it definitely made those plain green beans tastier to eat. So skip the bland potato and green bean salad and go for the spice!
What is Harissa?
Harrisa is a hot red pepper paste used in North African cooking. It's made up of hot chili peppers, garlic, olive oil, and sometimes spices such as cumin and coriander.
I had heard of it but was never quite sure what to do with it. I decided to pick up a jar anyway.
I do that a lot. Sadly, sometimes things end up sitting in the pantry for a long time. Sometimes too long!
Well, this time I made it a point to use it in something quickly. I decided to combine it with yogurt to make a second condiment for my falafels. (We usually just eat falafel with traditional tahini sauce.)
Since my in-laws, who can't eat mild food, were joining us for dinner, I decided to add a sauce. They loved the harissa.
Actually, they skipped the yogurt sauce and the tahini sauce and went straight for the jar of harissa, nearly finishing it. I watched and kept thinking to myself, but the tahini is what makes the falafel so good!
They did not care. I guess it doesn't matter because clearly they were enjoying my new discovery too!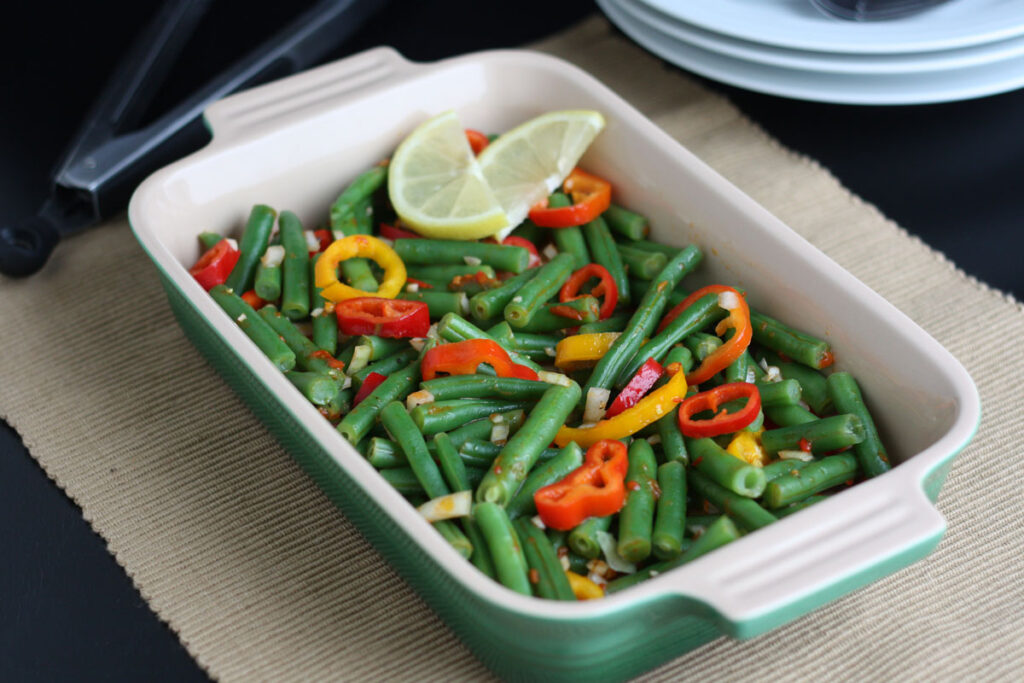 How to Make a Spicy Green Bean Salad
What was next? Yes, that bag of green beans sitting in the refrigerator would be perfect with some harissa. Salads and the occasional green bean pasta are probably the only way I eat green beans. I don't really cook them much either.
Just boiled for a few minutes is perfect for me. I like them to be crunchy which makes them the perfect salad side dish.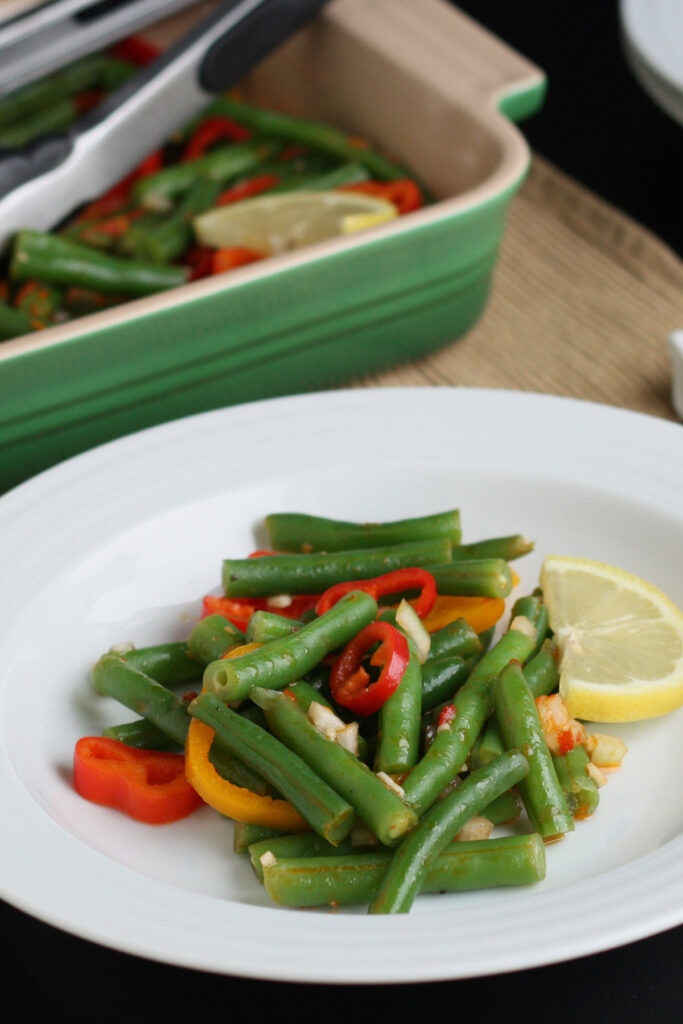 This new combination of lemon, garlic and harissa dressing is a keeper. The added heat from the harissa makes the salad totally addicting to eat.
So go ahead, add a little zing to your green beans with this fabulous condiment. You won't be disappointed in this tangy, crunchy, spicy salad.
I first shared this green bean salad recipe on Food Fanatic so be sure to visit it there along with my other recipes.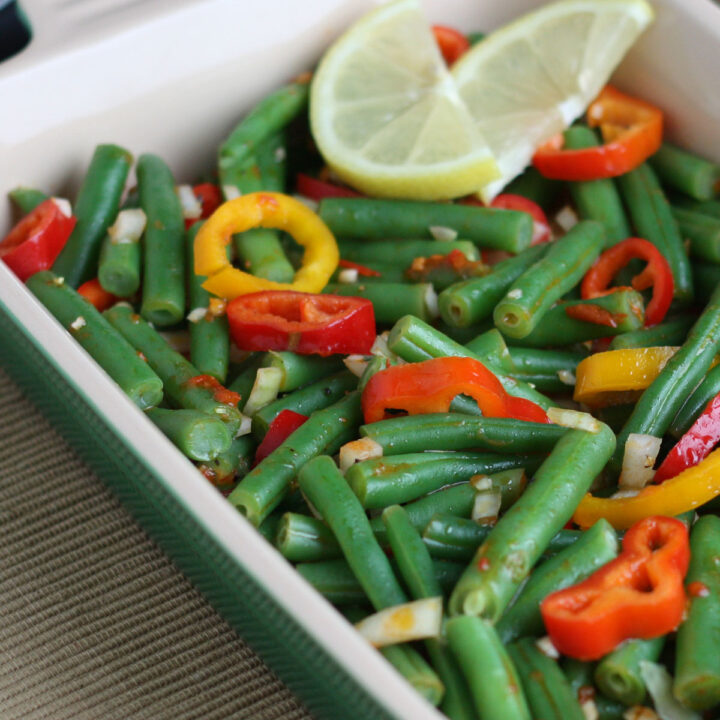 Green Bean Salad
Green Bean Salad with Lemon Harissa Dressing brings a spicy kick to your green bean side dish. Amazing.
Ingredients
12 ounces Green Beans, Trimmed and cut
2-3 Mini Peppers, Sliced
2 tablespoons Chopped Onion
2 tablespoons Olive Oil
2 tablespoons Lemon Juice
2 teaspoons Harissa Sauce
1 clove Garlic, Minced
Instructions
Bring a large pot of water to a boil. Add the green beans and boil for 3-4 minutes.
Transfer the beans straight from the boiling water to a bowl of ice water. Let them sit for 1 minute and then drain the water.
In a small bowl, whisk together the olive oil, harissa, lemon juice, and garlic.
Toss the beans, peppers, and onions together in a large bowl. Add the dressing mixture and salt and pepper to taste.