This Lentil Burger recipe will become your new vegetarian favorite. All the flavors of the Mediterranean in one amazing burger!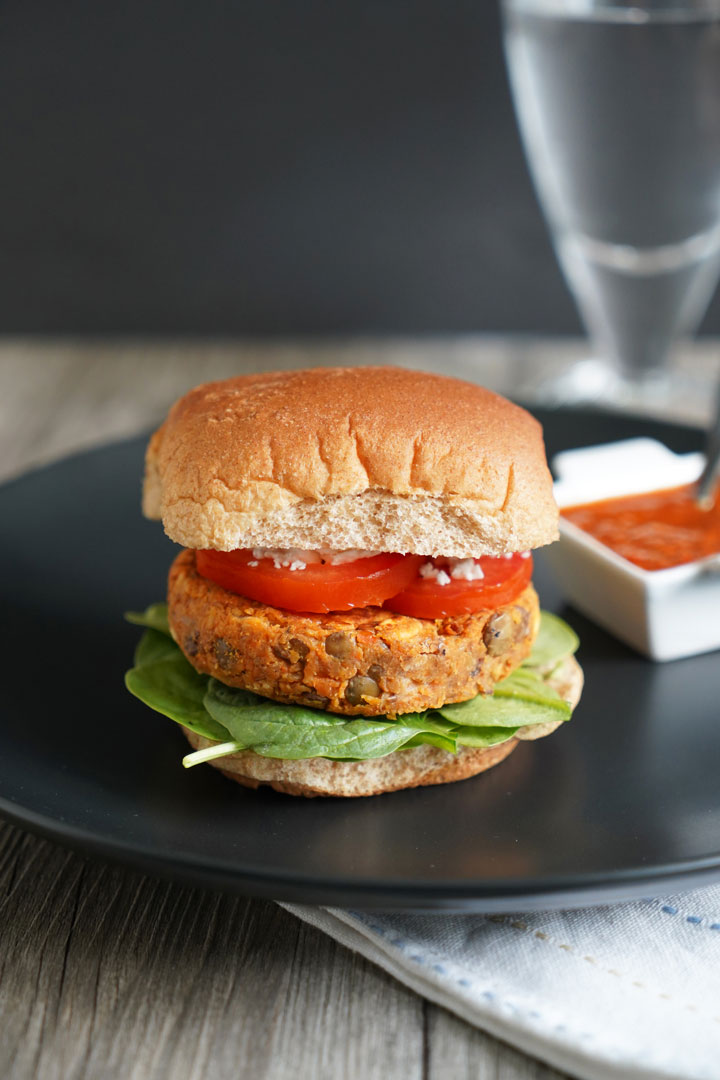 There's no such thing as a standard veggie burger. A veggie burger can take on so many different flavors. I've had masala burgers, Thai burgers, black bean burgers and so many others. This lentil burger has its own unique flavor and texture that's quite different from my go-to spicy black bean burger recipe. I love them both so it all comes down to what type of flavor I'm craving.
For Tex-Mex, I'd definitely go with the black bean burgers. Mediterranean? These lentil burgers for sure!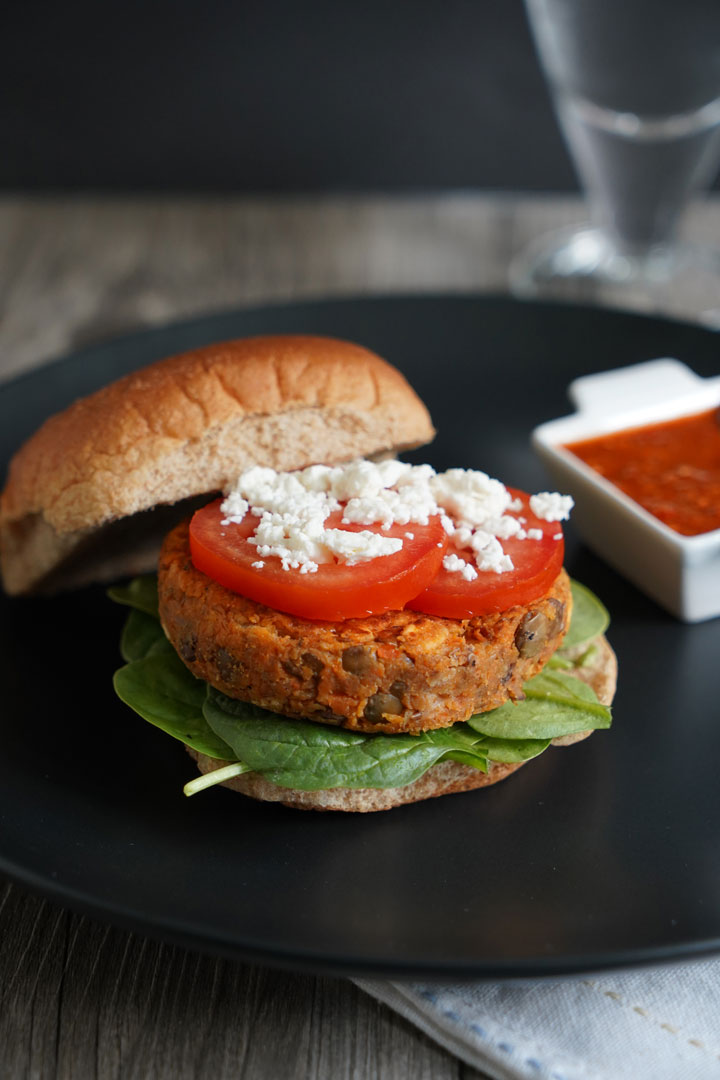 I love pairing them with feta cheese and drizzling it with a tahini or yogurt dressing. Better yet, kick up the spice level and top it with spicy harissa sauce. For an added crunch, I like to serve it with a side of pita chips.
Unlike some veggie burgers, these actually hold together really well. The trick is to form the patties and let them set a little in the refrigerator before cooking. They can also be cooked and then frozen and reheated on a skillet on a later day.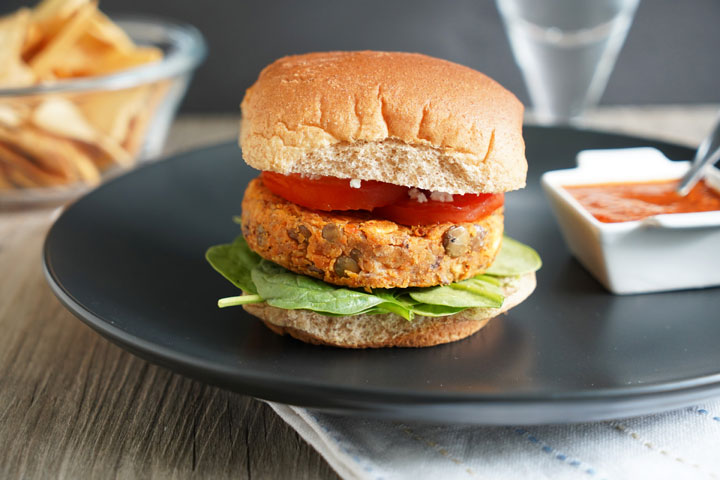 That's why this was the perfect time for me to make these veggies burgers! I don't know about you but the next few months get crazy for me so I like to stock up on homemade food in my freezer. I make and freeze things like eggplant parmesan, vegetable lasagna, black beans, and even my homemade classic brownies. Hey, you always need a quick dessert too right?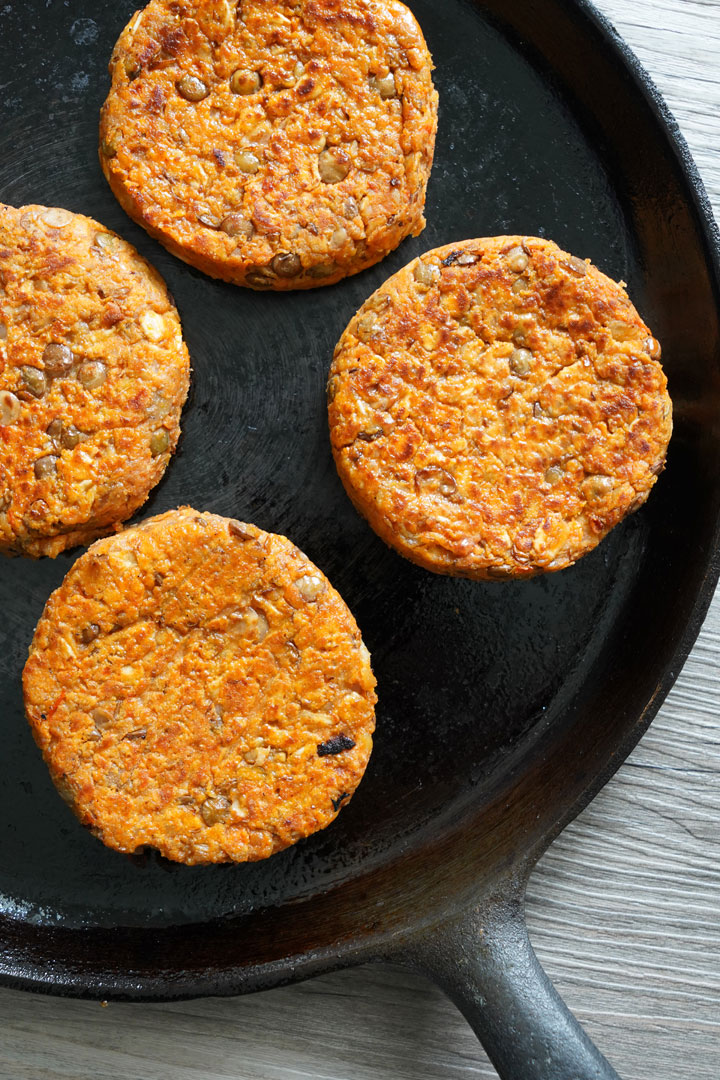 Seriously though, back to the burgers, it's so nice to come home from my kid's after school activities and pull something out of the freezer for an easy dinner. Lentil burgers are quick to reheat and they are nutritious and tasty too.
Because these burgers are loaded with lentils and chickpea flour, they are high in protein. Plus, there's even more protein from the two eggs that help hold it all together. Rolled oats give the burgers a nice texture while also providing a good source of fiber. I've only used carrots and onions for my veggies but red bell peppers would be a nice addition too.
These aren't that complicated and I promise you'll feel good about eating them. So what are you waiting for? Add it to your meal plan today and go for it!
I originally shared this Lentil Burger Recipe on Food Fanatic, so be sure to check it out there.