We all have kitchen failures. What do you do? Reflect, take a break and try again!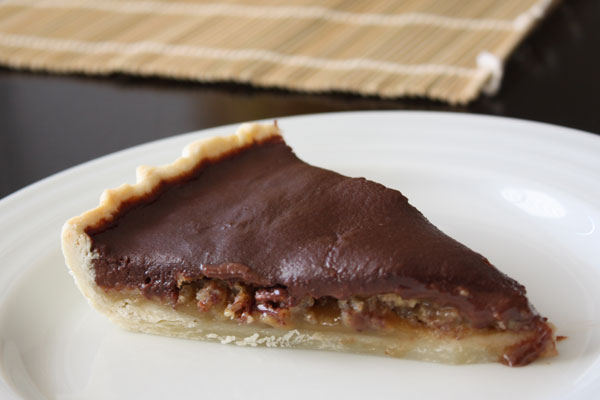 If you read my last post, you might be wondering what the heck happened to that pie with the beautiful crust.  Truth is, I did make a pie, only it did not turn out the way I imagined. I don't usually talk about my kitchen failures on my blog. If I don't think it tasted very good, I don't bother posting it. This time, I've changed my mind. This is a chocolate silk pecan pie. The crust was great! The rest of it does not look so bad from its picture but believe me the taste was just not there and the chocolate was far from "silky". When I think about what went wrong, it mostly came down to two things.
First, don't blindly follow a recipe if your chef instincts are telling you to do it in a different way! I thought this recipe called for way too much corn syrup but used it anyway. I've always made ganache with heavy cream and this one used milk.
Second, never never cook for fun if your heart is not in it. I was having a lousy day and was not really in the mood to bake but went ahead anyway (hence the laziness in not making recipe modifications). In the end, I was not enjoying it and I got a bad pie!
We all have failures in the kitchen. Reflect, take a break and try it again. I'm revisiting the pie again this week...although it will be a different flavor. (I will not forget you chocolate pecan pie! I've made notations in my cookbook for the next time I crave you!)
I usually put up links on Monday Musing posts but it did not feel right to put up links to other people's kitchen failures. So if you'd like to share your kitchen failure be sure to leave a comment below!