Chewy fruit jellies made with red wine make the perfect little treat! Learn how to cut this pate de fruit into cute heart shapes.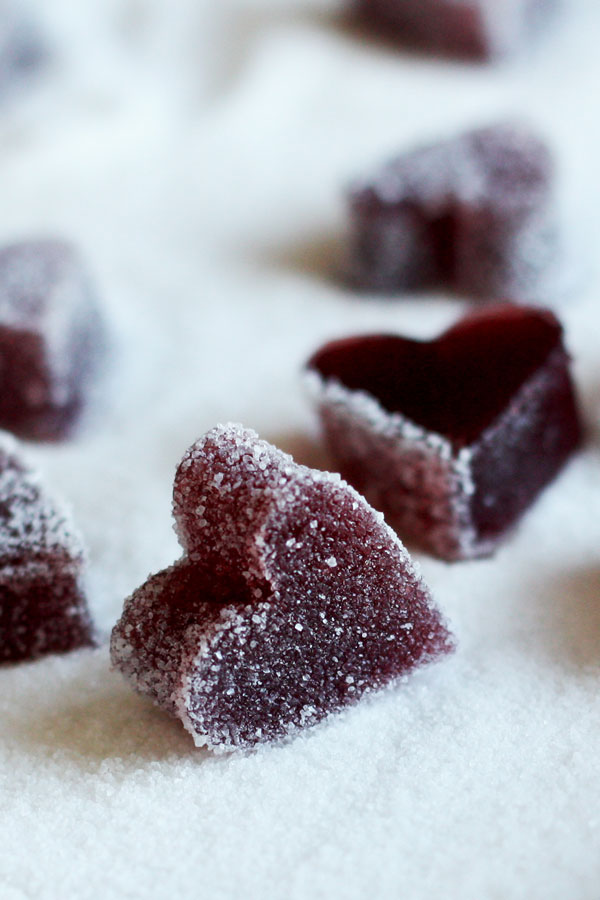 Have you ever had pate de fruit? They are chewy fruit jellies made with fruit puree and that has been cooked down with sugar.
Once it is poured and cooled, they are cut and dusted with sugar. They end up looking like pretty jewels.
Usually, they come out nice and vibrant when using fruit purees. These happen to be a little deeper because they are made with red wine instead of a pure fruit juice.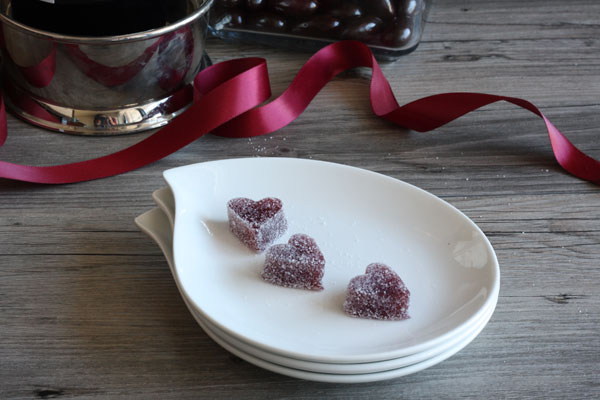 This recipe has been updated! This recipe is specific to the pectin that I used. I cannot say how it will turn out with other brands or with liquid pectin. I used Sure Jell premium fruit pectin (powdered).
How to Make Pate de Fruit with Red Wine
Making these fruit jellies with wine is not that different from using a fruit puree. The whole process is not difficult but it is finicky. I had many attempts where I just ended up with a more liquid jelly. (You can totally salvage that and just eat it as jelly!) I also tried it without the applesauce and found it difficult to set.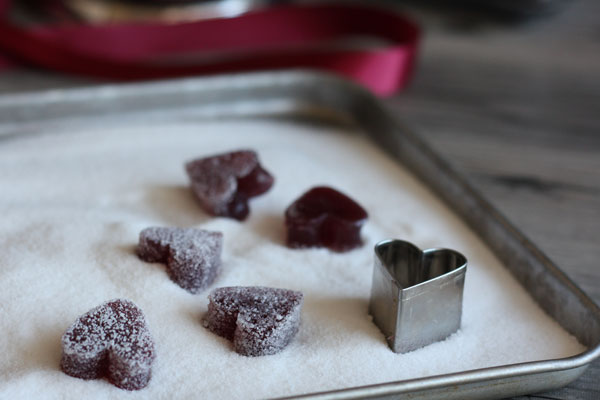 The pectin that I used is easy enough to find in markets. If you can't find it, the retailer may have stocked it next to the canning jars. Besides the ingredients, you will also need a heavy bottomed pot, a whisk, an 8x8 pan (or similar size) lined with parchment, and a candy thermometer.
Start by combining the pectin with the a portion of the sugar and thoroughly mix it. This will prevent any clumping and give you a smoother candy.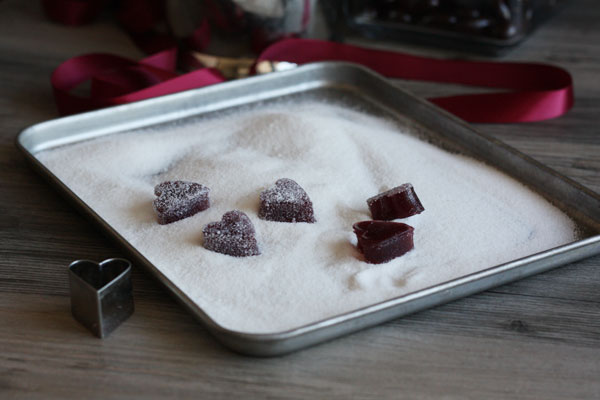 Then, mix together the wine, applesauce, and pectin-sugar mixture in a pot and bring it to a boil. Add the remaining sugar and corn syrup. Keep heating while stirring until the temperature reaches 225F. This could take up to 10 minutes or more depending on your stove. Do not leave it unattended or it may bubble up!
Remove it from the heat and let the bubbling settle a little before mixing in the lemon juice. Pour it into the pan and let it cool and set. Once it is set you can cut into whatever shape you want either with a knife or small cookie cutter. Carefully coat them with sugar and serve.
You may also want to check out my Red Wine Brownies for another Valentine's Day favorite.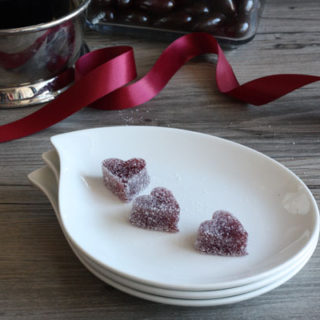 Red Wine Pate de Fruit
Total Time:
8 hours
15 minutes
Chewy fruit jellies made with red wine make the perfect little treat! Learn how to cut this pate de fruit into cute heart shapes.
Ingredients
4 oz unsweetened applesauce
8 oz red wine
2 Tablespoons corn syrup
3 Tablespoons pectin
1 cup plus 2 Tablespoons sugar
1 teaspoon lemon juice
extra sugar for dusting
Instructions
Line an 8x8 pan with parchment paper to use as a mold. Leave an overhang so you can easily remove pate de fruit.
In a separate bowl, thoroughly combine the pectin with 2 Tablespoons of the sugar.
In a medium sauce pan, blend the applesauce, wine. Add the pectin and sugar mixture, heat and bring to a boil while stirring.
Add the remaining sugar and corn syrup and bring it to 225F. (This could take up to 10 minutes) Heat for another 1-2 minutes while whisking. Remove from the heat, let the bubble settle.
Add the lemon juice, mix and pour it into your tray or mold quickly so that it spreads evenly. Let it cool completely. Let it set at room temperature for 6-8 hours.
Cut into desired shapes using cookie cutters or nice neat rectangles with a sharp knife. Dust with sugar.
Notes
Because fruit jellies can be difficult you should note that this recipe is specific to these brands. This recipe uses Sure Jell (powder) premium fruit pectin and Motts unsweetened applesauce.
Store in an airtight container. You may want to hold off on dusting with sugar until just before serving or the sugar may melt into the candy.
Nutrition Information:
Yield:

50
Serving Size:

1 piece
Amount Per Serving:
Calories:

39
Total Fat:

0g
Saturated Fat:

0g
Trans Fat:

0g
Unsaturated Fat:

0g
Cholesterol:

0mg
Sodium:

4mg
Carbohydrates:

9g
Fiber:

0g
Sugar:

8g
Protein:

0g
This nutrition information is only an approximate provided for convenience and as a courtesy only. Information comes from Nutritionix, an automated nutrition calculator.
SaveSave