Red wine and chocolate are a match made in heaven. Pair them up together in this recipe for red wine chocolate brownies. You won't be disappointed.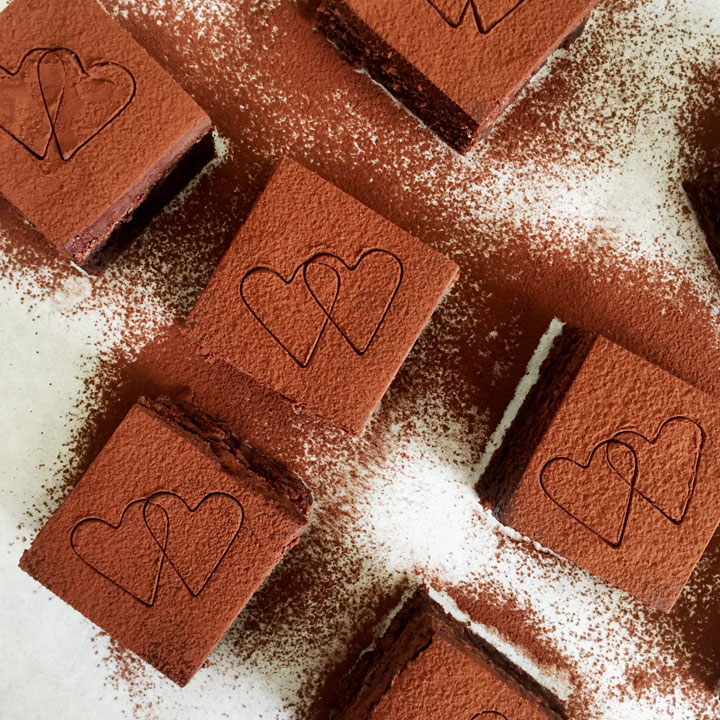 I love chocolate. I love red wine. I love red wine with my chocolate. So a splash of red wine in my brownie batter makes total sense. These red wine brownies hit the spot.
Sometimes the perfect dessert for me is to sit back with my red wine and nibble on a really good quality piece of dark chocolate. If you haven't tried it, I highly suggest it. A good dark chocolate tastes so good with a nice full bodied wine like cabernet or merlot.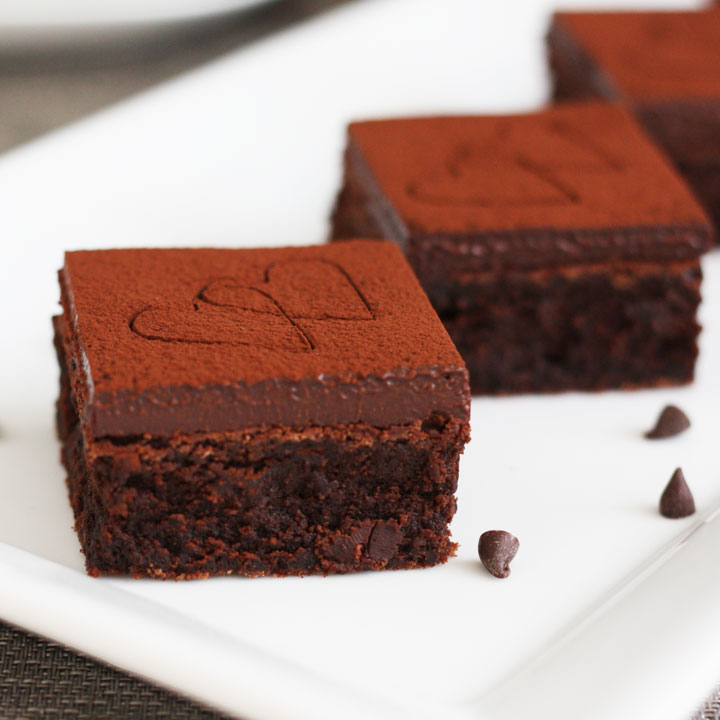 If I don't have pure chocolate, I'll settle for a piece of chocolate cake, chocolate cupcake or brownie. A while back, you may have seen recipes for red wine cupcakes, red wine chocolate cakes and red wine brownies popping up all over the place. It was never news to me that red wine and chocolate are a match made in heaven.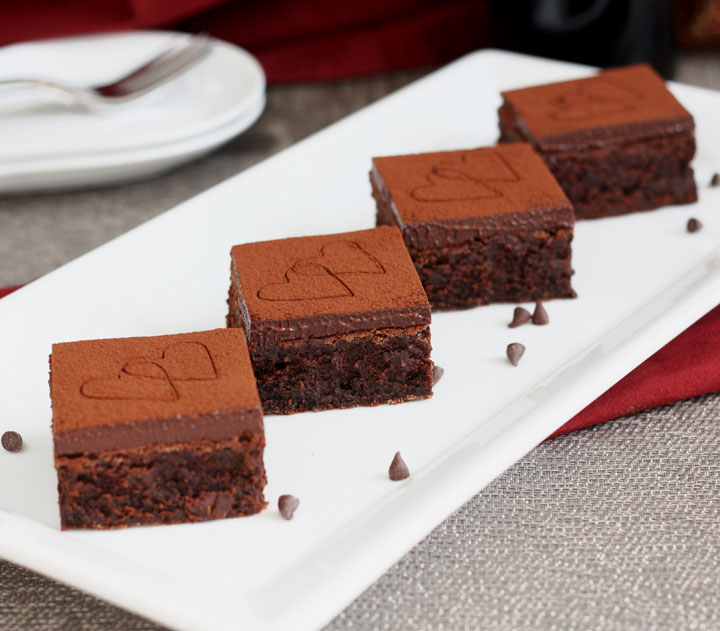 Do wine and chocolate go together?
I've read conflicting views over whether wine and chocolate go together. Some people seem to have a hard time trying to pair them. I think red wine compliments and enhances chocolate the same way coffee compliments chocolate.
It's no secret that coffee added to chocolate recipes makes them taste better. I've done it many times like in my dark chocolate cupcakes and my cookies and cream birthday cake. So why not add wine to them? They both make the chocolate taste better in my opinion. Coffee seems to bring out the bitterness of dark chocolate while red wine brings out the fruitiness of the chocolate.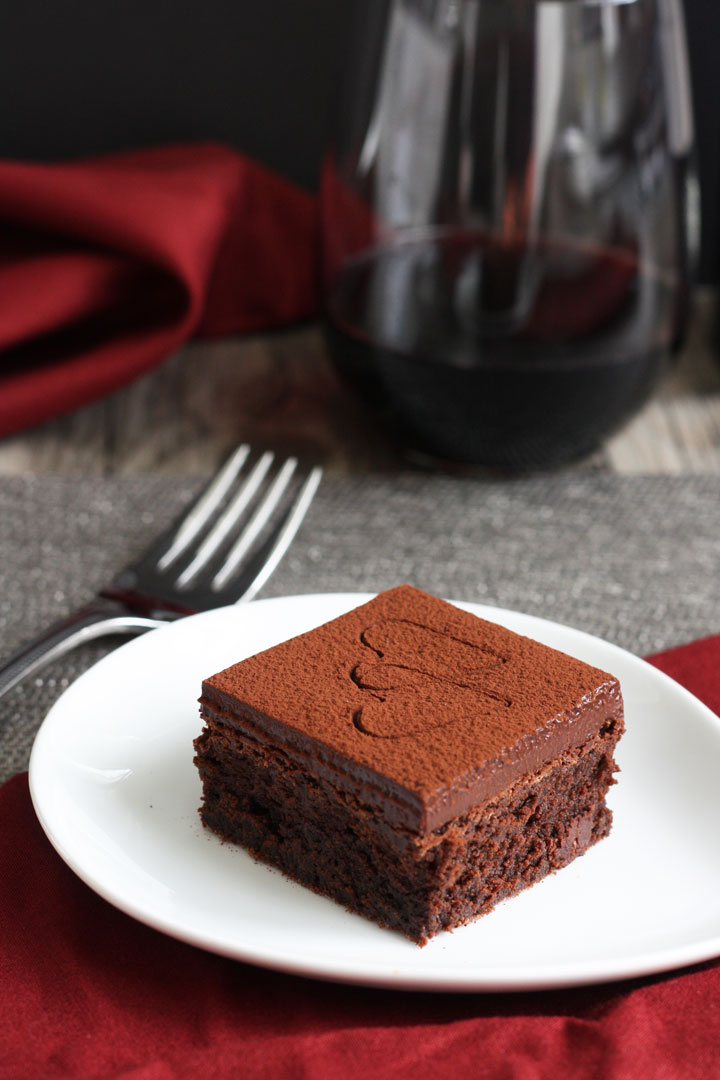 What wine goes best with dark chocolate?
For this red wine chocolate brownie recipe, I used William Hill Cabernet Sauvignon North Coast 2014. It doesn't matter which wine you use as long as it's a good wine that it is full bodied like cabernet or merlot. Be sure to use the best quality chocolate and cocoa powder that you can get your hands on too! Trust me it matters.
These brownies have a rich, fudgy decadent taste that you will love no matter what. For those of you looking for a Valentine's Day treat, I've made a suggestion in the dessert to dessArt section of the recipe card. You can create heart patterns by dusting with cocoa powder and making imprints with a small heart shaped cookie cutter. Enjoy! I'd love to hear your thoughts on red wine and chocolate pairings.
For more Valentine's Day desserts try these: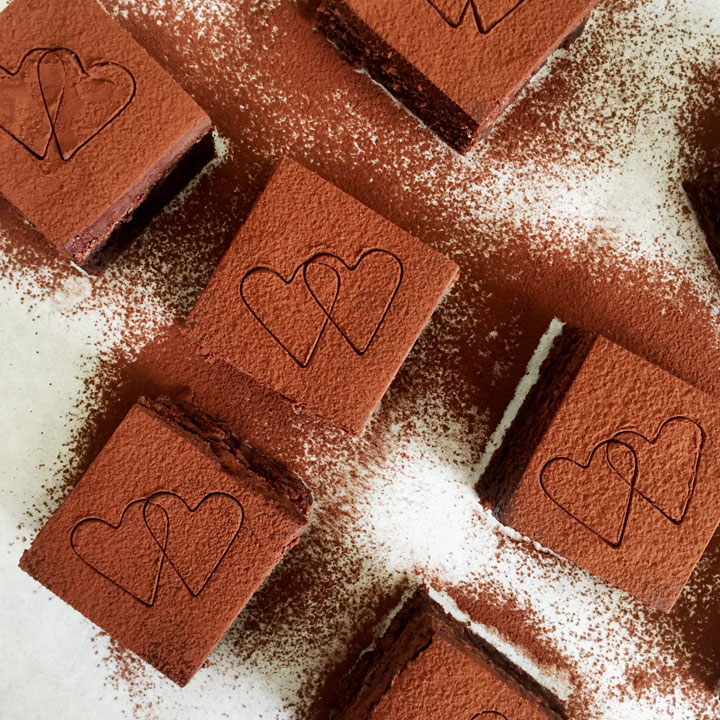 Red Wine Chocolate Brownies
Total Time:
1 hour
40 minutes
Red wine and chocolate are a match made in heaven. Pair them up together in this recipe for red wine chocolate brownies.
Ingredients
For the brownies
½ cup unsalted butter
6 oz chopped bittersweet chocolate
½ cup cake flour
½ cup cocoa powder
½ teaspoon salt
3 eggs
1 tablespoon vanilla
1 ½ cups sugar
¼ cup red wine, full bodied
For the ganache topping:
6 ounces chopped bittersweet chocolate
½ cup heavy cream
2 tablespoons red wine, full bodied
Instructions
For the brownies:
Preheat the oven to 350F. Prepare an 8x8 inch pan by brushing with butter on the inside and lining it with parchment paper. Use paper longer than the pan so that it hangs off two of the opposite sides. This will make it easier to pull out the brownie slab later
Melt the butter in a small pot over low heat. Add the chocolate and stir until smooth. Remove the pot from the heat.
Whisk together the flour, cocoa powder, and salt in a bowl and set it aside.
Beat the eggs in a large bowl and stir in the vanilla. Whisk in the sugar until combined.
Gradually whisk in the chocolate and butter mixture into the egg mixture. Mix until just combined. Stir in the red wine.
Using a rubber spatula to mix, add the flour mixture in gradually. Mix until just combined.
Pour the batter into the prepared pan. Bake for 25 minutes or until a toothpick comes out clean. Cool for one hour.
For the ganache
Heat the heavy cream in a small sauce pan until it just begins to boil.
Pour the hot cream over the chopped chocolate and let it sit for 1-2 minutes.
Stir the chocolate mixture slowly until all the chocolate is melted and the mixture is smooth.
Add in the red wine and stir until mixed.
Pour the ganache over the cooled brownies. Le it sit for at least 20 minutes. Chill the entire pan for 7 hours or overnight.
From dessert to dessART:
To remove the brownies from the pan, first run a thin knife along the sides pf the pan. Then tilt the pan to an angle and gently remove the slab with your hand. Peel off the parchment and lay it down on a cutting board.
With a sharp chef's knife, cut off the edges to create a nice straight edged slab. (Feel free to snack on the brownie scraps you just cut off.)
Using a ruler, make small score marks every two inches on one side. Clean your chefs knife and make a nice clean cut every two inches. Clean your knife between each cut to keep those squares looking perfect. THIS IS VERY IMPORTANT TO MAKING IT LOOK NEAT.
Using a ruler, score each smaller two inch slab every two inches and cut them to get two inch square brownie pieces. Again, clean your knife between cuts.
Dust the pieces with cocoa powder. Using a small heart shaped cookie cutter, make small heart imprints on each piece by pressing the cutter into the powder. If the cutter gets too dirty you will have to wipe it off before using it again.
Nutrition Information:
Yield:

9
Serving Size:

1 brownie
Amount Per Serving:
Calories:

589
Total Fat:

37g
Saturated Fat:

22g
Trans Fat:

0g
Unsaturated Fat:

12g
Cholesterol:

105mg
Sodium:

156mg
Carbohydrates:

54g
Fiber:

7g
Sugar:

34g
Protein:

10g
This nutrition information is only an approximate provided for convenience and as a courtesy only. Information comes from Nutritionix, an automated nutrition calculator.
SaveSave
SaveSave
SaveSave
SaveSave
SaveSave
SaveSave