These spinach and tofu stuffed shells are healthier alternative to traditional stuffed shells. It's perfect for your next meatless Monday too.
Are you craving some comfort food but know you're going to feel guilty after eating it? Here's a comfort dish that will make you feel good while you eat it and afterwards too.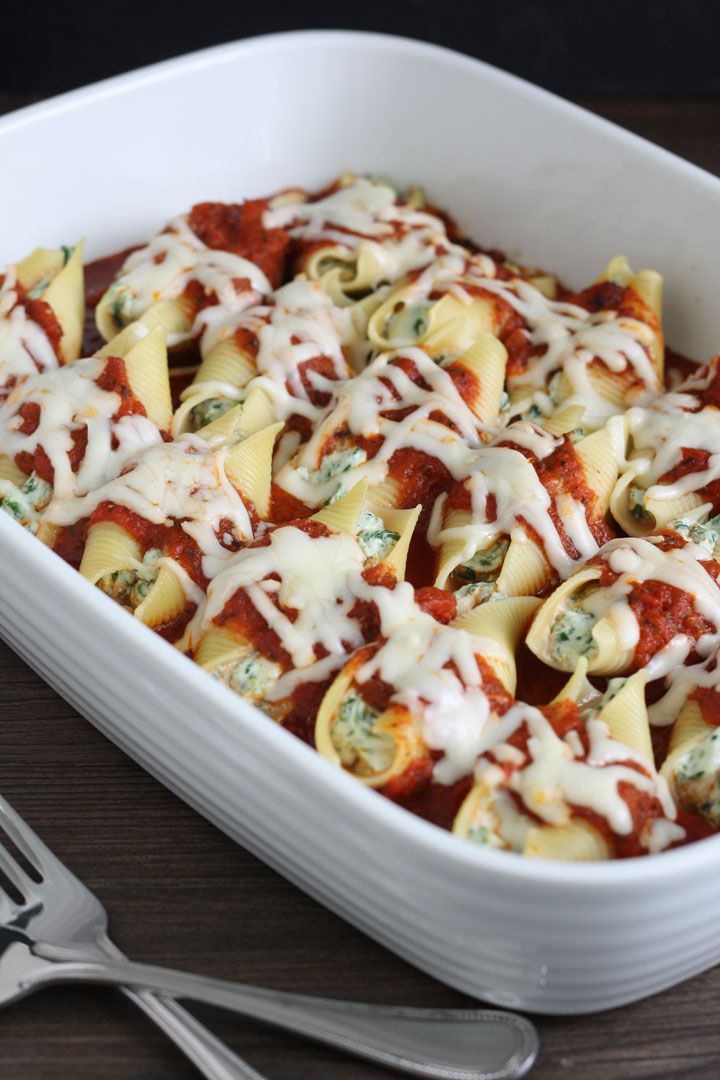 These spinach and tofu stuffed shells will give you all the nutrients your body needs while warming your belly with the perfect cozy meal.
Why spinach and tofu?
I replaced classic ricotta with a creamy tofu mixture seasoned with salt and a little lemon juice. Then I added a ton of cooked down baby spinach. I'm talking one whole container of baby spinach leaves.
If I wasn't afraid of the complainers at the dinner table, I probably would have used double the amount. Spinach cooks down to almost nothing right? So why not use more I say!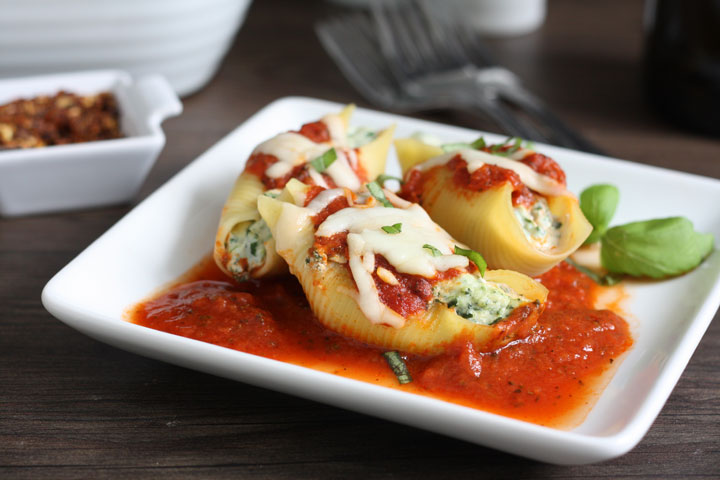 Eating spinach is good for your health on so many levels: lots of fiber, Vitamins A, C, K, folic acid and iron. It also has a bunch of plant compounds that benefit eye health, heart health and decrease cancer risk.
It's a perfect base for a salad but I also toss it into just about everything. I add fresh leaves to soups, curries and lately I've been blending it into my refried beans. No one notices the taste and it enriches foods with extra nutrients and antioxidants.
I'm not one of those people that think you can replace anything with tofu. However, using it as a replacement in recipes that call for ricotta cheese is definitely an exception.
I've made lasagna with tofu for a group of 15 people and I don't think anyone noticed. So, even if you are anti tofu in all other ways, you should really give this one a try. There's more protein in it so it's better for you.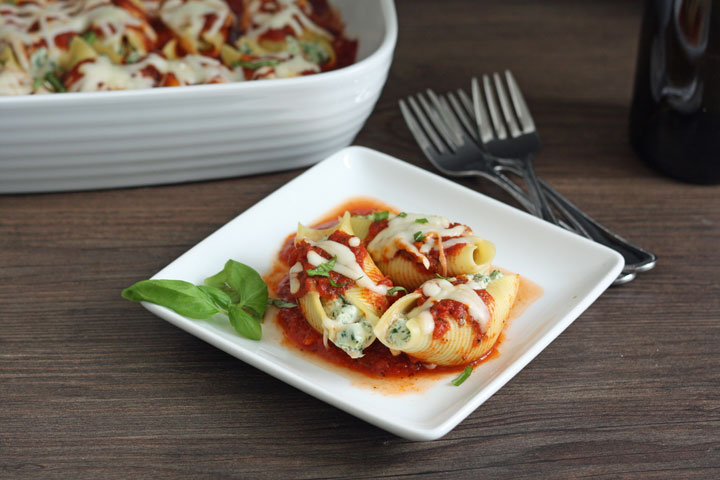 Make Ahead
But enough with the nutrition! What I like best about this meal is that it only takes 30 minutes to prepare. I can store it in the refrigerator and pop it into the oven whenever I want to eat. It's prefect for those days when get home too late to cook anything.
Vegan Option
To make this dish completely vegan, you can skip the mozzarella cheese topping or substitute it with your favorite vegan mozzarella cheese.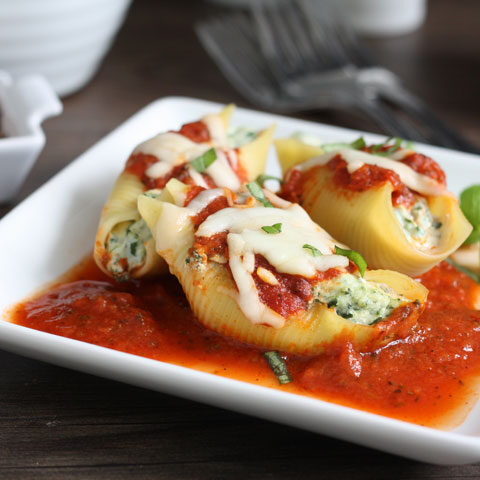 Spinach and Tofu Stuffed Shells
These spinach and tofu stuffed
shells are healthier alternative to traditional stuffed shells. It's perfect for your next meatless Monday too.
Ingredients
20 jumbo pasta shells
1 tablespoon olive oil
½ tablespoon minced garlic
5 ounces fresh baby spinach
14 ounces firm tofu
½ teaspoon salt
2 tablespoons lemon juice
4-5 chopped basil leaves
2 ½ cups of marinara sauce
½ cup of shredded mozzarella
Instructions
Grease a large casserole dish and set it aside. Preheat the oven to 400°F.
Cook the shells according to package directions but leave them al dente. Drain, rinse briefly, and set them aside.
In a large skillet, heat the oil over medium heat. Turn the heat to low-medium, add the garlic and saute for 1-2 minutes. Add half the spinach and mix to coat it in oil. Once it has wilted down a little, add the rest of the spinach. Mix to coat and cook until wilted. Set it aside.
Drain the tofu, break it into quarters. Place the quarters and salt in a food processor and blend until smooth. Add the spinach mixture, lemon juice, and basil and pulse until the spinach is chopped up. Salt and pepper the filling to taste.
Add 1 cup of marinara to the casserole dish and spread it to cover the bottom.
Stuff each shell with about 2 tablespoons of the tofu mixture and place them in the dish. Cover the shells with the remaining marinara sauce and sprinkle with mozzarella cheese.
Cover the casserole dish with foil and bake for about 25 minutes. Uncover and bake for another 5 minutes or until cheese is bubbling.
Notes
You may want to cook extra shells in case they break.
I use firm or extra firm tofu so I don't have to worry
about pressing it.  
You can also place the filling in a Ziploc bag, snip off a corner and squeeze it into the shells.
Nutrition Information:
Yield:

5
Serving Size:

4 shells
Amount Per Serving:
Calories:

854
Total Fat:

15g
Saturated Fat:

3g
Trans Fat:

0g
Unsaturated Fat:

9g
Cholesterol:

8mg
Sodium:

878mg
Carbohydrates:

143g
Fiber:

11g
Sugar:

10g
Protein:

37g
This nutrition information is only an approximate provided for convenience and as a courtesy only. Information comes from Nutritionix, an automated nutrition calculator.