This lemon tart recipe is a wonderful spring time treat. Mini lemon tarts are perfect for indulging on your own or sharing with a friend.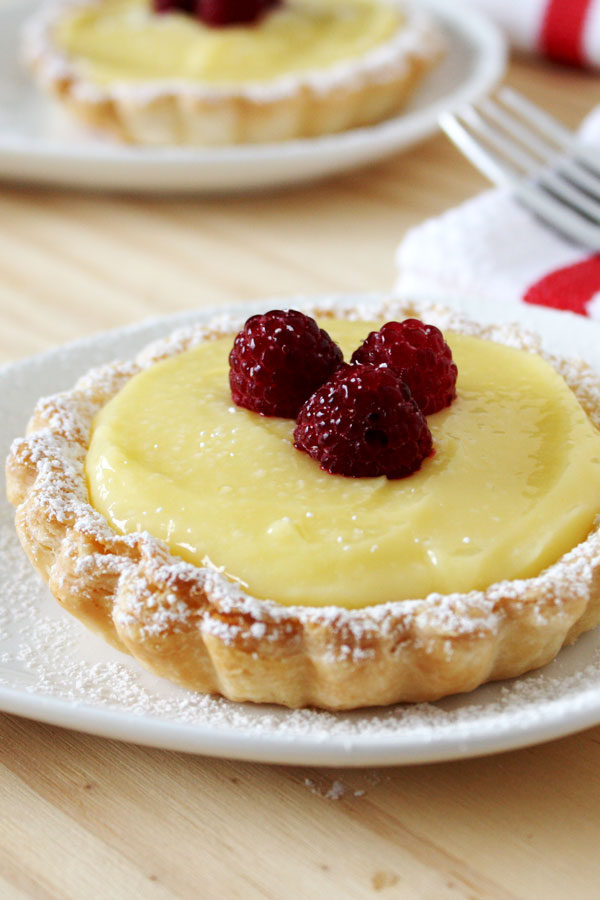 So it seems the summer escaped from me. I had plans. Lots of plans. But somewhere between MIL's broken femur, a cousin's big fat Indian wedding, a visiting cousin, an earthquake, and a hurricane it all got lost. (Ok- I'll admit the earthquake comment was just for drama. Apparently, NYC did have one but I did not even feel it.) Luckily, my visiting cousin gave me a nice excuse to bake at least once in the last few weeks.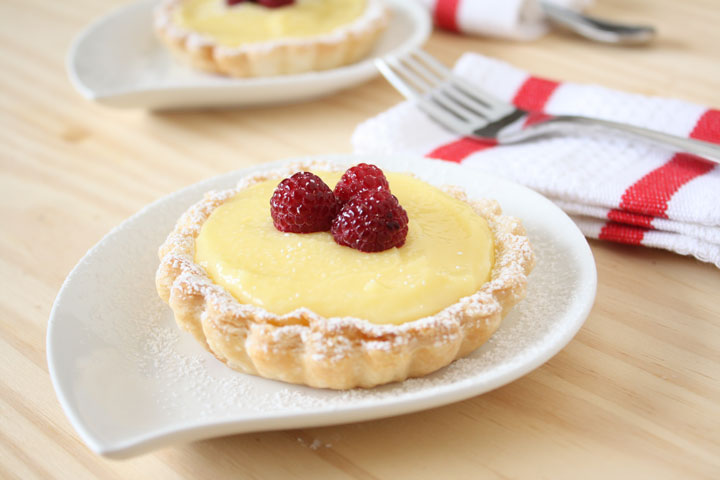 I asked her what she wanted to make with me at home and she was really interested in learning to make tarts- specifically lemon tarts and chocolate tarts. With so little time and so much to do and see, we really only had time for mini lemon tarts. Since she does not own a stand mixer, I showed her how to best make tart dough by hand.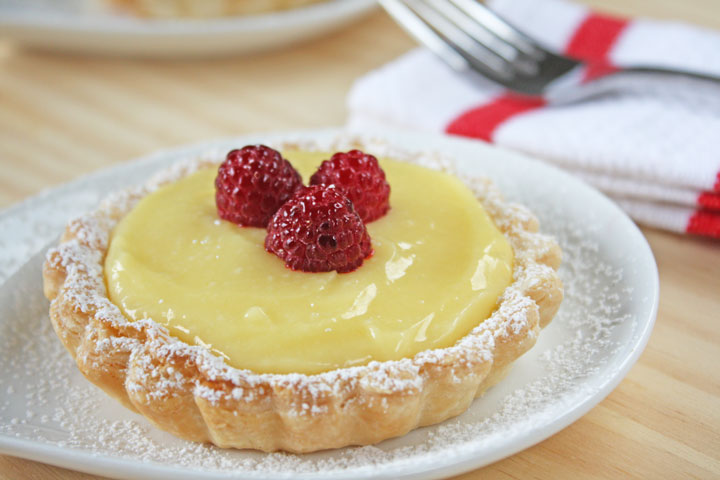 How to Make A Lemon Tart in Two Steps
Step 1- Make a crust.
The recipe below is for a simple flaky pie crust made by hand not a mixer. If you are making your own, be sure to check out my tips in How To Make a Flaky Homemade Pie Crust post. You can also choose to buy a pre-made crust to make things even easier. Another option would be to use the shortbread style crust found in this recipe for Strawberry Tart with Lemon Mascarpone. Finally, you can opt to use a sweeter dough such as my sweet tart dough recipe.
Step 2- Make the lemon tart filling.
Classic lemon tarts are filled with a simple lemon curd. A lemon curd is made with lemons, sugar, eggs and butter that have been cooked down to create a creamy sweet spread. It's easy to make in one pot!
Tips for Making a Lemon Tart
Lemon curd can be made ahead of time and stored in the refrigerator 1-2 days before using.
Chill the completed tarts in the refrigerator before serving. This will firm up the curd filling and make it easier to cut.
Options for Making Lemon Tarts
You can use this recipe to make 4 mini four inch tarts or make a larger 8 inch tart.
You can substitute Meyer lemons for a slightly less puckered sour taste.
Top your tarts with fresh raspberries, meringue or whipped cream.
Dust with powdered sugar just before serving.
Mini Lemon Tarts
Chilling Time:
30 minutes
Total Time:
1 hour
25 minutes
This lemon tart recipe is a wonderful spring time treat. Mini lemon tarts are perfect for indulging on your own or sharing with a friend.
Ingredients
For the tart dough
125 g cake flour, 1 cup
¼ cup  unsalted butter, cubed into ½ inch pieces, and chilled
¼ teaspoon salt
¼ teaspoon sugar
ice cold water, prepare about 50mL to start …only you will be able to judge how much is actually needed
For the lemon filling
¾ cup sugar
zest of 2 lemons
100 mL fresh lemon juice
3 eggs
¾ cup butter
Instructions
For the tart dough
Sift the flour, salt and sugar together into a cold bowl. Add the chilled butter cubes to the dry mix. Using a pastry blender (or the flat end of a bowl scraper) cut the butter into the dough until the butter is about pea sized.
Next, make a well in the middle and add about ½ the ice water. Quickly work the water into the dough. You want the dough to be wet but not sticky. Make another well and add more ice water to the drier ingredients. The crumbly mixture should form clumps when you press some of it with your hand. If I think it is too dry, I sprinkle my hands with cold water and work the dough. This way I don't accidentally add too much moisture. Do not knead it too much, just enough to be able to wrap up the dough in plastic. Streaks of butter are okay.
Chill the dough for at least an hour or overnight. Roll out your dough and fit it into either an 8 inch tart ring or 4 inch molds. Chill it again for at least 30 minutes.
With a fork, make holes in the tart dough to prevent it from rising. (I also place parchment over the shell and place a pile of beans on it as added weight while baking.) Bake at 350°F for 15-20 minutes or until the crust is lightly browned. Let it cool.
For the lemon filling
Combine all the ingredients in a bowl. Place the bowl over simmering water. Cook the mixture while whisking over medium heat. Cook until the filling thickens. If you can, measure the filling temperature and cook it to 140 degrees F.
Strain the mixture through a fine sieve. Cool the mixture with plastic wrap against the surface to prevent a skin from forming. The curd can be made ahead and stored in the refrigerator for three to four days.
Assembly
Spoon or pipe the cooled lemon filling into the cooled tart shell(s). Spread it evenly with an offset spatula. Decorate with fresh raspberries and powdered sugar.
Nutrition Information:
Yield:

4
Serving Size:

1 tart
Amount Per Serving:
Calories:

749
Total Fat:

50g
Saturated Fat:

30g
Trans Fat:

1g
Unsaturated Fat:

16g
Cholesterol:

262mg
Sodium:

478mg
Carbohydrates:

70g
Fiber:

2g
Sugar:

40g
Protein:

9g
This nutrition information is only an approximate provided for convenience and as a courtesy only. Information comes from Nutritionix, an automated nutrition calculator.
SaveSave