Easy to make Meyer lemon cheesecake bars! Serve them in a dessert buffet or see how to style them as individual dessert plates.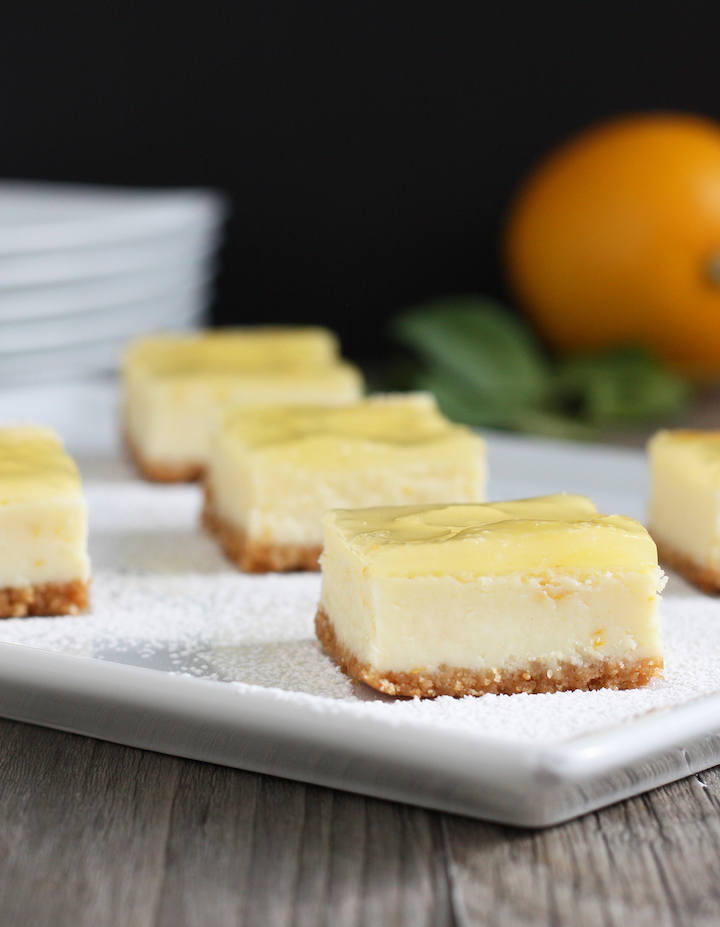 I was looking for an easy dessert last weekend that was both elegant and delicious. I didn't want to end up with a whole bunch of leftovers so I thought I'd make something that was small batch. These Meyer lemon cheesecake bars were perfect.
Why cheesecake?  It can be made ahead of time. In fact, you have to because cheesecakes need to be chilled.
I know I've talked about how fabulous the Instant Pot cheesecake is but this cheesecake was not made in an Instant Pot because I knew I wanted to cut it up into neat little squares. (I didn't have a suitable pan for a square cake that fit into the Instant Pot.)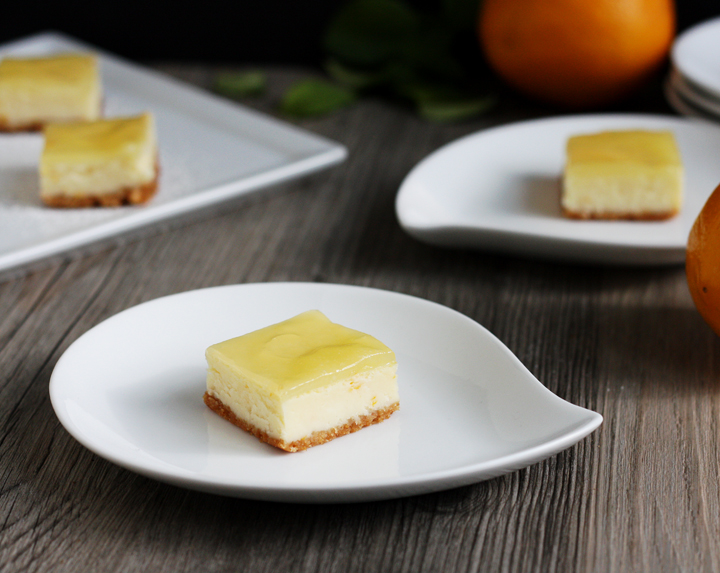 Since I was also serving a chocolate cake, I decided to go for something non-chocolate. Lemon! Have you noticed those other lemons sitting next to regular lemons at the grocery store? You know, the ones with a tinge of orange color and slightly smoother skin? Those are Meyer lemons.
If you have not tried them before, you should. They are great for cooking and baking. I love that they are not as tart as regular lemons. This makes them especially great to use in desserts like this Meyer lemon pound cake or as lemon chip garnishes.
­­­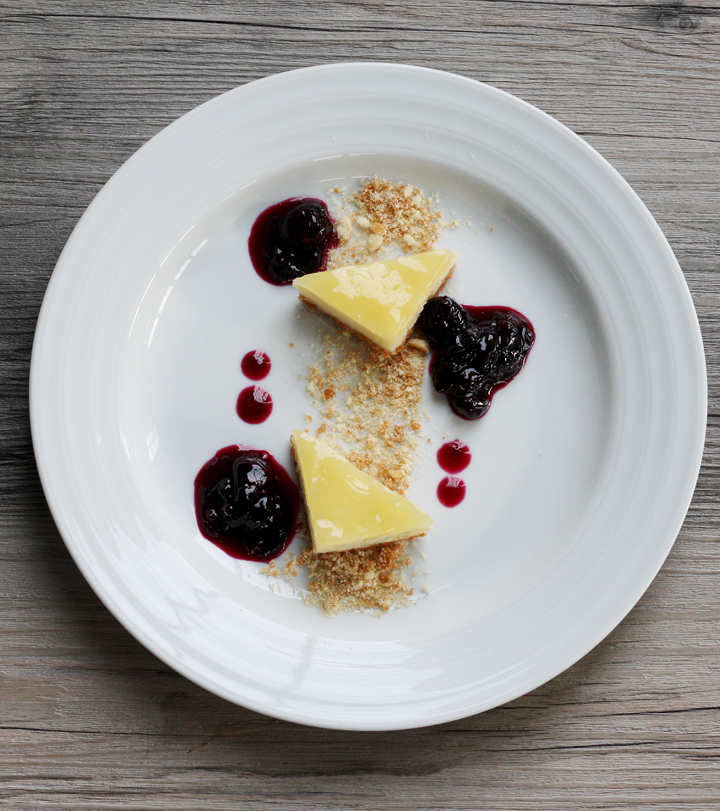 These simple lemon cheesecake bites are made with Meyer lemons. They take no time to prepare at all and taste delicious. I've been curious about that lemon cheesecake recipe inside the Philadelphia Cream Cheese box.
So I decided to go for it. I just substituted Meyer lemons and also cut the recipe in half because I was going for a small batch. Don't be afraid to cut recipes in half, it usually works out just fine.
Cut neat squares for a simple presentation or you can plate it like you see above. It might look like a lot more work, but trust me it's not. You can make blueberry compote in less time than it takes to cook the cheesecake! See the recipe for details on this plating style.
Alternatively, try just drizzling these cheesecakes with raspberry sauce.
If you like these mini desserts, you may also want to add my salted caramel apple pie bars to your next dessert buffet.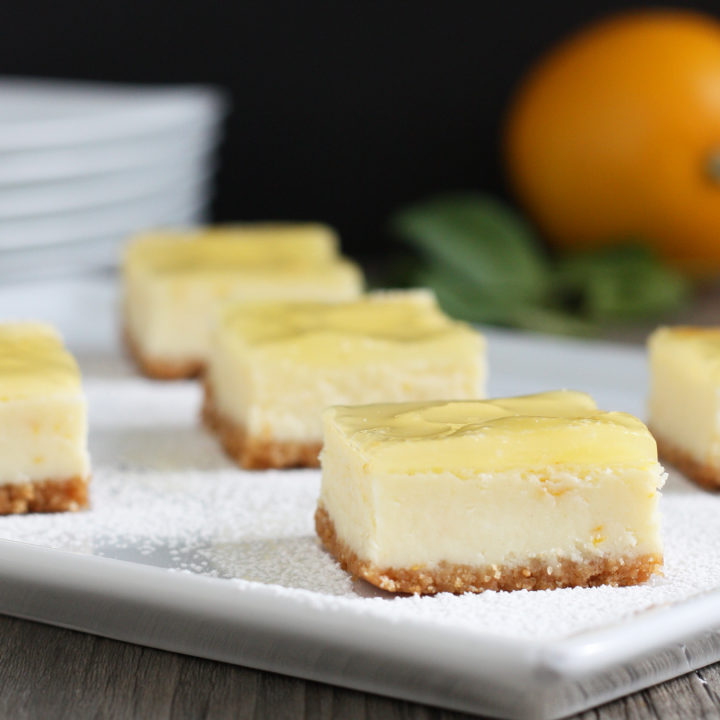 Meyer Lemon Cheesecake Bars
Easy to make Meyer lemon cheesecake bars! Serve them in a dessert buffet or style them as individual dessert plates.
Ingredients
1 cup crushed vanilla wafers
1 ½ tablespoons unsalted butter, melted
3 eggs, divided
16 ounces cream cheese, softened
1 ¼ cups sugar, divided
1 ½ Tablespoons flour
½ Tablespoon Meyer lemon zest
2 ½ Tablespoons Meyer lemon juice
½ teaspoon vanilla
1 Tablespoon corn starch
¼ cup water
Instructions
Preheat the oven to 325F. Line an 8x8 pan with foil, with the ends extending over the sides.
Mix the wafer crumbs with the melted butter until blended. Press the mixture into the bottom of the pan. Bake 10 minutes. Cool.
Separate 1 egg white and refrigerate the yolk (covered with plastic) until ready to use. In a large bowl beat the cream cheese, ½ cup sugar, flour, zest, 1 Tablespoon of juice, and vanilla until completely smooth. Mix the egg white and remaining 2 eggs one at a time on low speed.
Pour the batter over the crust and bake 40 minutes or until the center is set. Cool 1 hour. Refrigerate for at least 4 hours.
Mix the corn starch and remaining sugar in a saucepan. Gradually stir in water and remaining lemon juice until blended. Bring the mixture to a boil over medium heat while stirring constantly. Cook until thickened.
Beat the yolk in a bowl until blended. Stir in 1-2 Tablespoons of the hot cornstarch mixture. Return the yolk mixture to the rest of the corn starch mixture and stir until blended. Cook for 1 minute while stirring constantly. Cool slightly.
Spoon the lemon glaze over the cheesecake. Refrigerate for 1 hour or until firm. Use the foil handles to remove the cheesecake from the pan.
Cut into squares and wipe the knife between cuts to get clean squares.
From dessert to dessART
Create a clean line of wafer crumbs down the middle of a plate by covering the sides of the plate with either a paper napkin or parchment paper. Sprinkle the crumbs and gently lift the napkins away.
Cut two of your cheesecake squares into triangles and space them out onto the wafer crumbs.
Spoon blueberry compote in between the squares
Use a straw to suck up some of the juice from the compote and gently squeeze the straw like a dropper to create two drops of juice on either side of the wafer line.
Nutrition Information:
Yield:

16
Serving Size:

1 bar
Amount Per Serving:
Calories:

215
Saturated Fat:

6g
Cholesterol:

64mg
Sodium:

130mg
Carbohydrates:

23g
Sugar:

18g
Protein:

3g
SaveSave
SaveSaveSaveSave
SaveSave
SaveSave
SaveSave
SaveSave
SaveSave
SaveSave
SaveSave